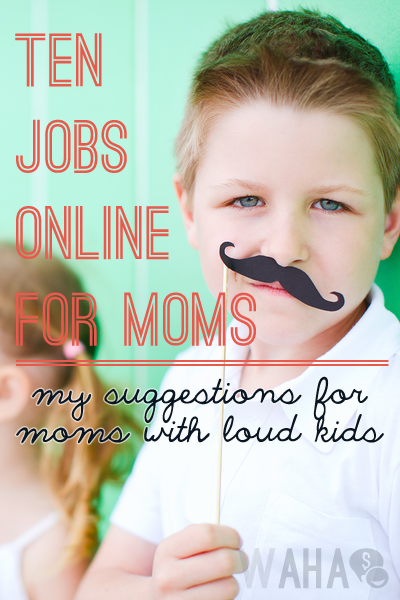 Working at home and children just seem to go together. That is, until you begin looking for work that pays well and all you can find are jobs that require NO CHILDREN in the background! Phone jobs are everywhere but trust me, they may be drowning out the legit nonphone jobs, but there are plenty of things moms can do to make a living while their kids make all the noise they want!
If you find Working at Home is ideal for you and your family then it is time to consider your options. The following are the most common ten work at home job types moms consider because they are non phone jobs, have flexible schedules and/or still pay a decent wage.
1. Search Engine Evaluating
Search Engine Evaluators assist search engine giants like Google and Bing to ensure the user results of searches are providing helpful information. These jobs usually pay an hourly rate and you can work whenever you have the time. This however, does require your full attention so do not expect to work while your kids are playing and in and out of your home office space. Leapforce and Lionbridge are two companies that hire moms to work online as search engine evaluators.

2. Freelance Writing
This job type is becoming more and more popular by moms needing to make money online and still enjoy flexibility. You do not need to be a journalism or English major to find success as a freelance writer. Many people find they can easily make $250-500 a week as a work at home mom writing online content. There are many paths you can take as a Freelance Writer from writing for content mills like Textbroker to finding private clients on 
bidding sites like Freelancer
 or even starting your own blog.
3. Data Entry
This is a tough market to get into. Most of the ads you find around the web for work at home data entry jobs are most likely scams. However, there are a few legit places that hire moms to enter data and still pay a fair wage. Your are a lucky mama if you are chosen but it is always worth applying for. You just never know! I have listed some great and legit Data Entry companies on my blog for you to check out.
GAO
Axion Data
Dion Data
TDEC
4. General Transcription
Again, general transcription is not an easy way to get started working at home but is definitely ideal. Most companies require you have previous experience. However, there are a few that will hire you straight out of the gate but they all require you have great typing skills with near perfect accuracy! Another skill required to work at home as a general transcriptionist is being a good listener. The following are a few places you can begin your transcription career online.
Scribie
Quicktate/iDictate
Tigerfish
Appenscribe
AccuTran Global

VerbalInk 
TranscribeMe
5. Phone Based Mystery Shopping

While this work at home job type may involve using a phone, it does not require a whisper quiet background. In fact, most of the companies love for you to have background noise! Mystery shoppers are asked to call businesses to ask general questions and record and report their experience. Many of these jobs pay an hourly rate over $10/hour.Check out companies like Perception Strategies, InteliChek, Pierce Eislen and TeleExpertise to find out more about work at home jobs as a phone mystery shopper.
6. Virtual Assisting
Virtual Assisting is a very broad term that covers assisting people and/or businesses online. This can include anything from general tasks like canceling a dentist appointment to setting up a WordPress account. Many freelance Virtual Assistants will choose an area of expertise and focus on finding clients who can use their assistance with things such as social media or web research.
Others may choose to work for a company like Fancy Hands and do a variety of tasks. Fancy Hands pays their Virtual Assistants per task. The work is never boring as the tasks vary all the time! Another site similar in style to Fancy Hands is called Ziptask.
7. Affiliate Marketing
This job type can be pretty in-depth and requires a lot of self-education. There are plenty of online programs and blogs that can help you get started and give you a nice boost but affiliate marketing will require you to do a lot of research and studying. This is something only people with a lot of motivation and determination should even attempt. However, if you have what it takes- affiliate marketing can make you a rich online entrepreneur!

Need Easy Extra Cash?

Renowned Swagbucks delivers what you need: More rewards, more money! Watch videos, take surveys, shop and more to earn Extra Cash. 100% free to join!


8. Chat Based Work at Home Jobs

Working at home as a non phone customer assistant using chat is such the ideal scenario. However, these types of jobs do not surface often. Most of what you will find doing online research for chat jobs will bring you to companies that barely pay anything and will end up just wasting your time. However, there are a few places you should learn more about. Arise is one place that has legit and high paying chat based jobs. Another, more ideal, site that offers chat work is called Needle.com. They pay an hourly rate and the schedule is very flexible. You choose your own hours or you can log-in whenever you have spare time. Another place that offers work at home chat work is called Talk2Rep. They have mixed reviews- but may be worth looking into for yourself.

9. Usability Testing
Usability Testing sites are a great way to bring in extra money. While this is not exactly something you can do to make a steady and reliable income, it is definitely the best way to bring in quick money for a little of your time. There are many companies you can sign up for to review websites and give your feedback on their ease of use. Most of these sites will require you to use your computer's microphone to record your verbal thoughts as you navigate through their client's websites. The usual rate for about 15-30 minutes of your time is $10. We have several reviews of 
Usability Testing sites
.
10. Blogging
While this is briefly mentioned in the freelance writing category, I feel it is substantial enough to fit into its own category as well. Many moms of young kids turn to blogging as not just an outlet or a way to document their lives but also as a way to make money. If you have a passion for something, you can turn that passion into a blog that generates revenue. I have a 
Blogging Guide
 you can follow that will help you get started.
Related Posts: