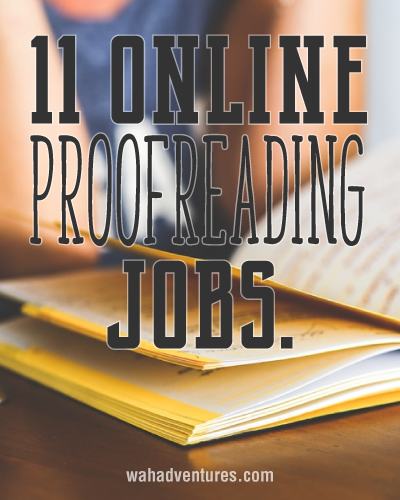 Online jobs providing flexibility to allow you to work around life are in high demand. Many readers are looking for ways to make an income without being chained to a schedule, a phone or heavy work pressure. Online jobs such as freelance proofreading, make a perfect fit for many. The position often allows flexibility for people who are pursuing passions in life. It allows stay at home mothers and fathers who are choosing to work online the ability to earn a living. While for many others, it is providing a side hustle to help pay debt or build a savings.
What is a Proofreader?
Many of the companies offering work for online proofreaders, come in a variety of forms. Proofreaders work in written content such as blog articles, emails and ebooks to academic essays and written stories. In general, a proofreader reads the document provided, word for word, looking for any spelling, typos or grammar mistakes. Often, they are the last pair of eyes to check over the document.
Every company however, will have a certain set of guidelines and requirements they expect their proofreaders to follow. While some companies are not wanting their proofreaders to take on an editor role and give feedback about overall readability of the document as a whole, some companies may expect this to be done by the proofreader.
Proofreading is exceptionally important in many areas. From the college student submitting a scholarship application to the eBook writer ready to self-publish, this could be a make it or break it situation for the client's future.
What Skills and Experience Is Needed?
A proofreader working online should have a very keen eye for detail. You should be able to spot spelling errors, typos and grammar mistakes very quickly and easily.
Many companies require their proofreaders to be familiar with specific style guides such as APA or MLA. There are many online break-downs that can help you understand each style guide.
How Much Does an Average Proofreader Earn?
According to Payscale.com, the media Proofreader salary is $18 per hour. As a freelancer, you should find this to be fairly close to an accurate representation of what you can expect to earn, even on a per-piece rate. The average salary range is $14-24/hour.
Depending on your experience and education, your pay should fall within this range. If it is below, it may be a good idea to look for work elsewhere. Many companies tend to make online freelancers feel they should accept a lower rate in exchange for the benefit of flexibility. Don't believe you deserve less. They hire online freelancers because it benefits them as well.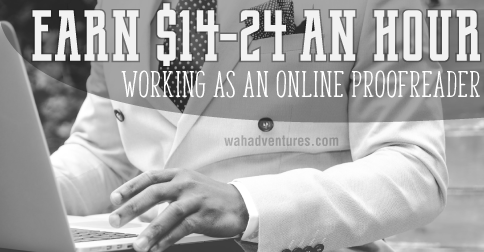 Where Should I Look for an Online Proofreader Job?
Here is a list of places I would suggest you look for an online job in proofreading.
1. Scribendi
Scribendi proofreading and editing services requires their online proofreaders to have 3 years experience, as well as a university degree in a relevant field.
Scribendi welcomes telecommuters from all over the world and hires on an independent contractor basis. Work is done on a flexible schedule, with a minimum requirement of words edited a month.
2. Kibin
Kibin is an on-demand proofreading service that is available around the clock. It appears, based on the application questions, that Kibin is open to hiring freelance proofreaders without experience.
With questions like, "What superhero would you be?", they sneak in fun chances to catch you making mistakes during the application process! Any real proofreader will check their own work before sending it off I am sure (ahem….hint).
3. Book in a Box
Book in a Box has a Proofreader position open to online freelancers from time to time. However, this is not a typical proofreader job that you see in the other companies I have listed. Book in a Box expects a bit more out of their Proofreaders. Not only are they looking for spelling errors but they are also expected to do fact checking, inspect for readability, formatting etc.
4. Hello Essay
Hello Essay offers Editing and Proofreading services around the clock with a focus on academic and application essays for students. Like many companies, they refer to proofreaders and editors interchangeably as one. Regardless, it appears like an awesome gig for any online proofreader looking for either part time or full time freelance work.
After you create a profile for the site, you can submit your resume to apply.
5. ProofreadingPal
Proofreading Pal looks for graduate students with a high GPA and a minimum of 5 years of professional experience. Although this one is not for the beginning online proofreader, they claim the average freelancers are earning $500-3000 per month.
6. Fiverr
Offer your services through Fiverr.com. Just be sure you don't allow the low charges to allow you to under pay yourself. Get creative and find ways to be sure you treat yourself fairly. Market your strengths and why you are worth paying more, over the competition. Then, be sure to get excellent feedback and reviews.
7. Upwork
Upwork is a conglomerate of the former Elance and Odesk. Which means it is the familiar bidding site where work is posted and you can bid for the job. It can sometimes be a good way to get your toes wet or your foot in the door to a new job type, such as online proofreading.
Additional Companies to Check Out
9. IXL Learning
10. Polished Paper
11. Pure Content
Related Posts: