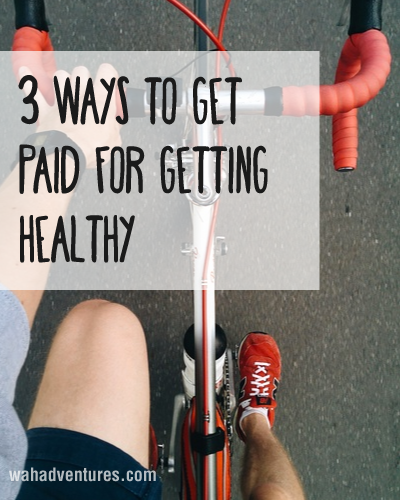 Another year has gone by and summer will be peaking around the corner in a few months. Many of us are trying to lose some of the extra weight we've been carrying around. If you're like me, every January you do the same thing. You are gung-ho about working out and eating healthy but then at some point it all fizzles out. We want this to be our lifestyle, not a diet. But we can't seem to get through a few weeks of consistent healthy behavior.
I love having accountability. I need it. Unfortunately at some point I begin to hate my accountability partner. I avoid them. I know they are judging me. I even start to lie to them and claim I am doing better than I am, thinking I'll catch up later. Eventually I give in and give up. This is me on repeat.
These 5 competitive smartphone apps were created for people just like us. They provide a level of accountability without ruining your marriage or friendships. And the best part? You could end up with some extra money earned for your good health behavior!
I compare these 3 apps and tell you which one I choose to give a try and see if I can lose the 15 pounds I gained in 2015.
Pact
The smartphone app made to keep you in check with our exercise routine called Pact is also known as Gympact. It is available to both Android and iPhone users. The app is free to download.
The basis of Pact is that users choose the goals they would like to meet within a week's time. They then wager money as accountability. Users who do not reach their goal lose their money and the users who stick to their goals reap the rewards!
Things to Know:
How much you wager does not directly impact the amount of money you are rewarded if you reach your goals. Earnings are generally between 30 cents to five dollars a week, according to Pact.
Workouts are verified using things like images and GPS. Expect to prove that you are working out!
Currently Pact has 3/5 stars from 243 iTunes users and ?4,129 Android users.
Many users complain of glitches that do not report their workouts, causing them to lose their money even if their goal was actually met!
HealthyWage
HealthyWage is a great way to lose weight if you are competitive in nature, especially if money is a big driving force for you!
Available to both iTunes and Android users, HealthyWage users begin by placing a bet alongside a long-term goal. For example, if you would like to lose 30 pounds over a 9 month period, you may wager $20 a month. Depending on their calculator of how difficult that goal would be for you to reach, your winnings could be different amounts.
To continue this example however, I entered this information in and found that if I personally were to reach this goal of 30 pounds lost over 9 months and I paid $20 a month ($180 total), I would win $267.77, a profit of over $87 I could put toward a new wardrobe!
But if I don't reach my goal? I lose $180. Even if you are only off by a tenth of a pound!
Things to know:
Top prize amount is $10,000 but would require a pretty big wager amount, I'm sure!
Weigh-ins are verified by either videos or at health clinics.
Currently HealthyWage has not been reviewed enough on iTunes to display an average rating. There are four reviews, all of which are 1 star, claiming there is a major glitch. Android users rate the app a 1.6/5 for similar reasons. Thankfully the smartphone app is not required to participate.
There are mixed reviews from people who have experience with HealthyWage. Some people feel scammed after not receiving payout when there was a confusion about rounding decimals.
DietBet
DietBet allows users to join in on a challenge or create their own. The challenges requires users to place a bet amount of actual money. They also then agree to lose the same percentage of weight in the same amount of time. For example: there is a kickstarter challenge created right now where users who join bet $30 that they will lose 4% of their weight within 4 weeks.
Everyone who reaches their goal, splits the pot (after DietBet's fee ranging from 10-25%). Even though DietBet has a fee removed from pots, they guarantee you will never lose money if you win your dietbet. If most people in the challenge win and DietBet's fee would mean people would lose money, DietBet forfeits their cut in order to guarantee no winner loses.
Most of the time, winners make 1.5 to 2 times their money back, according to DietBet.
The Kickstarter challenge I took a look at as my example was pretty cool, it actually comes with a personal fitness trainer there to challenge you as you reach your goal. I am not sure at what level she is there for you, but could be a good motivation alongside the money!
Things to Know:
Weigh-ins are verified with pictures. One full body picture of you on the scale and one close up of the scale with a "word of the day" written on paper by the scale.
Challenge coordinators can cancel the bet at any time, if that happens, all members are refunded.
The administrators do all they can to keep things fair, but they do make mistakes. But I love about what I have found in researching is that DietBet is willing to admit they messed up and fix it! But be aware, it may take a social and public cry out before they will take it seriously like Adam Parnell's story on Facebook.
Dietbet is rated 4.5/5 stars from 178 iTunes users and 1805 Android users.
My Concluding Thoughts and App Choice.
Pact has a great short-term challenge program. I love that it is weekly and therefore, if I find it is not working for me, I could choose to back out and leave it alone. However, it seems to rely a lot on technology that is not necessarily effective. I would be afraid to wager very much money and then there be a glitch and I lose money unjustly.
HealthyWage could have the biggest ROI but requires the biggest investment. There is a minimum of $100 required to be paid over the time frame you choose to meet your goal. With the lack of reviews and reports of people feeling scammed, I am not sure I am willing to wager that kind of money for a chance I will only lose it. Something about the way their site is set up made me uncomfortable. It reminded me of the scammy get-rich quick sites. The "as seen on" puts a bad taste in my mouth and maybe there is nothing to stand on with those feelings, it does effect my choice.
DietBet looks like a fun way to get involved in a supportive community, have monetary accountability, and a competitive challenge with reasonable goals. It also seems to be the least risky. I can bet just $30, or whatever I choose based on the challenge I choose to sign up for. There are far less people feeling ripped off and it's clear DietBet is ready to make things right when things go wrong.
I am very impressed with DietBet. I am not sure which challenge I plan to join but I definitely choose DietBet, hands down.
Here's to a healthy 2016 as well as some extra money!!
Related Posts: