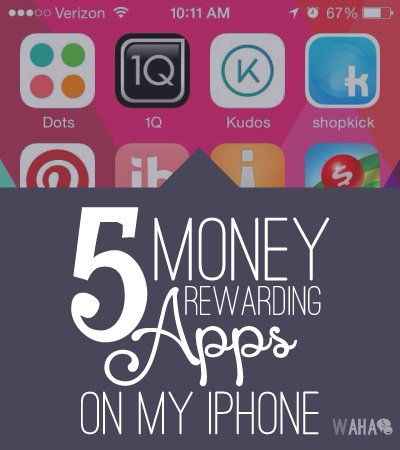 Smartphones are now the standard in cell phones and people love finding ways to make money from them. There are hundreds, probably thousands, of iPhone apps available that claim to earn you money or rewards. I love testing them out for myself. Some of the times I find a keeper that stays on my phone. However, there have been many others I've tried, especially the survey ones, that have ended up being deleted. Sometimes the reward apps are not worth the time you spend, not secure or I struggle to ever build up enough rewards or money to cash it out.
Here are 5 money rewarding apps currently on my iPhone.
1. Kiip Kudos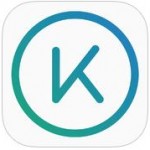 Kudos (also called Kiip Rewards) is a super simple app that once you set it up you can basically never open it again. You must allow it to connect to your social networking companies of choice. LinkedIn, Facebook, Foursquare, Instagram and Twitter are you choices.  The more active you are on the connected social networks, the more likely you are to be rewarded with things like gift cards or free products.
I have been using the Kudos app for 35 days and have received the following rewards just for my activity at LinkedIn:
Free Trial of Secret Clinical Strength Deodorant
$2 Amazon MP3 Credit
$5 Staples Gift Card
$1 Target Gift Card
Again, you connect your social networks and forget all about Kudos until you receive an alert and and email with your reward information!
2. shopkick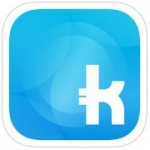 I've heard of many people  using the shopkick app to earn rewards while shopping. However, I only recently installed it for myself to check it out but I really like it already. You earn "kicks" just for visiting participating stores. For example, I can earn 30 kicks just for walking into Walmart, 50 kicks for going into JCPenney, 75 if I visit American Eagle…most of your common shopping places will earn you rewards just for stepping inside the building.
Once you are in the building you can earn more kicks for things like scanning participating products while there- you don't even have to buy them. I could go to Walmart and earn when I walk in and then while I am there scan a box of Ritz Crackerfuls and earn some more rewards- put the box back on the shelf and walk out of the store.
The Kicks can be exchanged for rewards and I love that you can get valuable stuff in exchange for even a small amount of kicks. For example, an instant Target gift card can be earned for as low as 500 kicks at $2 or you can save up and trade in 6250 kicks for a $25 gift card.
I like the shopkick app because you can choose how active you want to  be with it. If you don't want to worry about it- you can still earn just for doing your usual shopping. Sign Up Here
3. 1Q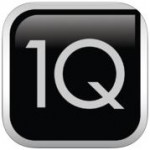 This is a new app I recently learned about while reading a post at WAHJobleads.com. You are paid by answering questions but it's not your typical survey app. 1Q pays you just for answering a question and they pay you $1 for each question! You also have the option to receive only 50 cents a question and you are then more likely to receive more question. Not only does this app pay well for such little work- it pays impressively quick. After answering your available question- you are immediately credited to PayPal!
I signed up for 1Q but have not received a question in the few days I have had it installed.I suggest reading over Joyce's experience with the 1Q app on her blog to learn more or to sign up.
4. Ibotta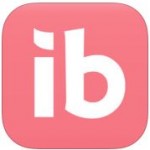 Ibotta is an amazing app! It's sort of like couponing- only better. You can receive money back on available items after you purchase them. For example, my brand of ice cream may have a current offer of 50 cents back. In order to earn the rebate I may have to take a poll or read a quick tip. Once you have earned $5- you can cash it out to your PayPal! What I love about Ibotta is that I can use their rebate system plus any coupons the manufacturer or store offers. It is giving me money back on top of savings.
Even better is that Ibotta has a referral program that pays you $5 for each friend who registers through your personal referral link and redeems at least 1 rebate. My Refferal Link
5. Field Agent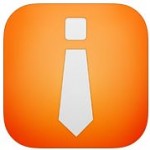 This is a fun task based app. Field Agent has a variety of tasks based on the stores in your area, your demographics and shopping habits. It's sort of like mystery shopping. One example of an "audit" shop at Field Agent that is currently available to me is at McDonald's. I could visit my local store and look outside and inside McDonald's for  specific Spiderman Signage. It would probably require that I take a picture of the signs when I find them and answer a few basic questions. Once I send in my task results I would earn $4. No purchase is necessary for this shop but when it is necessary- it compensates you for the cost.
Field Agent pays you through PayPal and there is no minimum earning level to cash out. Field Agent has other types of tasks available at times as well that can include surveys or scavenger hunts. Depending on your location and the number of active agents in your area, your available tasks may vary greatly.
Related Posts: