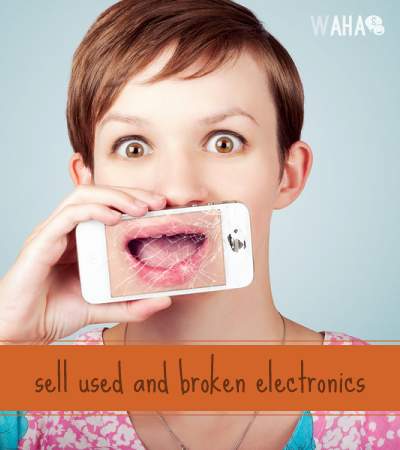 Do you have a drawer full of broken tablets, smashed cell phones, and old e-readers?
Do you constantly vow to get them to a place of recycling but never do?
Do you secretly wonder if they might be worth a few dollars and you can always use extra cash?
Then there are six websites about to make your wishes come true!  You can even sell these sites broken electronics past the warranty and have them offer you money.
Sell Your Broken Electronics
BuyMyTronics.com and GoRoostr.com are two websites that will buy your broken or used electronics and even pay the shipping.  Broken and used electronics can be bought, refurbished and then resold.  This creates less e-waste for the environment and everyone wins.  Just find your item, get a quote, and then print the shipping label (shipping is on them), and wait about a week.  Then receive payment via either PayPal or check.  If you don't want to print a label, BuyMyTronics can also send you a shipping kit.
Need Easy Extra Cash?

Renowned Swagbucks delivers what you need: More rewards, more money! Watch videos, take surveys, shop and more to earn Extra Cash. 100% free to join!


Sell Your Parts for Repairs
BuyBackWorld and NextWorth are two websites which operate similarly to BuyMyTronics and GoRoostr.  The main difference is that BuyBackWorld and NextWorth not only buy to refurbish, but also buy to use for parts for repairs.  They also offer free shipping after you locate your item and print a label.  BuyBackWorld also offers a shipping kit.  Payment is made both via PayPal or check and NextWorth will even offer a Target gift card for the amount if you do not want a PayPal payment or a check.
Plant a Tree for the Environment
Guzu is another site very similar to the others in the way that it works.  It also buys electronics, offers cash, and free shipping.  Guzu even goes so far as to plant a tree for every completed order as well as offers an electronic recycling plan to both businesses and schools.
Sell eBay-style and Get the Best Offer
Usell is a little more like eBay than the others.  They not only accept electronics but also textbooks and more computer games.  You have to create an account, select the item, hear back from buyers, accept an offer, wait for the shipping kit to be sent to you (usually very quickly and still free to you), and then receive payment via PayPal or check.
In Conclusion
With all of these options available to you, there is no reason not to "go green" and make a few dollars on those old, outdated, broken electronics.  Just choose the site that best represents you.  Now "go green" and make some green!
Related Posts: