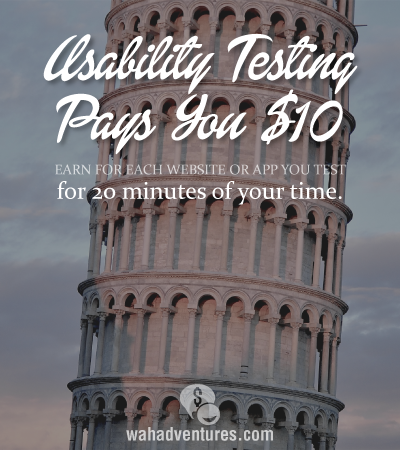 User Testing is a company that pays individuals to test websites/mobile apps and give feedback as to how they are working as well as, the areas of the website that need improvement.
User Testing has a variety of clients, such as, businesses, entrepreneurs, designers, developers, product managers, etc. These clients want to have real life feedback from individuals. This information helps them discover where any problems are and which parts of their sites are confusing.
How It Works
Once you are chosen to be on the panel of user testers you will have the opportunity to test out websites and mobile apps that fit your "demographic profile". This means that you may not always have work available to you. Only individuals that match the target audience will be chosen to test the website. You should not count on this type of work for a steady income, but it is great if you want a way to earn some extra spending cash.
What You Do
While completing your user test, you will use a screen recorder to record video of what is being done on your screen. This will show mouse movements, keystrokes, clicks, and record your verbal opinions. These videos usually take around 15 minutes.  No webcam is required for this, and your face will not be recorded. Next, you will answer a set of four questions on a survey about your experience with the website.
Need Extra Cash for Free?

Join Vindale Research, the famous survey site where you earn rewards to share your experiences about how you use the internet.


Compensation
You will earn $10 per test (this is via paypal)
How to Apply
You can apply on their website by clicking Apply To Be A Tester.
Once you apply, you must complete a sample test with voice recording. You can use a telephone to record your voice for the test, but a microphone is required to take any jobs.
Requirements
You must be at least 18
You must have your own Computer
Broadband Internet
Microphone
How to be Successful as a Website Usability Tester
Many people make a solid extra income as website usability testers for companies like UserTesting. Here are a few tips I have gathered over the years from my own experience.
1. Sign up for multiple companies. Because these are demographic based, you cannot rely on knowing how many tests you can complete a month. To make the most of your chances, sign up for several website usability companies.
2. Don't hesitate when a test opens up to you. If you are able to go straight to your computer and do the test- accept it right away. If you wait, there is a good chance the opening will be filled by other testers.
3. Finally, don't over-think the testing process. When applying for usability positions there is a chance you could fail the test and ruin any chance of making extra income testing websites. Be casual and speak what you are thinking. They are looking for your first thoughts and reactions- not a thought out and complicated set of feedback. Also, be sure to read the instructions thoroughly before beginning the test to ensure you know exactly what they are expecting you to do.
Related Posts:
Want more money?

Try Swagbucks, the famous rewards program that pays you for watching videos, taking surveys, shopping and more.