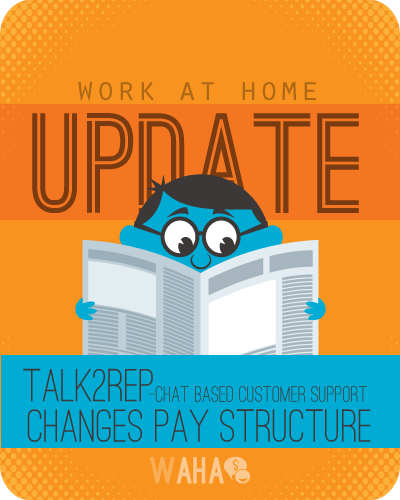 Check out this great email I received from Talk2Rep informing us of their recent pay structure change. This is exciting news about a company that offers a lot of work at home jobs- most commonly known for the chat based customer support position. Email Reads:
Good morning Miranda,
I thought I would reach out to you, since a lot of applicants we talk to on a daily basis, saw our company on your website. As we always had hourly jobs from home, our most popular position was commission based only. The good news is that based on reviews and feedback received, we decided to have all of our WAH opportunities pay an hourly rate, and some of them plus commission. Again, we wanted to share that with you since your website is one of the most popular for our applicants. If you have any questions, please contact me directly!
Thanks,
Carolina Gomez
Talk2Rep
Learn More about Talk2Rep in our original review– which now needs a bit of updating!
or
See WAH Job openings at Talk2Rep
Need Easy Extra Cash?

Renowned Swagbucks delivers what you need: More rewards, more money! Watch videos, take surveys, shop and more to earn Extra Cash. 100% free to join!


Related Posts: