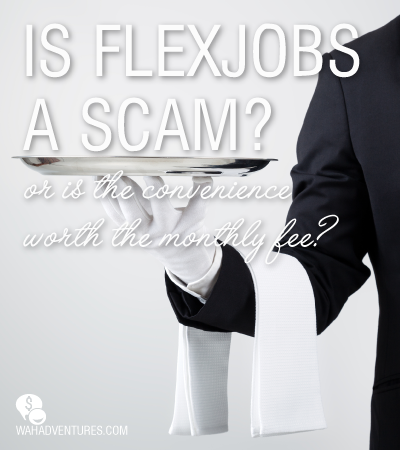 This is a different review from what we normally do here on Work at Home Adventures. FlexJobs.com is not actually a site where you apply to work for them.
Rather this is a job listing site. Our mantra here is that you should never, ever have to pay to work from home unless you are investing in a business (like direct sales.)
When a reader contacted us and asked our opinion of FlexJobs.com, because they do charge a fee, we felt we needed a closer look.
I signed up for a one month subscription, and got to work digging around. Here is what I found.
What is FlexJobs.com?
If you have ever done a general search for work-at-home jobs, it is likely FlexJobs has popped up in the results.
They list ads for jobs, but you have to pay for access. The fact is, you could find these job listings yourself free of charge. They know this, but they feel the service they offer is a better option.
They do all the leg work for you, and they weed out the scams. All you have to do is log on, look through the listings, and apply to those that interested you.
So What Am I Paying For?
FlexJobs makes it clear on the site why they charge a fee to job seekers.
They feel that they can offer a better service if they do not have to find funding through advertising, and if customers do not have to wade through ads to find what they are looking for.
They also want to encourage employers to post legitimate job opportunities with them, so they do not charge a fee to employers, only job seekers.
Is it Worth the Money?
Well, it depends. From what I can tell, they do what they say they do. The job listings I looked at were not your standard Craigslist postings. There were actually some from individual companies and other jobs sites that I had not heard of but that appear legitimate.
There are listings from other more common sites such as newspapers and Craigslist as well, and some jobs are advertised directly with FlexJobs by the employer. If you have the money to spend, it could be worth it. It is important to remember you are paying for a service, not a job.
They personally screen each and every job listing so that they can guarantee that there are never any scams listed. Back in 2009 a poster in a forum noted that they must be a scam because they charge a fee, and the CEO of FlexJobs responded on the forum.
She made all of the points previously discussed here. She also noted that the decision to charge a fee was difficult, but it was the only way to make the service what it was meant to be, which was a way to find these types of jobs without having to weed through advertisements and scams.
What is the Catch?
Obviously if you are looking for a job, you likely have little extra money lying around for anything.
There is no guarantee you will be hired for any of the jobs you find, so you could be wasting your money.
Of course some would say you are saving time and sanity, as well as protecting yourself by avoiding scams.
How Much Are We Talking About?
The monthly fee starts $14.95. I actually found a coupon code "SAVING30"  that made it $9.95. Click here to apply.
If you sign up for more than one month at a time, you get a better deal, and you can cancel at any time.
Be aware however, that if you cancel in the middle of the month, your fee will not be prorated for that month.
You can ask for a refund of any remaining months paid ahead, and they do state that you can ask for a refund if you do not feel that they provided the service they promised.
Be aware also that if you want to sign up for one month only, you have to cancel your membership to avoid being charged automatically each month.
Conclusion
With FlexJobs, you are paying for a service, not a job. From all appearances it is a pretty good service, and they do offer to give your money back if you are not satisfied.
I have not found where anyone has had trouble cancelling or getting a refund.
What is comes down to is whether or not you have the money to spend, and whether you feel the service would benefit you.
You can do it yourself, and a lot of us do, but having the hard part done for you would probably be nice as well.
In short, FlexJobs seems to be a legitimate paid source of work-at-home job leads.
The only question is whether or not you care to pay for the convenience of having the leads all in one place and the comfort of knowing you are not dealing with scams.
Visit FlexJobs.com to learn more.