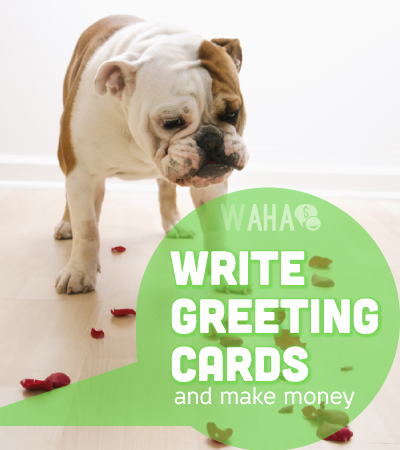 Billions of greeting cards are sold every year, from traditional birthday, anniversary and Christmas cards, to cards expressing sympathy, sorrow and congratulations. Publishers of greeting cards are always looking for fresh ideas, verses and prose to add to their cards. If you can write a witty verse, clever pun or piece of touching prose, you could make money writing greeting card messages.
The Greeting Card Market
Writing greeting card messages can be a lucrative venture, but competition is high. In the early stages, it's best to concentrate on the smaller greeting card publishers, as there will be less competition, and you are more likely to have your work accepted. As you become more confident and build a catalogue of accepted work, you can approach the bigger companies.
Researching Publishers
Research is vital to the success of your venture. Spend some time browsing through greeting card stores. Make a note of the different greeting card publishers (details can usually be found on the back of the card), and read the text inside the cards to get an idea of the type of writing each publisher uses. If you want to start with a small publisher, try looking through local gift shops, craft stores, book stores, pet shops and other unusual locations where you might find greeting cards.
Choosing a Publisher
It's important to choose the right publisher for your work. Publishers tend to use a specific style or type of writing for their greeting cards. Before submitting your work to a publisher, research the company, their guidelines and current publications. Most publishers display submission guidelines on their website. Alternatively, contact them by telephone, email or post to ask for a copy of their current guidelines.
Pitching an Idea
Before sending a submission or pitching an idea, read the submission guidelines thoroughly. Publishers are inundated with verses and prose on a daily basis. If you want your submission to get the attention it deserves, you must make life easier for the person reading through the submissions. This means following all guidelines, keeping your cover letter brief and including all of your contact details.
Some publishers prefer you to make contact before sending your submission, while others allow unsolicited material. If you intend to submit unsolicited material, remember to attach a cover letter, including your contact details and any necessary information. Where possible, address the letter to a specific person, as this helps build a relationship with the person responsible for choosing new writing.
Waiting for a Response
Publishers often have a backlog of submissions and it may take several months before they look at your submission. The guidelines should give you an idea of how long you will have to wait for a decision. If you don't receive a response within a reasonable time frame, follow up with a polite letter, email or telephone call. If your work is accepted, it may take several months before you receive payment.
Rejections
If your work is rejected, most publishers will let you know that your material is not needed. Some publishers, however, are incredibly busy and will only contact you if they are interested in your work. Rejection may be difficult to deal with at first, but it will become easier with time. Try not to be too disheartened by rejections, as they an inevitable part of getting published.
Feedback
Some publishers will offer feedback or reasons for rejection. This information can be extremely valuable, especially in the early stages. Often, this feedback is a positive sign, as it can mean that the publisher believes your work has potential, if it is improved. Use this feedback to help improve your work.
Keep records
Keep track of all activities, including submissions, rejections, acceptances and payments. You should also make a note of any dates and names of people you contact, as this helps you to keep track of your relationships with publishers.
Related Posts: