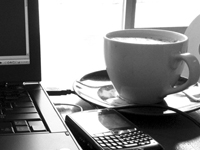 Written By: Jess Weaver
Are you working at home? Right now I am working at home and I plan to work from home for a really long time. I know you're busy– but I want to give you five of my favorite ways to earn money using the internet.  So, take a break and enjoy a cup of coffee with me.
1. Ad posting. 
This is one of the easiest ways I have ever earned money from home. You can earn anywhere from 25 cents to two dollars per ad post. Of course some places pay more but you have to find them. Great places to look for ad posting gigs are on Work at Home forums and Craigslist. But be aware of scams and go with your gut feeling. Check out this old post and learn how to find legitimate work at Craigslist.
Need Easy Extra Cash?

Renowned Swagbucks delivers what you need: More rewards, more money! Watch videos, take surveys, shop and more to earn Extra Cash. 100% free to join!


2. Merchant Circle
Merchant Circle is my main income while working from home. News is that they recently closed their registration for new writers.  I suggest you jump on board whenever they reopen their registration. One of my favorite parts about this gig is that you get a bonus at certain writing production levels. For example: if you write over $100 of articles a week; you get a 10$ bonus.
3. mTurk
mTurk is one of my favorite "go-to-sites" when I have nothing else to do. Believe it or not, some writing websites post their workload on mTurk. Keep an eye out for places like Englishmajor.com. You can take a test and then sign up to do hits for them. One bad thing about gigs like this is that they do not last long. The tasks quickly run out.
4. TryMyUI
Extra cash is extra cash. Can I get an AMEN? Whenever you are working from home an extra 10 dollars is blissful. There are a whole fistful of usability sites that allow you to take tests for them. Be sure to read the guidelines closely so you can get paid!
5. Titling
Titling with Demand Media is an awesome way to earn extra money. While this is not meant to be a permanent income; it can help you earn some extra income. One of my first work at home gigs was Title Editing for Demand Media.
What are you waiting for? Start looking for small ways to earn an income and watch them add up quickly.
Want more money?

Easy Extra Cash! Join the famed Vindale Research site and earn rewards by doing nothing more than sharing your experience of using the internet. Guaranteed 100% free membership.


What is your FAV extra cash site? Tell me all about it.
Related Posts: