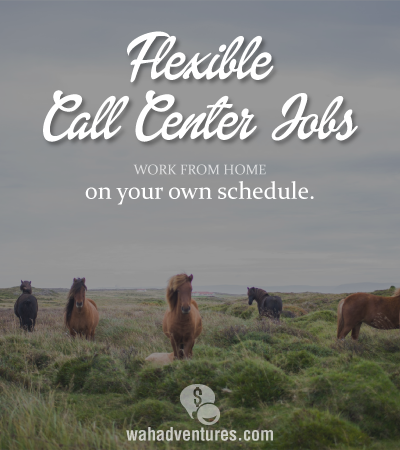 There are many reasons people choose to find a work at home job but flexibility is the most common. When life is priority over work, but a paycheck must still be made, then finding a way to work when you are available is ideal. The following are 9 virtual call centers that provide highly flexible scheduling systems. Most of these allow you to choose your own hours, some even down to half-hour increments.
USA Contact Point
USA Contact Point has very flexible scheduling. As a virtual call center agent, you are able to choose from open schedules available 24/7.  On average, agents earn 18 cents per talk minute and are paid weekly via direct deposit.

ContractWorld
ContactWorld works for top brands like Pizza Hut, KFC and L'Oreal. Agents contracted to work with ContractWorld are able to choose their hours, meeting the clients needs. It is said that the schedule is available to be worked in as little as 30 minute increments.
Agents are generally paid on a per call basis and the average pay can vary greatly based on the client you work for. You can, however, expect to earn $11-16 per hour. Agents are paid by the clients they work for, not ContractWorld. There are fees associated to becoming an agent to ContractWorld's clients.

LiveOps
LiveOps is most definitely one of the most flexible virtual call centers hiring work at home agents today. Schedule is released as specified dates and times and is somewhat of a first come, first serve basis. You are able to schedule yourself in half hour increments and can change your schedule later, allowing others to work in your place.
Agents working for LiveOps are paid per minute of talk time and the average pay varies based on performance. The general starting rate is 25 cents per talk minute plus incentives.
West Corporation
West Corporation is likely the most flexible virtual call center that hires on an employee basis rather than independent contractors. Schedules are released and agents can make their own work hours.
Since agents are employees, they are guaranteed to earn at least their state's minimum wage. Pay is per talk minute, provided you earn at least minimum wage. If you do not, West will compensate the difference.

Great Virtual Works
Great Virtual Works allows agents to choose their own work hours. However, agents are required to work a minimum of around 10 hours per week.
Pay with Great Virtual Works is once a week and the rate depends on a few factors. Based on performance, incentives and schedules, most agents expect to earn between $10 and $15 per hour.
Working Solutions
Working Solutions is a reader favorite! Scheduling for Working Solution's agents is self-directed. Agents who consistently work their scheduled hours are rewarded with priority scheduling.
Pay varies depending on the client agents are contracted to provides services for. Agents have earned $9 per hour up to over $20 per hour.

NexRep
NexRep offers positions as a virtual call center agent that allows for people to schedule themselves from availability 24/7. However, NexRep does require their agents to work a minimum of 15 hours per week.
Inbound call center positions are paid on commission only. Outbound positions have a base of $5 per hour plus commission. However, agents are said to average $10-15 per hour.
ACD Direct
ACD Direct handles non-profit campaign calls. Agents sign up for their own shifts and have access to the schedule as set dates and times.  There are minimum shift requirements, depending if working during a peak season or not.
Agents are paid a minimum of 23 cents per minute and there is potential to earn up to 35 cents per minute.
Arise
Arise, much like ContractWorld, is a resource to begin working from home for a variety of top brands. There are fees to beginning your own home business with Arise.
Depending on the client's needs, it is said there are many flexible options when working with Arise. There may be a minimum of 15 hours per week.
Pay differs per client and can range from $9 to $19 per hour.
Working for a company that allows you to make your own schedule, provides you and your family a sense of freedom. Working mothers are able to find time between other important life events to work and earn an income. In other cases, people with disabilities sometimes cannot foresee their ability to work from day to day or even hour to hour. If it weren't for flexible virtual call centers like I listed above, many of us would not be able to work at all. Much love to them all.
Related Posts: