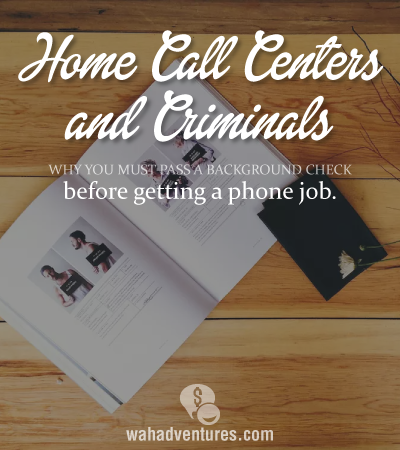 Often times people express their confusion and concern about companies who require work at home phone agents to pass a background check. While at first this step of security can feel like an unnecessary invasion of privacy, especially if the background check involves looking credit history, there are good reasons. However, one in four American adults have arrest or conviction records. Therefore, we question if quality workers are being eliminated without a chance.  Here are the arguments for these background checks done by virtual call centers followed by common red flags applicants can watch to hopefully avoid discrimination.
Handling Sensitive Information
Many work at home phone jobs are in customer service positions where sensitive information is passed from the client to the virtual agent. If callers are placing shopping orders, it is common for credit card information and addresses to be shared over the phone.
There may even be times when agents are required to collect social security numbers. If dealing with calls that involve insurance and other personally detailed information, the callers will expect their privacy to be respected. It is for this reason that call centers hold a responsibility of ensuring the agents collecting this information are trustworthy. A criminal background check can help eliminate home agents with a past of participating in known identity theft.
Risky Behavior is Unreliable
If a potential agent has a long criminal past that involves a lot of risky behavior, it can trigger concern that the applicant will not be reliable.  People with a criminal background should expect to explain their past and ensure their potential employer that it will not effect their ability to perform the job at hand.
Need Extra Cash for Free?

Join Vindale Research, the famous survey site where you earn rewards to share your experiences about how you use the internet.


However,  the Equal Employment Opportunity Commission says it is illegal to use the criminal histories of job applicants to discriminate against them. Companies cannot use information obtained in background checks to profile applicants by race, national origin, color, sex, religion, disability, genetic information (including family medical history), or older age (40 or older) and then use that information in the decision making of employment.
Employers are allowed to use the information to determine if the applicant will be a responsible, reliable, or a safe employee.
Arrest Versus Conviction History
Arrest records are not usually looked at with as much concern as conviction records. However, a potential employer may still want an explanation about previous arrests even if the applicant was not convicted.
Some States Have Outlawed Criminal Background Checks
Thirteen states are following a "Ban the Box Fair Hiring Law". The details of each state's laws against criminal history discrimination varies. The states currently involved with the Ban the Box campaign include: CA, CO, CT, DE, HI, IL, MA, MD, MN, NE, NJ, NM, RI. In addition to the statewide bans, many local counties and or cities have adopted similar laws. You can easily check each state's and region's laws regarding criminal background checks through the National Employment Law Project's pdf file.
Employers are expected to follow the hiring laws of their own local region versus those of the applicant. Therefore, knowing your own state's requirements may not be helpful. You will need to know those of the company you are applying.
Credit Checks
For similar reasons, companies may want to look at your credit history to determine if you are responsible, reliable or safe. This practice is becoming less and less common as the economy has taken a nose dive in recent years. Most virtual call center companies are understanding that credit history is not a reliable way to characterize their applicants. However, if you are faced with a company requiring to look at your credit history; you can get your credit report and fix any mistakes before an employer sees it. To get your free credit report, visit www.annualcreditreport.com or call 1-877-322-8228. You don't have to buy anything, or pay to fix mistakes.
Or, if this is a concern for you, apply only to companies who do not require a credit history check.
What You Should Know
There are some points every employee should be aware of before applying to a company that requires background checks. If a company is requiring a background check early in the hiring process, it could be a sign of potential discrimination. Legitimate background checks should only be conducted toward the end of the hiring process, after an applicants ability has been judged by experience and education first.
Employers that obtain an applicant's or employee's criminal history information from consumer reporting agencies (CRAs) also must follow the Fair Credit Reporting Act (FCRA). For example, FCRA requires employers to:

Want more money?

Try Swagbucks, the famous rewards program that pays you for watching videos, taking surveys, shopping and more.


Get your permission before asking a CRA for a criminal history report;

Give you a copy of the report and a summary of your rights under FCRA before taking a negative employment action based on information in the report.

Send you certain notices if it decides not to hire or promote you based on the information in the CRA report.
http://www.eeoc.gov/laws/practices/inquiries_arrest_conviction.cfm
Should You Pay for Your Own Background Check?
Every company and their clients can have different requirements for background checks and payment. It is up to you if you are willing to pay for the background check. Many companies will absorb the cost but some do not. If you are asked to pay a background fee, be sure it is done at the end of the hiring process, after a position is secured (pending you pass the inspection). On average, you can expect to pay anywhere from $15-50. If you are asked to pay more, be sure to clarify the reason.
Related Posts: