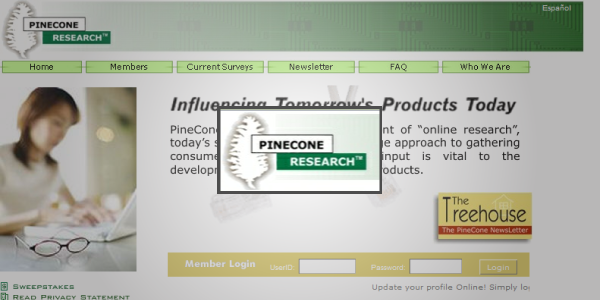 Pinecone Survey, reportedly the best survey site ever,  is currently open to new registrants!! Usually Pinecone is closed off to most demographics but it appears they are letting people in from all types of backgrounds at the moment. This is one company I have tried since before this blog's existence to get into…but I never get accepted! Makes me sad, but I am not the type to just give up. So what makes Pinecone Survey so desirable for us looking to make extra cash online?
Flat Rate per Survey!
Need Extra Cash for Free?

Join Vindale Research, the famous survey site where you earn rewards to share your experiences about how you use the internet.


Every paid survey you take with Pinecone earns you a flat $3! From what I hear,  you don't get screener surveys. Every survey Pinecone sends you pays you! No wasting your time answering the survey to get halfway through and be told you do not qualify!!
There are some surveys however that pay via entries into giveaways. You would be aware if the survey you are taking pays $3 or entries.
Quick to Pay-No Cashing Out Needed
You can choose either PayPal or a Check to receive payments. If you use PayPal it is reported that you often see the payment the day after you take the survey! Most sites make you wait weeks, even months, until the campaign is over. Then the other company make you reach a minimum cash out level. Pinecone does not! Relieving the burden of wondering if you will really ever get paid! Quick pay, no hassle!
Free Products!
It is my understanding that Pinecone even sends out free products from time to time to get your feedback! I love free stuff…even when its stuff I don't use. I am not sure why I am so drawn to getting things for free but I may be a freebie junkie!
No Junk Email
Many survey sites fill your inbox with junk. Invites to take surveys that you do not even qualify for and constant reminders of surveys you have available. Pinecone only invites you to surveys you already qualify for and only email you when you have one available. The number of surveys you receive a month can vary. Most likely you will get at least one a month. But be sure to take them when you can or you could be kicked out of this exclusive Survey company for inactivity!
Want to see if you can get it while their registration is open?
Want more money?

Try Swagbucks, the famous rewards program that pays you for watching videos, taking surveys, shopping and more.


Related Posts: