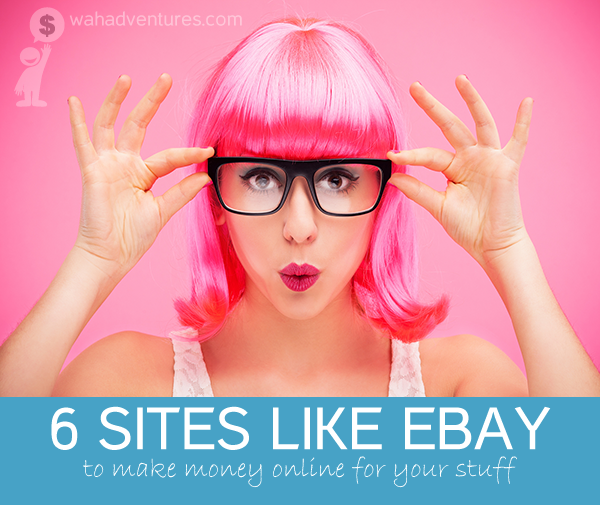 Do you enjoy selling unwanted items online, but have gotten into a rut?
Do you need to unload a few items to make room in your home office?
Do you have at least one closet so full that a helmet is required just to open the door?
Well, if you have ever found yourself in this or a similar situation, there more sites springing up online where you can turn your "junk into jingles"–pocket jingles that is!
While most of you are probably familiar with the "big guys", sites such as eBay and Amazon, there are other sites available with more popping up all the time. This article will attempt to introduce those other sites and also briefly mention or reintroduce eBay and Amazon.

This Selling Site Was Originally Called AuctionWeb
Founded on September 3, 1995 by a 28-year-old software developer, Pierre Omidyar, his code became THE code for what would eventually evolve into what we now know as eBay. Originally called AuctionWeb it became a place to sell overstocked items, antiques or collectibles.
These types of items are still sold today as well as just about anything else you can legally sell, such as timeshares. Some items such as furniture are listed in The Classified Section and sold to local buyers in your area instead of all over the US and the rest of the world.
The three ways that sellers sell their wares on eBay are:
set prices or Buy it Now
Best Offer, which is negotiable
auctions, which start at .99 with or without free shipping
This Site Was Named After Female Warriors in Greek Mythology
Amazon has a similar story as it was also founded in 1995. A man named Jeff Bezos named the site after both the Amazon River and a group of legendary female warriors in Greek mythology. It quickly became a place to get rid of used books. Now used books are just the tip of the iceberg, as new and used CDs are sold as well as a host of other electronics, technical devices, and toys.
Items are listed and sold on Amazon at a set price with shipping added in or sometimes offered for free.
The same item will usually be listed by several buyers as either new or used. Used items must be described detailing their condition and listing any flaws.
Now outside of the "big guys" there are lesser known sites such as Reuse It Network, Diggers List, Bonanza, Dreams Recycled, and Hunters Ally.
This Site Promotes "Green Living"
Reuse It Network is a site with the quote, "Reusing items not only cuts down on goods in landfills, but also helps reduce the strain on our natural resources by keeping useable items in circulation, reducing the need to manufacture additional goods." Founded in 2007 in Scottsdale, Arizona as a way to promote "green living". It still espouses that "green" way of life today.
This site is more for recycling or giving away the items that you no longer want and getting the items that you do want. The site teaches ways to do this, such as putting things along your curb with a "For Free Sign".
List Your Home Improvement Items on This Site
Diggers List is a place to list your home improvement classifieds. Simple. Buy and sell items to make your house function better or look better. As you can imagine, all items listed are decorating items. Your town and zip code are typed in and then you would list how far you are willing to drive to buy these items.
Bath, Doors, Electrical, and Storage are some of the many home improvement categories listed. Digger's List is more for price listing than bidding or making the seller a best offer.
Oprah Raves About This Site
Like it's name implies, Bonanza is a big place to sell your unwanted items. Their motto is: "Find anything but the ordinary." Except on Bonanza you would be actively listing a price, not having people bid on the item or do a Buy Now. All sellers basically have a booth and are responsible for selling their items at their asking price. Categories include Collectibles, Crafts, Home and Garden, Gifts, Jewelry and Watches, Fashion,and Health and Beauty. Free shipping is usually always offered. Oprah herself has been raving about this site since 2007.
This Site Was Founded on Heartbreak
Dreams Recycled began in the early part of 2013 when Tiffany Beverlin's 15-year marriage ended in divorce. Not only was Tiffany left to sort through her life, but also to sort through mounds and mounds of now unwanted items. Items such as her good china and former engagement ring now carried painful memories, but could still fetch a good price if sold to the right person. Tiffany soon realized that other divorcees needed to sell their unwanted items to be able to purchase their new dreams and also to heal in the process.
At Dreams Recycled, most of the fine jewelry there is appraised and is bought along with the appraisal. The ways to sell on Dreams Recycled are to sell at the appraised value or use the Make Me an Offer feature.
This Site Connects Design Lovers
Hunters Ally was founded in 2013 but does not officially start until early this year 2014 and will pride itself on being the site that connects design lovers and starts their ongoing conversations. Known for its unusual designs in decorating and household items, it has become the buzz of a future Facebook page, http://www.facebook.com/TheHuntersAlley.
In Conclusion…
Events can also be created on Facebook as well as Craigslist. I know people, who have advertised their yard sale or rummage sale on Craigslist or Facebook, and did very well because people knew about it and came.
There was even an article on this blog about selling in Facebook Yard Sale Groups.
All of these sites do have a blog and their terms and conditions of selling listed. Also, make sure you are clear on how much of a commission or "cut" each site will take and price your items accordingly.
So no matter what you want to sell or give away this year, you are not just limited by the "big guys". You now have other options.
Give these new sites a try! What would it hurt to diversify and spread some of your items out to a few of these additional sites?
You may be pleasantly surprised and find another target market or even a few new selling tips in the process.
Good luck and enjoy! Now go put on your helmet and clean out that closet!
Related Posts: