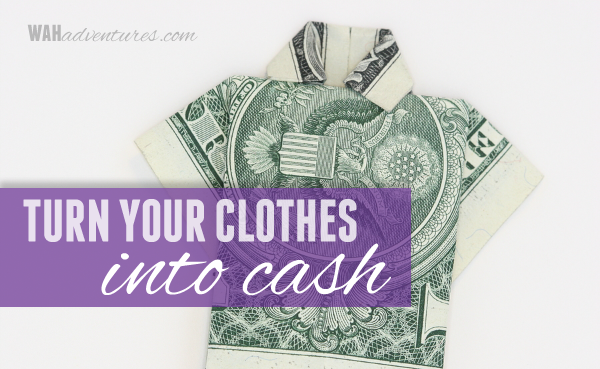 There are many things you can do with your old or unwanted clothing. You could start cleaning out your closets and freeing up storage space by having a yard sale, donating or giving old clothes to family or friends or you could sell them to online consignment shops! There are dozens of places online where you can turn your clothes into cash. This online money making is most appealing for those who have a collection of name-brand clothes that are still in good condition. In fact, many people make a living online buying quality clothes at used thrift shops and yard sales at deeply bargained prices and then reselling them to online consignment shops.
I have compiled a list of 24 places you can use to turn  your clothes in cash. However, there are many many more than what I even have listed here. So take your time reading through their policies and how they pay out before deciding which online consignment shop you will sell your old clothes, shoes and handbags to.
24 Online Consignment Shops
What to Ask Before Choosing an Online Consignment Shop
What method do they pay you with?
Some choose to send you a check while many others will make a PayPal deposit to your account.
How is the value of your clothes figured?
Be sure to look at the going prices of their current items and then search through the terms and conditions to see what percentage you would earn.
Will they accept what you have?
Some of  these online consignment stores will only accept certain brands. Read through any of their exceptions.
Who pays shipping?
Most online consignment shops will pay for the shipping to their facility. In fact, many will even ship you packaging to send your clothes in!
Do they pay only if your clothes sell?
Some online stores will pay you upfront, before the items sell. While others only pay you if they sell the item.
What happens to my clothes if they do not sell or are rejected?
Most companies have a policy about clothes they receive and reject or cannot sell. You may have an option such as having them sent back to you (you pay that shipping) or allowing them to donate the unwanted items on your behalf.
Related Posts: