50+ Simple Ways You Can Make A $1000 Fast (In A Week Or Less)
Updated on: by Amy Kennedy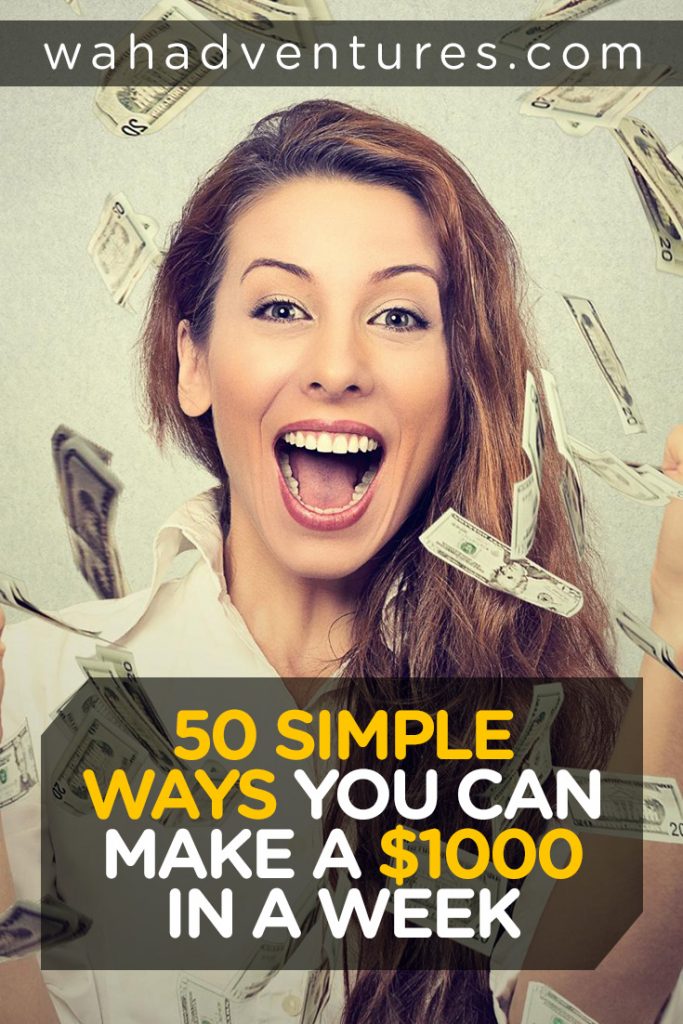 So you need to make some cash and you need to make it fast.
Need Easy Extra $350+/Month For Free?
It's a lucky thing for you that you're living in the age of instant information and connection.
You are about to discover that the opportunities for making money are everywhere.
So let's break it down.
Here are 20 simple ways you can make a $1000 in a week:
1. Fill out surveys for cash
If you don't mind sharing those opinions then get ready to slide some diners into your pocket.
Companies want to know what you think and they're willing to pay for it.
In fact, not only are they willing to pay for your opinion, the actually sort of have to.
About a decade ago, annoying survey agents used to dial-up your landline around dinnertime and try to get you to fill out a survey.
This attempt to hijack people's time didn't go over too well and actually angered people to the point of taking companies to court for the calls.
These days, if companies want to find out what you think, they're going to have to pay you.
However, not everyone knows they can get paid for filling out surveys and even if they see an ad asking them to fill out a survey for money, most people think it's a hoax.
And that's why if you sign up to be a survey taker you WILL get work and you WILL make money for just letting people know what you think.
You can make about $10 an hour or so depending on how quickly you can fill out surveys and how many companies you sign up with.
Some surveys pay a few dollars (they are quick and easy) and other surveys are longer and can pay like $75 sometimes.
Below are 10 excellent high paying survey websites to begin making quick money with:

Need Easy Extra Cash?
Pinecone Research, a leading name in online survey panel honesty, absolutely guarantees $3 cash for every survey you complete!
Take advantage of their time limited New Membership drive and register NOW. Join today: 100% free!


2. Have an online garage sale
You don't have to wait for a Saturday in the spring to hold a garage sale, you can do it online.
In fact, you can make more money selling your stuff on the web than you would selling your stuff in person.
First of all, you need to set up an account on popular online selling sites like Craigslist or Kijjiji, which is super simple and free, free, free.
Then, instead of setting your stuff up on card tables on the lawn, you need to take some amazing photographs of the things you're going to sell.
You're going to post these photographs for potential buyers to check out your product so make sure you've got good lighting – lighting is everything.
Lighting Hints
Shoot in natural light.
If you have to shoot indoors when it's dark outside, you should use a lighting kit.
Place your item in front of non-reflective whiteboard before shooting if you don't have a lighting kit.
Once you've shot your pics, edit them to make sure the colors are nice and crop out anything unnecessary.
Open up your account on one of those sites we talked about earlier.
Now set up an advertisement and upload your pics.
You can decide if you want to set a price or you can write that you are accepting the best offer.
Hit post.
The site will send you an email to confirm the posting and voila your online garage sale has started. And you can post a bunch of things on one page or you can post a separate advertisement for each item you have.
The beauty of online garage sales is that you will get a bunch of people inquiring about your item so you can gauge how much you will be able to sell your item for. That means you don't have to accept the first offer that comes your way and that also means you can make more dough.
Be honest about what you're selling and you can easily start selling all sorts of things to repeat customers.
3. Sell your advice
Seems too good to be true, but if you are great at something you can advise other people on how to do that great thing.
Now, most people have some hobby or talent that they wouldn't consider turning into a job, the most common include cooking, gardening, woodworking, sewing, knitting, and auto mechanics among others.
Sure there are professionals that do all of these things but they aren't advising other people on how to do it themselves.
If you're pretty awesome at the thing you do then monetize that baby.
Contact magazines or websites dedicated to your craft or hobby and offer to write an article or column.
If you have to do one for free it's ok because it will help you build a presence online.
Join online groups, post advice and let people get to know you.
You can set up your website and offer consulting services or advertise in your local paper or on buying and selling websites.
People will reach out to you if you offer a great service with a fair price, so get creative with that hidden talent of yours.
Sites to Use:
4. Start a blog
Choose a topic you love talking about and blog about it.
If you choose a nice niche topic and you write about interesting stuff, you can easily make money with your blog.
The key is to write about something that really interests you so that the blog doesn't feel like work, but rather a labor of love.
When you write about something you're passionate about, you're going to be able to bring something unique to the conversation and people are going to want to read about it.
When you get lots of people visiting your site you can place advertisements on your site and voila – you're racking up dollars like nobody's business.
Once you get the hang of things, you can even sell things on your site that you create yourself like books or other merchandise.
5. Borrow money to make money
Technically, if you're borrowing money, you're losing money because you've got to pay it back with interest.
BUT – and there is a big huge but.
Earn Everything… nearly!
Join Opinion Outpost, one of the few faithful and honest survey panels and earn cash and gift cards for your opinion. Stack your points and redeem them: Simple! No hidden fees and completely free!


If you borrow money to make money than your story is different from those borrowıng just to get by.
Borrowing money to spend money is a hill you don't want to slide down unless you're comfortable with giving thousands of your hard-earned dollars away.
If you borrow money and the profit you make is greater than the amount of money you have to pay back then borrowing is a good option for you.
Now, of course, there are certain cases when you absolutely, absolutely need to borrow money to pay for something that's not going to make you money – life happens.
But if you are stuck in such a scenario, it would be a good idea to have at least a portion of the borrowed money making money for you.
IDEA – woot, woot
If you borrow $1000, use $100 to buy items like key chains wholesale and resell them online for more than you bought them – and there you have some profit.
6. Write an ebook
Writing a book is not as daunting as it once was.
These days you can write a book about anything you know a lot about and you can be ensured that it will be published.
These days you don't have to rely on publishing house to publish and distribute your books, you can do it all yourself.
This is the day and age of self-publishing and that means you can become an established author by taking all aspects of the publishing process into your own hands.
Easy as 1-2-3
You can write a book.
You can publish the eBook version on Kindle.
You can use Createspace to make a hard copy version.
You can then market your book across media platforms.
Amazon takes a percentage of the book price, this can range from 25 percent to 70 percent based upon the program you select.
Money is deposited directly into your bank account each month.
Of course, there are a number of other platforms you can publish your book on such as Nook Books.
7. Sell your stuff at a garage sale
If you want instant cash, there's no better way of doing that then to sell some of you old stuff.
And the fastest way you can sell your stuff is by setting up shop in front of your home. Additionally, you can join someone else's garage sale if you don't want to deal with the hassle of advertising by yourself.
Joint garage sale bonus!!!
People love BIG garage sales.
The bigger the garage sale the more people will come.
The more people there are, the greater chance of you selling all your stuff for a good price.
8. Become a fitness coach or activity leader
Getting fit is an eternal obsession for most people.
The eternal part of that is a result of the fact that most people never get fit because they start and stop programs almost like a ritual.
This also means there are thousands of people in your city trying to get fit all the time.
So what does that have to do with you?
If you can come up with a fun way to help people drop pounds you can make a ton of moola.
Think outside the box
Start a hiking group and charge people a fee for each organized hike.
If you know a unique style of dance, start up a class at your local community center or fitness club – or even your backyard.
If you know a martial art, start a class.
If you are good at motivating people and also know about working out, become a personal coach.
Start a biking group and organize interesting routes to interesting places. You'll be providing fun fitness while helping people to make new friends.
Start a healthy cooking class.
Charge people a few for sending them a healthy new recipe everyday.
As you can see the options are many and you can definitely get on board with one of them.
9. Stop spending on things you don't need
You might think you need that morning latte, but the truth is that a fancy latte every day is more of a want than a need.
Sure, you don't want to live a life where you're not forced to scrimp and save all the time, but you need to get a balanced footing first.
Plus, if you find that you can save a grand in a week, you can invest that grand to make more cash so you can enjoy fancy whipped, caramelly, chocolaty coffee deliciousness (It is a need).
Think about all of the stuff you spend money on in the week and if it's not absolutely essential like food, shelter and transportation then erase it for the week.
And even when it comes to the essentials do them in the most economical way possible. Instead of eating out every day, pack your lunch and cook your own dinner.
If you must socialize do it at someone's house where you can cook together and share a bottle of wine.
By the way you know restaurants make a ridiculous amount of profit on food – like 300 percent – so why don't you keep that profit in your own pocket.
10. Share your talent
People are desperately bored a lot of the time and if you can do something to make them smile, you my friend can make some serious cash.
Are you a great dancer?
Can you juggle?
Do you mime?
Can you dress up like a clown and make people laugh?
Can you stand still like a statue, but blink like a crazy person?
Can you sing a song?
Can you play an instrument?
If you can do any of those things then get out there in the street and make the world smile.
Busking can score you some nice cash if you're good at what you do and genuine and kind when you do it.
Remember, even a dollar at a time over the course of an hour in a high traffic area can easily bring you $50.
Multiply that by the number of hours you are out in the street and you might even want to quit your day job.
11. Become a bartender or server
People in the food and beverage industries can make a ton of money – and they deserve it for what they've got to put up with.
Scoring a job as a server or bartender is pretty easy as long as you're an agreeable person and willing to.
Bartenders and servers in decent venues can make hundreds of dollars in tips in a single night.
Drop in on some of your local restaurants and bars and see if they're hiring, oftentimes these kinds of jobs are filled by word-of-mouth.
Of course, the base pay for bartenders and servers is nothing to get excited about, but it's the tips that are going to have you sitting pretty at the end of the month.
12. Rent out your stuff
Is there anything you've got that someone might want to borrow?
Well your friends might be able to borrow the thing, but strangers will be willing to rent it. You can rent out things like:
Tools
An instrument
A bike
Camping gear
A room
Furniture
Lawnmower
Snow blower
Just to name a few…
And you can post your rental on free buy, sell, and rent sites like Craigslist or Kijjiji,
13. Become a freelancer
You have the choice to do whatever you want in your time and so you can optimize it or waste it.
If you're trying to score $1000 in a week then clearly you shouldn't be spending hours in front of a TV screen, instead head over to your computer screen and start making that money.
You can start right now, it doesn't matter the time or the day.
You can freelance your time, and chances are there is at least one thing you are good at, that people online will pay you to do from home.
Writing blogs and articles is a popular way to earn extra money if you are great with words.
But that's not the only kind of service you can offer.
People are looking for all sorts of virtual assistance ranging from website building to photography to bookkeeping to project management.
You can check out a number of sites like Freelancer, Upwork and Guru that connects service providers with people that are looking for virtual services.
Most of the sites have a free basic option and you are only charged a percentage of the amount you earn.
Of course, there are upgrade features that you pay for, but you don't need to worry about that in the beginning.
If you have samples of similar work, it is pretty easy to land your first freelance job.
If you don't have previous experience, don't worry, there are plenty of people out there willing to give newbies a chance for the right price.
Become a freelancer and you can easily make $1000 a week.
Sites to Use:
14. Design websites for other people
Yes, you can create a website.
Me – create a website what?
You may be thinking you don't have the technical know-how to do it, but guess what?
You don't need tech-wizard skills to create a website, these days there are all sorts of platforms you can use, like WordPress to create a website.
There are ready-made templates you can use for the design for your site – complete home page, banners, buttons and additional pages.
All you need to do is plug in your information like the name of the site and what it's about and you're good to go.
So if it's so easy than why would someone pay me to make one for them?
Well hold up there friend.
Yes, creating a website is easy enough that anyone could do it, however not everyone has the time or inclination to do so.
You are providing a service like any other service.
Yes, people can cook for themselves, but they eat out because they don't have the time to cook or they don't have the desire to learn how to cook.
All you need is a few hours to get familiar with whatever platform you're going to use and then you can advertise your services in online marketplaces.
15. Download apps that will make you money
There are a ton of money-making apps out there and although they're not going to make you rich overnight, however, the money you earn can add up.
This one is pretty simple and just requires a bit of your time.
Download the app, fill our payment information and do what they need you to do.
Voila, you've earned yourself a nice bit of change.
The stuff you can do to earn money from apps includes the following:
Play a game for InboxDollars
Be a mystery shopper for Bestmark
Take photos for Foap
Test websites for User Testing
Take surveys for Google Opinion
There are many more, but this just gives you a start. Pay ranges depending on the complexity of the task.
16. Sell your photographs
Do you love taking photographs?
You can make a ton of money selling your photographs.
Now don't worry if you don't have a fancy $5000 professional camera, you can still sell your photographs.
There are companies that want your "real" experiences like Foap, which encourages users to take shots in their everyday lives for all sorts of missions they put out.
If you're great at what you do you can earn hundreds of dollars.
There are numerous stock agencies online like Bigstockphoto.com who will allow you to join their site and sell your photographs.
The stock agencies require you to send them test shots which they must approve before you're allowed to sell on their sites.
You can also take photographs of events in your city and sell them to local papers.
Of course if you photograph something that is newsworthy, you can sell them to big news agencies like Reuters or big money depending on the importance of the event.
Sites to Use:
17. Make your very own crafts
If you love creating whimsical, sweet things, you can find a market for it online.
Sometimes people want things to gift that can't be found easily, other times people want monogrammed things and other times people just want to purchase work from the artists themselves instead of from big box stores.
Sites like Etsy help you set up an artist profile and then you can post photographs of your gorgeous crafts online.
The great thing about dedicated crafts sites like Etsy are that the people checking out the site are people who are specifically looking for crafts so you're got potential customers ready and waiting for you to present your crafty stuff.
18. Create an online course
People have a crazy thirst for knowledge and information and that is why online courses are big business these days.
You can create a course for just about anything ranging from "How to be more Confident" to "Learn how to embroider like the professionals.
If there is something you have some good solid knowledge about like doing your taxes, you can easily turn that into a course.
Courses can include video tutorials, photographs, charts and graphs so you can really have fun with it.
There are several sites you can join to post your course like Udemy.
19. Teach something you know
So are you smartable?
Maybe you're great at math, maybe you shine at geography.
Do you know something well enough to teach it?
You can tutor people online, there are numerous sites dedicated to doing just that.
In addition to school subjects you can teach your native language and to people around the world.
And connecting with people that are looking to learn English for example is so easy thanks to social media.
You can connect with people on Facebook groups as well as let people know via Twitter.
Once you connect with someone who wants to learn the language, you can easily set up sessions online on Skype or FaceTime.
Of course pm you can always join sites specifically set up for tutoring like tutorhunt.com
Read more: 28 Best Places to Find ESL Teaching Jobs Online
20. Assist people with easy chores
Have you ever thought that it would be amazing to have an assistant?
Sometimes you don't have time to pick up dry cleaning or take your dog to the vet or cook dinner.
In those times it would be supremely awesome to have someone do those chores for you.
BUT, you don't have the money to hire a full-time assistant.
Oh gosh, wouldn't it be great if you could hire someone to do stuff for you only when you really, really needed them.
Wellllll,  you're not the only person that thinks that way.
There are a crazy number of people that would pay you to do these kinds of chores for them.
So why don't you become that person?
Put up an ad in your local coffee shop, online, in a newspaper and let people know you can help.
You WILL get people tracking you down and you can charge a nice chunk of change for your service.
21. Do things around your neighborhood
Your neighborhood is probably rich with opportunities to make some money and you haven't tapped into them yet.
Who doesn't need a lawn care service, for example?
Wouldn't the elderly couple down the road love for someone to mow their lawn, rake the leaves, and take care of their plants and flowers?
If lawn care isn't your thing, think of other services that your neighbors could use.
Garbage pickup, perhaps. If you have a pickup truck, you can pick up bulk items or garbage bags on the days in between the normal trash service in your neighborhood for a price.
Or, paint houses. Power-wash decks. Wash cars. Take the neighbors' dogs for a walk.
There are virtually endless opportunities to make money in your neighborhood.
All you need to do is ask your neighbors what they need help with!
22. Become a brand ambassador for businesses
Ask local businesses if they want any promotional help from you!
Yes, you have to be pretty straightforward in going about this one, so if you have any good relationships with local businesses, you may want to start there.
You can offer to promote the business at local trade shows or events, hand out flyers at the grocery stores, or even do online promotion for the business through blogging or social media shout-outs.
You might want to try finding any local business groups on Facebook and putting out your feelers there, first, to find some interested companies.
Make sure you let them know what you can offer them to gain some interest.
23. Deliver stuff
You can become a delivery person for businesses and people around your town, and you don't even need to be employed by a pizza place to do it.
Think of this like Uber driving, but instead of delivering people to their destinations, you'll deliver things like food!
Doordash is one place where you can sign up, create a profile, and start delivering stuff to people.
You'll work through an app, where you'll be able to find available delivery tasks.
Turn on the app whenever you're available to deliver and get paid right through your smartphone!
24. Entertain the town
Do you have any special talents? Dancing, singing, playing an instrument, perhaps?
Why not put them to good use by making some money off them?
You'll definitely need to be comfortable in a crowd – and you should double check your town's laws – but sidewalk entertainment could put you on the path to $1000 quickly.
You've likely seen people in movies playing their guitar or singing on the sidewalk with a hat collecting money.
Do it yourself! Give your town some of your talent and you may get some donations of your own.
Who knows – it could even lead to the right person watching and offering you a gig at a local entertainment venue!
25. Get unclaimed government money
If you've never searched for money you're owed but you haven't yet claimed, then you could be missing out on some free, fast cash.
Go to Unclaimed.org and look for your state to find your Department of Commerce.
Then, you can fill out a few of your details and see if there's any missing money you've never claimed.
You may only end up with $10 from a bank account you forgot about, but you could also end up with hundreds or thousands from a trust fund you didn't know about.
It's worth a shot to look, anyway!
Read more: Learn How to Get Free Money from the Government: 16 Top Ways
26. Forego your vacation time
If you have a job that offers paid vacation time, ask your boss if you can get a bonus for working instead of taking your vacation.
You never know – some bosses may be totally okay with your proposition just so they don't have to pay overtime to other people to make up for your absence!
You may not get $1,000 from it, but even $100 or $200 can help you make your way up to $1000 fast when you combine it with some other things on this list.
27. Sell stuff in Facebook groups
We already mentioned yard sales and online yard sales.
But, local buying and selling Facebook groups are another way to make quick cash off stuff you no longer need!
Look for local groups on Facebook by searching for something like "[your city] buy and sell" in the Groups section.
If you can't find one for your city, try a county search.
You can post pictures of things you're selling along with their prices.
People can then comment on your photos to ask questions or say they're interested.
Private message interested people to set up a time and place to meet.
Make sure you meet in a safe, well-lit, public place for everyone's safety and remind buyers that you'll only accept cash (or Square for credit/debit purchases, if you have it).
Depending on what you're selling, you can easily make hundreds in just a couple of days.
28. Take out a loan
The loan process is one that people usually consider very time-consuming.
It can be, but so many online loan lenders are now in place that make things much speedier than it used to be.
Look for an online loan that can be deposited into your bank account following income and identity verification.
Lending Club and Lending Tree are two good places to try. They match you up with various lenders depending on the loan you need and your credit information.
You'll still have to pay back the loan, of course, so make sure you only use this method if you have an emergency and need cash fast.
29. Hit the casino
This is a risky move, of course, because you can always lose more money than you make at a casino.
But, if you have some luck on your side, you can walk out with a cool $1000 in your pocket.
However, I advise against this if you're really in need of cash and have never played casino games before. Leave this one to the experienced Black Jack players who are confident in their skills (and luck!).
30. Donate plasma
Blood donations are usually free, but you can donate your plasma for some money.
As an important note: you will not make $1000 a week, or even in a month, from this method.
But, I thought it was important to add here because you can donate plasma for about $100 per week, or $400 per month, which can definitely help you reach your goal faster.
Many donation centers will let you donate up to twice per week, with a day or two in between, for $20 to $50 each time.
The whole process takes up to two hours, so it's not a bad pay rate for a couple of hours of your time.
If you donate consistently, you could earn enough extra money each month to not end up needing $1000 in a pinch!
31. Get into Forex trading
People are learning how to make 1000 dollars fast by getting into Forex trading.
This technical type of trading is a way to earn a profit by trading currencies.
It's not something you can typically pick up in an hour and start bringing in loads of money.
But people who are serious about learning it can eventually earn a lot of money just by Forex trading.
In fact, it's completely possible to make this your full-time thing.
But, as with any type of money trading, Forex trading can be risky, meaning that you can always lose money just as quickly as you earned it.
32. Start a dropshipping business
Dropshipping is a form of commerce where you technically sell someone else's products and order those products for your customers when they order from you.
So, say you have a website where you sell clothing.
But you source all that clothing from other places where you can get warehouse pricing.
A shirt that you buy for $15 you might sell for $28 on your site.
When a customer orders that shirt, they'll pay you your $28 plus tax, shipping, etc.
Then you order the shirt from the supplier for $15 plus tax and shipping.
You end up with $13 of profit and never have to hold inventory or ship products yourself!
It's the perfect solution for a quick-to-set-up business that can be lucrative from the get-go.
33. Sign up for a credit card or a checking or savings account
Have you ever seen those bonuses some banks offer you to open a new credit card account or checking or savings account?
Usually, you can get $100 or more just for opening a new account.
In some cases, you'll need to make a specific number of transactions or spend a certain amount of money before getting that bonus.
But if it's a card or account you plan to use anyway, that shouldn't be too difficult.
For some savings accounts and business checking accounts, the bonuses are even higher – sometimes, $1,000 or more!
You can learn more about getting these bonuses on Nerdwallet.
34. Buy and sell domain names
Did you know that you can buy domain names you think could sell for a lot of money, only to turn around and flip them for a profit?
It's a real thing people are doing to make easy money.
In many cases, you don't even have to build a website for the domain name.
Just wait to find the perfect buyer who is willing to pay for the domain name and watch your profit happen.
However, you can usually make more money with this process by building a website for your domain, creating some cornerstone content, and setting it up to make money.
People are more willing to buy a site they can envision than one that's just a name.
Read More: Best Way to Buy the Right Domains to Sell for Profit in 2020
35. Pet sit (or walk)
Love cats and dogs?
Why not take care of them in their owners' homes?
Pet sitting is a legitimate job, just like babysitting.
You can watch pets when owners are away instead of the owners dropping them off at the kennel.
Many pet owners would be glad to pay a bit higher costs to have someone they trust watch their pets instead of kenneling them while they're traveling for work or on vacation.
Don't have time to pet-sit?
What about walking dogs?
You can make an hourly rate walking dogs in your neighborhood with apps like Rover and Wag! Walking.
36. Become a tour guide
Do you know just about everything there is to know about your town or city?
You can become a local tour guide, show people around the place you love, and get paid to do it.
Sign up with Tours By Locals to get started.
You will get assigned to tours when travelers become available and must be able to respond to them within 24 hours.
The company handles all the marketing and behind the scenes stuff for you so that you can spend more time touring and making money.
You can also use Viator for something a little different.
Viator lets you earn commission as a travel agent when you help people book their flights, accommodations, and vacations.
37. Get a car wrap
Wrap your car in advertising and you could end up with at least a few hundred extra dollars per month, and sometimes even $1,000 or more!
It depends on what you drive and how often you drive.
If you're someone who commutes long distances to work each day or you drive hundreds to thousands of miles per month, you could definitely make top dollar doing this.
Check out Wrapify, which will match you to opportunities from advertisers who want to use your vehicle to promote their business.
You can also try Carvertise, which could have better opportunities for you.
38. Get a side job
A part-time job in addition to your regular job may not be the ideal situation for you to make more money.
But if you're talking an extra $1,000 a month, it could be one of the fastest ways to do it.
If you find something that pays $15 an hour, you may only need to work up to 20 hours per week to make enough to get your $1k.
Of course, if you find something that pays more, you can earn that much quicker with less hours!
When in a bind, it could be just the right solution to make the extra money you need temporarily.
39. Get paid to exercise
Love to exercise?
Then make money doing it!
Sure, we all need to exercise to stay healthy and fit, but it's even better when you have the incentive to get paid to do it.
Sweatcoin is one app that pays you for walking based on how far you walk.
You can turn in what you earn to get prizes or cash.
HealthyWage and DietBet both allow you to make a weight loss bet or enter weight loss challenges and group bets to make money based on the weight you lose.
40. Make money with your parking space
Keep renting out your parking space at work or at your home when you're not using it and you could end up getting the extra cash you need every month.
After all, what good is your empty parking spot doing for you when you aren't using it?
You might be able to find somewhere else that's a bit less convenient to park your car and reap the benefits of renting out your spot 24/7 to other people who need it.
Try SpotHero, which sends you a monthly check or direct deposit payment for everything you earn.
41. Become an extra for TV or movies
Do you live somewhere where TV shows and movies typically have tapings?
If so, you can try your hand at getting on a set as an extra.
Extras can make a decent amount of money, especially if they're needed for a couple of days or more.
According to Backstage, it's not uncommon to receive between $100 and $200 a day just as an extra!
Get a couple of those gigs each month and you'll earn easy money quickly.
42. Start a YouTube channel
Growing a YouTube channel isn't necessarily quick and easy, but it is quick and easy to set one up.
So although you won't start making money right away, you can still keep making content and growing your channel in your spare time.
Eventually, you could be lucky enough to find some fame on the platform that could end up easily bringing you the money you need every month – and beyond!
43. Sell class notes
Selling college class notes is a real thing that could help you make extra cash, although it likely won't pay all the bills.
Still, if you're an excellent note taker and have attention to detail, this could be a perfect gig for you.
Some places let you put your notes on their website to sell to others when they need them and earn a commission.
Others will have you assigned to sit in on a class and take notes for someone who needs your help.
These places work differently, but they all offer a simple way to make money outside of a job.
44. Be someone's virtual assistant
Virtual assisting is an excellent way to make money using the skills you have.
You don't need to go through online courses or get another degree to learn how to become a virtual assistant who helps others with tasks.
Whether you want to handle social media accounts, work on lead generation for businesses, or write and edit blog posts, you can choose what you want to do as a virtual assistant based on what you're good at.
There are many virtual assistant groups on Facebook that are helpful for finding clients, but you can also find virtual assistant jobs on freelance platforms like Upwork.
45. Organize homes and offices
Put your organization skills to use by getting paid to organize homes and offices!
From creating more storage areas to helping people learn how best to file all their paperwork or tidy up their closets, there's a lot of tasks you can do to make money in this field.
Take on a handful of clients each month, work a few hours for each of them, and you can easily earn $1,000 or more by setting a professional rate of $30 an hour or higher.
46. Enter contests or giveaways
Blogs and websites often host giveaways and contests that pay real cash!
You can browse your favorite websites to see if any are available or skip the browsing and use a site like Giveaway Monkey to find active contests and giveaways.
Your favorite brands probably host contests, too, so be sure to follow them on their social media channels where they'll often let their audience know about them.
It's never guaranteed that you'll win anything, but there's always that chance that you could.
47. Task with TaskRabbit
When you sign up as a tasker for TaskRabbit, you can become an expert with your skills and be available for others who need your help.
Some of the services TaskRabbit caters to include handymen, movers, electricians, plumbers, and grocery deliverers.
Once you sign up, you'll be able to see what people nearby need you for.
You can then respond to jobs and get working!
You pick your rates, which means you'll end up getting what you deserve after all is said and done.
48. Mystery shop
Mystery shopping is a great part-time gig that helps people earn a few hundred extra dollars per month, although some people get into the thousands with their earnings.
It really just depends on how many mystery shopping companies you work with, how efficient you are with the process, and how available you are to work.
Some geographic areas also have more shopping opportunities than others.
Not sure what companies to use?
Check out our huge list of more than 40 mystery shopping companies that look for people like you!
49. Sell your designs
Have a knack for designing graphics, logos, or even pretty word-filled designs?
If so, you can start a side business selling your designs on fabric, t-shirts, tote bags, and other products.
These designing sites let you upload your creative designs while others order them on the product they want.
You get a portion of the profits from each sale.
If your designs are good, you can continue to get paid over and over again as customers keep ordering!
Here are some sites to try:
50. Ask your boss
As a last resort, you might be able to ask your boss for the money you need.
There are a few different ways you can do this that might work for both you and your boss, like asking for overtime hours.
You might also ask for an advance on your paycheck if you're really in a pinch and need that money now.
Or, maybe you can ask for a bonus, especially if you feel like you've earned one.
Talk to your boss and see what options might be available.
But, again, I'd only use this option if you're in a jam and haven't had much luck getting the money you need in other ways.
51. Rent Out Your Car
If you own a vehicle that you don't use frequently, consider renting it out to others through platforms like Turo or Getaround. 
These services allow you to list your car for rent, set your own rates, and connect with potential renters in your area. 
By leveraging the sharing economy, you can turn your idle car into a revenue-generating asset. 
Make sure to thoroughly screen renters, establish clear rental terms, and have appropriate insurance coverage to protect yourself and your vehicle.
52. Offer Consulting Services
If you have expertise in a specific field or industry, consider offering consulting services.
Many businesses and individuals are willing to pay for advice and guidance from experienced professionals. 
Determine your niche and identify your target audience. Create a compelling value proposition and outline the services you can offer. 
Market your consulting services through networking, professional associations, social media, or a dedicated website. 
Leverage your knowledge and skills to provide valuable insights and solutions, helping your clients achieve their goals while generating income for yourself.
53. Participate in Medical Research Trials
Medical research institutions and pharmaceutical companies often conduct clinical trials and studies, and they require participants. 
By participating in these trials, you can not only contribute to scientific advancements but also earn a substantial amount of money. 
However, it's essential to thoroughly research and understand the potential risks and side effects associated with the trial before participating. 
Consult with medical professionals, read and comprehend all documentation, and ensure your safety and well-being are prioritized throughout the process.
54. Rent Out Your Photography Skills
If you have a passion for photography and own high-quality equipment, consider monetizing your skills by offering photography services. 
There is a constant demand for professional photographers in various niches. You can choose to photograph events such as weddings, birthdays, or corporate gatherings.
Alternatively, you can specialize in areas like portrait photography, real estate photography, or product photography. 
Create a captivating portfolio showcasing your best work and build a professional website to showcase your services. Market your skills through social media platforms, local advertisements, or word-of-mouth referrals. 
As you gain experience and a positive reputation, you can increase your rates and generate a substantial income
That's a wrap – make extra money today!
So as we've established here, there are soooo many ways to make $1000 in a week. So try out this challenge, do as many things as you can and see what number you come up with. Don't be hard on yourself if you're not showering in dollars in the first week.
But if you start,  you will make money the first week and in the weeks after the haul will get bigger and bigger.
Then you can shower with money.
Good luck!
Related Posts:
Earn Everything… nearly!
Join Ipsos iSay, one of the few Faithful and Honest survey panels and earn prizes, gift cards and donations. Stack your points and redeem them: Simple! No hidden fees and completely free!