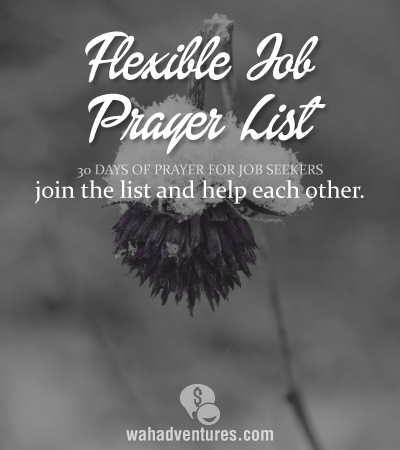 I would like to begin a 30 day prayer call for those of you who are looking for the right work at home job. I also ask for prayers for myself and the other work at home bloggers who are posting job leads. Please pray that we will be led the right jobs openings and they will be shared with the right people using the resources given to us.
Need Easy Extra $250+/Month For Free?
This is definitely a bold post for me to make.
However, so many of you have expressed your feelings of desperation to find the right work at home job for you. I believe prayer can help guide us all. I understand that not all of my readers pray or have the same beliefs. If you would prefer to give positive thoughts and keep these people in your mind through the 30 days- I am sure everyone would appreciate it.
If you would like us to pray for you- please leave a comment below to be added to the list.
How You Can Help
Prayer is what is needed. If you would like to pray or keep the people who are listed below in your thoughts- you can begin by visiting this page daily and praying over the people in the comments below. I will also be sharing the list daily, on Facebook.
Currently On the Prayer List
(updated 03/23/15)
Renee Gangwer
Crystal
Donna
Patricia M.
Stephanie S.
Kell Williams
Kendra Rhines
Sarah Guldenschuh
Nicky
Patricia Houston
Lanelle Moore
Christy Thomas
Andrew Ortega
Kedra williams-Matthews
Mary Pearson
DanYelle
Keisa Fruge
Lori
Lori's son
Paul Perrone
Rhiannon
DMichelle Haynes
Leah Sheree Steinhaus
Moni Marrs
Infinitey Williams
Quita Furr
Bernadette Barela
Heidi Payne Pellino
LTarrian Ruffin
Nica Patterson
Zoey Jane
Tyshawna Murray
Tiffany Brantley
Allie
Shuntay
Debra
Dena
Angela
Lisa J.
Kristina Gearhart
Brenda M.
Laticia Gordon
Selina Johnson
Suzanne Scott Ruckman
Lulu Sweeper
Holly Draughn
Chiri Borom
Ches
Meri Michaud
Michelle E.
Laura Williams
Ayana Havens
Marcia Guadagni
Amanda Toth
Michelle Lynn Pepe
Terry Stewart
Edna K.
Ariana G.
Colette
Carla
Cyrelle
Leisa Good
Needa S.
Alice P.
Laura Briley
Marianne
Maria G.
Yvonne R.
Laurie Michaud
Ashlie
Osei Ovid
Sonya Husband
Tamika Reynolds
Diedra Ramsey
Kerri
Ashley Winters
Timothy
Brittney
Robin
Sandra Weimer
Amanda Kirk
Brian
Lyn
Deborah
Loreina
Helen
Tiffany Clark
Bobbi P.
Annette
Helen S.
Shermane W.
Mary R.
Mary L.
Paula
Related Posts:
Teach English via Video-Conferencing for $14-$22 Per Hour

VIPKID is currently looking for online teachers to teach young students in China via video-conferencing. Teachers will earn on average between $14-$22 usd per hour. This opportunity is ideal for teachers looking to supplement their income.
Requirements:
- One (1) school year of traditional teaching experience or the equivalent in mentoring, tutoring, or alternative education
- Bachelor's degree in any field
- Eligibility to work in the US or Canada