61+ Places That Hire RN Nurses to Work From Home in 2023
Updated on: by Amy Kennedy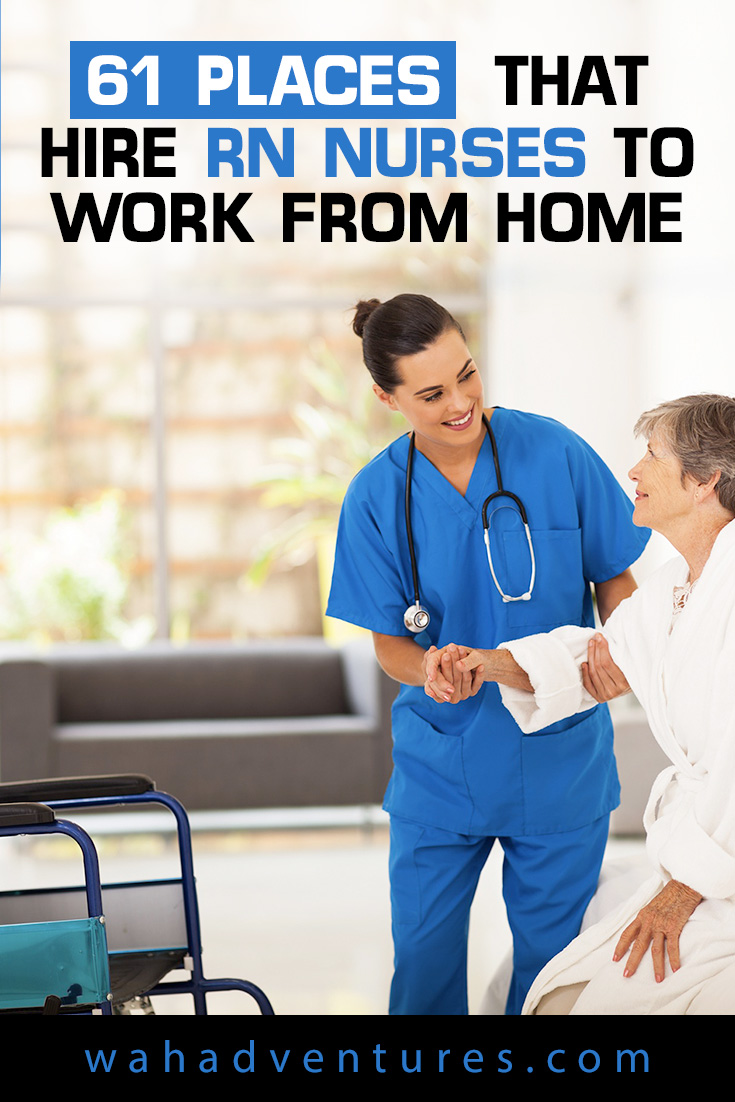 Need Easy Extra $350+/Month For Free?
Being a Registered Nurse is such a rewarding and time-honored position.
It is and has always been a much-needed career, with plenty of opportunities available.
Being an RN has its many advantages, such as, the ability to telecommute.
When you signed up to be a Registered Nurse, surely you didn't think there was a way you could put your skills to use working from home!
Well, you can.
Nursing positions are one of the most common remote based careers!
More and more RNs are leaving the traditional workplace to find a rewarding RN career at home (near me).
From triage nurses to Worker's Compensation case managers, you can use your RN license for a rewarding career right in your home office.
Case managers, hotline nurses and many other types of positions can be found if you are looking for nursing home jobs and have an RN license.
Here are just 61 of the common places that hire RN Nurses to work from home.
UnitedHealth Group
UnitedHealth Group consistently has a high number of positions available to Registered Nurses who want to work from home.
UnitedHealth Group is a solid company that offers an excellent benefits package.
Although you will travel within your area, the job is home-based and offers medical and retirement benefit packages.
Visit United Health Group Careers
Aetna
Aetna is a highly recognized healthcare and life insurance company with a long-standing history. Aetna is known for commonly offering telecommute positions to RNs across the US.
Need Easy Extra Cash?
Pinecone Research, a leading name in online survey panel honesty, absolutely guarantees $3 cash for every survey you complete!
Take advantage of their time limited New Membership drive and register NOW. Join today: 100% free!


It has positions for Clinical Care Managers, Nurse Consultants, and more for RNs seeking to work from home.
You can narrow down its large list by clicking "Yes" on the telecommute filter.
Cigna
Cigna, another household name, offer RN Nurses the ability to work from home as Medical Case Managers. In addition, Cigna hires nurses in other positions as needed as well.
CareNet
CareNet frequently offers RNs positions as a work from home Care Advisor to help complete a team that provides 24/7 healthcare.
Bilingual applicants are strongly encouraged to apply for this RN job.
Catasys
This company helps medical organizations pinpoint issues within their systems that raise medical costs for the organization and patients by targeting misuse of services for behavioral and mental issues.
Catasys also has science-backed programs to help patients with mental health issues get treated in the most beneficial ways possible.
RNs, LPNs, and people with other nursing licensures can sign on as Care Coaches, which helps people enroll in the program, known as Catasys OnTrak.
The Care Coach will be involved in the patient process from start to finish, tracking his/her progress, offering intervention and resources, and conducting assessments along the way.
The role is home-based, but phone and email work is required, plus some in-person meetings.
McKesson
McKesson, a major part of the healthcare industry, offers work from home positions for Registered Nurses for Telehealth services and Implementation Consultants.
As a Telehealth RN, you'll provide nursing care over the phone or internet. Implementation Consultants help design and implement healthcare programs for McKesson.
(To find the Work at Home Positions, use the Advanced Search option. Under the location, scroll all the way to the bottom for "work from home" according to your country.)
MediTelecare
MediTelecare is a telehealth service that helps patients find providers for mental health services.
The company currently has positions available in the following states: VT, ME, NH, VA, IA, TX, MS, KS, WV, NE, MO, MN, OK. You'll need a valid RN license in one of these states to work with MediTelecare.
The Telehealth Clinical Psychologist is a remote position that allows you to conduct phone assessments of patients who call in about services and help review and coordinate services.
You'll also need to complete daily documentation to assist the billing department.
A doctoral degree for psychology or a related field is a requirement, and psychiatric or geriatric experience is preferred.
The Hartford
You can apply for a Workers' Compensation Nurse Manager position with The Hartford, an insurance company that provides many benefits to its employees, like competitive pay, health insurance coverage, and wellness programs.
This position requires RNs to review and evaluate Workers' Compensation claims.
Johnson & Johnson
Johnson & Johnson occasionally lists work from home jobs for registered nurses like a Blood Glucose Manager and Insulin Pump Trainer. These telecommute jobs aren't always available, so check its career page frequently for new opportunities.
Earn Everything… nearly!
Join Opinion Outpost, one of the few faithful and honest survey panels and earn cash and gift cards for your opinion. Stack your points and redeem them: Simple! No hidden fees and completely free!


Leukemia & Lymphoma Society
The Leukemia & Lymphoma Society is a nonprofit that works to research cures for these types of cancers, as well as aid patients in their treatments.
In addition to various volunteer opportunities, the organization has paid positions for nurses, some of which they can do from home.
One of them is the Genetics Nurse Consultant.
This position seeks RNs to help patients and their families understand the process of genetics testing and explain what each test can do for them.
The nurse can also provide education to patients and their families about their results and diagnosis.
This is a full-time contract position for 12 months for 35 hours of work each week.
In addition to an RN license, candidates must also have a Master's degree and at least two years of experience with genetic counseling.
Visit Leukemia & Lymphoma Society
McBee
McBee is a healthcare consulting firm for healthcare organizations, providers, and hospitals.
The company hires part-time Care Management Nurses with current RN licensure and a Bachelor of Science in nursing (or equivalent degree).
The role requires nurses to review medical records from emergency departments and assess different treatments for medical necessity, as well as enter pertinent information about treatment into a system for insurance review.
CVS
CVS provides Registered Nurse – Home Infusion home-based positions that allow you to visit the homes of patients to provide a variety of infusion care. CVS also has at-home nurse positions to manage nurse hotlines.
DrCatalyst
DrCatalyst is a remote staffing agency for medical practices that helps them hire people for billing, administration, care management, and more.
In addition to remote medical billing and sales representatives, the company hires remote nurses with RN licensure to manage data, answer questions, and offer resources for patients over the phone.
Schedules may vary, so this isn't necessarily the best position for people who need flexible work.
RNs can also become Patient Care Coordinators, which may be a bit more flexible depending on your caseload. However, you're required to work up to 8 hours per day.
You can earn up to $24 per hour plus commission, which is usually at least $400 per month.
AmerisourceBergen
You can become a home-based RN Wellness Case Manager for AmerisourceBergen, one of the top Fortune 500 healthcare companies in 2016. This is a full-time contract position that provides medical support to patients and insurance companies.
Visit AmerisourceBergen Careers
Mercy
Mercy offers work from home opportunities for on-call nurses to provide guidance to patients with healthcare questions and concerns. For this position, you'll need at least 5 years of experience in a healthcare setting.
Anthem
Anthem hires RNs for telecommute positions, such as Nurse Medical Manager and Case Manager. Anthem offers competitive benefit packages for retirement, health insurance, and work-life balance.
Medtronic
Medtronic hires part-time and full-time RN positions for its Telehealth services. You will be providing healthcare information in response to patients' questions, as well as assessing their symptoms over the phone and advising a care plan.
Best Doctors
Best Doctors sometimes has open positions for RNs to work from home, like a Clinical Impact Analyst, who summarizes medical records and financial documents. Best Doctors provides paid time off and holidays on top of life insurance and other benefits.
BioMarin
BioMarin is a company that provides advanced therapeutics to people with rare genetic disorders and diseases.
The company hires work at home Nurse Clinical Coordinators (NCCs) with valid licensure to contact patients and explain to them the proposed process for treatment and the patient's role in their treatment.
NCCs will need to meet with new patients via phone calls, email, or personal visits, so some nearby travel may be required.
At least four years of direct patient experience is required, and while an RN license isn't a requirement, it is strongly preferred over applicants without one.
Express Scripts
Express Scripts hires Infusion Nurses for at-home infusion treatments. You can check on its website for other work from home opportunities, as it has been known to offer others at times.
Humana
Humana is one of the largest and most well-known healthcare companies offering an excellent benefits package to its employees. You can search its website for work from home positions, including RN Case Manager, Quality Improvement Nurse, Care Coach, and more. Humana has several work from home opportunities for RNs at any given time.
FoneMed
FoneMed is a telecommunications provider of health and wellness services. Registered Nurses for FoneMed will help answer health-related questions of callers and help operate triage services.
The website provides additional information about its requirements, locations, and benefits.
Citra Health Solutions
Citra Health Solutions gives RNs the opportunity to work from home providing coordinated care, coaching, and motivational behavior modification tools to patients with chronic health issues enrolled in Citra's Chronic Care Management program.
Visit Citra Health Solutions Careers
Sykes Assistance Services Corporation
You can work from home as a Telehealth Care Coach Coordinator with Sykes, a specialized assistance program provider.
As a Care Coach Coordinator, you will provide over-the-phone assistance to patients and help them coordinate proper services.
Visit Sykes Assistance Services Corporation Careers
83Bar
83Bar is an appointment setting company to match people with their healthcare needs. The company hires medical specialists, including RNs, as Clinical Contact Specialists for up to $30 per hour.
You'll contact people who request healthcare information to set them up with appointments for appropriate specialists.
Alere
Alere is a provider of medical diagnostic products. The company occasionally seeks at-home training specialists to provide answers to patient questions about their products.
Allegiance Benefit Plan Management
Allegiance is a sub-company of Cigna, another company on our list that hires work from home RNs.
This company is focused on employee benefits, offering special packages to companies that use its services as part of their employee benefits plan.
Allegiance hires full-time Case Manager RNs and Medical Review Nurses to work from their home offices.
The Case Manager RN develops and monitors treatment plans and provides education to patients, while Medical Review Nurse positions require reviews of medical claims and benefit coverages.
Relevant experience will be a requirement in addition to a valid RN license, and the ability to operate various office equipment, like a scanner, printer, and fax machine, is essential.
Visit Allegiance Benefit Plan Management
Altegra Health
If you have medical coding experience and your RN license, you can become a remote medical coder for Altegra Health.
You'll need at least 3 years of medical coding experience in multi-specialties, plus special coding certifications are strongly preferred.
Amedisys
There are a few work from home opportunities for nurses to work with Amedisys, including a Speech Pathologist, a position that allows nurses to visit patients in their homes on a flexible schedule.
There are also home health aide positions that require an RN license.
To find the work from home positions, search for "Work at Home" in the keyword box.
Auto Injury Solutions
Auto Injury Solutions provides help with claims to leading auto insurance companies all over the United States. The company seeks work from home Telephonic Support Nurses with current RN certification to provide support with medical terminology, issues, and more.
You'll attend training at an on-site location, but will then be able to transfer to your home office full-time. Full benefit plans, including 401(k) and health insurance, are provided.
AviaCode
AviaCode is a medical coding provider that enlists work from home inpatient and outpatient medical coders. Must have professional coding experience, plus other technical certifications, depending on the position.
AxisPoint Health
AxisPoint Health has a few different remote positions for RNs, like Telehealth Registered Nurse and Nurse Advice Line Triage RN.
Depending on company needs, you may be required to obtain RN licensure for other states besides your home state.
BroadPath Healthcare Solutions
BroadPath Healthcare Solutions has a variety of work from home positions, including a Medical Reviewer Nurse for those certified as RNs. You'll be reviewing medical billing and claims and make decisions on appeals and denials based on given information.
Must have RN in home state, plus a compact license, and should have professional RN experience in a clinical setting.
Visit BroadPath Healthcare Solutions
CareCentrix
CareCentrix develops and coordinates post-acute care routines for patients by working with insurance agencies to lower costs, explaining home care procedures to patients, offering home health services, and more.
There are a few remote positions available with the company, including:
Technical Specialist
Claims Project Manager
Business Analyst
Care Supervisor
Strategy and Marketing Director
One that will interest RNs is the remote Nurse Coach position, which requires a valid nursing license and Associate or Bachelor's degree in nursing.
Nurse Coaches will assist patients in setting up their home care through a series of phone calls to provide helpful information and answer any questions.
They'll also help post-acute care coordinators complete their jobs efficiently by keeping them up-to-date with the needs of patients, getting necessary authorizations and documentation, and being a liaison for resources.
eQHealth Solutions
eQHealth Solutions offers a remote Case Manager position for licensed RNs. You'll oversee the care and treatment of patients, as well as coordinate appointments and medical plans.
You'll need at least 3 to 5 years of experience with acute care or community nursing. Some travel may be required for the position.
Evolent Health
Evolent Health offers its services to hospitals, health providers, health insurance plans, and other organizations in the medical field.
It has a remote opportunity for RNs known as a Care Advisor that requires an associate degree in nursing and at least 3 years of experience in home health or a related field.
Candidates with a bachelor's degree and a registered nursing license are preferred, though.
The position consists of duties like coordinating care, conducting assessments on patients, assessing patient knowledge of condition and treatment, and more.
There are various other remote positions available, too, that RNs might qualify for, like Pharmacy Technician and Pharmacy Benefits Analyst, so it's worth taking a look at the website to see open opportunities.
GeBBS Healthcare Solutions
RNs can apply for a Surgical Clinical Reviewer position through GeBBS Healthcare Solutions. The job is usually listed on FlexJobs or Indeed, rather than on its website, so keep an eye out on these job boards.
The full-time contract position requires providing consultations to medical staff, analyzing information, quality assessments, and more. A benefits package, including retirement plan and health insurance, is offered.
Visit GeBBS Healthcare Solutions
HealthHelp
HealthHelp hires Clinical Review Nurses with RN, LVN, or LPN licenses to work from home performing clinical intake and certifications, customer service to providers and patients, collecting and entering data, and more.
Must have at least 24 months of clinical experience with direct clinical care and managed care.
iMedX
iMedX offers medical coding and transcription services. The company utilizes remote RNs with experience in coding and transcription to work its 2nd and 3rd shifts. You'll be required to work at least one weekend day or night, in addition to your weekday schedule.
Part-time and full-time positions are available, with full-time employees (30 hours or more) eligible for a benefits package.
Read More: Top 6 Entry Level Medical Transcriptionist Work from Home Jobs
Integrity Management Services
Integrity Management Services helps federal and state government programs prevent fraudulent use of its programs, such as Medicaid and other public assistance programs, or fraudulent law and medical claims.
The company doesn't list its position on its website, but you can submit your resume to the e-mail address listed on its careers page.
The company does list some open positions on job boards, like Indeed, including a Nurse Reviewer position. This remote position is temporary, and you'll need 3 to 5 years of experience as a RN. You'll be assisting with research on medical claims and conducting reviews of medical records.
Visit Integrity Management Services
Intellatriage
This company is dedicated to providing unique triage solutions to medical companies.
It looks for remote nurses to handle triage nursing duties over the phone, like answering questions for home health and hospice patients and conducting assessments to determine the appropriate path for care.
Work from home triage nurses for Intellatriage will be required to work some holidays and weekends and complete a paid training and orientation process.
Registered nurses must have hospice care experience.
Interim Healthcare
Interim Healthcare provides in-home services to elderly and disabled residents, so the company looks for Registered Nurses to provide home health and case management services.
As a home health aide, you'll visit residents and assist them with daily tasks, like bathing, grooming, toiletry, and more.
As a case manager, you'll be in charge of managing a caseload of clients, coordinating patient care, and creating schedules for home health aides, among other duties.
Employees get paid time off, health benefits, flexible scheduling, and other benefits.
You may have to do some in-person work, like visiting patients and attending meetings, but most of the work can be done at home.
Molina Healthcare
A leader in the healthcare insurance industry, Molina offers remote positions for RNs. You can search for these by using the location feature to search "remote".
One such position is the Care Review Clinician, in which you'll provide a variety of services to healthcare providers, patients, and the Molina team. The position requires a minimum of 5 years of clinical practice, and it's preferable to have some experience with Molina and/or Medicaid.
NCI Informational Systems
NCI Informational Systems looks for Medical Review Nurses to conduct clinical reviews of medical records, specifically to prevent fraud.
Candidates should have experience in claims processing and assessing and at least 4 years of experience with quality assurance and review.
The job is remote, but may require about 10% travel, so a valid driver's license is a must.
Visit NCI Informational Systems
Nemours
Nemours occasionally has positions for registered nurses to work from home as part of its triage service.
Benefits for employees include tuition reimbursement, paid time off, retirement benefits, health and vision assistance, and travel assistance.
Novare
This company offers a variety of managed care services to insurance and healthcare providers.
One of its remote positions includes a Utilization Review Nurse, which is perfect for RNs who want to work from their home office.
You'll be reviewing workers' compensation claims for integrity and to ensure that they meet compliance standards of their states.
Candidates must be proficient with word processing programs and other software and should be able to type at least 30 WPM.
Nurse and More
Nurse and More is a staffing agency that matches nurses with healthcare facilities and hospitals that need them.
The Telephone Triage Nurse position is remote and requires excellent verbal communication skills to take inbound phone calls and assist callers with their healthcare needs.
Nurses will need to work at least 20 to 40 hours a week, but there are various schedules available to pick what works best for you.
Benefits include weekly pay, varied assignments, continuing education credits, and a dedicated support team.
PharmMD
PharmMD provides services that help connect patients, pharmacists, and healthcare providers. The company occasionally lists work from home positions that require RNs, such as a Patient Engagement Specialist.
The call center position requires you to set appointments for patients to review their medications with pharmacists.
Piedmont Healthcare
Piedmont Healthcare occasionally lists remote jobs for RNs on its website, such as the Home Health Care Manager position.
This part-time position may require some travel, but you'll usually be assisting patients from home in coordinating their care between specialists.
Piper Clinical Solutions
Piper Clinical Solutions has openings for RNs to join their team as Remote Medical Dental Review Auditors. This position requires full assessments of dental insurance claims and documentation to ensure proper procedures are being followed.
Must have at least 8 years of medical review experience, be a certified coder with extensive experience in technical coding, and you may be required to do some traveling twice per year.
The position offers a full benefits package, including paid time off and 401(k).
Visit Piper Clinical Solutions
Registry Partners
Registry Partners is a data abstraction and registry management company that provides services to a variety of healthcare providers. It lists its VPS Data Abstractor position as a remote position for physicians, respiratory therapists, and RNs.
You'll be reviewing and providing abstraction services for Pediatric Intensive Care Unit registry data using medical records, so you'll need to have professional experience in a PICU/NICU unit.
R1
R1 is a revenue management provider for various healthcare organizations.
The remote Appeals Author position seeks medical doctors and RNs with plenty of experience to work at least 20 scheduled hours per week.
The position entails:
Reviewing medical records and pay denials
Assessing the full treatment plan of patients
Helping with the appeals process
Reviewing government regulations for medical bill payments
Secord & Associates
This company helps hospitals and other medical organizations find top-level leaders for their businesses and sometimes has remote positions for registered nurses to assist in the process.
One of its newest positions is the Assistant Vice President of Operational Excellence, which is remote, but based in New York, so a NY RN license is required.
Candidates need at least 10 years of acute care experience and previous operational experience.
Visit Secord & Associates Careers
Sequoia Home Health
Sequoia Home Health caters to patients who wish to remain at home and still receive health care how it's most convenient for them.
Registered nurses can provide home health services with a flexible schedule, working near their home location without needing to come to an office.
Candidates must have a valid CA driver's license, be CPR certified, and have at least one year of nursing experience with their RN licensure.
Benefits include ongoing paid training, supportive management, and a compatibility matching system to match you with the best clients for you.
Visit Sequoia Home Health Careers
Serva Health
Serva Health provides RNs with telephone nursing jobs that they can do from home.
Nurses will need to answer inbound calls from patients, providers, or caregivers, as well as make outbound calls, escalate issues when necessary to the appropriate team, and help callers with their needs.
Serva Health accepts RNs from any state, and some candidates with foreign credentials may also be allowed to apply.
Although it's not a requirement, being bilingual in English and Spanish is preferred.
Study.com
This job is much different than the others, but it can give a good variety to a RN looking for something else to try. If you have writing experience and your RN license, you can become a remote Nursing Lesson Writer through Study.com.
The contract position requires you to write creative and engaging lessons for an online platform. The hours are flexible (you can work when you're able to with no set schedule), and you'll get paid twice per month.
You should have experience teaching nursing or healthcare subjects, either online or through a traditional school or medical facility.
UPMC
UPMC's Clinical Prevention Specialist position looks for RNs in Idaho, New Mexico, and Utah, although those from other states may be considered.
The position is mostly flexible but may require two evening shifts each week.
Candidates must have at least 5 years of relevant experience.
WellCare
WellCare looks for Utilization Management RNs to work from anywhere in the United States, although they must have a current RN license in California.
This position focuses on reviewing medication, medical information, treatments, and other pertinent information related to patient care to ensure that each patient is undergoing a proper treatment process.
A Bachelor's degree is required and nurses must be able to work independently, demonstrate problem solving skills, and have effective communication skills.
WellStar
WellStar hires RN Case Managers to work from home providing services and support to patients and healthcare providers. The company prides itself on providing a work-life balance with flexible scheduling, paid maternity leave, and more.
Double check the position requirements, as there will often be a requirement for a specific state RN licensure, even for its work from home positions.
York Risk Services Group
RNs can apply for a part-time Nurse Case Manager with York Risk Services Group, which helps businesses lower costs for insurance claims and provides risk management services.
The position is for up to 25 hours of work every week and is temporary but could become a permanent position for the right person.
Nurse Case Managers will be required to make contact with all involved parties to collect data, offer information, and coordinate resources, and will also assist treating physicians to write a plan for any patients.
A degree in nursing is an additional requirement and some states may also require CCM licensure.
Visit York Risk Services Group
Zelis Healthcare
This healthcare technology company offers payment and management solutions for medical companies to help reduce costs.
Zelis hires Nurse Auditors with RN licensure to work remotely and act as an overseer for medical billing and claims to help reduce unnecessary costs and cross-check billing with insurance benefits.
Candidates will need at least 3 years of relevant experience with medical billing and knowledge of medical coding.
Some travel may be required but will be less than 5% of all work time. The positions are full-time and some overtime work may be necessary.
Magellan Health
Magellan Health is a healthcare management company that offers a range of services including behavioral health, pharmacy management, and healthcare analytics.
They provide work-from-home opportunities for RN nurses in various roles such as utilization management, case management, and care coordination.
RNs working for Magellan Health remotely often collaborate with healthcare providers, patients, and insurance companies to ensure appropriate and effective care is delivered.
Visit their careers page.
Conifer Health Solutions
Conifer Health Solutions is a healthcare business services company that offers revenue cycle management, population health management, and patient communication solutions.
They sometimes have remote positions for RN nurses, typically in roles such as care coordination, utilization management, and case management.
RNs at Conifer Health Solutions working from home may be responsible for coordinating patient care, managing medical records, and collaborating with healthcare providers to optimize patient outcomes.
Visit their careers page.
American Well
American Well is a telehealth company that provides virtual healthcare services to patients.
They offer a platform that connects patients with healthcare professionals, including RN nurses, through video consultations. RN nurses at American Well who work from home can provide triage, assessment, and support to patients remotely.
They may assist in diagnosing conditions, offering treatment recommendations, and providing patient education.
Explore their careers page.
Medcor
Medcor is a healthcare solutions provider that offers on-site and telephonic health services to businesses and industries.
They hire remote RN nurses to provide telephonic triage, injury assessment, and occupational health support. RNs at Medcor working from home may handle medical emergencies, conduct remote assessments, and offer medical advice to patients.
Visit their careers page.
VocoVision
VocoVision is a telepractice company that focuses on providing remote speech therapy services.
Although they primarily offer positions for speech-language pathologists, they may occasionally have openings for RN nurses in telehealth-related roles.
RN nurses at VocoVision working from home might be involved in telehealth support, triage, or coordination of care.
Visit their careers page.
Enjoy Your Search for RN Jobs from Home!
We hope you find your dream work from home RN job from this list. Remember to check each career page or specific job listing for an outline of its benefits package.
Most RN job listings do not specify a salary within the listing, but these healthcare providers are top companies in the industry with employee-proven competitive salaries.
In addition to these 50 places that hire RN Nurses to work from home, there are many other opportunities available with several more companies.
I suggest keeping your bookmarks updated with job search sites like Indeed and SnagAJob and sign up for their email alerts for jobs that match your interests.
This way, you'll always stay on top of the latest new work from home jobs for RNs!
Related Posts:
Earn Everything… nearly!
Join Ipsos iSay, one of the few Faithful and Honest survey panels and earn prizes, gift cards and donations. Stack your points and redeem them: Simple! No hidden fees and completely free!