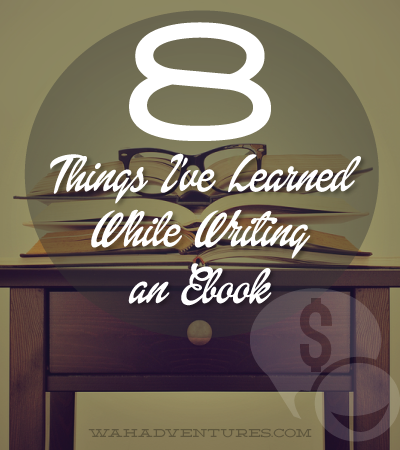 Now that I've written and published my first ebook and it's started getting some downloads, I wanted to share some lessons I learned as I went through the process of writing this first ebook. If you  have thought about writing an ebook,  I hope you'll keep these things in mind.
Need Easy Extra $350+/Month For Free?
InboxDollars: Has so far paid its members over $40 Million. Watch videos, take surveys, shop and more. Join InboxDollars Now and Get Free $5
SwagBucks: Watch videos, take surveys, shop and more to earn real money. Earn up to $35 per survey! No hidden fees and completely free. Join Swagbucks Now to Get $5 Free
YouGov: A leading name in online panels: Join now and earn $50 cash or vouchers for completing surveys! No hidden fees and completely free! Join YouGov Now
Toluna Opinions: Earn $1-$5 each time you qualify and take surveys. Test products for free and share your opinions! Join Toluna Opinions Now
Lifepoints: Famed MySurvey just rebranded to LifePoints. Take paid surveys anytime and anywhere via PC or Mobile App. Paid its members over $32 Million so far! Join LifePoints Now
SurveyJunkie: Make $5-$25 in your spare time from home to take online surveys, participating in a Focus Groups and trying new products. Join SurveyJunkie Now
Opinion Outpost: One of the few faithful and honest survey panels pays cash and gift cards for your opinion. No hidden fees and completely free! Join Opinion Outpost Now
Ipsos iSay: Every time you complete a survey, you'll earn points that you can redeem for cash and other great prizes. Join Ipsos iSay Now
Make it a priority –
If you're determined to write an ebook, you need to set aside time to actually work on  the process.  If you work full t ime, this means you  may have to get early or stay up late so you can put in a little time on your ebook.  I often got up at 5:00 or 5:30 in the morning so I could work on writing or researching my ebook , or doing other things related to my ebook.
Have a to-do list –
I always try to make a to-do list of what I want to accomplish for the day, including what I want to get accomplished on my ebook – that could be writing or outlining a chapter,  researching a chapter,  brainstorming ideas, or anything else that I need to do that's related to my ebook.  Then I would at least try to make a dent in those tasks during the time I set aside for writing.
Don't be afraid to ask for help –
If your goal is not only to write an ebook, but actually make money off of it, there's a lot more to the process of writing an ebook than just writing it.  You also have to design a book cover and find ways to market your ebook.  Not everyone knows how to do all these things well though, nor do they have the time to do it, so it's ok to enlist the help of others you might know.  When I was writing my ebook, I asked Miranda to modify a graphic that I had downloaded and was considering using in my ebook cover.  I also had people help me with editing my ebook as well as my ebook description, and format the ebook description so it would look good on my book's sales page.
If you don't already have one, build a following while you're working on your ebook –
When I first started writing my ebook back in 2012, I did have a little bit of a following  because I had been a contributing writer on Work at Home Adventures for a little over a year at that time, but I also decided to  start a free blog on wordpress.com so I could let people know about the progress I was making on my ebook.  Later when I had the money, I converted the free blog to a self-hosted website on WordPress.org.
Write as much as you can about your ebook's subject so you can get the word out about your ebook –
You can write guest posts for blogs about your ebook's subject, or even write articles for sites like Hubpages and Yahoo Contributor Network.  If you have a blog or website, be sure to mention it in your article or blog post.
Get the word out about the articles you wrote –
You can do this by connecting with others on the sites you write on, and you can also share your articles on social networking sites like Facebook, Twitter, and LinkedIn.
Create a mailing list that people can sign up for –
Mailchimp is great for this.  You can sign up for a free account and you'll be able to send 12,000 emails a month to a list of 2,000 subscribers.  If your list  ends up being larger than that, you may want to consider upgrading to a paid account.  Once you create a mailing list, you can copy and paste the code for the mailing list widget right into your WordPress website, or post a link on different social networking sites.
Connect with other writers –
There are a lot of ways to connect with other writers.  There are writing groups on Facebook, and there are also a few social networking sites especially for writers, such as Indie Writer Support, which is a fairly new site, and also Book Marketing Network.
These are just a few of the lessons I learned from writing my first ebook.  You can check out my ebook here.  To follow my ebook progress, be sure to check out my website.
Related Posts:
Earn Everything… nearly!

Join Ipsos iSay, one of the few Faithful and Honest survey panels and earn prizes, gift cards and donations. Stack your points and redeem them: Simple! No hidden fees and completely free!