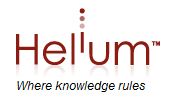 Written By: Erica Martin
Need Easy Extra $350+/Month For Free?
I've been doing some writing off and on for Helium for a few months now.  Though I have yet to make enough to get paid, I thought I'd go ahead and write a review about them.  I can't remember how I found Helium – probably through the Workplace Like Home message board.  In this review I'll  provide some more information about the Helium website.
What is Helium?
Helium is a writing website where you can write articles on various topics.   Helium is similar to Yahoo Contributor Network in that you can choose writing assignments that will pay you a flat amount if your article is selected for publication, or you can choose articles that pay revenue share income, which of course means you'll have to advertise your articles and/or Helium "About Me" page in order to earn any income.  You can also earn money by participating in writing contests and writing how-to guides on subjects that you're an expert in.  If you enjoy writing News articles, you can also apply to be a member of the News Writer community.
How much do you get paid for articles that pay a flat amount?
The pay for  Helium articles varies – most of the articles I've written that I've earned a flat amount for have only paid about $1 or $2.
How can you advertise the articles that you earn revenue share income for?
You can advertise your articles on social networking sites such as Facebook, LinkedIn and Twitter.  You can also advertise your articles on websites and message boards that are relevant to the topic of  your article – for example if your article is about a health-related topic you could advertise it on health-related websites or message boards.  Be careful when doing this however – some websites consider this to be similar to spamming.   You may also want to check out Helium's message boards for other ideas on how to advertise your revenue share articles.
How does Helium pay?
Once you reach a minimum of $25 in earnings, you can request payment to your Paypal account.
What kind of support is available if you have questions?
If you have questions about Helium or just want to connect with other Helium writers, you can post a message on their message board.  In addition, Workplace Like Home has a thread where you can post a link to your Helium page so that you'll get more views.
Is there a way to earn more than just $1 or $2 per article?
Yes.  If you're credentialed in medical, legal, design, finance, psychology, education, real estate, instructor or animal professions, you can apply for a badge that shows you're an expert in that field – t hat will also give you the opportunity to earn more for the articles you write.
Need Easy Extra Cash?

Join Opinion World #1 paid survey site. Take paid surveys anytime and anywhere via PC or Mobile App and earn PayPal credit, gift cards and more! No hidden fees and completely free!


How do I become a writer at Helium?
You can register to become a writer at this link.
Related Posts:
Want more money?

Join EarningStation, he highest paying site out there, where users get paid to Take Surveys, Watch Videos, Play Games, and Shop Online. No hidden fees and completely free!