Want Free Stuff? These 53+ Amazon Review Sites Give You Free Products
Updated on: by Amy Kennedy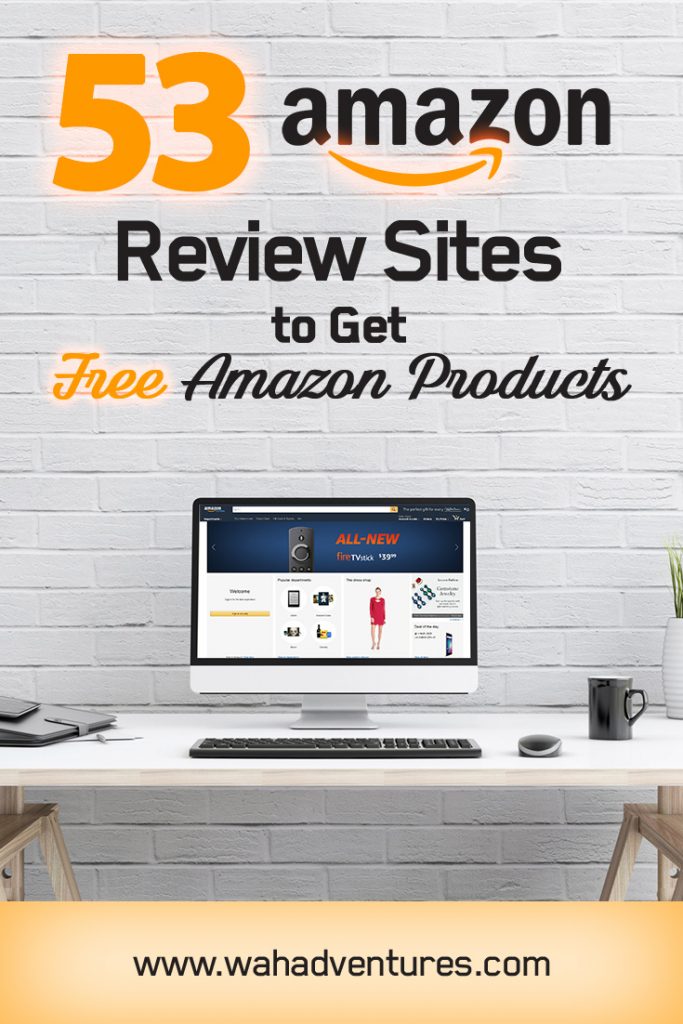 Need Easy Extra $350+/Month For Free?
Calling all Amazon lovers! Did you know that it's 100% possible to get free, or deeply discounted, Amazon products? It's true!
A lot of companies, especially new startups, will offer free or discounted products in exchange for a review.
The best part is, because of new changes in the Amazon Terms of Service, you aren't even obligated to leave a review.
But, you can if you have strong feelings toward the product.
How often do you buy a product on Amazon without reading a review?
I never do. In fact, if there are no reviews on a product, I will look for the product in another listing, or a similar product, with reviews.
So, these websites will give you a chance to leave a review on products to help other customers like yourself.
And, you get to keep the product for free, or a deep discount up to 99% off!
How To Get Free Products To Review On Amazon
So, how does it all work? Most Amazon review sites work similarly.
You sign up for a free account. Then, you get to browse the current deals offered by Amazon sellers.
You can pick some deals specified by the website. If the seller approves you for the deal, the seller will provide a code for you to enter on Amazon.
You'll place the product in your cart, add the code, and your discounted (or free!) price will show up in the payment area!
You'll get to keep your free product.
This is basically a seller's way of getting more exposure for his product. If you love it, you're likely to tell your friends and family just how much you love it, or leave a review to help other customers.
How Does Shipping Work?
If you have Amazon Prime, you're in luck. Most sellers that work with Amazon review websites take advantage of Amazon Prime, so you'll have free shipping for each product.
Need Easy Extra Cash?
Pinecone Research, a leading name in online survey panel honesty, absolutely guarantees $3 cash for every survey you complete!
Take advantage of their time limited New Membership drive and register NOW. Join today: 100% free!


However, some sellers don't use Amazon Prime. In this case, be careful, because you may get stuck paying shipping.
Some sellers will provide free shipping as part of their discount codes.
The details about shipping should be openly explained to you when you claim a free or discounted product deal.
The Legal Stuff
Amazon review sites have had to change a bit since Amazon updated its Terms of Service toward the end of 2016.
Previously, you were required by these websites to provide a review in exchange for the free or discounted product you received.
You simply had to add in your review that you received the product for free, or a discounted price, in exchange for an honest review.
But, Amazon's new rules state that sellers are no longer allowed to require reviews in exchange for products.
It's 100% the buyer's choice if he or she wants to provide a review.
This has caused some Amazon review sites to close completely, or at least adjust the way they operate.
Most now make it known that reviews are not obligated, but are appreciated.
However, the new rules have forced some sellers to no longer provide free products or very deep discounts, since there is no way to force the buyers to provide reviews.
Still, the benefits of gaining exposure to their products through offering discounted or free products are enough to convince other sellers to keep using these websites.
In other words, there are still plenty of Amazon review sites out there that provide awesome discounted and free products for you, and I've rounded them all up for you!
UPDATE 5/2023: Some of the sites we currently listed have closed down since writing this article; I've indicated those below and have added new ones to the list that are working!
Get Free Or Discounted Products With These Websites
As of the date of publishing for this post, all of these review sites are currently up and running. However, some may not be open to more sign-ups at this time.
If that's the case, you can check back frequently to see if they're open back up or add your information to a waiting list.
This website doesn't offer as many deals as it used to before Amazon changed its Terms of Service. But, it does still offer free and discounted products, some as low as $1.
Amazon Vine is a program put in place by Amazon and is through invite only. However, you can click the link to find out more about the program.
Basically, Amazon will invite its most helpful reviewers to receive new and pre-release products from Amazon in exchange for honest reviews.
The more reviews you have on Amazon that are detailed and deemed "helpful" by other customers, the better your chances of being invited.
AMZ Blitz has a free account for shoppers to get up to 50% off the listed products. To get free products, you'll have to pay $1 per month.
Amziing offers discounts on several high-priced items, like drones and Xbox's, that other similar websites don't offer. If you're looking for electronics or electronics accessories, this is the place for those products.
If you're lucky, you may find some free stuff, but it's mostly discounted products.
UPDATE 5/2023: This site no longer seems to be in business.
Earn Everything… nearly!
Join Opinion Outpost, one of the few faithful and honest survey panels and earn cash and gift cards for your opinion. Stack your points and redeem them: Simple! No hidden fees and completely free!


This site has tons of deals to choose from every day, from kitchen appliances and gadgets to clothing and jewelry. You can also get daily deals delivered to your inbox.
This website works around the change to Amazon's Terms of Service by having reviewers give social media reviews, rather than Amazon reviews, for free or discounted products. You need to provide your Facebook page URL and post your reviews there.
You'll find a lot of low-price items here for free or discounted, like nail polish, socks, etc., but you may find something right up your alley. Sign up for daily e-mails to get updated product alerts.
Blue Ribbons Review has deals for products for 75% off or more. There's a good variety of products on this site, like kids clothing, luggage, and electronics.
It also offers products from other sites, like eBay and Walmart, but you can use the filter to look for products strictly from Amazon.
Snaggy is a popular Amazon review site that serves as a hub for sellers and reviewers.
Sellers can connect with reviewers interested in receiving free or highly discounted products in exchange for honest reviews. 
With a diverse selection of product categories, including electronics, beauty, home goods, and more, Snaggy offers an excellent platform for sellers to showcase their products and for reviewers to discover exciting items to review.
ZonDeals is an Amazon review site that facilitates the connection between sellers and reviewers interested in receiving discounted or free products in exchange for honest reviews. 
It offers a diverse range of products across various categories, such as electronics, fashion, health, and home goods. 
By joining ZonDeals, reviewers can explore new products while helping sellers gain valuable feedback.
This is a "club" rather than a website, and you'll get details about products via e-mail. The information on the website states that you can get items up to a 99% discount.
UPDATE 5/2023: Brand Aware Club is no longer a working Amazon review site.
Deal Go! Go! Go! has a wide variety of products to choose from. Check back daily for your chance to score free or deeply discounted products, since they're limited and will go fast. For the best deals, click the "Best Price" filter.
This website has some excellent products for free or discounted prices, like essential oils, smartphone cases, pet supplies, and more. Accepts US residents only.
Dollar Deal Reviews states that its products are discounted at least 75% off retail prices. You can trade in "DealTickets" and "Slots," which are both different types of currency for the site, to get discounted or free items.
You can earn currencies by referring friends, posting optional reviews, and more.
UPDATE 5/2023: Dollar Deal Reviews is no longer a working Amazon review site.
Elite Deal Club offers products from 50% to 100% off. The website sometimes offers Elite Deals, which are its top deals for high-priced items.
Etailz closes its membership from time to time to ensure that its current members have fair access to its deals. Check back occasionally for your chance to sign up for discounted or free items.
UPDATE 5/2023: Etailz is still in business but has since revised its business model to focus more on helping Amazon sellers make the most of their campaigns. It doesn't appear to offer discounted or free products anymore.
Giveaway Nation sends its members e-mails for its current product deals. Sign up quickly with your e-mail address. Currently, accepts US members only.
Reviewer Club is an online platform connecting Amazon sellers with reviewers interested in receiving free or heavily discounted products in exchange for honest feedback. 
Through Reviewer Club, reviewers can explore a wide array of products, including electronics, beauty items, home goods, and more. 
Joining Reviewer Club allows both sellers and reviewers to benefit from the mutually beneficial relationship in the Amazon reviewing community.
This website has pages and pages of a wide range of products, from clothing to automotive and travel to crafts and tools. Giveaway Service recommends you spend time completing a detailed profile for better chances of getting picked for product offers.
GMYLE is a business that creates electronics, gadgets, and accessories. Through its Laboratory Programme, it allows its customers to test out some of its products by getting them for free, or discounted, on Amazon.
The website states that its members will be chosen based on their Amazon review history, location, and presence on social media. US applicants receive first priority, but other locations can be accepted.
By signing up for the HDE Amazon Reviewers e-mail list, you can gain first access to its current and newest deals.
UPDATE 5/2023: This is no longer a working Amazon review site.
With Home Product Testing, sign up for appealing offers for discounted or free Amazon products. If you're chosen by the seller, he'll provide you with an Amazon code. Only buyers in the United States are currently accepted.
HonestFew helps bring brand exposure to those who sell online through the help of e-mail lists. You can help by claiming free or discounted products from participating brands. You'll receive deals via e-mail.
UPDATE 5/2023: This is no longer a working Amazon review site.
The Honest Society checks its applicants' review history, Amazon account activity, and other factors before approval. You may need to wait about 24 hours to find out if you're approved. Once approved, you can get about 2 to 4 offers per week by e-mail.
UPDATE 5/2023: Honest Society is no longer a working Amazon review site.
I Love to Review connects Amazon sellers with buyers for discounted and free products. The website is currently updating its process to coincide with the new Amazon Terms of Service. However, you can still sign up so you're ready to go when the new services are launched.
IReviewHome continues to operate on a review system in exchange for products.
Although it doesn't seem to be a requirement for a product, the website states that its top reviewers will receive the best discounts and products. So, it seems to operate on a reward system for those who choose to review.
This one is for UK Amazon users only. When you sign up, you'll receive offers for free or discounted products related to the categories you choose as interests.
UPDATE 5/2023: JiffyReviews is no longer in operation.
Jump Send (formerly Review Kick) is a website I've used personally for a while. It changed its name to better reflect the new Amazon Terms of Service, and complies with the new policy 100%.
You can find tons of deals on this site, with more added every day in a number of categories. Sign up for daily deal emails to get first dibs on the things you want.
KabelDirekt sells cables for TVs, smartphones, audio devices, and more. Through its Premium User program, you can score deals on their Amazon products.
This program is open to those in Denmark, UK, US, France, and Italy.
Launch List Formula is an e-mail service for Amazon sellers who want more exposure for their products.
By signing up with your e-mail, you'll have access to the discounted deals its sellers offer. The website states that it allows deals up to 99% off.
Loot Hoot lets you get free or discounted products from Amazon sellers. Plus, you can get entries into its contests for Amazon vouchers by joining, claiming deals, and posting about deals on your social media accounts.
Lucky 21 sells women's clothes, baby clothes and products, shoes, and more. You can sign up for its Product Launch Club, which will deliver discounts for its Amazon store products right to your e-mail address when new products launch.
OnWeGo sells outdoor and travel products. By signing up for its VIP Program, you gain access to exclusive Amazon product deals.
OZNaturals is a skin and beauty product manufacturer. Its Reviewer Program currently has a waiting list, but you can still sign up for your turn.
You'll be eligible for free products from the company through the program.
UPDATE 5/2023: OzNaturals is no longer a working review site.
This website offers free and $1 products from Amazon sellers. Must live in the US, UK, and Canada.
*Note that, according to its FAQ, Product Elf is still requiring reviews in exchange for products, which is against Amazon TOS. Use this website under your own discretion, or contact them to update its policies.
UPDATE 5/2023: Product Elf is now Ripple Influence. Its methods have changed a bit since redesigning its business model. You can see our blurb below to learn more about it.
ProductTestingGroup has a huge variety of products to choose from with some excellent discounts. Free products seem to be few and far between on this website, but they do show up sometimes.
If you blog, you can sign up for Review Directory and get the chance to score Amazon products for free to review on your blog. Since you won't be reviewing on Amazon, this falls within Amazon's new policy.
Bloggers, experienced reviewers, or social media influencers can sign up for Reviews4Success to post reviews in exchange for free products. You'll be posting the reviews on your blog or social media channels, rather than on Amazon.
UPDATE 5/2023: Reviews4Success is no longer a functioning Amazon review site.
Secret Deals Club sends its members exclusive deals right to their inboxes every day at 10 am PST. Deals start at $1 for a variety of Amazon products.
UPDATE 5/2023: This is no longer a functioning Amazon review site.
Skiva is a technology product brand that creates routers, speakers, power packs, and more. Through its Platinum Program, you can receive invites to test out its products via discounts on Amazon.
UPDATE 5/2023: Skiva is no longer a working site.
Snagshout provides daily discounts and free items for popular categories, like clothing, electronics, and home and garden. You can also search the upcoming deals to know what products you can snag soon.
ToiletTree Product Review Club
By filling out its sign up form, you can become a member of the ToiletTree Product Review Club to receive discounts on Amazon products. The deals will be delivered to your inbox and will be in the range of $1 to $10.
UPDATE 5/2023: The ToiletTree Product Review Club has closed down its sign-up form.
Tomoson connects social media influencers and bloggers with sellers. Although not all products on this website are through Amazon, several of them are. You'll be required to leave reviews on your blog or social media networks.
Trust Review Network gives discounts from sellers for 50% to 100% of the product.
*Note that TRN has not yet revised its policy to meet Amazon's new Terms of Service. You may want to contact them before signing up to ensure that you won't be required to leave a review of a product.
UberZon Club members receive 90% or more of Amazon items in the electronics, supplements, sports and fitness, and kitchenware categories. This website doesn't have any limits as to the amount of offers you can apply for.
Receive awesome deals for free or discounted products through Vipon, formerly AMZ Review Trader. The website has gotten an overhaul and new name to cooperate with Amazon's TOS.
Sign up for VIP Power Club to receive daily deal emails delivered right to your inbox.
VivaRate provides discounted and free products to Amazon buyers.
Several countries are accepted, but the United States Amazon website is not included in its Amazon store list.
New Websites to Get Free and Discounted Amazon Products (Updated 2023)
Since Amazon has changed its policies, there have been a lot of sites closing down.
However, others have reworked their business models to create new sites that work along with Amazon's change in terms.
And, some completely new sites have surfaced, all following the rules of not requiring reviews in exchange for member use of the discount codes.
Here are some other sites we've found that will help you get Amazon products for free or a discount.
Deals for Reviews is, like its name suggests, a site that still requires members to leave reviews to get discounted products.
In other words, use it at your own risk.
I wouldn't recommend using this one too frequently if you don't want to get flagged by Amazon, but it's still an option if you need more sites in your roster.
Etekcity is a technology company that sells products like light switches, scales, body massagers, tools, and more.
The company has an Amazon review program of its own called Etekcitizen.
Here, you can get some of the products it lists on Amazon for 90% off or more, just for being a free member.
There's no obligation to review anything, but of course, you'll build a good reputation with the company if you do.
One Apollo Group is a company that works with several brands to help them promote their products.
When you sign up for free, you'll get access to products in categories like Baby, Pet Supplies, and Home & Kitchen.
The group is basically an email list where One Apollo Group will send you an email when a new product is available from a partner.
The email will include the product's description and the link to purchase it.
If you do choose to leave a review, you can send the company a screenshot of it and you'll get reimbursed the cost of the product via PayPal.
Since you're not getting paid up front for the product, you're still staying within Amazon's new terms of service.
Rank Booster features various Amazon coupons rather than free stuff, but there's always a chance you could find something for 100% off.
Most of the deals are baby and fitness-related, but there are also clothing items, handbags, jewelry, home tech, and other fun stuff you can find.
Most deals seem to hover in the 40% to 65% off range, but others are 80% or more!
Sign up for free to get access to all the deals.
ReviewLoop is an invite-only program for trying out stuff on Amazon.
You can fill in the form with your information but only a select few will get invited to be in the program to ensure that its members have fair access to its deals.
It helps to have Amazon Prime for this program or you'll have to pay for shipping.
It seems that this site does still require reviews in exchange for products (based on some of the questions it asks in its form), so be aware of this before you sign up.
Ripple Influence is the rebrand of Product Elf, and I like its new setup much better.
Sign up for free and you can choose to browse the website by all deals, discounts, or free products.
The website states that all products on the site are at least 90% discounted.
The best part? Ripple Influence doesn't just use Amazon; it also uses products from eBay and other sites where you can use affiliate links to promote products and earn more in addition to getting free stuff.
SocialNature is a little different than other Amazon review sites because it's not just for Amazon and it's all about helping you try natural and organic products.
Sign up for free and have access to the campaigns.
SocialNature will send you free samples of stuff that are likely to interest you or give you coupon codes to use to purchase them (on Amazon or other sites, or even in stores).
Once you get to try the products, you can leave reviews and share your thoughts with your friends, fans, or followers on social media!
Testzon has a lot of items up for grabs for deep discounts.
For example, you can get an external DVD drive for $2 and a tempered glass phone screen for free (these are just some current deals and may not be available when you sign up).
There's no obligation for you to ever review the stuff you get but it's always appreciated.
Other Legitimate Ways to Get Free or Discounted Amazon Products
I want to mention a few other ways that you'll be able to get free or discounted Amazon products without using review sites.
The truth is that many Amazon members aren't comfortable using these sites for fear of getting in trouble with Amazon.
So, I wanted to give you a few other ideas to consider that will help you score free stuff without having to sign up for any review sites.
Use Swagbucks
Swagbucks is one of my favorite sites I use to earn PayPal cash and Amazon gift cards.
The site doesn't offer free or discounted Amazon products, but you can earn SBs (points) by doing fun things like taking surveys, reading emails, and playing games.
Then, you can exchange those points for Amazon gift cards!
It won't cost you anything to use the site, so everything you earn is yours to keep for free.
You can also use the Swagbucks shopping portal to shop at Amazon and earn cash back on your purchases!
Be sure to read the details, as some types of products aren't eligible for cash back.
While you won't be getting free products directly from Swagbucks, the site can absolutely help you earn points toward getting free gift cards and picking out products on Amazon yourself.
Read More: Swagbucks Review: The #1 Survey Site to Earn Real Rewards
Download the Honey Extension
I also love Honey because I'm a frequent online shopper.
This extension sits in your browser and waits for you to shop online at partnered retailers.
When you do, Honey will find discount codes for you to use to lower your bill.
You can even use it with Amazon, where Honey will let you know if you can get the same product you're interested in from a different seller at a lower price!
Honey isn't only about saving you money when you shop online, though.
It also gives you HoneyGold (points) when you use it to complete your purchases, even if you don't use one of its discount codes (as long as you let it run and do its thing, you get credit).
You can also earn bonuses on specific products or services listed on Honey's website.
Turn your HoneyGold in for rewards, one of which is an Amazon gift card!
Stay Active on Amazon
As far as Amazon goes, there are also a couple of things you need to do on your end that could help you get noticed by Amazon, potentially for the Amazon Vine program.
First, be sure to keep your profile updated.
If anything significant changes in your life – like you changed work industries or added a baby to the family – be sure to indicate that because brands want to work with people who might have an interest in their products.
Second, make sure you leave reviews for every product you buy on Amazon.
Yes, it can be tedious.
But if you remember to do it once you receive and use your products for a couple of days, you'll stay on top of it.
And don't just leave any review; leave an in-depth review that others will find helpful and want to vote for. This is what makes Amazon notice you as a helpful reviewer and active user!
Watch for Amazon Gift Card Promotions
Throughout the year, Amazon sometimes has promotions for its gift cards, where it'll sell them at a discounted price for their value or give you an extra $5 or so for buying one.
This is a great way to get free stuff, if you think about it!
You're basically getting money to use on Amazon for free when you do this, especially because the gift cards you buy can go back into your account for you to use on your purchases.
So, say you take advantage of a promotion that gives $25 gift cards for $20. You buy 5 of them for $100, but you're getting $125 worth, so that's $25 free that you'll have to spend on Amazon.
Keep an Eye Out for Free Sample Boxes
Did you know that Amazon sometimes gives out free stuff of its own?
I didn't either until I read an article several months ago about Amazon's free sample boxes.
Amazon Sample Boxes are perfect for people who want to try some stuff before spending a bunch of money on them.
You'll need to pay a small fee for the box to get it, but then whatever you pay ends up as a credit on your account when you do purchase one of the products, so it all works out.
The boxes change from time to time (right now, for example, there's only a dog food and treat sample box), so you can keep checking back to see if there's one that's relevant to you.
Pitch Companies Directly
If you find that you're purchasing several products from the same company or seller, you might want to suggest contacting the seller through Amazon.
You can do this by contacting the seller about a recent order, or heading to a product listing and hitting the Ask a Question button.
Don't make it sound spammy, though.
Be sure to tell the seller what products they've sold that you love and see if they'd be willing to offer you a discounted product in exchange for a review on Amazon, your blog, or both.
If you know of other companies you love that sell on Amazon, you can always search for a contact via their website or social media channels.
Start Using Affiliate Links
Affiliate links won't let you directly get free Amazon products, but they could give you extra cash to spend on Amazon whenever you want.
Using the Amazon Associates program is an excellent way to bring some money in from your blog posts, social media posts, emails, etc.
You promote products you love. Your audience buys them.
Voila! You end up with commission on the things you helped to sell.
You can always tuck the money away that you make from affiliate sales and save it as your go-to Amazon fund!
Hang Out in the Right Facebook Groups
Apparently, there are quite a few Facebook groups where Amazon reviewers and brands hang out to give and get Amazon deals.
I recently searched on Facebook for groups like this because I was curious if they'd exist.
After all, there seems to be a Facebook group for everything nowadays.
Not surprisingly, there are a lot of them, like this one for USA and Canadian reviewers.
And then there's this larger one for UK reviewers.
Do a quick search on Facebook for "Amazon reviews" and you'll find several others that you can join!
Bookmark Freebie Websites
Love. Freebie. Websites.
Seriously. These sites are ones I frequent almost daily.
As a result, I end up with free samples, awesome discount codes, and even free full-size products because of awesome bloggers who share the best deals they find.
Amazon deals are often included on freebie sites because Amazon's such a popular place to shop!
In fact, you'll usually see a full category dedicated to Amazon products.
If you're not yet using freebie and coupon sites, I suggest you start now.
Here are some of the best online coupon sites in 2020, where you can sometimes find awesome Amazon deals to save you money all year.
Best Tips To Get Free Stuff With Amazon Review Sites
You've signed up for a few of these review websites, but don't know what to do to find the best deals?
No problem!
Follow these tips to make the most of Amazon review websites:
Sign up for several. The more sites you sign up for, the better your chances of scoring the best deals. Plus, most sites have a cap on how many items you can request at once, so this will also give you more opportunities to score free products.
Sign up for Amazon Prime. With so many sellers utilizing Amazon Prime, you won't have to worry about paying for shipping on your free items. If you use Amazon frequently, it's absolutely worth the price for membership.
Check your e-mail daily. You may want to have a dedicated e-mail address for your review websites, because most of them send daily e-mails with the newest deals. Check them at least once a day to be quick to score a deal on an awesome product!
If you choose to leave reviews, be honest. Sellers want your honest feedback. A legit seller won't expect a good review just because you got your item for free. Leave detailed, honest reviews and sellers will be more likely to continue posting products on review sites.
Are there any Amazon review websites we missed? Let us know in the comments!
Related Posts:
Earn Everything… nearly!
Join Ipsos iSay, one of the few Faithful and Honest survey panels and earn prizes, gift cards and donations. Stack your points and redeem them: Simple! No hidden fees and completely free!