Start Working from Home with American Express and Earn $28 an Hour
Updated on: by Amy Kennedy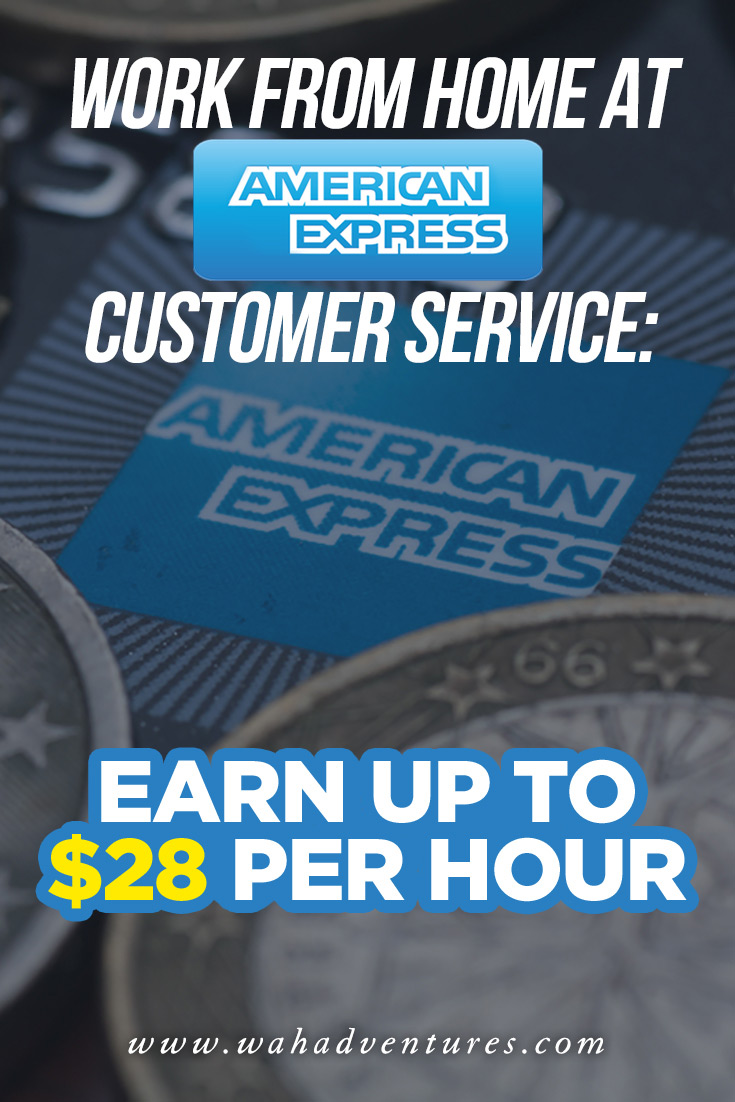 Need Easy Extra $350+/Month For Free?
American Express is a well-known credit card company that offers work-from-home customer service positions.
American Express, also referred to as AMEX, offers more than just a credit card to their customers.
From business management solutions to reward points and hosting travel accommodations- American Express has become an all-around service.
This is a company known for their exceptional level of friendly customer service.
It is exciting to imagine that a company as well-known and prestigious as American Express offers multiple positions for people who are seeking a home-based position.
All About American Express Work from Home Jobs
For the purposes of this review, only the customer service position was researched in-depth, as it's one of the most popular remote jobs that American Express offers, and it's the one people really want to know about.
However, American Express may release other job listings at any time that are also work from home, so it's a good idea to bookmark the Careers page to check back there frequently.
What Does a Customer Care Professional Do?
The American Express Customer Care professionals answer customer questions about their accounts.
In other words, they work in customer service and are available to address customer concerns and complaints, answer questions, and help them manage their accounts.
Your duties will include answering questions, solving problems creatively and providing "extraordinary" customer service.
They also work to grow and mature customer relationships and exceed customer expectations by offering solutions tailored specifically to American Express customers, per the American Express website.
On any given day, you might do things like:
Help a customer check their account balance
Close a customer account upon request
Cancel a lost or stolen credit card
Assist a customer with reading his or her bill
Update customer account information
Offer new solutions to a customer that might help them manage their money
Log a complaint from a customer
System and Experience Requirements
The job requires a high school diploma along with either 4 years of customer service experience or a bachelor's degree.
Other requirements include strong verbal and written communication skills as well as being a good listener.
It is helpful if you already have experience working from a home office.  A dedicated home office that is free of distractions is required for the position.
Need Easy Extra Cash?
Pinecone Research, a leading name in online survey panel honesty, absolutely guarantees $3 cash for every survey you complete!
Take advantage of their time limited New Membership drive and register NOW. Join today: 100% free!


This means no children or crying babies in the background.  If you have children, be certain you have adequate childcare available during working hours.
Other home office requirements include a dedicated phone line and DSL or Cable high speed internet with download speeds of 10 Mbps (download) and 1 Mbps (upload.)
The dedicated phone line must be an analog landline, and American Express will cover the connection cost and monthly fees with preferred carriers.
If a preferred carrier is not available in your area, they will cover $100 for set up and send $75 on the first paycheck of each month for fees.
You'll also need a headset with noise canceling technology to provide you with distraction-free listening.
Your computer must also be up to date and reliable, as you'll be using it to do things like log your hours and track customer calls.
Training with American Express
American Express is a bit hush-hush on its actual training process, but from what I've gathered from past and current workers who review the jobs on the web, there does appear to be one in place.
However, I've read that the training process is anywhere from six weeks to 11 weeks.
Regardless of how long it is, 100% attendance is required.
You'll be placed on a schedule for training, and if you can't make it to any session, you'll likely be terminated before you actually start.
The good news is that training is reportedly paid for, although I'm not sure if you'll get regular pay or partial pay for training.
I also can't determine if each week of training is a full-time schedule or what type of hours you should expect to work.
However, this training is detailed, thorough, and can really help you excel at your job, which is exactly what you should want when you're working from home and not under the direct supervision of anyone else.
Setting yourself off on the right foot can help you succeed with these customer service positions and may help you become eligible for bonuses and incentives throughout your time with American Express.
When you go through training, be sure to have your full home office setup in place, including a distraction-free environment.
During this time, American Express trainers will likely be monitoring your work environment and how well you perform, so it's important that you make a good first impression.
Pay/ Benefits/ Hours at American Express
The American Express website says you can earn an average of $16.13 per hour with top performers potentially earning $28 per hour including base pay and incentive cash.
These positions can be either part time or full time, and it appears that either one offers benefits such as retirement, medical, vision, and dental insurance.
Shifts run 24/7, so night and weekend hours are required in most locations.
According to places like Glassdoor where current and past employees review their American Express jobs, some other benefits of these customer care positions and other work at home jobs include:
Flexible summer hours
Excellent leadership and team experiences
Hardware provided
Growth opportunities
High and reliable standards for all employees
Is This a Sales Type of Position?
The customer care position with American Express does have a sales aspect to it.
One of the qualifications for the customer care position is to be someone with a sales focus, preferably with B2B (business to business).
This is because you may need to help people manage their accounts, understand what's being offered to them, and even attempt to upsell at times.
Salespersons also know how to talk to customers well, so sales experience can always help you with this type of roll.
How is the Scheduling at American Express?
American Express seeks out people who have a flexible schedule. They are open 24/7  and need operators around the clock.
Here is what American Express says in a recent job description about their scheduling system:
Schedules will be fixed and 20-29 hours weekly
Weekly work schedule may include day/evening/overnight shifts
Weekend shifts are required
Time off will be available/approved based on current call volume demands
What Others Are Saying About American Express Work at Home Jobs
Most everyone who has worked for American Express in a telecommute position says the company is great to work for and offers great work/ life balance.
Some expressed it was hard to do with children due to the no distractions rule, but this statement can apply to almost any work at home position.
There is a mixed bag of opinions on the interview process and training.  Some love it, others hate it and quit before it is over.
Earn Everything… nearly!
Join Opinion Outpost, one of the few faithful and honest survey panels and earn cash and gift cards for your opinion. Stack your points and redeem them: Simple! No hidden fees and completely free!


Also, it seems that if the call metrics are not met within 12 weeks you are terminated, so there is very little room for error.
One poster noted that you are written up for even tiny mistakes, and after being written up 3 times you are on probation.  Being detail oriented is very important.
Again, though, these complaints are ones that you can find at almost any job, especially with companies who are very strict with adhering to their rules and expectations.
Glassdoor.com has had over 8,000 current and previous employees rate their experience working for American Express, although these employees aren't all work from home employees.
These people have given the company a rating of 4.1/5 stars.
How to Apply for American Express Work from Home Jobs
If you are interested in applying for a work from home position with American Express you can visit their career page to search through the open home based positions.
Type in "virtual customer care professional" or "home based customer service professional" in the search box of the above web page.
If you're looking for all remote jobs that American Express currently has openings for, you can also check out this page on the American Express site, which is dedicated to virtual positions.
American Express also sometimes puts virtual position listings on other job search sites to help them get more leads, so it's possible to find them on places like Indeed, ZipRecruiter, and Google's job listings, which are curated from other job boards.
What Other Remote Jobs are Available with American Express?
As I mentioned previously, there are other virtual positions with American Express that you might want to learn more about, especially if customer service isn't something that you're interested in.
Other virtual positions aren't ones that are sought after as much, so they could be less competitive to apply for.
Here are a few other positions that American Express sometimes rolls out for remote workers, either on a temporary basis, permanent basis, or as mixed remote and on-site jobs.
Local Network Products Roles
These positions are mostly managerial roles that oversee the development and production of local network products that can help American Express do business.
These products are ones that will not just shape American Express, but also the business of its clients that rely on American Express payment processing.
The roles are usually a mix of working from home and on-site duties, with some traveling to clients required, but you can expect to work remotely most of the time.
Product Development
These positions make you a part of the American Express Global Network Team that's responsible for developing and overseeing product production, quality assurance, and more.
You'll find positions like product development associates, managers, senior managers, and more.
These positions will require you to be comfortable being part of a remote team that consistently collaborates on projects, and some travel and on-site work will be a requirement.
You'll need experience with API's, FinTech, and user experience (UX) design.
Managerial experience is also required for any of the managerial roles in this field.
Meetings and Events Sourcing
These roles are perfect for people who love to plan and organize events.
American Express sometimes seeks meeting and events sourcing associates and managers who work from home part of the time while other hours are spent working directly with clients.
These jobs require you to scope out meeting and event spots and plan the meetings and events from start to finish.
The positions will also require you to communicate with suppliers as needed, create and follow through with a budget for clients, and invoice and collect payments from clients for meetings.
Software Engineering
Software engineer associates and directors may be able to work from home depending on the needs of their team.
Team members work together closely via remote communications to plan and develop software to be used by American Express for payment processing, client accounts, and more.
Most of these positions will require you to have a computer engineering, computer science, or other relevant degree plus a strong technical background and prior work experience.
Understanding JAVA and having at least some experience working with payment processing software can also help.
Collections
If customer service isn't necessarily your thing and you'd rather work on the other end of the chain, you might consider becoming a collections associate or manager for American Express.
This job will require you to manage past-due accounts and work to collect money from those accounts.
You may need to contact customers to discuss accounts and offer payment plans, escalate accounts to a higher tier in the collections process, and attempt to retain customers and build rapport.
Sales Management
Sales managers for American Express often work on-site, but there have been reports of some getting to work a mostly remote schedule or at least a part-time remote schedule.
As a sales manager, you'll be responsible for overseeing a sales team that generates leads, contacts prospects, builds relationships with potential clients, and continues to help current clients.
You may also need to develop new training processes to help sales specialists excel at their jobs or tweak current sales goals to better meet the needs of the company.
Finance Management
There are a few different potential work from home positions in American Express' financial department, although most of them are managerial.
Risk managers, financial reporting managers, and finance managers are all jobs you might see labeled as virtual or work from home.
A strong background and a degree in finance are crucial for these jobs, and American Express also expects strong math and communication skills.
Recruiting
American Express occasionally looks for recruiters to work from home on a temporary basis when the company needs to fill open positions, particularly for its busiest periods, like through the holidays.
Because these positions don't tend to require any type of in-person interactions, you can usually do them 100% remotely.
As a recruiter, you'll be tasked with searching through resumes of potential job applicants, posting jobs online, screening, and interviewing potential employees.
Administrative Assistance
Administrative assistants with American Express tend to work with people in the company's highest positions to provide them with an extra set of hands for various tasks.
You might make phone calls to clients, set appointments, complete paperwork, process expense reports, assist with hiring and training, and more.
These positions may require some on-site work days in addition to remote work days.
Customer Service Representative
In the role of a Customer Service Representative, individuals typically handle customer inquiries, complaints, billing questions, and payment extension/service requests.
They also work to resolve customer complaints and provide product/service information, ensuring the customers have a satisfactory experience.
In a remote capacity, representatives communicate with customers over the phone, via email, or through chat platforms.
Skills necessary for this role often include excellent verbal and written communication, problem-solving abilities, and a strong understanding of the company's products or services.
It's also beneficial to be patient and empathetic, as customer service often involves handling difficult or frustrated customers.
Data Analyst
A Data Analyst collects, processes, and performs statistical analyses of data.
Their skills may not be as advanced as data scientists (e.g., they may not be able to create new algorithms), but their goals are the same – to discover how data can be used to answer questions and solve problems.
In a remote setting, a Data Analyst would use software to perform analysis, and communicate with their team through virtual meetings and collaborative digital platforms.
With respect to qualifications, data analysts are typically expected to be proficient in data mining/data warehouse technologies, statistical analysis tools/software (like Python or R), data visualization, and SQL databases.
They also need strong analytical and mathematical skills, and a degree in a related field (like Statistics, Math, Computer Science) can be beneficial.
Marketing & Communications
Marketing & Communications professionals play a key role in promoting the company's products and services, developing brand awareness, and communicating with internal and external stakeholders.
Remote workers in these roles might conduct market research, develop and implement marketing strategies, manage company's social media profiles, create content for various channels, and handle public relations.
To excel in these roles, one typically needs to have strong communication and writing skills, creativity, knowledge of marketing trends and techniques, and proficiency in social media platforms and digital marketing tools.
A degree in marketing, business, or a related field is often desired.
In a remote context, professionals should also be comfortable working independently and have good time management skills.
Conclusion: Getting Hired to Work from Home for American Express
American Express is a well know company that offers legitimate, full time work from home opportunities.
If you can meet the requirements and are interested in this type of work, it is definitely worth it to apply.
And remember – there are more virtual positions offered by the company than just those in customer service.
They may not be as widely available but keep checking on the company's jobs page or other job search sites to see when they are open.
Most everyone says it is not easy to get hired, but those who have been hired kept trying until they struck gold.
You could be one of the lucky ones!
Related Posts:
Earn Everything… nearly!
Join Ipsos iSay, one of the few Faithful and Honest survey panels and earn prizes, gift cards and donations. Stack your points and redeem them: Simple! No hidden fees and completely free!