Apple Work from Home Jobs: The Ultimate Guide
Updated on: by Amy Kennedy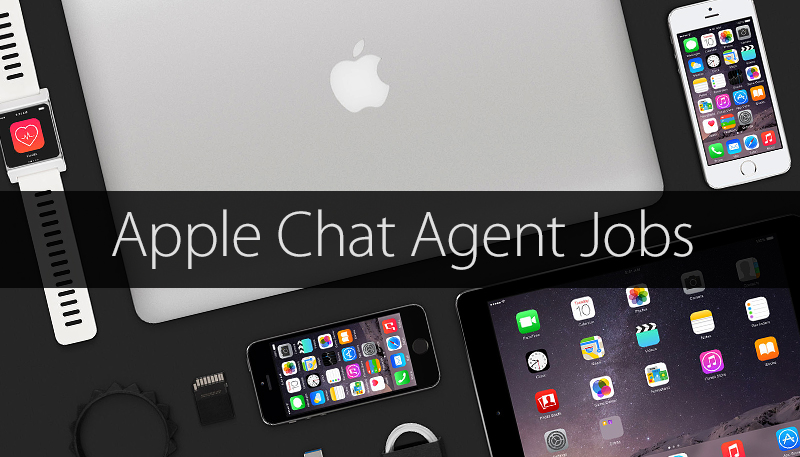 Need Easy Extra $350+/Month For Free?
Since we focus on sharing with you the many available ways to make money at home, I thought I'd spend some time focusing on one particular work at home job a lot of remote workers are interested in:
Apple chat jobs!
These are some of the most legitimate remote jobs you can come across, so they're good ones to focus on if you're serious about working from home.
Apple is one of the fastest growing companies in the world, so it also qualifies as some bragging rights to be able to say you're lucky enough to work with the company!
And, since these jobs are mostly chat-based, they're excellent opportunities for people who don't want to spend hours on the phone every day (although some phone work is involved, too).
If you're curious about what these jobs entail, or you're just hearing about them for the first time and want to learn more, I invite you to read this guide to see if Apple might be the right company to start you on your work from home journey.
All About Apple Customer Service Jobs at Home
When we talk about Apple work at home jobs, we're referring to the Apple At-Home Advisor position, its official title.
These positions are all about customer service, whether it's helping Apple customers with their accounts or going the more technology-based route of offering tech support for Apple devices.
Basically, they're a mix of customer support and tech support jobs, so it's crucial that you know your way around various Apple devices and are willing to help the people who use them.
People who have worked these positions, or currently work with the company, seem to have a lot of excellent things to say about the job.
To help you decide whether it's the right choice for you, read the below information with all the details you need to know.
Types of Jobs
Interested in pursuing a job with Apple?
Some of the work at home positions the company offers are listed below.
These are all employee positions, so you'll be an Apple employee instead of an independent contractor.
At Home Advisor Agent
This is the main job Apple offers for remote workers.
Need Easy Extra Cash?
Pinecone Research, a leading name in online survey panel honesty, absolutely guarantees $3 cash for every survey you complete!
Take advantage of their time limited New Membership drive and register NOW. Join today: 100% free!


Basically, it's a customer service position with a hint of tech support.
Agents might be helping Apple customers solve their account questions with programs or iTunes, or they may help them troubleshoot basic software hiccups.
You'll also be available to handle any questions or comments customers have about their accounts and Apple products.
Apple At-Home Advisors are the first points of contact between customers and the Apple team, so you'll also need to understand how to best field questions that might need to be directed to another area of the team.
These agents will be communicating with customers via phone and chat.
At Home Advisor Chat Tech Support
There are some other variations of the At Home Advisor positions.
One of them is a fully chat-based position that's focused more on tech support than customer service.
If you have more high-level knowledge and experience with Apple devices and software, then you might be a good fit for this position.
You'll mostly be communicating with customers via chat and email, but some phone work might be required.
These are still part of the At Home Advisor positions, but you might see them listed as At Home Advisor, Chat, or something similar.
College Student Jobs
An AppleCare College Advisor is another variation of the At Home Advisor role.
To qualify for this position, you'll need to be currently attending a college or university.
Apple creates these positions specifically for students who need a flexible job and are interested in working their way up with an amazing company.
Students can work around their class schedules offering customer support and tech help for Apple users.
Some phone work will be required, but chat help is also available.
You don't have to be involved in any specific major to work with Apple, either.
Students will need to maintain a GPA of 2.7 or higher to remain in the program and you'll need a quiet space to work, so those in dorms won't be eligible to apply.
These roles offer many of the same benefits as regular At Home Advisor jobs, such as reimbursed internet and paid training.
Managerial Roles
You might even qualify for a remote managerial role with Apple.
There are two that Apple offers:
At Home Team Manager, and
At Home Area Manager
Team managers will be responsible for managing teams of at-home workers.
You'll need to supervise them daily, be available to answer any questions and troubleshoot problems, and you'll be responsible to help with training.
You'll also need to host regular meetings and training sessions for professional development and manage the performance of everyone on your team.
At Home Area Managers oversee agents and their team managers.
Basically, they're in charge of making sure everyone on their teams are working well, meeting requirements, and representing the Apple name well.
In addition to overseeing each team's performance, you'll also regularly monitor each team manager's performance.
Area Managers will need to also provide consulting to team managers to help them properly manage the agents on their teams.
You can do this with team meetings and one-on-one coaching sessions.
What Do I Need to Start?
Apple At-Home Advisor positions do require a few things from prospective employees.
Earn Everything… nearly!
Join Opinion Outpost, one of the few faithful and honest survey panels and earn cash and gift cards for your opinion. Stack your points and redeem them: Simple! No hidden fees and completely free!


First, when you search for these jobs on Apple's careers page, you'll need to make sure you're applying for one in a location near you.
These are remote positions, but Apple does prefer to have you apply to jobs in a nearby location to make sure you're located near a headquarters for training and support and to ensure that it has a good mix of workers in various time zones.
That doesn't mean you need to live in that city; living in the same state or tri-state area might even work.
Advisors also need to have some tech skills, like being able to perform basic troubleshooting for Apple devices.
Of course, customer service skills are a complete necessity, so you should be able to communicate effectively, be patient, and have good listening and problem-solving skills.
Apple also looks for people with a lot of self-discipline, because working at home isn't for everyone.
You'll need to be able to keep yourself motivated.
Other requirements for employees include:
Typing speed of 35 WPM or higher
A passed criminal background check
Successful completion of training program
A private, quiet, and distraction-free workspace
High-speed internet connection
It's not required but being bilingual may help you earn more and qualify for more opportunities working at home with Apple.
Hours and Scheduling
Your schedule will vary as an Apple At Home Agent depending on the time zone you're in and the specific job you have.
However, Apple does require most of its agents to work within the company's usual support hours, which are many.
That means you'll need to be flexible with your availability and be able to work some weekends, evenings, and holidays.
Agents should be able to work six-hour shifts as a minimum and be available for some extra hours during busy periods.
You should also be available for at least 20 hours a week.
Reportedly, both part-time and full-time schedules are available.
Training
Apple is dedicated to its agents, ensuring that they complete a strict training program before they move onto becoming an actual At Home Agent.
The training process ensures that each candidate has what it takes to become a part of the Apple team and will check the candidate's skills in problem-solving, escalating issues, and helpfulness.
Training lasts anywhere from five to seven weeks.
Agents can do it all online following the guidance of a live instructor.
You'll learn more about the tools required for the job, troubleshooting, and the basics of the Apple products you'll be working with.
Pass your training well and you'll be considered for a spot on the team.
Pay and Benefits
Pay isn't something that Apple talks about directly on its informative website pages about the Apple At Home program.
However, it does state that pay is "competitive" and you'll learn more about it during the recruitment process.
If the pay offered to you isn't what you were expecting, you can always choose to back out during the initial application and screening process, so you don't waste your time.
According to reports online, the average hourly range seems to hover around $12 to $15 per hour.
This might vary depending on where you live and the cost of living for that area.
Glassdoor lists the average hourly wage for agents as $15, and the average annual salary as $32k.
In addition to your hourly wage, you'll also get a wide range of benefits offered by Apple, like:
A supplied MAC and headset for work purposes
Reimbursed internet services for work purposes
Paid time off
Apple product discounts
Professional development resources
Company stock plan
Important Information
The Apple At Home positions certainly are intriguing and exciting options for people who want to work from home with a flexible schedule and an awesome company.
Unfortunately, these positions are incredibly competitive.
So many people want to work from home – especially with Apple – that it's likely that hundreds or thousands of people apply for the same jobs.
Of course, Apple can only hire a select few, so unless you stand out above the rest in some way, you might not get picked.
The good news is that Apple does keep your information on file for a length of time (although the exact length isn't specified on the site), so there's no need to keep reapplying every month.
You can, however, reapply every few months if you don't hear anything back.
Apple does not contact those who haven't made it past the initial applicant screening.
Before Applying…
Get all the info!
We're just one source of information about these positions and, although we remain unbiased in our guide, we urge you to check out real-life reviews from people who have worked in these positions.
They'll help you learn more in-depth information about the job and get real opinions from people who've done it.
You can check places like Glassdoor and Indeed for trustworthy reviews about these chat agent jobs.
Also, before you apply, I want to stress the importance of having a dedicated office space.
You might think that placing a desk in a corner of a room and calling it an office will do the trick, but that's not the case for these jobs.
Even if you land a chat-based agent job, you might still need to participate in meetings and make occasional phone calls, so you're going to want a quiet space.
This is crucial to your success as an Apple agent!
If you don't think you can make it work, then these positions might not be the right fit for you.
How to Prepare and Excel in Remote Interviews with Apple
Remote interviews with Apple for work-from-home positions require careful preparation and showcasing your skills effectively. 
Here are some steps to help you succeed in your interview:
1. Research the Role and Company
Before the interview, thoroughly research the specific role you are applying for and gain a clear understanding of Apple's products, services, and company culture. 
Familiarize yourself with the job description and responsibilities to tailor your answers accordingly.
Ensure you are aware of the specific requirements and expectations of the role you are applying for. 
Research Apple's customer service philosophy, their commitment to innovation, and their dedication to delivering exceptional user experiences.
2. Understand Apple's Values and Mission
Apple is known for its innovative technology and customer-centric approach. 
Take the time to understand Apple's values and mission. 
Align your responses during the interview with these core principles to demonstrate your enthusiasm for the company.
Showcase your understanding of Apple's commitment to excellence, user-centric design, and creating products that enrich people's lives. 
Share how these values resonate with you personally and how you embody them in your work.
3. Prepare Your Technical Setup
Ensure that your technical setup is well-prepared for the remote interview. 
Test your internet connection, audio, and video quality to avoid any technical glitches during the interview. 
Find a quiet and well-lit space where you can focus and minimize distractions.
Set up a dedicated workspace that is free from background noise and interruptions. 
Test your microphone and camera beforehand to ensure they are functioning properly. 
Having a reliable and stable internet connection is essential for a smooth interview experience.
4. Highlight Relevant Experience and Skills
Review your past experiences and identify key skills that align with the requirements of the role. 
Prepare specific examples that highlight your problem-solving abilities, customer service expertise, and technical proficiency with Apple products. 
Showcase how your skills can contribute to Apple's customer support team.
Discuss your experience in customer service, whether it's resolving complex issues or providing exceptional support. 
Emphasize your technical knowledge of Apple products and your ability to troubleshoot effectively. 
Provide examples of how you have gone above and beyond to ensure customer satisfaction.
5. Practice Common Interview Questions
Practice answering common interview questions to build confidence and articulate your responses effectively. 
Focus on providing specific examples and quantifiable achievements to support your answers. 
Anticipate questions related to customer service, problem-solving, teamwork, and your ability to handle challenging situations. 
Practice delivering concise and structured responses that showcase your skills and experiences.
6. Demonstrate Strong Communication Skills
Since remote interviews rely heavily on verbal communication, it is crucial to exhibit excellent communication skills.
Speak clearly, listen attentively, and maintain a professional and friendly tone throughout the conversation. 
Highlight your ability to effectively communicate complex technical information in a clear and understandable manner.
Demonstrate active listening by acknowledging and addressing the interviewer's questions and comments. 
Use concise and articulate language to convey your thoughts and ideas. 
Showcase your ability to adapt your communication style to different audiences.
7. Showcase Adaptability and Remote Work Skills
Emphasize your adaptability and self-discipline to work effectively in a remote environment. 
Discuss your experience managing time, staying motivated, and collaborating remotely with teams. 
Demonstrate your ability to handle challenges and communicate proactively in a virtual setting.
Highlight your proficiency with remote work tools such as communication platforms, project management software, and virtual collaboration tools. 
8. Ask Thoughtful Questions
Prepare a list of insightful questions to ask the interviewer about the role, team dynamics, and the company's work-from-home policies. 
Asking thoughtful questions demonstrates your interest in the position and shows that you have done your research.
Inquire about the team's structure, the typical day-to-day responsibilities, and the potential for growth within the role. 
Seek clarification on how Apple supports remote employees and fosters a collaborative and inclusive work environment.
9. Follow Up with a Thank-You Email
After the interview, send a personalized thank-you email expressing your gratitude for the opportunity. 
Use this opportunity to reiterate your interest in the position and briefly summarize why you believe you would be a valuable addition to Apple's remote team.
Express your appreciation for the interviewer's time and consideration. 
Briefly mention specific points from the interview that stood out to you and reinforced your enthusiasm for the role. 
Reiterate your commitment to contributing to Apple's mission and vision.
How to Apply for Apple Work at Home Jobs
If you do decide that working at home for Apple is the right choice for you, then you can browse the available At Home Advisor jobs here.
Type "at home" in the search bar and the page will display the current At Home Advisor jobs.
You can submit your resume using the button in the job description, which will send it along electronically to Apple.
After that, it's basically a waiting game.
Apple will contact you if recruiters see you as a potential candidate.
You'll then move onto the initial screening process, which will consist of a pre-employment assessment.
Apple will conduct criminal and employment checks during this time and schedule interviews.
According to online reports, you might have to pass more than one interview – these might be video interviews – to get accepted into the program.
If you make it past this point, Apple will give you an offer for employment and move you into the training process.
Read More: Top 38 Email & Online Chat Jobs from Home
The Ultimate Guide to Apple Work at Home Jobs
Working with Apple is something a lot of people would love to put on their resumes!
You might have that chance should you choose to apply for an Apple At Home Advisor position.
These work from home jobs are some of the most popular around.
If you're lucky enough to get accepted, you could find yourself working your way up with one of the most innovative companies of our generation.
Good luck and be sure to come back here and let us know how it goes!
We'd love to hear from anyone who's applied and/or been accepted into the Apple At Home program.
Please leave us a comment with your story below!
Related Posts:
Earn Everything… nearly!
Join Ipsos iSay, one of the few Faithful and Honest survey panels and earn prizes, gift cards and donations. Stack your points and redeem them: Simple! No hidden fees and completely free!