Unsure if a Work from Home Job is a Scam? These Tips Will Help!
Updated on: by Amy Kennedy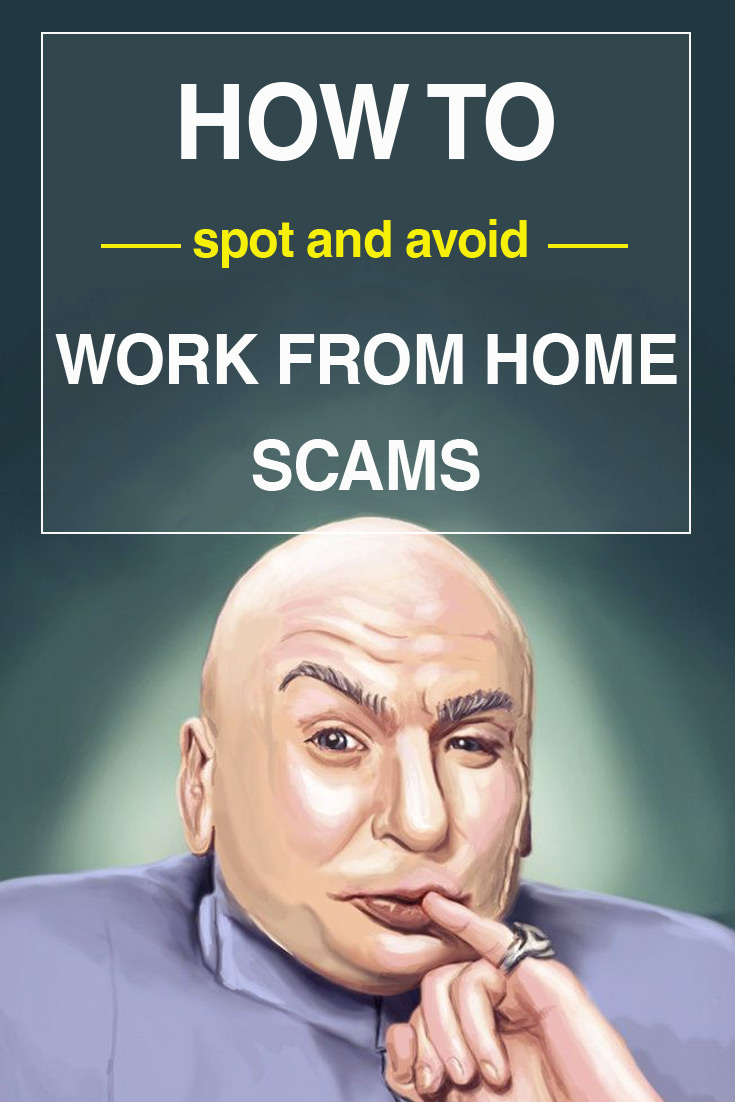 With the popularity of work from home jobs soaring, the opportunity for scams is also on the rise.
Need Easy Extra $350+/Month For Free?
Creative scammers know how to make websites that look legit, but can take your money in no time, offering nothing in return but an empty wallet.
Fortunately, I've spent a lot of time researching these kinds of websites.
You can't always immediately tell if a company is a scam, but there are definite indicators common to many scam websites.
If you're ever caught between wanting to believe the claims on a website but not wanting to lose your money, use these tips. Check the website thoroughly for the common scam tactics I list.
If a website has at least one or two of them, it's likely a scam and you should proceed with caution – or turn back quickly!
The Website Has No Contact Information…
Any legit company will have no problem sharing information about the company on its website.
In fact, that's what gains the trust of potential customers. And, it literally takes a few minutes to put up some general company history and contact information.
This is actually one of the first things you are supposed to do when you create a website.
Address, a name, a phone number, and an e-mail address should be included. If the website has zero contact information about the company or owner, then there's something fishy going on.
It pretty much means that the owner doesn't want anyone to be able to contact him or to find out who is behind the site, and that's a big problem.…
But They Ask for Yours
So, the website has no contact information, but what is the first thing it asks you to do? Fill out YOUR information!
Scam websites often ask their visitors for their names, e-mail addresses, and phone numbers, without giving them the same courtesy of some contact information.
You should never provide any of your contact information before you receive some from the website first. This is a trick scams use to get you to fork over your information so they can pressure you with calls or e-mails.
Scams will sometimes even ask for your e-mail address or phone number before you can continue further on the website to check out "important" information. Don't fall for it. If you can't find the information you're looking for easily, then turn back. It's a trap.
The Website Doesn't Tell You What You'll Be Doing
Have you ever been given a "lead" for a work from home job that can make you tons of money in a few hours or a specific amount every day? You ask for more information, but seem to just go around in circles about how much you'll be making doing…who knows?
Need Easy Extra Cash?
Pinecone Research, a leading name in online survey panel honesty, absolutely guarantees $3 cash for every survey you complete!
Take advantage of their time limited New Membership drive and register NOW. Join today: 100% free!


You go to the website, only to find that there is zero information about that it is you'll be doing to make all of this money. All you can seem to find is information about getting others to join through referrals and making money off them.
This isn't a job, but instead a multi-level marketing scheme that makes money from everyone on a downline joining. If a website doesn't provide any information for an actual job, then it's best not to go any further.
Promises of a Luxurious Income and Lifestyle
I've found so many "work from home" websites claiming to provide a way for you to make a huge income by working from your home office.
Quit your job today, make tons of money tomorrow. Own a home, a luxury car, and even your own yet (yes, there really are scams that go that far!).
Most of these websites are also the same websites that provide no information about the company, the owner, or what you'll be doing to supposedly earn all this money.
Scams use this tactic to intrigue you and, unfortunately, it sometimes works. Out of curiosity, you may be tempted to provide your contact information or spend money to sign up.
In most of these cases, the famous phrase applies: If it sounds too good to be true, it probably is.
Your Location is Targeted on the Website
Geo-targeting, or the use of a script that makes the website display your location, is becoming a common practice on scam websites.
Basically, you show up to the website and, miraculously, it shows your location with the opportunity available in your area.
This is a scammer's attempt at personalizing the website to make you believe that others in your location were successful with this work from home opportunity. In reality, the website creator placed a code on the website that is able to see your location and display it.
More than likely, no one in your area has fallen for the scam, and you shouldn't either.
There are ONLY This Many Left!
Similar to geo-targeting, scarcity or rush tactics are often used on scam websites.
You may notice either a pop-up or section of the website that claims there are only a few spots left to sign up. Scammers often combine this claim with geo-targeting to personalize it further.
For example: "There are only 5 more spots open in Florida, so sign up now!"
These rush tactics try to force you into making a decision quickly so you don't lose your "spot". Really, anyone can sign up and that's exactly what the scammers want.
But they hope you'll do it more quickly if you think a spot won't be open when you return.
Sometimes, they'll countdown the spots while you're on the website. You can test out this scam tactic by leaving the website and coming back, or refreshing the page. The dwindling "spots" will likely be reset to the original number.
The Website Tries to Suck You Back In
If you've ever tried to leave a website only to be confronted with annoying pop-ups trying to convince you to stay or make a purchase, you know how tricky they can be. Scam websites like to use this trick too, like rush tactics, force you to make a quick decision.
Usually, these pop-ups will have some huge discount that may be difficult to pass up. Or, it will offer you something for free if you sign up immediately.
If you sign up, one of two things will happen: You'll realize the website lied and you don't have access to whatever free things it claimed, or the discount worked but now the website will beg you to purchase more. Even worse, it will now have your payment information stored.
Exit pop-ups should immediately be a red flag. There is no reason the website couldn't have offered you these wonderful things before you tried to leave, other than it's trying to scam you out of some money.
Testimonials That Seem Fake Probably Are
Work from home scams often plaster tons of "testimonials" on their websites. These testimonials come in many forms, like written, social media, or video. No matter what form they're in, they are all very easy to fake.
It's up to you to do some research on testimonials. If the website displays comments from people on Facebook who claim to have made money with the program, look up the company's Facebook page and do some digging to find out if they're real comments.
As convincing as video testimonials can be, they may actually use paid actors. If you're unsure if the videos are real, I suggest you check Fiverr for "video testimonials".
Some people on Fiverr get paid to create videos based on a script. They haven't really tried the products or services they're talking about – they were just paid to give a glorious review.
Of course, a tell-tale sign of a false testimonial is when it includes ridiculous claims, like making hundreds or thousands of dollars overnight, with no work involved.
Again, if it sounds too good to be true, it probably is!
Tons of "Badges"
Have you ever visited a website where you can make a purchase and notice a bunch of badges, like BBB Accredited, McAfee SECURE, or VeriSign Secured? Sure, they make a website look legit. Unfortunately, they mean nothing most of the time.
These "badges", also known as trust seals", can be placed on any website very easily. You can find one on another website, save it to your computer, and upload it to your website.
Earn Everything… nearly!
Join Opinion Outpost, one of the few faithful and honest survey panels and earn cash and gift cards for your opinion. Stack your points and redeem them: Simple! No hidden fees and completely free!


Really, anyone can find one and place it on a website to try to invoke trust from people who don't know any better.
The only way to know for sure if they're real on any website is to go to the official website of the badge company, like the BBB or McAfee. Then, do a search to find out if the company is actually accredited and approved to display that badge or if it is simply using it as another scam tactic.
Spend Money to Make Money
Most real jobs won't ever ask you for money to get the job, right? Aside from the occasional background check or drug test that some companies ask employees to pay for, real jobs do not expect you to pay anything to get hired.
The same applies to work from home jobs. Unfortunately, many people are so desperate for a work from home job that they'll fall into the trap of paying money to start a business or join a money-making program.
Sure, some of these may make you some money, but usually not enough to be worth the upfront cost. Plus, you'll end up annoying your friends and family by constantly asking for referrals or purchases.
These are not jobs; they're either business opportunities or scams.
And the scams are usually the ones that ask for money when you sign up without really explaining anything you're getting in return. Usually, you spend money to get a referral link to sign more people up who also spend their money.
A legit work from home job will not ask you to pay the company money to get started. You may have some startup costs for your own home office equipment or to complete a background check, but that money will not go to the company, which is an important difference to note between a real job and a scam.
Test the Company with an E-mail
If you've gone through the process of checking a website thoroughly for scam factors but still aren't sure, the best thing to do is put the company through a test.
You likely have a lot of questions you want to ask, and if you're lucky enough to find an e-mail address or contact form, ask away!
If the only way to contact the company is through a contact form, I suggest copying and pasting your message into a document with the date so you have your own record of your message. If the website provides a company e-mail address, use that instead so you can have a saved record in your e-mail account.
Read our experience with one company and emailing with questions here.
Ask anything you may have concerns about, like:
I can't find any information about what this job entails. What, exactly, will I be doing when I work for this company?
What is the pay schedule like and what payment methods do you offer?
Is there any cost to sign up and begin working?
Why do you need my contact information just to find out more information about the job?
I can't find your information on the Better Business Bureau, but your company claims it has an A rating. Can you please provide a link?
Once I join your company, will there be any additional costs that haven't yet been mentioned?
Can I please have the company's phone number and available hours to contact in case I have any issues?
A legit company will have no problem answering these questions. Additionally, a productive company will be able to provide you detailed answers to your questions within 2 to 3 business days at the most, unless it specifically states otherwise on its website.
If you don't get a reply within that time frame, it's best to walk away. However, if you do get a reply, examine it closely.
Are your questions answered completely, and to your satisfaction? If not, don't settle just because the company made the effort to reply. Ask more questions if needed, or if it still seems scammy, cross that one off the list. It's not worth your time and effort.
Other Important Things to Remember to Avoid Scams
Now you know what to look for in a possible work from home scam. But remembering these two tips can also help you avoid falling victim to a scam.
You Can Still Lose Money with Money-Back Guarantee Claims
People fall for money-back guarantee claims all the time. It's easy to do because they seem so genuine and less risky if you're unsure about spending money up front. But, you have to remember what a scam is really looking to get from you.
Money, obviously, is number one for a scam. But a scam can get money from you in a number of ways, including less obvious ways than tempting you to make a purchase.
Once you do make a purchase on a scam website, that website now has your payment information AND contact information stored. It is free to do with it whatever it wants, including selling it to other scam companies.
So, by offering you a money-back guarantee on your original purchase, it isn't really losing anything if you decide to ask for a refund. It still has all of your most important information available.
And, scam website that offer a money-back guarantee usually have ridiculous terms that go along with it. For example, you have to ask for a refund within a week, you must have purchased other products, or you have to remain an active member (which usually entails spending more money each month).
In short, money-back guarantees are never worth the risk if your money is going to a scam.
Friends and Family Can Still Point You Toward a Scam 
No, I'm not hinting that family and friends will purposely scam you. However, some may be getting scammed themselves and don't know it yet.
They think they have a wonderful opportunity in front of them and share it with you.
It may be easier to want to trust your friend or relative, but you shouldn't be so quick to jump to the conclusion that, since they recommended it, it must be a quality job.
It's up to you to do your research, as you would with any other website or company.  Read more about how this can happen  here.
Plus, the original e-mail you received from your "friend" may not be from your friend at all. It could be a spam e-mail sent by someone who got a hold of your friend's e-mail address. If you receive any job opportunities from those closest to you, ask them about it outside of the original message.
Text or call them to make sure it was really them who sent it. It's a simple, quick gesture that could potentially save you a lot of money.
See more tips and facts about scams, and what to do if you have been scammed here.
Related Posts:
Earn Everything… nearly!
Join Ipsos iSay, one of the few Faithful and Honest survey panels and earn prizes, gift cards and donations. Stack your points and redeem them: Simple! No hidden fees and completely free!