Axion Data Review: Is it a Legitimate Work from Home Data Entry Company?
Updated on: by Amy Kennedy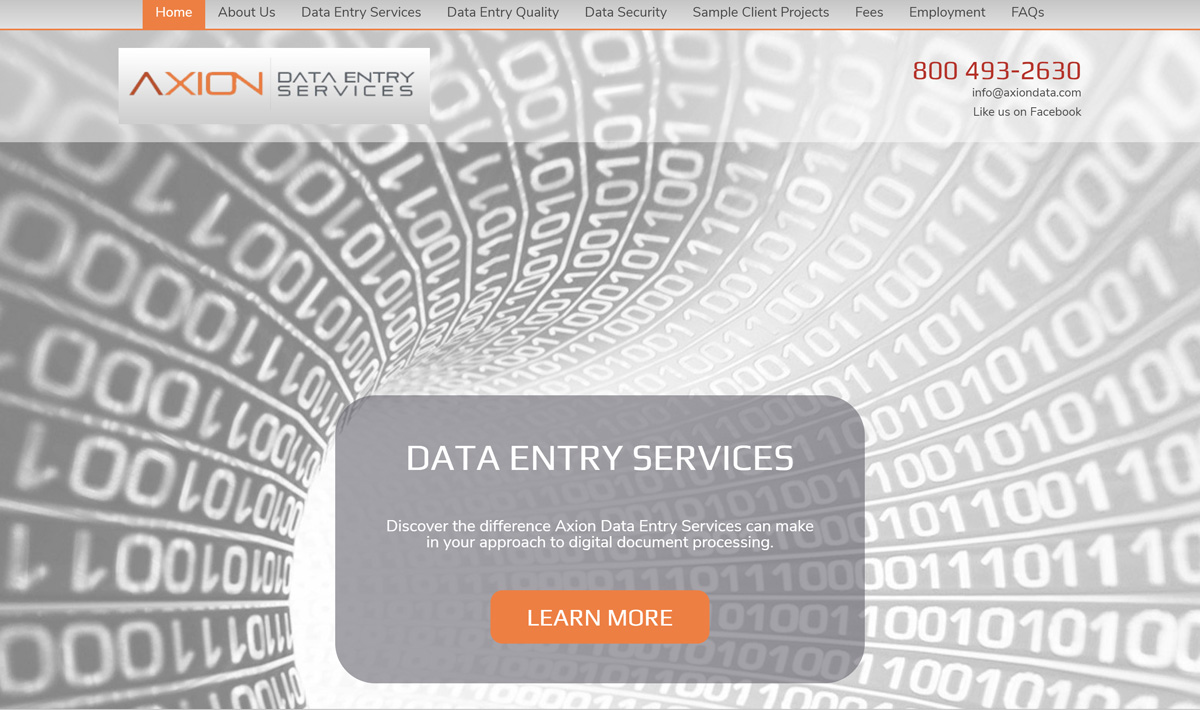 Finding data entry work online can be a struggle.
Need Easy Extra $350+/Month For Free?
Well – let me rephrase that.
Finding legitimate data entry work online can be a struggle!
Typing agent jobs are a dime a dozen on the internet but there are also a lot of scams in this industry that target people who really want to work from home with an "easy" data entry job.
Unfortunately, the scammers have found a high-level of profit by teasing work at home seekers with the perfect data entry job and then ask for some sort of payment for supposed equipment, training or access to their clients.
The reality is that there are some legitimate data entry companies out there, but it can be tough to weed them out from the fakes.
One company that's been around awhile and gets talked about a lot in the work at home community is Axion Data.
This Axion Data Entry Services jobs review will explain more about the company and the jobs it and covers whether it's a legit opportunity for most work at home seekers.
What is Axion Data?
Axion Data is a data entry company that has been in business since 1996 handling various data entry and internet research projects.
The company is operated in the United States and works with clients all over the country.
Most of the services have to do with outsourced data entry tasks, and Axion Data offers jobs to independent contractors who work from home and have excellent computer skills.
What Jobs Does Axion Data Provide?
Axion Data offers data entry jobs to independent contractors.
As a data entry agent for the company, you'll be responsible for working on client projects, which may require various data entry tasks.
The company is somewhat on the small side, though, and it has several contractors who have stuck with it for years, making its positions difficult to come by.
Therefore, Axion Data doesn't always keep its application process open for more contractors to sign up.
Axion Data says that its turnover rate is very low and it doesn't advertise when it has open job positions.
Need Easy Extra Cash?
Pinecone Research, a leading name in online survey panel honesty, absolutely guarantees $3 cash for every survey you complete!
Take advantage of their time limited New Membership drive and register NOW. Join today: 100% free!


That's because the company keeps an open database of everyone who's applied, so it usually just has to turn to that database when it's in need of more workers.
Sometimes, Axion Data will open up its database for registration to get more people on board to handle projects if it needs to weed out some underperforming or inactive members, but it doesn't happen often.
Let's learn more about these jobs, though, so you can decide if the database is something you want to sign up for when spots do open.
Who Can Apply to Axion Data?
Axion Data once didn't require data entry agents to have a lot of data entry experience, but it now does only take agents who have at least two or three years of experience.
You also need to be able to complete at least 15,000 keystrokes per hour, or about 50 words per minute.
Otherwise, there are no more requirements listed on the website, so it doesn't appear that you need to meet a lot of details to sign on with the Axion Data team.
Do You Have to Purchase Software?
No, you will generally not need any special software to start your job with Axion Data.
However, Axion does say they sometimes has clients who may need you to purchase specific software to get their specific tasks done.
Yeah, I know – we always say to not pay for a work at home job, especially a data entry job because they typically don't pay much.
But it's not uncommon for a client with any kind of freelancing work to suggest that you use specific software or equipment to complete a job, especially if they need some really technical work done.
So, you'll just need to decide if those types of projects are ones you'll want to work on or not.
You can always speak with a professional accountant to see if you can write off the price of equipment or software you need to purchase as part of your business expenses.
How Much Do Axion Contractors Make?
Axion Data says their pay is per piece.
Many of their Data Entry projects are short forms that many people can complete in just a couple minutes.
Axion says that most of those small forms pay 4-8 cents.
That comes to a range of around $9.50 an hour.
The larger documents take longer to complete, averaging 30-60 minutes and pay is around $5-9 per document.
Considering Data Entry work is not really a specialized job requiring a high skill level, its rates seem fair.
Depending on the client and project you're working on, the pay can fluctuate, so it's almost impossible to pinpoint an actual pay rate.
You'll need to invoice for work you complete every two weeks and Axion Data will pay you within 28 days.
How Flexible is Axion Data?
Axion Data is very flexible.
They do not claim any set minimum work requirements and you can usually log in and choose from the available projects as you please.
Axion allows you to work at your own pace since you're an independent contractor and not an employee.
How Many Hours Can I Work for Axion?
Axion does not guarantee a number of hours to their contractors.
Like many similar companies, you'll log in when you have time available, choose from open projects, and work on them.
Some weeks there might be more work available than others.
However, several reviews explain that most Data Entry Agents work 20-25 hours a week, but some also say that they barely get enough projects available to fill up 5 hours in a week.
So, definitely consider this a part-time gig.
You also might not get consistent work, so it's a good idea to have something else lined up for a gig outside of Axion Data if you're looking to make a steady income.
Earn Everything… nearly!
Join Opinion Outpost, one of the few faithful and honest survey panels and earn cash and gift cards for your opinion. Stack your points and redeem them: Simple! No hidden fees and completely free!


What Do Others Say About Axion Data?
Axion Data has decent reviews about it online.
The usual complaints exist, such as not having a steady influx of work and the pay being low.
However, data entry isn't known for offering steady work or high pay, so these are things that should be expected with this type of gig.
Most reviews are positive, noting that the company pays on time and is a trustworthy company to work for.
I have noticed one common complaint, though, which is that the management team can be somewhat difficult to work with.
Some reviewers have said that it's difficult to get a hold of someone for help when necessary while others say that work gets denied for seemingly no reason or not much of an explanation.
Either way, these issues can present major problems for workers, so it's something to keep in mind before applying.
How To Get a Data Entry Job with Axion Data
Axion Data does not advertise its positions and it doesn't hire often.
Thankfully Axion allows you to register and be put on their waiting list.
Don't expect a quick response, though, because Axion Data only falls back on this waiting list when it has a need for new agents to join the team.
if you ever want a chance to complete Data Entry work with Axion then be sure to apply and one day you just may find a nice surprise in your email!
To begin the process, you first should check out the Requirements Page to be sure you meet their needs.
Then, if you meet the requirements and the registration page is open, you can fill out the form to be placed in the database.
Wait – What's with the Registration Fee?
You might notice that Axion Data asks for a registration fee when you go to sign up for its database.
The company has this fee to hold your spot on the list, but also to weed out scammers who sign up and don't really have an intention of working.
The fee also discourages people with no experience with data entry from signing up to hopefully get some easy work.
Axion Data wants to make sure that everyone in its database is serious about working with the company and has some experience, so by charging, it helps to ensure that real data entry agents make the cut.
The fee is small, ranging from $5 to $10 depending on how long you want to be kept in the database.
A smaller fee will keep you in for a shorter time than the larger fee, but the company doesn't indicate how long each fee keeps your name in the list for.
We don't condone paying a fee to get your name on a waiting list.
However, there are reports of people doing this and ending up, eventually, with work from Axion Data, so it might be worth it to you to pay a few dollars if you decide you really want to work here.
There are plenty of other places to go, though, that won't charge you anything to work with them.
Axion Data Alternatives
Although I do believe that Axion Data is a legitimate company to work for with plenty of years of proven experience, I know not everyone wants to pay just to be put on a waiting list.
There's no promise of work at Axion Data, so you could be wasting a few dollars to sit on a list hoping that your name gets picked for upcoming projects.
If you don't want to go through that hassle, then you still have some other options with the following companies that provide data entry work:
Amazon Mechanical Turk is one of the biggest names in the data entry world right now, and it doesn't even just provide data entry jobs.
It offers a wide range of quick tasks, like small transcription files, image tagging, research tasks, and more.
However, data entry is one of the most common types of tasks to find here, so I think it's a good place for people like you who are specifically looking for that kind of work.
Amazon Mechanical Turk has a huge database of gigs open at any time.
Once you're registered, you can log in and start choosing the tasks you want to work on.
You'll have a specific time limit to complete the tasks once you begin working, so make sure you have time available to finish.
Once a requester verifies and approves your work, you will soon receive your pay, which can go to your Amazon Payments account or get turned into an Amazon gift card.
Read More: 10 Sites Like Amazon Mechanical Turk That Pay More Money
Capital Typing is a leader in data entry and market research tasks.
This company hires content writers, transcriptionists, data entry agents, and more, depending on its clients' needs at the time.
You can check the jobs page to see what positions are currently available.
Working Solutions is another option for data entry agents to find remote and flexible work.
This company works with agents who have skills in a variety of areas, from telemarketing to writing, to meet its clients' needs.
You can sign up as an agent, indicate your experience and work interests, and choose from open projects that match your skills.
The pay is dependent upon each project.
To apply, you'll need to fill out an initial form, take a 30-minute assessment, and then complete orientation if you're accepted onto the team.
Common FAQs About Axion Data
What is Axion Data and what services does it provide?
Axion Data is a company that specializes in data management and analysis.
They offer a wide range of services including data cleansing, data integration, data migration, data visualization, and data analytics.
They help businesses organize, process, and make sense of their data to derive valuable insights and drive informed decision-making.
How can Axion Data benefit my business?
Axion Data can benefit your business in several ways.
By leveraging their expertise in data management and analysis, they can help you streamline your data operations, improve data quality, and enhance data-driven decision-making.
Their services can lead to increased operational efficiency, better customer insights, improved targeting and personalization, and overall business growth.
Is Axion Data compliant with data protection regulations?
Yes, Axion Data places a strong emphasis on data security and compliance.
They adhere to relevant data protection regulations such as the General Data Protection Regulation (GDPR) and ensure that client data is handled securely and in accordance with applicable laws.
They employ robust security measures and follow industry best practices to safeguard data privacy.
How long does it take to implement Axion Data's services?
The implementation time for Axion Data's services can vary depending on the scope and complexity of the project.
It typically involves an initial consultation to assess your specific requirements, followed by a planning phase and the actual implementation.
The timeline can range from a few weeks for smaller projects to several months for larger, more intricate data management initiatives.
Can Axion Data integrate with existing systems and platforms?
Yes, Axion Data has experience in integrating with various existing systems and platforms.
They understand the importance of interoperability and can work with your existing infrastructure, databases, and applications.
Whether you use on-premises solutions or cloud-based platforms, Axion Data can adapt their services to seamlessly integrate with your technology stack.
Have you been one of the lucky ones to make it onto the Axion Data team or know someone who has?
We would love for you to leave a comment below and let us know how it went for you!
Related Posts:
Earn Everything… nearly!
Join Ipsos iSay, one of the few Faithful and Honest survey panels and earn prizes, gift cards and donations. Stack your points and redeem them: Simple! No hidden fees and completely free!