Blue Zebra Review: Work at Home as an Appointment Setter
Updated on: by Amy Kennedy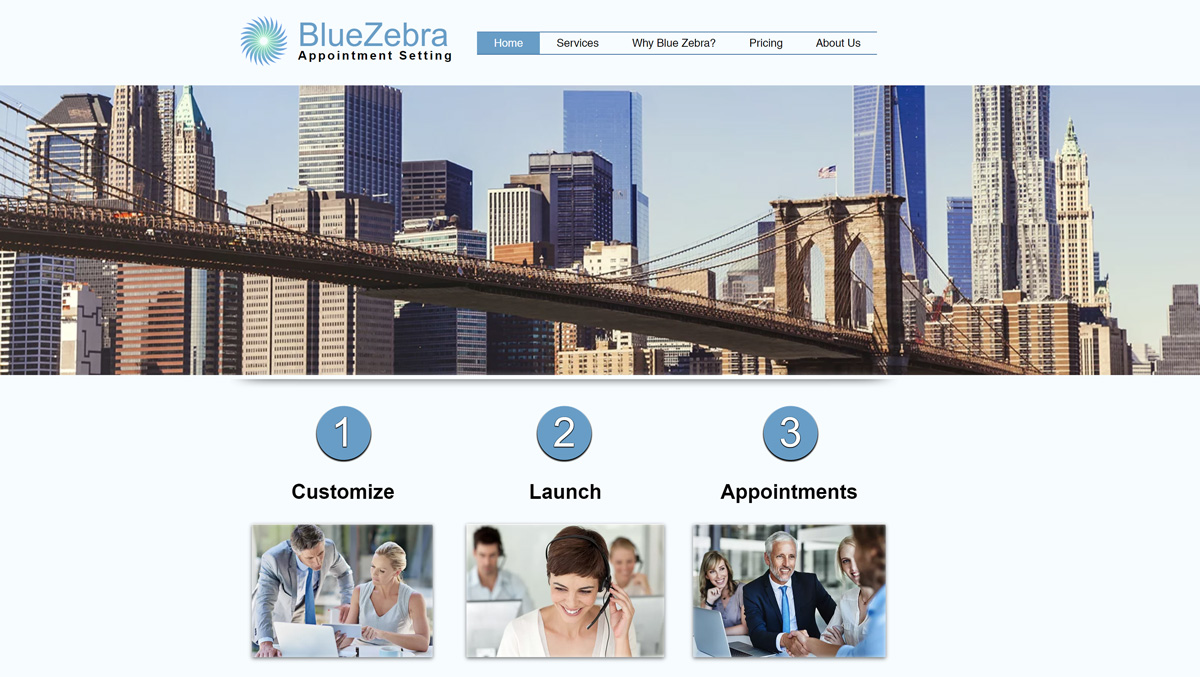 (The following review has been updated for 2023!)
Need Easy Extra $350+/Month For Free?
If you follow work from home job sites and forums, then you know just how common Appointment Setting/Lead Generating jobs are.
But how much do you really know about it and do you know if it is something you would pursue?
It turns out that a lot of people don't actually know what it is you do in an appointment setting position, so I thought this would be a good time to showcase one appointment setting company and explain more about the job.
I chose one of the most well-known appointment and lead generating companies that offer work from home positions to review.
The company is Blue Zebra, and it's one that's been around – and talked about a lot in the work at home community – for years.
My intention for this is not only to learn about Blue Zebra but also about the job type, so you can decide if you should pursue those appointment setting and lead generating job openings.
Or, if you qualify, you may just like what you see with Blue Zebra and choose to pursue an online career with them.
Either way, I hope this review gets you one giant step closer to landing your dream at-home career.
What is Blue Zebra?
Blue Zebra began offering services in 1989 as The Sales Executives Organization, but they currently do business under the name Blue Zebra.
Blue Zebra offers cold calling for clients to create leads that will help generate sales.
This gives their client a leg up and is sort of like a middle-man that warms up the potential customer before the actual sale is presented.
Many businesses use this type of service to ensure their time is of the most value and to increase their sales.
Appointment setters are kind of like salespersons who are really good at making a product or service sound enticing to the person on the other end.
A lot of businesses would prefer to leave this work up to people with a lot of skills in the area, like appointment setters.
Blue Zebra is a highly respected and well-known company in this field that offers agents the opportunity to make a living while working from home.
Need Easy Extra Cash?
Pinecone Research, a leading name in online survey panel honesty, absolutely guarantees $3 cash for every survey you complete!
Take advantage of their time limited New Membership drive and register NOW. Join today: 100% free!


The company works with a wide range of industries, including:
Marketing
Education
Insurance
Utilities
Engineering
Business
Banking and financial services
Accounting
Manufacturing
It also has quite the roster of current and past clients, like AT&T, Metropolitan Life Insurance, Televoice, Experian Business Information, American Express, and Wells Fargo Alarm System.
Its clients alone should be enough to warrant Blue Zebra as a legit company, but I understand wanting to know more about it and its jobs before making the decision to apply.
What is an Appointment Setter (Lead Generator)?
First things first – what in the world is an appointment setter?
An appointment setter – sometimes called a lead generator – is somewhat like a salesperson, although it doesn't sound remotely the same does it?
Appointment setters work from their virtual office handling mostly outbound calls to people who are not expecting the phone call.
Some appointment setters, depending on their clients and specific projects, might also handle inbound calls, but generally, the positions refer to outbound calling.
Blue Zebra appointment setting mostly deals with cold, or outbound, calling.
If you've ever dealt with telemarketers, you know how frustrating it can be to get random calls from people trying to sell you things.
How do you act when a random person calls you and interrupts your day to try to get you to listen to their sales pitch?
Sometimes, you might not handle it well.
There are other people who might react in a very harsh way.
As the appointment setter, you'll be the one on the end of the phone call that has to deal with some irritated people who don't want to hear from you.
This type of work truly takes a strong person who can easily let rejection roll of their back.
I would not even consider this type of work (cold calling outbound) if being called names or being yelled at would make you cry or hurt your confidence level.
But if you can be understanding of the reactions and not take it personally, then you are made for this work.
The appointment setting work I had done in the past (not with Blue Zebra) expected me to be able to persuade the listener to not feel obligated but to simply want to know and learn more.
The job for me was to set up a time that someone can call them back and tell them more about the product or service.
That's where the "appointment setting" title comes from.
You're basically keeping a person on the phone long enough to get them to agree to setting up an appointment with another person from the company who can call them to reel them in.
While it would seem you are not making a 'sale'…you DO need a sales personality.
You are selling the idea of the product or service and to accept the invitation to learn more.
I find it to be a more difficult job than sales because you're often the person's first line of contact.
It's up to you to get them interested enough to continue further with the process.
It's not easy work, and it's definitely not for everyone.
But know that appointment setting, especially with Blue Zebra, can pay well enough to make it worth it.
Read More: These 40 Companies Will Hire You to Work from Home Taking Reservations
Does Blue Zebra Hire Employees or Independent Contractors?
Blue Zebra hires Independent Contractors for their work from home positions.
You'll basically be your own boss, but with that comes the responsibility of paying taxes on your own, since you won't have an employer to do it for you.
Earn Everything… nearly!
Join Opinion Outpost, one of the few faithful and honest survey panels and earn cash and gift cards for your opinion. Stack your points and redeem them: Simple! No hidden fees and completely free!


This does mean you should consult a tax professional to understand what will be expected of you at tax time.
Understanding things like tax write-offs and how much to set aside each paycheck to ensure you do not owe Uncle Sam next April is very important when you work as an Independent Contractor.
But it also means you have a bit more control over your work, methods, and schedule.
Independent contractors are, by law, free to work with other clients (as in, they're not limited to only working with Blue Zebra) and determine how and when they'll work.
That's why many people seeking to work from home choose the independent contractor route rather than employee route when searching for jobs.
The Blue Zebra Appointment Setting Role
What are the Blue Zebra careers like?
The company is always looking for qualified independent contractors who can continue to boost business for its clients through appointment setting roles.
The website does state that, although most of your work will be cold calling, you might also be responsible for some lead generation and prospecting, depending on the client and its projects.
That means that, in addition to calling the leads the company might provide you with, you might also need to find your own leads relevant to the clients' needs.
This can sometimes take on a whole different set of skills than cold calling alone, so be sure you're up for the task before deciding to apply.
It's also important to note that Blue Zebra mostly handles business-to-business calls, not to be confused with business-to-consumer.
What's the difference?
Business-to-business, or B2B, requires you to call other businesses on behalf of the client to offer a product or service, like an insurance company offering a health insurance plan to a restaurant chain.
Business-to-consumer, or B2C, refers to businesses calling consumers about their products or services, like a treadmill company offering an extended warranty to someone who purchased one a few months ago.
They do require a little bit of a different technique, since consumers can often be swayed a little easier on the phone than a business can.
Finally, Blue Zebra is like the middleman between you and its clients.
Once you sign up to be an appointment setter, Blue Zebra will match you with current client projects.
Depending on your schedule, you might work on only one project at a time, or you could end up working with multiple clients.
I'll get more in-depth with scheduling in a bit.
Who Can Work at Blue Zebra?
Blue Zebra does reportedly hire outside of the US sometimes, but only in Canada.
Currently, the company is only seeking independent contractors from the continental United States.
Contractors will also need to have experience with cold calling, sales, and business work.
What Kind of Experience Do I Need to Work at Blue Zebra?
If you are new to outbound calling then you will not qualify to work with Blue Zebra but should keep an eye on the job lead board for others hiring outbound callers where you can gain experience.
Blue Zebra used to require just two years of experience, but now requires at least five years of cold-calling expertise.
Candidates should also have at least seven years of experience in a business-to-business environment, since this is the most common type of cold calling Blue Zebra agents do.
Customer Relationship Management software knowledge is also a must.
Some of the qualities applicants should possess include multi-tasking ability, honesty, ambition, energy, and enthusiasm.
It also goes without saying that you should be hard-working and dedicated so that you can put the same amount of effort into every client you work with.
Be prepared to have references available for Blue Zebra should you get selected to move on with the application process.
This should be a good mix of personal and professional references, like a past employer, a college professor, and a long-time family friend who knows you well.
What Equipment Do I Need to Work with Blue Zebra?
All of the typical home office equipment is needed to work with Blue Zebra, however, I believe you would have one advantage – No separate phone line needed!
A lot of phone jobs do require this, but Blue Zebra doesn't place any restrictions on the phone you use.
It seems that the company has its agents make most of their calls via internet calling, so it's not necessary to have a separate phone line.
You do need the standard equipment, though, like a computer, Microsoft Office, All in One Printer, faxing capability (but you can use a free internet faxing service), and high-speed internet.
If you don't have a separate office space in your home, it might also benefit you to purchase a pair of noise-canceling headphones that make it easier for you to drown out any background noise in your home.
How Flexible is the Schedule at Blue Zebra?
It seems Blue Zebra is semi-flexible, but maybe not as flexible as you were hoping for.
You have to be available 3 to 6 hours per day from 8:00 a.m. – 5:00 p.m. EST for 5 days per week for a total of 15 to 30 hours, according to its website.
As long as you're meeting those requirements, there's a little bit of wiggle room, but not much.
This type of work really depends on the clients Blue Zebra currently has and what ones you're working with.
You'll need to be able to meet their needs during their normal business hours.
Some projects might have more leads, which will require you to work more hours in a day to meet your quota.
Additionally, some weeks might be much more hectic for you than others, so there's not necessarily a consistency or flexibility you can rely on.
It's somewhat in the middle of the two, which can be a downfall for some.
However, if you're looking to get a full 40 hours per week, Blue Zebra does offer other types of duties, like administration tasks, script writing, and account management, that could boost your hours each week and get you where you want to be.
How Much Does Blue Zebra Pay?
Blue Zebra starts workers at $15 an hour!
This hourly rate is great for this type of work, but even better is that it could range up to $25 an hour.
In addition to the $15 – $25 per hour to start, based upon experience and skill level, there is a lot of potential for raises and bonuses.
After you work about 200 hours, you can become eligible for a Client Renewal Bonus when one of your clients decides to renew its contract with Blue Zebra based on your awesome work.
Blue Zebra even pays weekly and offers direct deposit, which is a huge bonus for at-home workers who want steady paychecks to rely on.
What Do Others Think of Working for Blue Zebra?
I like knowing what others have to say about a company before I decide to work there.
If this sounds like you, then you'll want to know what other workers have said about Blue Zebra:
Pro: Great Pay
It seems like most appointment setters for Blue Zebra are generally happy with their pay rates.
Even the starting pay of $15 is above what many other similar companies pay for phone work, so it's a great start.
Additionally, the promise of bonuses and other incentives is excellent.
As long as you perform well and make clients happy, you can get a raise within your first 30 to 60 days.
Pro: Work with a Variety of Clients
Another thing appointment setters for Blue Zebra like is that they can work with various clients the company works with, many of which are really big names in their industries.
So, although the job is generally the same from day to day, you won't always be reading from the same script or selling the same product or service.
Everything you do depends on the clients with which your working, which can give you a little variation in your day and really open the door to working with some of the coolest brands.
Con: Not Much Flexibility
Perhaps the biggest drawback of this job is that it's not the most flexible, especially for those considering an at-home career for its flexibility.
You're going to need to be available during specific hours to meet the needs of clients, which typically run through normal business hours.
You'll also need to at least have 15 hours available each week for client work, and it's not clear as to if, or how, you can request time off or how to handle sick days.
Con: Type of Work Isn't Meant for Everyone
Some people start this job thinking they'll do great, only to find out they don't love cold calling – or even remotely like it.
You'll definitely need to have a passion for this type of work for it to work for you.
If you feel uncomfortable talking to people you don't know and trying to convince them to spend money on something, then you're not going to feel confident in this job.
Those who are outspoken and love talking to people are generally the ones who will succeed with this kind of work, but that still doesn't guarantee enjoyment.
How Can I Learn More About Blue Zebra and Apply?
Blue Zebra gives a lot of great information on its site.
You can learn more by visiting its Careers page and reading through its information about appointment setting requirements and benefits.
To apply, you can send your resume to the email listed on the website.
It's a good idea to also have a cover letter prepared that details why you think you're a good fit for a position.
Alternatives to Blue Zebra
1. Calendly
Calendly is a popular scheduling software that allows users to create customizable booking links, which can be shared with clients or colleagues.
It integrates with various calendar platforms and provides automated reminders, time zone detection, and team scheduling features.
Calendly offers a user-friendly interface and is widely used by individuals and businesses for streamlining appointment scheduling.
2. Acuity Scheduling
Acuity Scheduling is a comprehensive appointment scheduling tool that offers features like online booking, calendar sync, customizable intake forms, and payment integration.
It supports individual and group scheduling, class bookings, and even provides a client management system.
Acuity Scheduling offers flexible plans suitable for businesses of different sizes.
3. Doodle
Doodle is a versatile scheduling tool that simplifies the process of finding a suitable meeting time among multiple participants.
Users can create polls with various time options and invite participants to vote for their preferred slots.
Doodle eliminates the hassle of back-and-forth emails and enables easy scheduling coordination for teams, groups, or even personal events.
4. YouCanBook.me
YouCanBook.me is an appointment scheduling software that integrates with popular calendar platforms.
It allows users to create customizable booking pages, set availability, and manage appointments efficiently.
YouCanBook.me offers features like group scheduling, multiple calendar integration, time zone support, and customizable notifications.
5. Setmore
Setmore is a user-friendly appointment scheduling solution that offers features like online booking, calendar synchronization, client management, and automated reminders.
It supports easy integration with websites and social media platforms, enabling businesses to manage their schedules effectively.
Setmore also provides options for service-based businesses to accept online payments.
Have you worked with Blue Zebra or another appointment setting company?
We'd love to hear your thoughts and how it went for you. Leave us a comment below!
Related Posts:
Earn Everything… nearly!
Join Ipsos iSay, one of the few Faithful and Honest survey panels and earn prizes, gift cards and donations. Stack your points and redeem them: Simple! No hidden fees and completely free!