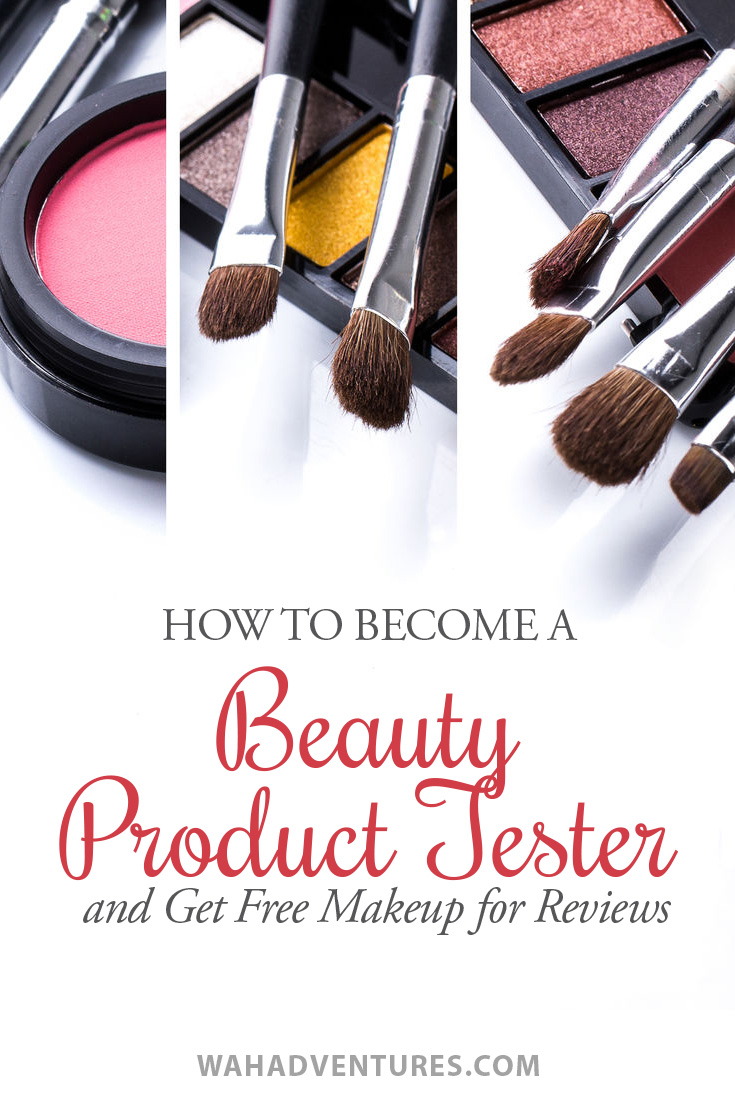 Interested in testing out free makeup products?
Need Easy Extra $250+/Month For Free?
Well, who isn't?
Companies are often providing people with lots of free products that they can test out.
It's all about finding out what products should be offered in the future and to see how these items work.
But what can you do to get these products?
You will have to look around online to see what products are available.
The options are varied and interesting and deserve to be explored.
How to Become a Beauty Product Tester and Get Free Makeup For Reviews
As you will read there, there are many ways how you can get some great beauty products for free.
There are various beauty consumer panels looking to provide you with appealing products.
These are ones that such companies want to test before releasing them to the public.
You might be surprised at what you will come across when you get paid to test makeup.
Let's look at some of the makeup consumer testing options you can be a part of right now.
A Few Notes For Beauty Consumer Panels
You've got to look carefully before getting into any of these panels:
Check on the particular companies that are running these panels. Are they ones you might recognize?
Are there any specifics as to what they offer? Some places focus on very specific brands while others concentrate on things like all-natural items.
See what types of products they are having people test as well. Maybe they might be offering items that are of actual use to you in some way.
Consider how you'll have to get in touch with these groups. This includes letting them know what you do and don't like about the products you are testing.
Maybe you might get paid by such a group. See what incentives a group has beyond just the traditional products you can test.
Watch for any rules relating to how to get in. Never pay money to get into one of these panels; these groups are almost always scams.
Every panel out there is different in terms of what it offers.
You'll get plenty of great items to try out when you just get in contact with someone that really knows what's out there.
With all this in mind, let's take a look at some of the best panels you can check out today.
You might be surprised at where some of these places come from.
L'Oreal Consumer Testing Panel
L'Oreal is one of the top names in the world of beauty products.
You can test items from the company today.
You will get a free gift for every five surveys that you complete.
You will have to act fast when you get a message from L'Oreal about getting into a panel.
Slots for its panels fill up quickly.
Test products for thePinkPanel and get free beauty products or gift cards.
These are good for all sorts of great items you can get from the popular beauty product website.
Enjoy all sorts of great products from Vogue and test out items that can be sent out to you.
You can especially participate in this program through Pinterest.
You'd think that Oprah Winfrey would have gone to the backburner after her show ended. Well, she is still as strong and influential as ever, maybe even more so today and her DevOtee panel is just one part of what she offers today.
The DevOtee panel offers free beauty product samples for people to test out.
You can test them and participate in surveys to win special prizes.
Try out various beauty products from high-end retailers through the support of Conde Nast.
This works only if you qualify.
You'll have to complete a questionnaire from Conde Nast to see if you can actually be accepted into the Style Society.
BzzAgent is a company that sends samples of all kinds of products to your home and surveys to complete for them.
Various beauty products are included as part of the program.
You can choose which campaigns you want to take part in.
When you complete enough surveys, your Bzz Score will go up.
As you get a higher Bzz Score, you will be eligible for special rewards or even access to some of the more high-demand beauty surveys among other things the service offers.
An interesting part of what Influenster gives you is that you'll actually get full-size containers of different products offered by beauty companies.
The stuff you get comes in boxes shipped to you.
You can request to take part in different types of surveys with an emphasis on beauty-related ones.
This does require plenty of effort on your end though.
This includes working with enough surveys on a regular basis to allow you to stay active as a member.
Vocalpoint provides you with opportunities for testing beauty products.
But to get the most of it, you have to stay active.
You must write reviews, take polls and other things with regards to what you get by mail.
You can get access to full-size and more high-end products to test when you have enough experience with testing things out.
The Allure Beauty Enthusiasts group is one that promotes a variety of great beauty products.
It offers access to product surveys and different VIP events.
Sign-up is not always available through the group but it is often open at different times based on when new members are needed.
People Style Watch Style Hunters
As a member of this group, you will get product samples of various items for your use.
A scoring system is also used based on how you write on products that you have reviewed.
This group was formed by Elle magazine and offers exclusive access to product samples and surveys.
This is relatively sporadic in terms of when it sends items out but it does offer great samples on occasion.
The products offered are typically ones that Elle has been promoting.
These include products that are from brands that Elle has supported in the past.
Good Housekeeping Advisory Panel
Good Housekeeping continues to be important in today's world.
When its seal appears on an item, it means that it is something people can trust.
The Advisory Panel gives you surveys and samples many times each year but it is selective in terms of who it can accept.
Another panel run by a prominent publication, Team Redbook also gives you many products to try out each year.
You will get various products and surveys for a variety of beauty items from many of the world's top companies and brands.
Glamour Magazine founded the Glamspotters program as one that offers information on different fashion products that people can try out.
This requires you to complete various surveys to analyze how well you understand beauty products and what you are interested in the most.
Glamour can then send out product samples to you based on your interests and what you want to try out the most.
This option has been growing in popularity as more people are discovering how useful the products PinchMe has people test can be.
You will get samples to try every two weeks of all kinds of beauty items.
You must log onto your PinchMe account to choose what items you want to test.
It's not too hard to leave reviews after you try out what they give you as well/
House Party offers a more unique way for you to test beauty products.
With this, you will host a testing party with many of your friends.
You will sign up to host a party where you can get many samples of a product.
These will be sent to you with several survey forms to give to others.
This is more of a group-based activity.
It still gives you many samples that you and your friends can enjoy.
This is a special club from Marie Claire that lets you test products by mail and send out surveys.
It has many small tester-size items for you to check out.
When you join Smiley360, you will join a group of more than half a million others who test out and review products for free.
Just go to the site and sign up and you will quickly get access to lots of attractive products.
You'll get products that you are actually interested in when you sign up with Swaggable.
Out here, you will get your information sent out to Swaggable.
They will review your interests and send out beauty products or other items based on your feedback.
After a while, you will get products and surveys that you can use for testing beauty items while sending out your feedback about them.
This place was designed as one where moms can get together to review and share data on all kinds of items of interest to them.
You can find primarily green and natural products to test out through the site.
You will test products that are in the second stage of development. At this point, they are being refined before they can go to the market.
Your feedback determines just how much further refinement is needed in order for a product to work.
Proctor and Gamble operates this final panel for you to look into.
Join Vocal Point and get free products to test.
The products include many Proctor and Gamble items from some of the attractive brands that company has to offer.
You will be amazed at the places that you can contact when being a beauty tester at home.
Do you know of any other appealing opportunities? Give us a note to let us know what's available.
Related Posts:
Teach English via Video-Conferencing for $14-$22 Per Hour

VIPKID is currently looking for online teachers to teach young students in China via video-conferencing. Teachers will earn on average between $14-$22 usd per hour. This opportunity is ideal for teachers looking to supplement their income.
Requirements:
- One (1) school year of traditional teaching experience or the equivalent in mentoring, tutoring, or alternative education
- Bachelor's degree in any field
- Eligibility to work in the US or Canada