46 Ways to Become a Beauty Product Tester And Get Free Makeup For Reviews
Updated on: by Amy Kennedy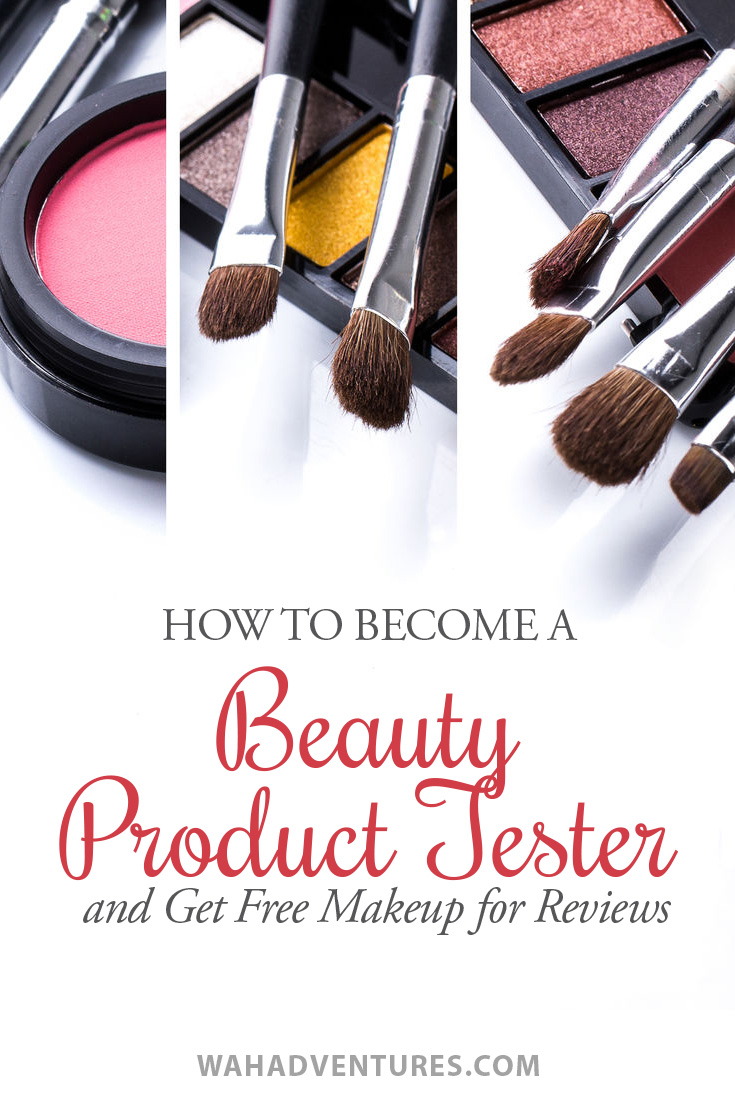 Interested in testing out free makeup products?
Need Easy Extra $350+/Month For Free?
Well, who isn't?
Companies are often providing people with lots of free products that they can test out.
It's all about finding out what products should be offered in the future and to see how these items work.
But what can you do to get these products?
You will have to look around online to see what products are available.
The options are varied and interesting and deserve to be explored.
How to Become a Beauty Product Tester and Get Free Makeup For Reviews (Updated for 2023)
As you will read there, there are many ways how you can get some great beauty products for free.
There are various beauty consumer panels looking to provide you with appealing products.
These are ones that such companies want to test before releasing them to the public.
You might be surprised at what you will come across when you get paid to test makeup.
Let's look at some of the makeup consumer testing options you can be a part of right now.
A Few Notes For Beauty Consumer Panels
You've got to look carefully before getting into any of these panels:
Check on the particular companies that are running these panels. Are they ones you might recognize?
Are there any specifics as to what they offer? Some places focus on very specific brands while others concentrate on things like all-natural items.
See what types of products they are having people test as well. Maybe they might be offering items that are of actual use to you in some way.
Consider how you'll have to get in touch with these groups. This includes letting them know what you do and don't like about the products you are testing.
Maybe you might get paid by such a group. See what incentives a group has beyond just the traditional products you can test.
Watch for any rules relating to how to get in. Never pay money to get into one of these panels; these groups are almost always scams.
Every panel out there is different in terms of what it offers.
You'll get plenty of great items to try out when you just get in contact with someone that really knows what's out there.
With all this in mind, let's take a look at some of the best panels you can check out today.
Need Easy Extra Cash?
Pinecone Research, a leading name in online survey panel honesty, absolutely guarantees $3 cash for every survey you complete!
Take advantage of their time limited New Membership drive and register NOW. Join today: 100% free!


You might be surprised at where some of these places come from.
L'Oreal is one of the top names in the world of beauty products.
You can test items from the company today.
You will get a free gift for every five surveys that you complete.
You will have to act fast when you get a message from L'Oreal about getting into a panel.
Slots for its panels fill up quickly.
Test products for thePinkPanel and get free beauty products or gift cards.
These are good for all sorts of great items you can get from the popular beauty product website.
Sephora doesn't necessarily give its customers free products for testing, but you can test out some of the brand's products before purchasing a full-size product by taking advantage of its free samples with any purchase.
When you order from Sephora's website, you can choose two trial-size sample products to ship for free with your order.
And, when you visit a Sephora store, you can also ask an employee for a sample of a product you've been dying to try.
The best part is that you don't have to do anything in return! Just get the samples you want, try them out, and purchase the full-size product if you love it.
You'd think that Oprah Winfrey would have gone to the backburner after her show ended. Well, she is still as strong and influential as ever, maybe even more so today and her DevOtee panel is just one part of what she offers today.
The DevOtee panel offers free beauty product samples for people to test out.
You can test them and participate in surveys to win special prizes.
If you're a mom, you can join the Parenting.com Product Testing program, which mostly sends out mom-related items for moms to test out at home to help articles for the magazine and online publication.
However, not all products are kid or baby-focused; the panel does sometimes send out beauty and healthcare products for moms too!
When a project comes up that matches your interests, the program will contact you and you can choose to accept the item(s) or not.
After each test, you'll need to fill out a survey with your honest feedback.
Toluna is a leading survey website that often has product testing opportunities available for its panelists.
Make sure you fill out your profile completely when you sign up to indicate your interests, which will help you get selected for product testing opps that interest you.
Toluna works with big-name brands, like L'Oreal, for surveys and product testing, so you'll have a chance to work with some top companies in the industry.
Download the Toluna app for iOS and Android to always stay notified when new testing programs and surveys are available for you.
Sign up for Valued Opinions and earn up to $5 for surveys (there are a lot of beauty-focused opinion surveys in this panel!), but you can also gain access to some product testing opps that the panel sends out.
In addition to getting free products to test, you can earn points toward rewards like Amazon gift cards or Target gift cards.
Enjoy all sorts of great products from Vogue and test out items that can be sent out to you.
You can especially participate in this program through Pinterest.
Try out various beauty products from high-end retailers through the support of Conde Nast.
This works only if you qualify.
Earn Everything… nearly!
Join Opinion Outpost, one of the few faithful and honest survey panels and earn cash and gift cards for your opinion. Stack your points and redeem them: Simple! No hidden fees and completely free!


You'll have to complete a questionnaire from Conde Nast to see if you can actually be accepted into the Style Society.
CrowdTap is a crowdsourcing platform that connects regular consumers and influencers with products in a range of categories, including makeup, skincare, and haircare.
Brands will post fun tasks for you to complete, like quick surveys with your opinions about products, responding to polls, and engaging with others in the program and the brand itself.
Not only do you get to see a more personal side of the company, but those with top scores in the program may also qualify for free product testing opportunities.
You'll also earn points for gift cards and other prizes for your participation.
BzzAgent is a company that sends samples of all kinds of products to your home and surveys to complete for them.
Various beauty products are included as part of the program.
You can choose which campaigns you want to take part in.
When you complete enough surveys, your Bzz Score will go up.
As you get a higher Bzz Score, you will be eligible for special rewards or even access to some of the more high-demand beauty surveys among other things the service offers.
An interesting part of what Influenster gives you is that you'll actually get full-size containers of different products offered by beauty companies.
The stuff you get comes in boxes shipped to you.
You can request to take part in different types of surveys with an emphasis on beauty-related ones.
This does require plenty of effort on your end though.
This includes working with enough surveys on a regular basis to allow you to stay active as a member.
As the name suggests, this website matches you with in-home product testing opportunities!
It's free to register.
Be sure to fill out your profile completely to indicate that you're interested in beauty products.
For each program you participate in, you'll receive points that you can redeem for online gift cards through Tango.
The magazine InStyle looks for beauty lovers for its Trendsetters program.
As a member, you'll have opportunities to test free products and take surveys about them so the magazine staff can learn what real consumers think about the products.
You'll also be eligible to enter the quarterly sweepstakes for members only for a chance to win awesome prizes (like beauty products!).
Johnson & Johnson is the maker of various health products, like skincare, hair care, and cosmetics.
When you become a member of its Friends and Neighbors program, your information will be kept on file until a testing opportunity becomes available that matches your interests.
The program also has surveys, focus groups, and online discussions for members to share their opinions and help shape the products the brand puts on the market.
You'll need to be at least 18 years old, and more than one member of your household can apply.
Some programs will give members prizes or cash upon completion, while others will give just the free products to test.
Glamour Beauty Club is a beauty product testing platform that offers members the opportunity to receive free beauty products in exchange for providing honest reviews and feedback. 
By joining the club, you can participate in surveys and campaigns related to skincare, makeup, haircare, and more. 
Glamour Beauty Club often collaborates with well-known beauty brands, providing members with exclusive access to new product launches and samples.
As a member, you'll have the chance to discover and test the latest beauty products, share your opinions, and influence the beauty community.
Reviewkick is an online platform that connects product testers with sellers on Amazon.
While it's not exclusively focused on beauty products, it does offer opportunities for beauty enthusiasts to receive free makeup in exchange for honest reviews. 
By signing up and selecting beauty as one of your preferred categories, you can browse through available beauty products and apply to test and review them. 
Reviewkick provides a platform for sellers to get valuable feedback on their products, and testers have the chance to try new beauty items and contribute their insights.
Shopper Army is a website that offers product testing opportunities across various categories, including beauty. 
By becoming a member, you can participate in missions where you'll receive free beauty products to test and review. 
Shopper Army encourages detailed and honest feedback to help brands improve their offerings. 
In addition to testing products, members can also earn rewards and receive exclusive offers. 
The platform aims to create a community of engaged shoppers who have the opportunity to influence brands and discover new beauty products.
Brandbacker is an influencer marketing platform that connects content creators with brands looking for product reviews and endorsements. 
While primarily targeting bloggers, YouTubers, and social media influencers, Brandbacker also offers opportunities for beauty enthusiasts to receive free makeup for testing and reviewing. 
By signing up and creating a profile, you can apply for campaigns and collaborations with beauty brands. 
If selected, you'll receive complimentary beauty products to try, and your feedback will help brands understand the consumer perspective and improve their offerings.
Muse Find is a platform that connects influencers and content creators with brands for collaborations and product reviews. 
By joining Muse Find, you'll have access to various beauty campaigns where you can receive free makeup products to test and share your honest opinions with your audience. 
The platform enables you to create a profile, browse available campaigns, and apply for those that align with your interests and audience. Muse 
Find helps influencers build relationships with beauty brands, discover new products, and share valuable insights with their followers.
Vocalpoint provides you with opportunities for testing beauty products.
But to get the most of it, you have to stay active.
You must write reviews, take polls and other things with regards to what you get by mail.
You can get access to full-size and more high-end products to test when you have enough experience with testing things out.
The Allure Beauty Enthusiasts group is one that promotes a variety of great beauty products.
It offers access to product surveys and different VIP events.
Sign-up is not always available through the group but it is often open at different times based on when new members are needed.
Baker Street Solutions is a market research company that works with several top brands to match them with consumers who are willing to give valuable feedback on their products and services.
P&G is just one of the beauty-focused brands that the company works with.
As a panelist here, you can participate in research studies, focus groups, and testing opps that include free products for you to evaluate.
Sign up here by filling out the quick form and earn money for the studies in which you participate.
As a member of this group, you will get product samples of various items for your use.
A scoring system is also used based on how you write on products that you have reviewed.
This group was formed by Elle magazine and offers exclusive access to product samples and surveys.
This is relatively sporadic in terms of when it sends items out but it does offer great samples on occasion.
The products offered are typically ones that Elle has been promoting.
These include products that are from brands that Elle has supported in the past.
Good Housekeeping continues to be important in today's world.
When its seal appears on an item, it means that it is something people can trust.
The Advisory Panel gives you surveys and samples many times each year but it is selective in terms of who it can accept.
Another panel run by a prominent publication, Team Redbook also gives you many products to try out each year.
You will get various products and surveys for a variety of beauty items from many of the world's top companies and brands.
Glamour Magazine founded the Glamspotters program as one that offers information on different fashion products that people can try out.
This requires you to complete various surveys to analyze how well you understand beauty products and what you are interested in the most.
Glamour can then send out product samples to you based on your interests and what you want to try out the most.
This option has been growing in popularity as more people are discovering how useful the products PinchMe has people test can be.
You will get samples to try every two weeks of all kinds of beauty items.
You must log onto your PinchMe account to choose what items you want to test.
It's not too hard to leave reviews after you try out what they give you as well/
House Party offers a more unique way for you to test beauty products.
With this, you will host a testing party with many of your friends.
You will sign up to host a party where you can get many samples of a product.
These will be sent to you with several survey forms to give to others.
This is more of a group-based activity.
It still gives you many samples that you and your friends can enjoy.
UPDATE 5/2023: House Party is now Ripple Street. The company still functions the same, just under a different brand name.
This is a special club from Marie Claire that lets you test products by mail and send out surveys.
It has many small tester-size items for you to check out.
When you join Smiley360, you will join a group of more than half a million others who test out and review products for free.
Just go to the site and sign up and you will quickly get access to lots of attractive products.
You'll get products that you are actually interested in when you sign up with Swaggable.
Out here, you will get your information sent out to Swaggable.
They will review your interests and send out beauty products or other items based on your feedback.
After a while, you will get products and surveys that you can use for testing beauty items while sending out your feedback about them.
This place was designed as one where moms can get together to review and share data on all kinds of items of interest to them.
You can find primarily green and natural products to test out through the site.
You will test products that are in the second stage of development. At this point, they are being refined before they can go to the market.
Your feedback determines just how much further refinement is needed in order for a product to work.
BuzzBack is an online community that lets its members share their opinions in a variety of ways about numerous products, brands, and services.
Sometimes, you can get free products to test at home in exchange for your in-depth feedback.
Fill out the quick form to join and become a panelist. You'll then receive new opportunities to your inbox when they're available.
For your participation, you can also earn rewards like gift cards.
Read More: 75 Ways to Get Free Makeup and Beauty Samples by Mail (Plus Current Samples!)
Another Idea: Start a Beauty-Focused Blog (or Vlog)!
There's another way to get free beauty products to test that don't rely on waiting for review programs to send you new opportunities:
Blogging!
Becoming a beauty blogger is a great way to get your foot in the door with your favorite beauty brands through sponsored posts and product review opportunities.
Vlogging – or blogging via video – is just as worthwhile to take up, if you prefer making video content over writing.
There are several paid blogging networks that you can use to find sponsorships with beauty brands that are willing to send you products in exchange for a review on your blog or video channel.
Bloggy Moms is a network where mom bloggers can post blogs to the site, connect with other bloggers, and even find paid blogging opportunities from brands the company works with.
You can join the site, include your blogging and social media information, and wait for opportunities to arrive in your email.
Many of the programs are based on mom or kid-focused products, but you'll also find tests for beauty and healthcare products.
Clever Girls has been one of the most popular blogger and influencer networks for several years, and it continuously has awesome opportunities for bloggers to work with amazing brands in various industries.
You'll often see opps for beauty products, like cosmetics and hair care, but you'll need to keep an eye on your dashboard to see what new projects become available.
You can choose which ones to apply to based on the requirements, pay, and deadline.
Once you hear back from a project manager about your acceptance, you begin working on the project. Most of them pay within 30 to 60 days after the project's end.
Collective Bias offers "shoppertunities" which mostly center on food products and ingredients, but the company also works with beauty companies for paying projects surrounding various cosmetics, skincare items, and more.
These projects require you to visit a specific store, buy the products (you'll be compensated for what you buy) and then complete a story around that product and share your honest opinions.
Most of these projects pay very well because they can be somewhat time-consuming and require a lot of information and specific details.
It can also be competitive, so it's best to have a lot of followers and an engaged audience for the best chance of getting accepted.
Famebit is an influencer network and review company for people who create engaging video content on YouTube.
You can choose from open opportunities for which to apply in several categories, and then complete the project according to each brand's requirements.
You'll likely get opportunities to receive and test free products for use in your videos, plus compensation for successful completion of each project.
iFabbo is for lifestyle, beauty, and fashion bloggers and influencers to find projects with relevant brands that suit their audiences.
As a beauty blogger, this is one of the best platforms to sign up for and find beauty brands to work with.
Massive Sway is another long-running network for influencers and bloggers.
This one usually caters to people with large followings, so it's a good idea to wait until you have a highly engaged audience for your blog and social media before attempting to join.
Massive Sway tends to have quite a few beauty-focused programs available for influencers.
MomSelect helps connect moms with mom-focused brands that make products to help families.
You can sign up for free and receive opportunities related to your interests in your email.
Some of the types of programs you'll find here are for blog tours, social media shout outs, product testing, and special events.
You may even qualify for in-home parties where you'll receive free stuff to share between you and your invited partygoers!
This whole site focuses on various product testing opportunities for US residents.
Many of the opps here are for beauty products, like hair styling tools, cosmetics palettes, and more.
You'll have access to all current products that are available for testing. Apply to the ones you're interested and wait until you find out if you're approved.
Follow the instructions to receive your products and complete the program.
SheSpeaks is a network where women can collaborate, network, and connect.
The program also has product review and sponsored blogging opportunities that you can sign up for.
All you need to do is fill out the form, include your interests, and wait for SheSpeaks to match you with projects that suit your tastes.
Tomoson is a place where you can apply to receive free products listed on the site.
Each project will have its own requirements, such as posting a review on YouTube or your blog or mentioning the product or brand on a social media channel.
Some opps have monetary compensation in addition to free product.
Conclusion: Start Testing Beauty Products at Home!
There are plenty of places to find beauty product testing opportunities for you to try out the newest items from some of your favorite brands.
Better yet, when you start your own beauty blog, you can build up your brand as a top beauty influencer and open yourself up to the best sponsorships and partnerships with incredible beauty brands!
Do you know of any other appealing beauty product testing opportunities?
Leave us a note in a comment to let us know what's available.
Related Posts:
Earn Everything… nearly!
Join Ipsos iSay, one of the few Faithful and Honest survey panels and earn prizes, gift cards and donations. Stack your points and redeem them: Simple! No hidden fees and completely free!