The Ultimate Guide to Becoming a Freelance Grant Writer (Earn $40+/Hour)
Updated on: by Amy Kennedy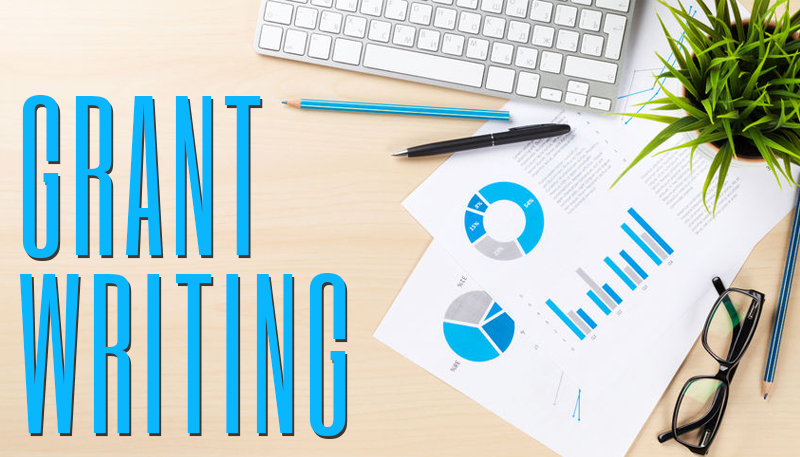 Need Easy Extra $350+/Month For Free?
You've probably heard of freelance writing.
It's quickly becoming one of the top ways to earn money online.
You've also probably heard about how hard it is to compete with the hundreds of thousands of other people also clamoring to become successful freelance writers.
The problem a lot of writers have when they start freelancing is that they want to take on every project they come across, even if it's not a great fit for their skills.
In other words, they're niche-less.
Having a niche is a super important part of being a successful freelance writer.
You can either have a niche that focuses on one topic, like internet technology, or a niche that focuses on one type of writing, like blog posts.
Either way, it's important to find one or two things that you're great at instead of trying to become a connoisseur of everything.
It helps you be seen as an authority figure in your niche to potential clients, which can help you win jobs over general freelancers.
One niche that some writers specialize in is grant writing.
This can be one of the most lucrative types of writing, yet a lot of people aren't aware that it exists.
If you're one of those people, then read on to find out more about grant writing and how you can break into the industry.
What is Freelance Grant Writing?
Grant writing is something you can do as a freelancer or as an employee.
I see a lot of openings for grant writing jobs on job search sites like Indeed, so there's most definitely a need for people in this industry.
When you write grants, you'll develop applications for funding needed by nonprofits, sports teams, churches, schools, and other organizations that typically need financial help to thrive.
Need Easy Extra Cash?
Pinecone Research, a leading name in online survey panel honesty, absolutely guarantees $3 cash for every survey you complete!
Take advantage of their time limited New Membership drive and register NOW. Join today: 100% free!


It's important work, so you can see why so many organizations would need to hire professionals who know what they're doing!
Not just anyone can write grants.
Grant writers are detail-oriented and know how to capture the attention of the organization or people who would be funding the grant.
Grant applications need to include information about the organization, why it's important, what financial assistance it's seeking and why, and how it will use the funds.
Sometimes, they even include interviews from people within the organization or people the organization has helped, which can give the application more personality to connect with the audience.
It's far different than writing a blog post or email newsletter.
But, it can also be one of the most rewarding types of writing there is.
You're helping organizations help others by giving them the funds they need to do so.
Since it takes a lot of skill to write grant letters and applications, you'll find that your salary can potentially be higher as a grant writer than as a blogger, journalist, or social media manager.
The Salary of a Grant Writer
You probably want to know how much is grant writing worth, right?
The answer depends on several factors.
Freelancers can stand to make even more than staff grant writers because they create their schedules and choose what clients to work with.
They can also set their own prices and work on retainers, which can give them thousands of dollars per month for one client's project.
Your salary will also depend on your experience.
But, here's an answer you'll probably like: grant writers make a decent salary, no matter how much experience they have and what type of job they have!
Grant writing is specialized, so there's not as much competition as there is for people who write, say, blog posts for a living.
According to Salary.com, the median salary for a grant writer is about $67,000.
Based on 40-hour workweeks, that's about $32 per hour!
More experienced grant writers make closer to $83,000, which works out to almost $40 per hour.
As a freelancer, the sky's the limit.
You're your own boss and you control what you make, so it's not out of the question to make upwards of $100,000 per year once you have a solid portfolio and steady stream of clients.
Here's How to Get Paid to Write Grants
Grant writing sounds like it's for you, but you have no idea where to start?
Read on!
Here's how you can start a freelance grant writing business even if you have little to no experience helping out nonprofits.
1.    Research Nonprofits You're Interested In
The most important thing you can do is a grant writer is educate yourself on what a nonprofit organization is and how one tends to work.
As a grant writer, you'll need to live and breathe the nonprofits you'll be working with.
You should have an in-depth understanding of the people in charge, what they do every day, and what the nonprofit's goals are.
You should also know about the people or places the nonprofit helps so that you can translate everything you know into why a funder would want to give money to that organization.
Research some nonprofits local to you.
Earn Everything… nearly!
Join Opinion Outpost, one of the few faithful and honest survey panels and earn cash and gift cards for your opinion. Stack your points and redeem them: Simple! No hidden fees and completely free!


You can check out their websites, read their blogs, find press releases and articles about them, and then give them a call.
Let them know that you're doing some research about local nonprofits and you're very interested in their mission and would like to learn more about it.
They'll probably be happy to share a lot of information with you.
It's also a good idea to gather enough information at this point that you'd feel comfortable writing a pretend grant application letter for the organization.
You can use a made-up sample as a portfolio to help you land clients, which we'll get into in a moment.
2.   Create Samples
As a beginner, it's going to be tough to find nonprofits who will want to choose you for their grant writing needs.
Most will want to see samples and, if you haven't yet worked with anyone, you won't have any to show.
It's a catch-22 that a lot of freelance writers end up in, so don't feel like you're alone.
Although no one wants to write for free, creating at least two or three A+ samples is worth your time to help you land clients in the future.
You can use the research you gathered from local nonprofits in step one to come up with some fictitious organizations you want to create a grant letter for.
Don't use the actual information of the organizations you contacted for your samples unless you specifically asked if it was okay to do so.
If there's a local organization that you're especially passionate about, you might contact them to see if they would be willing to hire you to write for them at a discounted "trial" rate.
Small organizations may jump at the chance to see what you can do.
If you land the job, you may just have a legitimate sample to add to your portfolio!
If you are sticking with fictitious organizations for samples, be sure to write the same way as you would for an actual client.
Be detailed and put a lot of effort into your work – it will pay off down the road!
3.   Build Your Portfolio
The best ways to display your portfolio are either in a PDF file that you can attach to emails when you speak with potential clients, or on your website as links.
A PDF file is helpful for when your clients request that you only use your work as a sample in a non-public profile.
Some will have that stipulation and it should be outlined in your contract.
An online portfolio on your website is simple and convenient for potential clients to quickly see your work before they choose to hire you.
You can either publish them on your website or create a free portfolio using a site like Clippings.me or JournoPortfolio.
Just be sure to always check with your clients and look over your contract before adding any of your grant writing work to a portfolio.
4.   Land Paying Clients
Now that you have some samples under your belt and have created a portfolio to show potential clients, you're all set to find organizations that will pay!
The best way to do this is by contacting organizations directly.
It's important to find nonprofits whose missions resonate with you.
If you don't feel personally connected to their story, then you probably won't do a great job at getting its messaging across to others.
If you feel more comfortable, you can start with some small nonprofits in your area.
Stop by in person and offer your services or give them a quick phone call to discuss their grant writing needs.
You can also check job search sites online to find freelance and staff opportunities for grant writers.
Indeed is one of the best; I see new grant writer job listings here several times per week for remote and on-site positions all over the United States.
Craigslist is another gem for finding writing work.
Stick to looking in the listings of large cities, which is where you'll find most remote opportunities for writers.
You can also try Upwork, a freelance marketplace that connects you with clients needing your skills.
Upwork is difficult to get approved as a writer for right now because there are already so many on the site.
However, if you have a solid portfolio in place and can prove your skills, you'll have a good chance of getting accepted, especially when you specialize in a focused writing niche like grant writing.
5.   Continue Building Your Skills
Even once you've landed a couple of clients, you should continue strengthening your writing skills.
Writing is an art form, so there's always something new to learn.
When you're a freelance writer, you have a lot of competition.
One of the best ways to stay ahead of that competition is by consistently investing in yourself and your education.
Read sample grant letters to get a feel for how the best grant writers are appealing to their audiences.
Read books from expert grant writers.
Follow other grant writers on social media and LinkedIn to stay up-to-date with your industry and network with other professionals.
Take grant writing courses on Udemy.
Subscribe to nonprofit-related newsletters.
Track what your favorite nonprofits are doing by subscribing to their newsletters, checking out their latest press releases, and following them on social media.
There's so much you can do to stay ahead of the pack and be the best grant writer you can be.
Your clients – and your wallet – will surely thank you!
What Skills and Qualifications Do You Need to Succeed as a Freelance Grant Writer?
Becoming a successful freelance grant writer requires a combination of specific skills and qualifications. 
Whether you are just starting out or looking to enhance your existing abilities, understanding the key requirements can significantly contribute to your success in this field. 
So, what skills and qualifications are essential for a freelance grant writer? Let's explore.
Strong Writing and Communication Skills
First and foremost, impeccable writing skills are crucial for a freelance grant writer. 
You must have the ability to craft clear, concise, and persuasive grant proposals that effectively convey the mission, goals, and impact of the organization you are writing for. 
Your writing should be engaging, well-structured, and tailored to the target audience.
Furthermore, excellent communication skills are vital for interacting with clients, understanding their needs, and effectively presenting your ideas. 
As a grant writer, you will collaborate with various stakeholders, including nonprofit organizations, funding agencies, and project leaders. 
Being able to communicate clearly and professionally is essential to establish positive relationships and deliver exceptional results.
Research and Analytical Abilities
To succeed as a freelance grant writer, you must possess strong research and analytical skills. 
Grant writing involves conducting thorough research to gather relevant information about the organization, its programs, and the funding opportunities available. 
You need to identify the most suitable funding prospects and evaluate their requirements and priorities.
Moreover, grant writers must analyze and synthesize complex data and statistics to support their proposals. 
The ability to interpret financial information, program outcomes, and impact measurements is crucial for creating compelling grant applications. 
A keen eye for detail and the capacity to extract key insights from research are highly valued skills in this profession.
Grant Writing Knowledge and Expertise
A solid understanding of the grant writing process is essential for success in this field. 
Familiarize yourself with the key components of a grant proposal, including the executive summary, project description, budget, and evaluation plan. 
Stay updated on best practices and guidelines for writing grants, as they may vary among funding agencies and program types.
Furthermore, acquiring specialized knowledge in the field you plan to focus on can give you a competitive edge. 
Organization and Time Management Skills
Freelance grant writers often juggle multiple projects simultaneously, which requires excellent organization and time management skills. 
You must be able to prioritize tasks, set deadlines, and meet project milestones efficiently. 
Effective project management ensures that you can deliver high-quality work on time, even when facing tight deadlines.
Utilize project management tools, create schedules, and establish a systematic workflow to stay organized. 
Being able to manage your time effectively will not only help you handle multiple projects but also ensure that you have ample time for research, writing, revisions, and client communication.
Adaptability and Continuous Learning
Grant writing is a dynamic field that requires adaptability and a commitment to continuous learning. 
Funding priorities, regulations, and application requirements can change over time. 
It's crucial to stay updated on industry trends, funding opportunities, and any new developments that may impact grant writing practices.
Engage in professional development activities such as attending workshops, webinars, and conferences related to grant writing. 
Joining professional associations or networking with other grant writers can provide valuable insights and opportunities for growth. 
Embracing a growth mindset and continuously expanding your knowledge and skills will enable you to thrive in the ever-evolving landscape of grant writing.
Read Also: These 28 Freelance Online Writing Jobs are Perfect for Beginners
Conclusion: How to Become a Grant Writer Without Experience
Even with zero experience as a grant writer, you can become a successful one with some hard work and dedication.
Freelance writing might be one of the most popular money-making methods right now, but anyone who tells you it's simple is lying.
The truth is that there's a lot of competition out there, which is why it's more important than ever to niche down.
Grant writing is one area that isn't overly saturated and takes a lot of professionalism for one to be successful in it.
If you're serious about becoming a grant writer, learn everything there is to know about nonprofits, how they work, and what they do.
You can then use your knowledge to create samples to build your portfolio and find your ideal organizations to work with.
Keep investing in your education to build your grant writing business to success!
Is grant writing up your alley?
If so, what types of nonprofit organizations would be your dream to work with?
Leave us a comment below and let us know your thoughts!
Related Posts:
Earn Everything… nearly!
Join Ipsos iSay, one of the few Faithful and Honest survey panels and earn prizes, gift cards and donations. Stack your points and redeem them: Simple! No hidden fees and completely free!