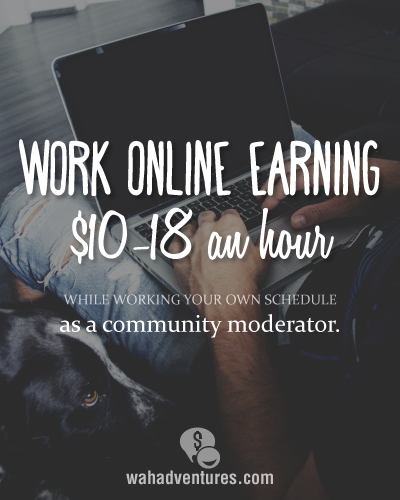 Are you someone who enjoys social media?
Need Easy Extra $350+/Month For Free?
Are you someone who frequents forums?
Are you one who understands how important branding is to business?
Then the ICUC moderation agent job might be just what you are looking for.
What Exactly is a Moderation Agent or Expert?
A moderation agent is someone who basically acts on the behalf of the client and goes into the clients' forums and social media accounts to answer questions, engage with their target market, and promote yet protect their brand.
You will be moderating forums, approving or deleting comments on social media as well as ensuring the proper online conduct of the site visitors.  As you well know, most all forums have rules and guidelines for what may and may not be shared.
Does ICUC really stand for anything?
No, it is a clever way of saying, "I see.  You see."
How Long Has ICUC Been in Business?
ICUC Moderation Services Inc. is a Canadian company that was founded in 2002 as social media began to grow.  Services are available to the client in ten major languages, which makes sense due to the Internet being global.
Their full line of services includes:
content moderation
community management
content strategy
social media
customer service
social listening
Your formal title for the moderation position would be ICUC Home Moderation Expert.  Some of their clients include Virgin Mobile, Starbucks, and Chevron.
Does ICUC Offer Benefits?
You are actually an employee at ICUC with either part-time or full-time hours plus "benefits".  Pay ranges from $10 to $18 an hour and hours are available 24/7.   Payday is every two weeks via direct deposit.
They do accept people in other countries to work for them, and they appear to be growing all the time.  Before completing the application for working at ICUC, you might want to engage with the live chat agent on their website to be certain that they do hire in your country.
While the company does mention "benefits" everyone I talked to said that there were no sick days, vacation days or insurance of any kind.  The only benefit was working from home and making a better hourly rate than most work-at-home jobs.  ICUC claims that 80% of its 600+ employees worldwide work from home.
The reviews on the company overall weren't bad.  You can see them on Glassdoor here.
How Does Scheduling Work and Is It Flexible?
Scheduling is flexible as the Internet is 24/7.  There are minimum requirements for both full-time and part-time.  Part-time is around 15 hours.
Need Easy Extra Cash?

Join e-Poll, one of the few faithful and honest survey panels and earn cash - paid via PayPal - gift cards for Amazon, Best Buy, iTunes, Starbucks, and Walmart, plus Retail e-vouchers.
The surveys are aimed at entertainment-related research, covering such things as personal TV watching habits, give feedback on new TV commercials or to review DVDs that are sent to your home.
For USA residents aged 13+. No hidden fees and completely free!


What Are Their Requirements?
As you might imagine, the client is depending upon your skills, expertise, and professionalism to represent them and their brand online.  The following are the requirements:
a strong command of the English language.
quick decision making.
strong work ethic.
able to multitask.
a good sound judgement.
above average computer skills.
an above average knowledge of social media.
an updated computer or laptop with anti-virus and anti-malware software installed.
What is the Application Process at ICUC?
You must select the following link then select the position that you want.  You will need to complete all of the paperwork, attach a resume, and be willing to submit to a criminal background check (no charge for you).  Should ICUC be interested in potentially hiring you, you will be contacted.  You may be asked to do a few tests depending upon your skill level.
How Does Training Work?
Training is done via a third-party vendor called Moderation Gateway.  Moderation Gateway trains moderators for other companies as well.  The cost of the training is paid via ICUC.
How Would An Interested Applicant Apply to ICUC?
Based on comments to this post and subsequent research, it appears that this company is now ICUC.social.  Here is an updated careers link, of course, good luck!
See below for any work at home openings at ICUC currently posted to Indeed.
Related Posts:
Want more money?

Join Surveyo 24 #1 paid survey site. It's easy - complete a survey and receive payment. No hidden fees and completely free!