What's the Best App to Sell Stuff Online? Find Ways to Sell Stuff Fast
Updated on: by Amy Kennedy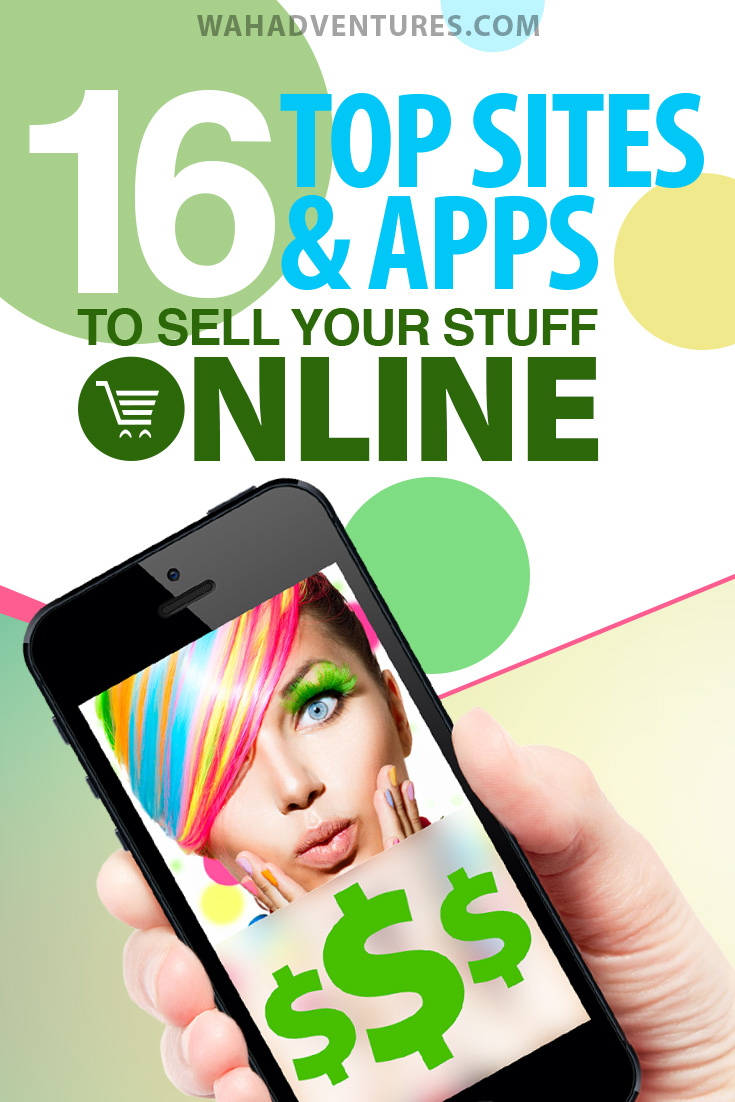 Who needs Craigslist when you can do the same stuff with an app?
Need Easy Extra $350+/Month For Free?
It's true what they say: There's an app for everything!
When it comes to selling your stuff, you probably want to get it done fast.
Fortunately, there are plenty of apps you can download to your smartphone or tablet that will help you find a buyer locally – maybe in just a few minutes.
The best part is there aren't any shipping costs involved.
Find a safe place to meet your buyer and get cash.
It couldn't be simpler.
Are Apps Better Than Websites to Sell Stuff Locally?
If you're looking to sell items online locally, you likely want to do it fast.
That's where apps come in.
You can usually list your items on apps in a matter of minutes.
Add a few photos and a description, and you're good to go.
Then other users browse the listings, find your items, contact you securely through the app, and set up a time and place to meet.
In some ways, selling stuff through apps can be even better than on websites.
Many of them offer ways for you to share your listings on social media so more people see them.
Plus, you can conveniently check your listings and notifications wherever you are.
Of course, there are a few safety factors you should consider.
Need Easy Extra Cash?
Pinecone Research, a leading name in online survey panel honesty, absolutely guarantees $3 cash for every survey you complete!
Take advantage of their time limited New Membership drive and register NOW. Join today: 100% free!


Just as you would for any website you'd sell your items on, you should use precaution when talking to and meeting buyers.
Never give them your personal information, like your name, address, or financial information.
Always arrange to meet in a public place for the safety of everyone involved in the purchase.
What's an App Where You Can Sell Stuff?
There are several local-selling apps, but here are some of our favorites:
Boxes (iOS Only)
Boxes is a very different type of app, but one of the most interesting.
You can set up "Boxes" for all of your belongings.
In other words, group like items into collections and then share them with your friends, family, and other users.
This is a good choice for people who have extensive collections of highly-desired items.
You don't have to sell your stuff – you can simply leave them in your collections for others to drool over.
But, if you do decide to sell, you can do it through the app.
You can also use it to browse other collections and try to find your missing pieces.
Sellers can also set up inventory from businesses to sell through the app.
The app is free, but you can purchase a $9.99 annual subscription that gives you unlimited storage for collection, saving receipts, notes, and more.
You can take payments with PayPal for a convenient shopping and selling experience.
You can create a free account on Carousell to sell items through the website or its app.
Carousell has groups users can join to connect with others with the same interests.
So, if you sell a lot of home décor items, you can find people interested in buying them.
Or, join a group that is focused on your location to find people closest to you to sell to.
Carousell connects you to buyers, so all payments will be made in person between buyers and sellers, rather than through the app.
You can cross-post your listings to Facebook groups, which is a great way for you to find more potential buyers.
Or, share your listings on your other social media networks!
Some lucky sellers become featured sellers.
There's no particular formula to follow, other than having descriptive listings, lots of great photos, and have excellent feedback.
If the Carousell staff thinks you're great, it will boost you and your listings for a period of time in the marketplace.
Close5 (iOS and Android)
Close5 is an app I personally use to sell my stuff locally.
I love how clean and simple it is to use.
A few clicks of the app will get your listing up and running in no time.
What's even better is you don't even have to add a description.
If your photos speak for themselves, put some good ones up there and your item is ready to list.
Earn Everything… nearly!
Join Opinion Outpost, one of the few faithful and honest survey panels and earn cash and gift cards for your opinion. Stack your points and redeem them: Simple! No hidden fees and completely free!


If a buyer is interested, he or she can message you through the app.
No identifying information is shown from either party, so it's secure for everyone.
You will both agree on a location to meet and the payment method, and your final transaction is done outside of the app.
A lot of people seem to be hopping on board with this app, so there are likely plenty of buyers around to see your listing.
The app will show you how many views your listings have, so you can see what's getting a lot of traffic and what might not be so interesting to buyers.
Depop (iOS and Android)
Depop is almost like the Instagram of selling apps.
The app is very photo-centric, with listings appearing as a single square photo until you click on it to read more.
Although there's nothing specifically stating that items have to be in the fashion realm, the majority of them are clothing, shoes, or accessories.
Depop categorizes its app as an Etsy-meets-Instagram-meets-Facebook combination.
Sellers are everything from stylists to music artists.
Items purchased can be bought in-person or through the app with a debit card, credit card, or PayPal.
Depop urges users to pay through the app so purchases can qualify for buyer protection.
Sellers can either ship items or meet buyers locally to finalize a purchase.
If you use the right hashtags, you may find plenty of potential buyers for your items on Instagram!
Make sure you add hashtags relevant to your item, plus a few others to indicate that it's for sale, like #ForSale, #Selling, or #ClothesForSale.
It's wise to turn on your device's location feature so Instagram will automatically mark your photo with your location.
That way, potential buyers can see where you're located and if it's close enough for an item pickup.
Letgo (iOS and Android)
Letgo is a lot like Close5.
There's no reason to get both, but you might want to try both of them to see which one offers more users in your area.
It seems that Letgo is a little more well-known, so those in smaller towns may have better luck with it than Close5.
You can hook it up to your Facebook account for easy cross-promotion to your Facebook profile.
This also helps members verify their identity for safety purposes.
The app is 100% free and there are no fees for selling or purchasing items.
There are some in-app purchases available, like bumping your listings to get them noticed.
All purchases are made between the buyer and seller in person, outside of the app.
Buyers and sellers can rate each other, which helps build trust in the community.
You can even rate someone you've only chatted with (which you definitely should do if he or she was trying to be fraudulent in any way).
OfferUp (iOS and Android)
OfferUp is about as close to an app version of Craigslist as you can get.
The huge marketplace stays busy, with sellers and buyers all over the United States.
When you use the app, it immediately detects your location so you can find things near you.
So, buyers in your area can see your items quickly!
You can sell everything from baby gear to cars on OfferUp.
Both buyers and sellers receive ratings, so you'll always know whether to trust a buyer or not.
Plus, your feedback will help you gain trust within the community and get more sales.
You can communicate with your buyers right through the app without having to worry about any identifying information getting to your buyer.
Payments and transferring of items takes place outside of the app, so always meet in a safe, trusted location.
Poshmark (iOS and Android)
Poshmark focuses on giving people a marketplace to sell fashion.
You can start your own "closet" by listing your clothing, shoes, and accessories for sale.
Follow other users whose stuff you love, and they may follow you back!
The shipping process is simple, since Poshmark has a flat fee for all orders.
You don't even have to figure out shipping costs as a buyer!
Currently, Poshmark is only available to users in the United States.
Shpock (iOS and Android)
Shpock is based on the idea of "boot sales", which is basically another term for a flea market where people tend to sell items out of the trunks of their vehicles.
It's a lot like some of the other selling apps where you can browse through local listings to purchase stuff or sell to local buyers.
There are no fees to sign up, sell, or buy through the app.
Your listings can go up in as quickly as 30 seconds with a photo, title, and quick description.
The app suggests signing up with Facebook, since it helps to cut down on spam accounts and build trust within the community.
You can arrange with a buyer to ship the item if you can't meet in person, but Shpock suggests using PayPal or a Pay-On-Delivery method to avoid scams.
SocialSell isn't updated as much as other apps, but it's still an option for a mobile selling place.
Much like other apps, you can chat with buyers and sellers about the item or to arrange a pick-up/drop-off.
Shipping items is discouraged.
There are no fees associated with buying or selling.
Set up your listings and keep 100% of the profits.
The only exception is the automotive category, which does cost a fee for sellers to list items in.
Swaptions offers the basic buy and sell format and messaging system like other selling apps, but it does have a couple of extras that others don't offer.
This app is focused more on swapping items than selling, but you can do either.
You can 'like' items in the marketplace to show you're interested in them.
So, sellers can easily see which items are popular and which aren't.
Buyers can also hide items they're not interested in to make it more user-friendly for them to find things they might want to buy.
You can connect with others who have similar interests as you to see if they'd like to trade or are interested in buying your items.
Buyers can send you offers for your items, either for a trade or a cash price, and you can accept or decline them.
Tradyo (iOS and Android)
Tradyo has both a marketplace website and an app.
Buying and selling is simple on both.
You can post your listings directly through the app by quickly adding some photos and a description.
It's free to list, sell, and buy.
Chat securely with potential buyers through the in-app message center, or you can choose to have buyers call you.
Share your listings easily on social media to let your friends know you have stuff available.
As an added bonus, Tradyo lets buyers set an alert that will notify them if someone posts an item they're looking for.
This feature also helps seller's items get sold more quickly if someone is already interested!
Trove (iOS and Android)
Trove is focused on used furniture and home décor items.
If you're looking for awesome vintage finds, this is the place for you.
Think of it like a consignment store app.
Trove is unique in that buyers can offer the price they'd like to pay and set up an appointment time to come see the item before they purchase it.
Sellers can, of course, accept or decline the offer and appointment time.
Your address will never be shown and buyers only see an approximate location, so you can meet in a neutral, safe spot.
Buyers can pay via the app using a credit card and, upon seeing the item and accepting it, can release the funds to the seller.
The transaction method helps both buyers and sellers stay protected with a sale.
VarageSale is open to users all over the world.
When you sign up, you can request to join local groups, which staff will review and approve you for.
You sign up with Facebook, which helps verify that you're a real person, not a spammer.
The good thing about the local groups is you won't have to weed through a bunch of listings from people not close to you.
And, you'll find more potential buyers within your area.
As an added bonus, each community is monitored by VarageSale admins, who make sure all people are real and using the site properly.
You can use the website or the convenient app to browse or sell.
The app makes it easy to keep track of your listings, notifying you if someone is interested.
Vinted (iOS and Android)
Vinted is all about selling and buying used clothes and shoes.
It's free to sign up, list items, and sell.
You can control your prices and even offer discounts if you'd like.
There are some fees for buyers, however, when they make a purchase.
Sellers can choose to sell their items or swap them for other things on the Vinted marketplace.
You can get your payment through the app and conveniently ship your item with Vinted postage.
You'll receive tracking information to make sure it gets to your buyer.
Buyers have two days to notify Vinted if there's a problem with their purchase.
If not, your payment gets deposited to your account.
Wish Local is based off the popular Wish app for finding incredible deals on everything from fashion to gym equipment.
With Wish Local, users can upload their own items to sell to buyers near them.
You can communicate with buyers through private chats with no identifying information involved.
The app is free to join, list, sell, and buy items.
Mercari (iOS and Android)
Mercari is a fast-growing online marketplace that allows users to buy and sell a wide range of items, from fashion to electronics, home goods to toys.
The app is easy to use: sellers simply take a photo of the item they want to sell, write a brief description, set the price, and then post it.
There are no listing fees, but once an item sells, Mercari deducts a 10% commission.
One unique feature of Mercari is the shipping system. Sellers can choose to ship items themselves or use Mercari's prepaid shipping labels, and buyers pay for the shipping costs.
All payments are processed through the Mercari app for a secure transaction.
Gumtree (iOS and Android)
Gumtree is a popular online classifieds and community website that caters to users in the UK, Ireland, Poland, Australia, South Africa, and Singapore.
It's not solely dedicated to buying and selling, as it also includes sections for property rentals, job postings, services, and more.
However, it does offer a platform for selling anything from cars to furniture and clothes.
Gumtree allows users to post listings for free, but there are options for premium services such as better ad placements.
Communication is facilitated through the app or website, but the payment and pickup or shipping arrangements are handled between the buyer and seller directly.
5miles (iOS and Android)
5miles is an app that makes it simple for users to buy and sell goods locally.
Similar to OfferUp and Letgo, 5miles features a broad variety of categories, including cars, real estate, jobs, services, and second-hand items.
It's free to list items on 5miles, and it's also free to purchase. What sets 5miles apart is its user verification process, which aims to ensure safer transactions.
The app verifies users' phone numbers and emails, and it also offers an option to verify with Facebook.
All communication happens within the app, keeping contact information private, and final transactions typically take place in person.
Conclusion: Best App to Sell Stuff Online
There is no clear "winner" here, as all of these apps are popular and offer great things for buyers and sellers.
Each app is focused on the safety of its users, which should be a number one priority for buy/sell marketplaces.
I suggest trying out a few of these apps.
See which one you like the best as far as interface features, like look, feel, and user-friendliness.
Also, it's important to find one that has a lot of users in your area.
Some apps simply don't have a lot of users in smaller locations, so they won't be your best choice if you live in a rural area.
If you're a member of local selling Facebook groups, ask some members of them to offer suggestions of apps they use that are good for your area.
It's likely that many selling in Facebook groups also use a selling app to cross-promote their items and can give some suggestions.
As always, stay safe. Never give out your personal information and meet in a public, well-lit, busy place.
Some locations even have a safe spot set up just for local buyers and sellers at a police or sheriff's station.
You can always call your local law enforcement office to inquire about the best spot to meet buyers.
If you want more places to list your items, you can always try websites like Craigslist.
Which of these apps is your favorite for selling items locally? Let us know in a comment!
Related Posts:
Earn Everything… nearly!
Join Ipsos iSay, one of the few Faithful and Honest survey panels and earn prizes, gift cards and donations. Stack your points and redeem them: Simple! No hidden fees and completely free!