The Most Lucrative and Legitimate Side Hustle Ideas In 2023
Updated on: by Samuel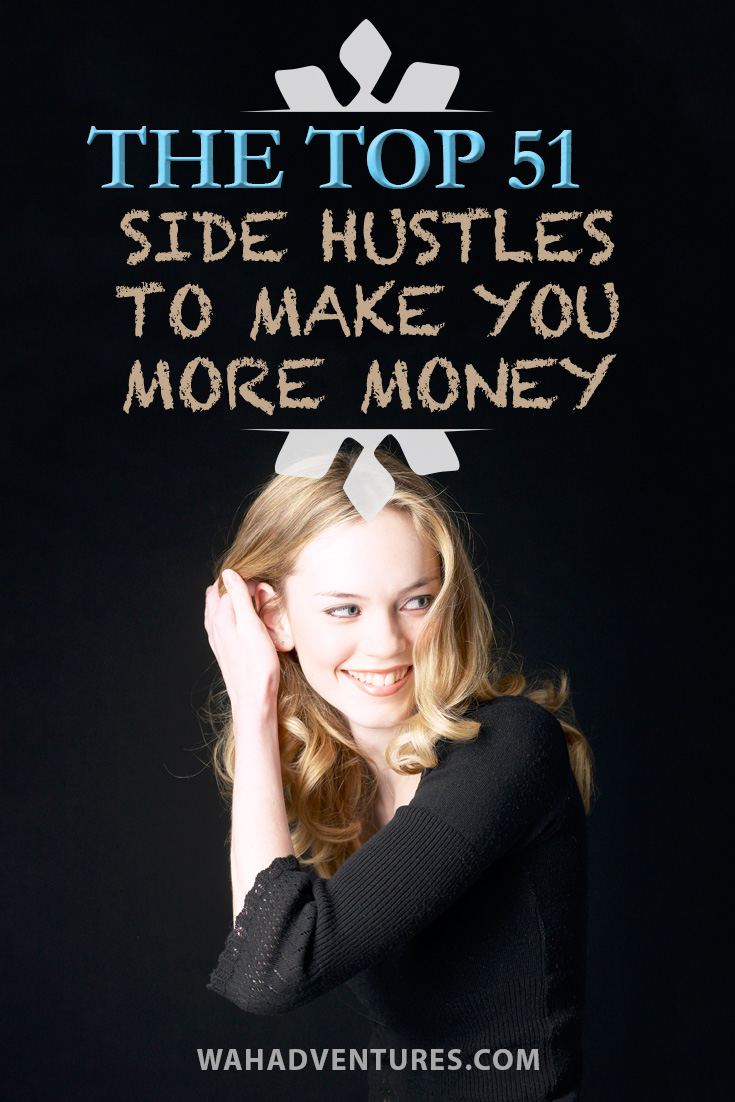 If you want to learn all about making money on the side, you've come to the right place.
Need Easy Extra $350+/Month For Free?
Sometimes, your regular job may simply not be enough.
You might need a little extra cash each month to make ends meet, or give you a little wiggle room with your finances.
And, if you're trying to climb out of debt, some extra cash can be a huge help to pay off credit cards or a loan more quickly.
So, this post is all about side hustles.
You know, the part-time gigs you can do when you have time off from your job that can give you just the cash you need.
I put together a huge list of side hustle ideas perfect for getting the extra cash you need each month.
Best Legitimate Side Hustle Ideas: Online
First things first: get yourself a website if you don't have one yet!
With almost any type of job or business in today's world, a website helps your audience and customers connect with you in ways like never before.
Many of these side hustles will go places faster if you have a website, since it's one of the best marketing tools.
So, start one today. Most websites are incredibly easy to set up.
And, our Blogging 101 series will help you figure out what you don't already know!
Take Surveys
If you try to take surveys as a full-time job, you'll likely be disappointed.
But, as a side hustle, online surveys are perfect.
My personal favorite sites for surveys are:

Here are a few other highest-paying companies!
Need Easy Extra Cash?
Pinecone Research, a leading name in online survey panel honesty, absolutely guarantees $3 cash for every survey you complete!
Take advantage of their time limited New Membership drive and register NOW. Join today: 100% free!


From my experiences with surveys, I recommend joining three or four that jump out at you.
Check your e-mail daily for invites to current surveys and respond to them as quickly as possible so you don't miss out before the survey fills up.
If you're consistent with taking them when you have free time, you'll earn fairly consistent cash each month.
Swagbucks
I love Swagbucks for so many reasons:
It's easy to earn money
There are tons of ways to earn money
You can earn money just by doing what you normally would online
It has a great referral system
It pays quickly with PayPal
There are tons of rewards to choose from
Honestly, that's only a few of the reasons why I've chosen to use Swagbucks for years.
No, it likely won't provide you with enough money to live off of, but it can definitely help give you some extra to get out of debt, have some spending money, or pay the bills each month.
If you want to try it for yourself, click here to sign up!
Blog
Which brings me to blogging. This is single-handedly one of the best ways to earn some legitimate side income in today's digital world.
There are so many ways to earn money blogging! Unfortunately, just throwing up some posts on a blog isn't how you do it.
But, monetizing a website with advertisements and affiliate links once you have a good amount of traffic can definitely earn you some money.
Top earning bloggers also make more money by offering products, like paid courses or eBooks, that help them earn passive income from their blogs.
So, although it can be a bit of a process to start making money from your blog, if you're focused on just some extra money each month, it may happen sooner than you think.
Freelance
Freelancing is the perfect way to earn either a part-time or full-time income.
The best part is that there are so many ways to freelance depending on your skills and interests.
If you're not sure what to do, check out a freelance marketplace like Upwork.
Browse the categories and sub-categories to find out what services people use freelancers for. It's likely you'll find at least a couple of things that you can utilize your skills for!
Here are a few of the best jobs for freelancers with specific skills:
Write
Freelance writing was my first choice when I needed some extra income in addition to my full-time job.
I ended up making it my full-time career and I'm still going strong.
There are so many different forms of writing that you can specialize in, or you can choose to do several.
But, it does help to narrow down your specialties to a couple of different types of writing so you can focus on mastering your skills and drawing in clients.
Resumes, grants, eBooks, articles, case studies, and blog posts are just some of the things freelance writers specialize in.
As a side hustle, I recommend starting with freelance marketplaces.
Upwork, Guru, and Freelancer often have hundreds of jobs available at any given time for writers, and you won't have to spend hours searching for clients to write for.
Photography
Freelance photographers can earn money by setting up photo sessions, photographing events, or even selling high-quality photos in their spare time.
This freelancing side hustle is very flexible, since you're in control of when to set up photography sessions.
Design
Freelance designers can specialize in web or graphic design and can command an excellent rate per hour or per project with the right skills.
In addition to freelance marketplaces, you can sell digital designs and website themes on Etsy, or sign up as a designer on 99Designs to sell logos and other works.
Develop
Those with programming skills can develop apps, programs, and websites, and are among the top earners for freelancers because of their in-demand skill set.
Earn Everything… nearly!
Join Opinion Outpost, one of the few faithful and honest survey panels and earn cash and gift cards for your opinion. Stack your points and redeem them: Simple! No hidden fees and completely free!


There are plenty of jobs available in programming and development categories on freelance marketplaces.
Create a Product
The internet gives us a lot of opportunities to make money right at our fingertips.
It's never been easier to create a product that you can sell online and market through a website or social media networks.
Online courses are great if you have special skills or expert knowledge of a subject to share.
Bloggers, for example, often create courses that will help new bloggers learn tricks of the trade, or help more experienced bloggers keep up with the trends.
You can also write an eBook and self-publish it on Amazon.
It's free to do and you can keep up to 70% of the royalties from your book.
If you have a website, you can even sell printables.
Homeschooling parents or people with teaching backgrounds often create printables geared toward young kids for parents to print at home.
A bundle of quality printables can easily sell for $5 or more.
Selling on eBay or Amazon can provide you with an excellent side income every month if you focus on one type of thing to sell and get experience with it.
Both are fairly easy to set up shop and start selling, but eBay is more of a sell-right-now type of site.
Amazon takes a little longer, but you can sell quicker if you use Fulfillment by Amazon, since most people prefer Amazon customer service and shipping over Amazon sellers.
Sell Your Handwriting
Do you know how to write calligraphy? If so, there's a side hustle for you!
Apparently, people still love the art of calligraphy for special event cards, invitations, and more.
But, it's an art form that not many people know how to do anymore.
You can offer calligraphy-writing services as a gig on Fiverr or fulfill custom orders on Etsy.
Offer things like personalized names on photos, custom cards, or wedding invitations using calligraphy.
Sell Crafts/Handmade Items
If you make things with your hands – crafts, furniture, jewelry, etc. – then start making them to sell!
Sell crafts online, like many do with Etsy and other places like Etsy.
Of course, you can also stick to selling handmade items at flea markets or consignment shops, especially if you make large items. But, selling online can be quick and convenient!
Microtask with MTurk
I occasionally use Amazon Mechanical Turk when I have some spare time.
It lets you earn some cash from super short tasks, like entering information from a receipt, categorize images, and find e-mail addresses from websites.
The pay is small per task, but they also won't take you very long, so your cents per task can add up fast.
Design and Sell T-Shirts
I know a few people who make extra cash every month by designing and selling t-shirts online.
Some simply create funny quotes or add inspirational sayings to t-shirts and sell them.
But, if you have some design skills, you can create digital masterpieces for unique t-shirts that will appeal to the right buyers.
Here are a few popular places to design and sell t-shirts online:
Before you sell, make sure you read through the terms of each site to learn how much you'll get in profit and how often you'll earn your cash so you can choose the best one for your needs.
The internet is amazing, isn't it? Yes, you can even sell your hair online.
BuyAndSellHair.com lets you put your long locks up for sale, almost like an eBay for hair.
Don't cut it yet though – make sure you get plenty of quality photos that you can add to your listing and wait to cut it when it's sold.
You can also try HairSellon. It even has a handy calculator to estimate how much your hair can sell for!
Tutor or Teach
Do you have a degree in teaching or experience with tutoring? Did you know you can get paid to tutor online?
It's true, and many online tutoring companies don't even require you to have a degree.
Plus, they're often very flexible, allowing you to tutor whenever you're able, like after work and on weekends.
You could also give a variety of lessons over Skype or other video chat programs, like music lessons, computer courses, and more.
Online Coaching
Online coaching it the perfect way for you to earn some money if you enjoy teaching others a specific skill you have.
You don't even need special knowledge to set up your own course and get paid for it.
Udemy allows instructors to set up their courses and market them on the platform, getting your course seen by a larger audience than if you tried to market it yourself.
Udemy offers plenty of tools to help you customize your course, and you can even have Udemy promote your course for a portion of your profits.
You'll still earn 50% of your sales!
Answer Questions and Give Advice
Are you the person everyone turns to for your knowledge or advice?
If so, you can turn your love for answering questions or giving advice into the ultimate side hustle.
Websites pay people like you to answer questions or share in-depth knowledge about subjects of expertise.
You could do anything from answer quick questions via text message, or provide researched, long answers online.
Here are 21 websites and apps that pay you to answer questions!
Earn Money Shopping
If you shop online, you might as well get paid for it.
This isn't a way to earn a profit as a side hustle, but it will give you money back on things you purchase, essentially saving you money on your purchases. Who doesn't want that?
Ebates and Swagbucks offer cash back rewards when you make purchases from one of their partner stores.
Sign up for both and check them before you shop – stores that one doesn't offer may be on the other one!
Then, search your mobile app store for Ibotta, my favorite mobile shopping app.
This app offers coupons for you to "clip" and you'll receive money back when you make the required purchases at the grocery store.
I also love Honey, a browser extension that finds you promo codes for online retailers you visit and also offers cash back for purchases!
After a couple months of only online shopping sparingly after I downloaded it, I earned almost $50 in Amazon gift cards from Honey, which was well-worth it to me!
Virtual Assisting
Virtual assisting can be fun and flexible.
Virtual assistants do a wide range of tasks for their clients, like answering or making phone calls, organizing documents, or taking appointments.
You can set yourself up with a small side business as a virtual assistant and work when you're able.
There are plenty of legitimate virtual assistant companies available, and some even match you to your ideal client to save you time!
Listen to Music
Listening to music isn't just a hobby anymore; it's also a money-maker!
Sign up for Slice the Pie and you can get paid simply for reviewing new music.
The more you review (and the more detailed your reviews), the more money you can make.
It's simple, it's fun, and it's the perfect side hustle.
Here are a few other ways you can get paid to listen to music.
Play Games
Playing games is another hobby that doubles as a side hustle!
Earn money online playing games on websites for free.
It couldn't be more fun than that!
Test Websites
Testing websites is one of my side hustles. It's definitely in the category of "extra cash", because website tests usually come few and far between.
But, when they do come, they usually only take between 15 to 20 minutes of your time, and most pay at least $10 per test.
Easy peasy!
When you test websites, you'll adhere to specific instructions from a website owner and complete them as you visit the website.
Speak your thoughts into your computer microphone and a screen recorder will capture your screen as you move through the site.
Your feedback helps website owners know what they need to improve, such as the checkout process or broken links.
Here's a list of 20 companies that pay you cash to test websites!
Evaluate Search Results
Search evaluation falls along similar lines of website testing.
These jobs are highly in demand by people who want to work from home, so the process to become an evaluator is pretty selective.
But, I recommend giving it a shot.
Most search evaluation companies only require 10 or so hours per week, so it can be a good flexible position for a little extra cash each week. And, they pay between $12 and $16 per hour!
As a search evaluator, you'll rate the results of search engines or social media searches.
Some companies also offer ads quality rater positions to rate the relevance of advertisements you see on websites or search engines.
For more information, check out this review of the top five search engine evaluator companies.
Best Legitimate Side Hustle Ideas: Offline
As awesome as online side hustles are, it can also be just as rewarding to look into side hustles that can benefit your local area.
Sometimes, the only customers you need are the ones in your own neighborhood or town!
Here are some excellent ideas to make extra cash doing jobs near your home.
Catering
If you love cooking, catering can be a good step up from just cooking for yourself or your family.
You can book a couple of jobs on the weekend when you're off work and easily earn enough to help with the monthly bills.
Advertise your services on Craigslist or in your local newspaper to gauge interest.
You might want to explain your expertise, like how long you've been cooking or what types of food you specialize in, to gain more interest.
Repair/Handiwork
Handy with your hands? If you have a special area of repairing expertise – like computers, flooring, plumbing, or anything else that might go wrong – you can book appointments for repairs when you're not working.
Almost everyone needs a handy person at some point.
Check around Facebook groups for your town and offer your services.
Word of mouth by people who loved your work will be one of your best forms of advertisements once you start getting some work under your belt!
Babysit
Babysitting was my first "job". Even though it wasn't an official job, I still earned $10 an hour for babysitting two kids.
Babysitting can seriously be a lucrative side gig, and you can pick the times you work and how many kids to take on at a time. Plus, you're in control of your rate (which, I'll suggest you make higher for children two or younger).
Check out Care.com, which takes the guesswork out of finding kids to babysit.
It matches you with parents in your area that you'd be a perfect fit for!
Officiate Weddings
Some couples don't want a "church" wedding with a pastor marrying them, nor do they want the special event done in a court.
That's where officiators come in.
They're kind of like an in-between person to marry a couple on their special day.
If it sounds like a fun way to make money, you can check out your local and state regulations for officiators, since regulations vary.
If you get the green light, you could earn between $300 and $500 per wedding!
Paint
So much to paint, so little time!
If you ask most homeowners what they're number one most despised job around the home is, many of them would likely say "Painting". It's tedious, especially when there's a lot to paint.
So, bank on what others hate to do.
Offer to paint fencing, window trim, rooms, door frames, and anything else your neighbors need.
Cuddle
Seriously. Cuddling is really a side hustle (or a full-time job for one woman who makes $60 per hour cuddling strangers!).
I know it sounds odd, but some people like to cuddle.
So much so that they're willing to pay others to cuddle them. Maybe they're lonely, maybe they're sad – who knows.
But, might as well make some money from something as simple as cuddling.
Invent Something
Getting the funds you need to kick off a brilliant idea for an invention may not be as far off as you think.
Have you ever heard of Kickstarter? If not, it's basically a place to raise funds and garner interest in your idea so you can start working on your invention.
Some famous ideas all began on Kickstarter, like the business, Elevation Lab, which creates accessories for Apple phones.
Quirky is another good place to join if you're considering inventing something.
This site connects you to others who can help refine your idea and get it ready to fund.
Model Art
College art classes need models for students to draw, paint, or sculpt the human body.
If you don't mind posing nude for the purpose of creating art, then this could be the side hustle for you.
Art models usually make between $20 and $25 per hour just for posting.
Sell Your Body
In a good way, of course.
There are plenty of ways to make money with your body, but some are more invasive than others.
For example, you can sell your sperm or your eggs.
Sperm donation pays around $50, and egg donation pays around $6,000 (but is a rather involved process).
Women can also sell their breast milk to help babies of women who can't breastfeed due to medical issues.
You can look for a milk bank near you (your local health department may be able to help) or sell milk online through Only The Breast.
Of course, there's always donating blood plasma to earn money!
If you donate twice per week, you could earn about $400 per month.
Participate in Focus Groups or Medical Research Studies
Search for clinical trials near you to earn some money by being a test subject for medical and research facilities.
Most studies will take time though, so don't expect to make money overnight.
But, many pay good money in the end.
Focus groups can pay you $100 or more for a few hours of your time.
They're more in-depth than a survey, but pay accordingly.
Read More: 10 Best Paid Online Focus Group Companies
Sell Stuff on Craigslist
Craigslist is popular and active, so you'll likely get a lot of people viewing your listings.
It's a great way to sell things that are too big to sell online.
Find local buyers who can pay you as soon as you can meet them to deliver the items.
Here are sites like Craigslist that you can also try!
Driving
Let's start with the obvious ones here: Uber and Lyft. You've probably heard of people claiming to make a full-time income driving for a rideshare company.
And that's because some people can.
But, for most people in most areas, it's better to assume that it'll be more of a side hustle because you can't always expect a steady stream of people to need the service.
As an alternative, you can always rent your car to people who drive for Uber and Lyft if you don't want to do the driving yourself. HyreCar lets you do just that!
If that's not your thing either, what about charging people to be their designated driver?
You can bar-hop in your car and be somewhat of a taxi service for people who've had too much to drink and can't drive.
Or, drive people to and from the airport for lower fees than shuttle and taxi services charge.
Advertise on Your Car
Have you ever thought about making your car work for its monthly payment?
It's possible, thanks to car advertisements!
If you don't mind your car being a moving billboard, then you can easily earn your car payment – and then some – every month.
Carvertise and Wrapify will pay you to advertise companies on your car.
You can make over $400 by fully wrapping your car in ads!
Sign Holder for Stores
Have you ever seen those people outside of stores holding or dancing with signs to catch your attention and promote sales?
These people get paid to do it. It's a real job.
If you don't want to tack on another big job to your schedule, you can see if any businesses near you need a person for this job.
It could be the perfect way to earn some extra money with as little stress as possible.
Prepare Taxes
If you have a lot of experience with taxes (preferably professional experience), then you can help others prepare their taxes at tax time.
You can even organize paperwork, receipts, and other important documents throughout the year to make the tax season more streamlined for others.
Rent Your Space…or Yourself
There are so many ways to maximize what you have and earn money, but they often get overlooked.
Take, for example, your home. Is there an extra bedroom you don't use?
A big garage that rarely gets touched?
Maybe a huge backyard that sits empty for most of the year?
Advertise the space as rentable!
People may need an office space in a spare bedroom, storage space in the garage, or a large yard for a big event coming up.
Try:
Or, you can always rent yourself.
RentAFriend lets you rent yourself to people who may need a friend's companionship for an event or even someone to talk to.
There are currently over 620,000 friends signed up, so it must be working for people!
Cleaning
Cleaning isn't necessarily a fun job, but it can be an excellent sign hustle.
Pick something you don't mind cleaning and advertise your services on local Facebook groups or the newspaper.
Some of the things you can clean are:
Homes
Pools
Yards/parks
Cars
Windows
Power wash sidewalks, driveways, and home exteriors
Delivering
Postmates is a popular way to make money whenever you have time available just by delivering things to people.
You could pick up items from a store and deliver it to your customer's home, grab lunch for an office worker on her lunch break, or deliver meals from a restaurant to customers.
Sell Drinks
Side hustling is all about squeezing yourself in to make money wherever an opportunity arises.
One such opportunity is a place where people might need drinks, like sporting games, pools, and beaches.
Buy drinks that you can purchase for much lower than you can sell, hike the price up, and sell them where they're needed.
You can think of yourself as a human vending machine.
Mystery Shopping
If you like shopping, then you can visit stores and get paid for it with mystery shopping.
Mystery shoppers visit stores (or call them) and do specific tasks.
Then, they provide their feedback based on their experience.
Try MarketForce for mystery shopping opportunities near you.
Teaching/Tutoring/Classes
Just as there's plenty of tutoring and teaching opportunities online, there's likely plenty of opportunities in your own neighborhood.
Teach kids an instrument, teach older adults basic computer skills, or tutor school-age kids in a subject area of expertise.
Neighborhood Gigs
Gig apps are the new wave of side hustles.
They help you find people near you who need things done, like hauling loads to the dump, painting a room in the house, or putting a piece of furniture together.
You get paid securely through the app so there's no risk of doing a job and not getting paid by the person.
Try Zaarly, Gigwalk, and TaskRabbit to search for jobs in your area.
Music Gigs
Have you always dreamed of being in a band or making it big as a music artist?
Nothing is stopping you from living out your dream except yourself.
Contact local venues and book yourself a gig.
Who knows, it could turn into an even bigger opportunity for you!
House Sitting
Nothing could be much easier for a side hustle than house sitting for people.
HouseSitter.com matches you with people who are going on vacation or will be out of town for a couple of days so you can watch over their home.
Yard Work
Different forms of yard work can be done throughout each season, so it's a good gig to keep you busy all year around.
In spring and summer, mow lawns, pick up dead branches, plant some flowers, treat lawns to prevent bugs, and do some landscaping if you have the skill.
In fall, rake leaves and treat lawns for protection during the cold season. In the winter, you can shovel snow and salt walkways.
Personal Training
Hit the local gyms and see if they're in need of a personal trainer.
If not, you can always market yourself in the newspaper, on Craigslist, or in local Facebook groups.
Life Guard/Swim Lessons
Lifeguarding is a good side hustle for the summer, especially if you can find a local pool or beach that only needs someone for one or two days a week.
You'll have to get your certification first, but as long as you're in good health and a great swimmer, you'll likely make the cut.
Or, you can provide swim lessons to youngsters learning to swim.
It can be especially helpful if you have your own pool, but you can also make house calls to others with pools.
Pet Services
Love animals?
Try starting up a side business with grooming, dog walking, or pet sitting.
Or, you can even get into the business of picking up dog poop. No one likes stepping in poop when they're walking down the street or playing at the park, and some people would be more than willing to pay you for such a helpful service.
In fact, there's a Chicago-based business called Doo Care that specializes in "dog waste management", so there's obviously interest in it.
Factors to Consider When Choosing a Side Hustle
When choosing a side hustle, it's important to consider several critical factors to ensure that it aligns with your goals and lifestyle. Here are six factors to consider:
Personal Interests and Passions
Choose a side hustle that aligns with your interests and passions.
This will make it more enjoyable and fulfilling, increasing your motivation and long-term commitment.
Evaluate the time you can realistically dedicate to a side hustle.
Consider your existing responsibilities, such as your primary job, family commitments, and personal time.
Ensure that the side hustle you choose can fit within your schedule without causing excessive stress or burnout.
Assess the potential income and profitability of the side hustle.
Research the market demand for your chosen field, competition, pricing, and potential earnings.
While financial gain isn't the sole factor, it's crucial to choose a side hustle that offers reasonable earning potential.
Consider your existing skills and expertise.
Leverage your strengths and knowledge to choose a side hustle that allows you to showcase and enhance those abilities.
This can give you a competitive advantage and increase your chances of success.
Scalability and Growth Potential
Evaluate the scalability and growth potential of the side hustle.
Determine if it can evolve into a full-time venture if desired or if it can be expanded to reach a larger audience.
Scalability allows you to increase your earning potential and create more significant impact over time.
Assess your risk tolerance level.
Some side hustles may involve more significant financial, time, or emotional risks than others.
Consider whether you prefer a low-risk venture or are willing to take on higher risks for potentially higher rewards.
Evaluate the potential risks and rewards associated with the side hustle you're considering.
How to Start Hustling
Once you've picked what you want to do and are ready to start hustling, you'll have to learn to pinpoint your ideal customer, which depends largely on what you decide to do.
If you choose to sell crafts, for example, most of your ideal customers will be hanging around Etsy or flea markets, so those are the kind of places you need to target.
Your success will hinge largely on how successful you are in marketing yourself to start with.
But, once you gain some traction with customers, word of mouth referrals can help a lot.
And, be prepared to acknowledge the fact that not all side hustles will work for everyone.
Don't get discouraged – there are plenty of other opportunities available if one doesn't work out!
Do you have any side hustles? Let us know all about them in a comment below!
Related Posts:
Earn Everything… nearly!
Join Ipsos iSay, one of the few Faithful and Honest survey panels and earn prizes, gift cards and donations. Stack your points and redeem them: Simple! No hidden fees and completely free!