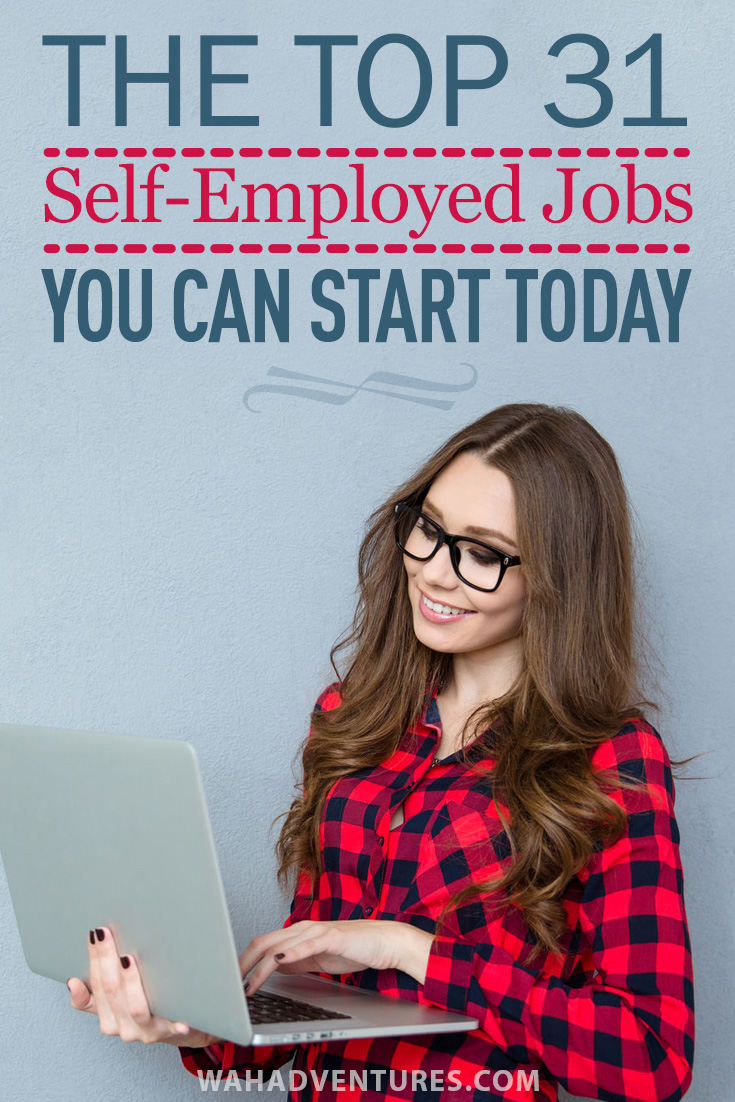 I know why you want to be self-employed. I was there once, too.
Need Easy Extra $250+/Month For Free?
The typical 9-to-5 grind doesn't give you the flexibility that self-employment opportunities can.
Plus, how great is it to be able to say that you work for yourself?
It's a scary leap from employed to self-employed, but it's so worth it if you find a career you can start at home with work you truly love to do each day.
Self-employment doesn't usually require a bunch of money up front.
Of course, you should have money saved to cover a few months of bills as a safety net.
The most important thing to do before you start working from home for yourself is to check your local requirements for self-employed businesses.
Certain businesses require specific licensure that can vary between states and cities.
Plus, take some time to talk to an accountant about tax requirements, because it can be tricky when you work for yourself.
Once you have all that squared away, start dreaming of your perfect career and make it happen!
Best Self-Employed Jobs Ideas
If you're looking for the top 10 work for yourself jobs (and more!), look no further.
These are some of the best choices for self-employed careers that can give you a long-term career and flexibility, all while working from your home office.
Author
Have you always dreamed about writing a book? Gone are the days of spending months or years to write a book, edit it, find a publisher, and get it on the market.
Now, self-publishing is easier than ever before with Amazon. Amazon Kindle Direct Publishing allows you to self-publish eBooks and paperback books for free.
You can publish in about five minutes and see your books appear, ready for purchase, in about 24 hours.
You gain control over the rights of your book and even earn up to 70% in royalties.
Instead of spending months on one book and wondering if it will ever be ready to sell, you can spend less time on several books and get them up for sale within a day after publishing, which makes for a much better self-employed business model!
Blogger
Blogs are no longer for telling your life stories to strangers on the internet.
Instead, they're making people money. Enough money to quit their day jobs and become full-time bloggers.
Blogs have become more focused on specific niches, like technology, food, or parenting, which creates more targeted audiences.
Through these audiences, bloggers are earning money from targeted advertisements, helpful eBook or course sales related to the niche, or affiliate links for products their audiences want to purchase.
If you love to write and have a unique angle for a niche you love, you can definitely earn money through blogging. But, don't expect it to happen overnight.
To get the ball rolling, check out our Blogging 101 series that covers everything from finding an awesome host to tracking your blog traffic.
Business/Marketing Consultant
If you've already had consulting experience for businesses, you can pave your own way by offering consultation services from home.
Businesses need help from consultants to get their finances in order, learn how to grow, and figure out how to best appeal to their audience to find success.
You can act as an independent contractor for businesses, create your own fees according to service or project, and make an excellent salary in the process.
Your best bet is to target a specific area of expertise for your consulting business, rather than try to handle all aspects of a business.
This can help bring in clients who specifically need your services and will set you apart from others in the industry.
Buying and Selling
Making a career from buying products at low prices and selling them at higher prices can take some time, but it can be lucrative.
Selling on eBay and Amazon has brought people so much freedom once they start making enough profit to buy things without dipping into their savings.
It doesn't necessarily take specific skills to start this career, but you do have to know where to look for awesome deals in your area – and how to spot things that can sell for a lot more than you purchased them.
Career Coach
If you're a professional in your industry, you could just make a living working for yourself by providing coaching services to other up-and-comers in your niche.
Career coaching can be a natural progression from doing what you love in a typical work environment to coaching others on how to become great in your field – all while you do it from your home office.
A website and social media accounts can help you market your services and get your business off the ground.
But, be sure to offer incentives for referrals from happy clients to get even more eyes on your business.
Caregiving
There are so many avenues you can take with caregiving, from elder care to daycare and even dog walking or pet sitting.
Home daycares can be a great way to earn money, and many parents prefer sending their child to a small, private home daycare rather than a large center.
You can also care for elders in their home and still benefit from a more flexible schedule than you might have at a nursing home.
Dog walking and pet sitting is an in-demand business and one you can actually market online using places like PetSitter.com and Rover.
Comedian
Comedians get to travel and work when they want. It may not be the easiest career to break into, but if you have a funny bone, it may be one you want to consider pursuing.
But, think outside the box. You don't just have to do stand-up comedy.
You could write routines for comedians as a freelancer, start a comedy blog, or even write for greeting card companies that pay you for your humor!
Crafter
Crafty people can spend their days having fun with their hobby and make a career out of it!
Sell your crafts at flea markets, set up a small shop in your home, or sell them online on websites like Etsy.
DIY and craft bloggers also have carved quite a niche for themselves since Pinterest came around. Pinterest is an excellent place to target people interested in your crafts and get them to your website.
Delivery
Make a living by delivering things to others. This self-employed job can cover a number of areas.
Deliver meals to people from restaurants that don't currently have the service.
Or, pick up prescriptions for the elderly and deliver them to their doors.
You can even start a grocery delivery business, complete with shopping for the items on your customer's list and delivering them straight to their homes.
Eventually, you can figure out ways to combine shopping trips for maximum efficiency and profits.
You might want to consider starting with Postmates to gain a beginning customer base and earn some cash as you search for your own clients.
Direct Sales
Direct sales work isn't for everyone, but plenty of people find success with companies like doTERRA, Avon, and LulaRoe.
Of course, it helps to have a large network of friends and family – or at least a large social media following – to help spread the word about your business.
Many direct sales companies let you start a business for $100 or less, which is a small price to pay to eventually work from home.
Plus, they offer plenty of training and tools to help you get your business off the ground and keep propelling it forward.
E-Commerce
E-commerce businesses have never been easier to start, now that online retailers are making it simple for you to ship products and provide customer service.
How? Let's take Amazon for example.
Fulfillment by Amazon lets you ship the products you want to sell directly to its warehouses. Your items get stored and shipped from there. Amazon even provides customer service, like help with returns.
So, most of the work is done by Amazon, not by you.
Walmart's marketplace is almost as simple, and has no monthly or setup fees to get started selling.
You can now sell online without even needing your own website!
Event Planner
Plan weddings, birthdays, graduations, proms, and more from your home.
If you have had event planning experience for a company, even better. But generally, no experience is needed – just a lot of creativity.
It may be best to focus on one specific type of event to really focus your skills in one area, but the choice is up to you.
Freelance Photographer
Photographers can venture off to self-employed status by setting up photo sessions for schools, families, field trips, and more.
Many photographers focus on a specific type of photography, like food, travel, or newborn/maternity photo shoots. Others offer a wide range of photography sessions.
Skilled photographers can even make money by selling stock photos online and earning royalties whenever their photos sell.
Freelance Web/Graphic Designer
Another lucrative – and flexible – freelance career is in web and graphic design.
This one definitely takes some excellent design skills and experience with creating graphics or tweaking the look of a website.
Many design freelancers find ongoing clients through gigs on Fiverr, Upwork, Guru, and other freelance marketplaces.
But, you can even sell digital designs and website themes (or website-building packages) on Etsy! A full website design with branding can easily land you a few hundred to a few thousand dollars if you can prove your designs are worth it.
So, gather some samples of digital masterpieces or websites you've designed and turn your hobby into a self-employed job!
Freelance Writer
The possibilities are virtually endless for people who enjoy writing.
Skilled freelance writers can earn a living from their homes doing anything from writing blog posts to creating mail advertisement copy.
Some even earn money writing poetry or short sayings for greeting card companies.
Resume writing is also a good money-maker, since some people don't know where to begin when it comes to perfecting their resumes.
Making it big with freelance writing often involves some social proof of your writing.
In other words, write a few guest posts for popular blogs with your name attached as proof that you have quality writing skills and expertise in your niche.
Then, you can start pitching to other websites and magazines you'd like to write for, or search for clients on freelance marketplaces.
Read More: These 28 Freelance Online Writing Jobs are Perfect for Beginners
Furniture Upcycling
Make old or dated furniture like new again by upcycling it!
Upcycling can involve repairing, refinishing, or even repurposing a piece of furniture.
You can usually score old, worn out pieces at flea markets, consignment shops, or yard sales, and turn them into something new and trendy if you have the skills to do so.
You can then advertise your furniture on sites like Craigslist, or even hold a weekly or monthly garage sale with all of your newest items.
Gig Services
The new wave of gig workers is huge, and provides some of the most flexible job opportunities possible.
If you have a range of skills, you can vary your tasks daily, allowing you to get paid for doing something different every day – and work on your own time.
Several apps and websites help match gig workers with those in need of services, and can be extremely helpful for locating people near your area.
TaskRabbit and Zaarly are two good ones to start with. They both help you get paid quickly and securely right through the app.
Hauling
If you own a truck, you could earn a living hauling away items for people.
Many people don't have the trucks necessary to haul old furniture, bulky items, or even landscaping materials to the nearest junkyard, but would gladly pay you to do it for them.
You can add in other services, like delivering large pieces of furniture from a store to a home, or helping people move items to a new home.
You'll likely charge less than a full moving company, so you can have a competitive edge against more expensive services.
Home Cleaning
You may be surprised by how many people would happily pay others to clean their homes instead of doing it themselves.
You can do deep cleanings or spot treatments for a comfortable hourly or per-project rate. You can even add onto your business by offering organization services or business office cleanings.
Finding clients who need their homes cleaned has never been easier, thanks to sites like Care.com, which match you with people in your area who need your services.
Home Staging
You don't necessarily need to have staging experience to go into business as a home stager, but a keen eye for design is necessary!
Home stagers help individuals and real estate agents sell homes by organizing and designing a home to appeal to the masses.
It may include tidying up, repainting, rearranging, or even bringing in all new furniture and décor to make a home stand out to potential buyers.
Before you start this type of business, it's in your best interest to check in with some realtors in your area. Ask if they have a particular need for your service and what the competition might be like.
Life Coach
Motivational and inspirational people can make a career out of coaching people in different areas of their lives.
You could focus on coaching people in their personal lives, relationships, or even how to create a good work-life balance.
The best people for this job have had coaching experience that they can share with others and get some testimonials from so potential clients know you're the real deal.
Those with therapist degrees or experience, especially, can be ideal candidates for this self-employed job and can narrow in their services to divorcing couples, parenting advice, health and wellness, and more.
Menu/Recipe Planner
Some people simply can't find the time in their day to plan out recipes and meals, and therefore grab fast food or frozen meals to cook.
Not only is it unhealthy, but it's costly!
A meal planning or recipe planning service can appeal to those who want to save money and time by having someone else do the planning part.
Meal planning has become super-trendy (if you spend any time on Pinterest, you'll see meal planning pins all over!), so it's likely that you'll find plenty of interest in your services.
Professional Speaker
The thought of public speaking is enough to make some people run and hide. Others thrive on it!
If you're one of those people who gets a rush from speaking to large groups, it's possible that you can make a living from it.
The trick is to connect with companies or business owners in your area who might be in need of a professional speaker.
You could hold company conferences to motivate teams, or be hired to explain a new product or service to potential fund providers.
As a professional speaker, your marketing is in your performance, and not much else is needed to get your name out there. Much of your marketing will be done by those who hear you speak through word of mouth!
Repairs
There are so many repair services you can offer, depending on your skills.
Vehicle repairs and maintenance, home repairs, computer repairs, and mobile device repairs are just a few avenues you can choose. But, you can go even more specialized with plumbing, electrical work, tire repair, or even toy or bicycle repairs.
People often search around for the best prices with repairs because repair jobs tend to be pricey.
If you want to start this business, thoroughly research your competition so you can understand the prices for the service in your area. Try to stay competitive in your pricing so you can be the one people choose for the job.
Rideshare Driver
Rideshare driving is the ultimate flexible self-employed job. You choose when you're able to drive to work around your schedule.
Uber has been a leader in the rideshare driving community for a few years now, and more and more people are choosing to take it from a part-time job to a full-time career.
Where you live makes a difference in the amount of business you have, though. Some areas simply don't have as many people who use the service, and others have a lot of drivers, causing intense competition.
But, Uber insists that you can make about $25 per hour driving for the company, so if you're able to do it full-time, the associated vehicle costs won't seem like much.
Social Media Consultant
Plenty of freelancers earn their paychecks as social media consultants. They help individuals and businesses grow their social media accounts to help attract, and engage, their audiences.
Social media seems like a simple thing, but the intricacies of growing social networks can be tricky. That's where a consultant can come in.
As a consultant, you'll help others understand how to manage their accounts for success. But, you can also take it a step further – and make more money – by including social media management as well.
As a social media manager, you'll take over the accounts, creating posts for them and engaging their communities, rather than individuals or businesses doing it themselves.
Transcriber
Transcription work is for very detailed and organized people who are great at multi-tasking. It's not something everyone can easily excel in, but if you're good at it, you can turn it into a full-time remote job.
There are tons of general transcription companies that allow you to work from home as an independent contractor and don't require any degrees or experience to get started.
Most of them pay a set rate per transcribed audio minute and pay every week or bi-weekly, which leaves the guesswork out of your paychecks.
Read More: 30 General Transcription Jobs from Home, No Experience Required
Tutor
Work at home tutoring opportunities are abundant, and many of them don't require you to have a college degree.
Additionally, there are several types of tutoring you can provide from home, like music lessons, teaching English language learners, and academic tutoring for all ages from kindergarten to college.
So, if you have a special interest or teaching experience with a particular age group, you can specialize your job with your expertise.
Read More: 26 of the Best Online Tutoring Jobs to Make Money from Home
Video Production
If you enjoy creating or editing videos, you can market your services on places like Fiverr or other freelance marketplaces.
Individuals and brands that go big in YouTube can find success overnight. Finding a person skilled in creating viral-worthy or engaging videos can help them find that success.
Virtual Assistant
Becoming a virtual assistant is a good choice for a secretary or other office person who wants a change from the cubicle.
Virtual assisting can provide a person with a lot of flexibility in when they work and what they do every day, since there are a lot of services they provide.
Virtual assistants set appointments, write articles, enter data into spreadsheets, perform research, and various other tasks required by clients.
Before getting into an agreement with a client, you can ask them to outline all of the tasks they'd like as well as their deadlines so you can make sure the tasks fit your skills and work with your schedule.
Some virtual assistant companies also aid independent contractors in finding clients in need of their services.
Read More: An Epic List of Companies Hiring Virtual Assistants
Voice-Over Specialist
If you have a knack for changing up your voice, you can make a living from doing it at home.
Voice-over specialists are turning into freelancers and utilizing places like VoiceOver.biz to help them find people in need of the service.
With the right marketing techniques and the proper equipment, a self-employed voice-over artist career is at your fingertips.
Ready to Work for Yourself?
I won't say it's easy to start working for yourself. You have to be motivated to work without anyone else looking over you.
Everything is on your shoulders when you're self-employed! But, if you have the drive to make it work, you can go far.
Do you have any self-employed jobs tips you'd like to share? Let us know in a comment!
Related Posts:
Teach English via Video-Conferencing for $14-$22 Per Hour

VIPKID is currently looking for online teachers to teach young students in China via video-conferencing. Teachers will earn on average between $14-$22 usd per hour. This opportunity is ideal for teachers looking to supplement their income.
Requirements:
- One (1) school year of traditional teaching experience or the equivalent in mentoring, tutoring, or alternative education
- Bachelor's degree in any field
- Eligibility to work in the US or Canada