The 14+ Best Stay at Home Jobs for Beginners To Start Your Home Careers Today!
Updated on: by Amy Kennedy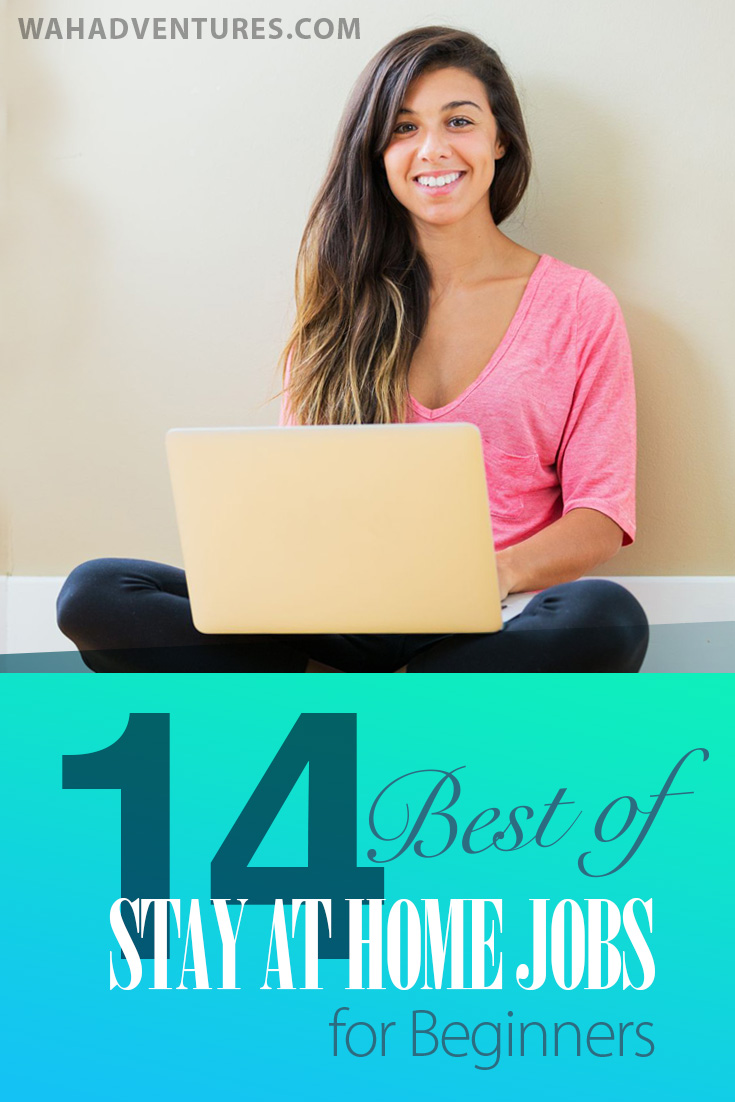 If you're looking for stay at home job opportunities, you came to the right place!
Need Easy Extra $350+/Month For Free?
Everyone has to get their start somewhere, and it's not always easy figuring out where to start looking for work at home jobs.
If you're done working away from home and would rather put your skills to use by working from the comfort of your home office, it's time to start now.
I was once in the same boat. I had a great job outside of the home, but I knew there was more to life than working a 9 to 5, plus commuting, plus paying babysitters, etc.
I decided to start working from home and I haven't looked back since.
The most difficult part was making the choice to finally do it!
Whatever your reason for wanting to work from home, I hope I can help.
These great job opportunities are perfect for those who a new to the work at home process.
They can get your feet firmly in the door so you can continue grow your career and make an income from home.
What are the Best Stay at Home Jobs for Beginners?
Easy Stay at Home Jobs for Starters
You need to start somewhere, right?
If you're not quite sold yet on fully leaving your job, you can start small by doing some part-time money earning from home.
Survey and get-paid-to (GPT) websites are perfect for making you some cash at home at your own pace.
You can hop on the websites whenever you have time – after work, before work, on your lunch break, or on the weekends.
The best survey and GPT websites can make you money fairly quickly if you remember to use them consistently.
With survey websites, you'll answer a series of questions in surveys you're invited to that pertain to specific topics.
It's all a part of market research for big companies who want to know what consumers like and dislike.
Need Easy Extra Cash?
Pinecone Research, a leading name in online survey panel honesty, absolutely guarantees $3 cash for every survey you complete!
Take advantage of their time limited New Membership drive and register NOW. Join today: 100% free!


GPT websites sometimes have surveys for cash too, but they also have other ways to earn money.
Usually, this includes friend referrals, playing games, watching videos, earning cash back for shopping, and more.
Recommended Survey Websites:
If you want the chance at more earnings than survey websites provide, you might want to try online focus groups.
Read more: 10 Best Paid Online Focus Group Companies
Recommended GPT Websites:
Customer Service
Customer service jobs are, by far, the most coveted of all work from home jobs!
These jobs can either be provided by phone or electronically, though e-mail, social media, or a live chat system.
Chat jobs are more difficult to come by because they're more in-demand.
A lot of people who have kids at home or don't have a separate office space prefer a chat agent position because background noise isn't an issue.
Still, phone customer service from home is plentiful as more companies outsource their customer service departments to remote workers to save on overhead.
It's even possible to start your own customer service business from home and find your own clients!
On average, a customer service representative makes between $13 and $14 per hour, and the possibilities are endless if you turn it into a business.
Phone
For phone positions, make sure you have a separate, closed office space free from distractions and background noise.
It's an extremely important requirement that most of the jobs will monitor!
Chat/Email Customer Service
Chat and email agent jobs don't typically have a noise requirement, but you should still have a distraction-free space.
Remember, these are professional jobs and you'll need to adhere to your schedule and performance requirements.
Read More: Top 22 Email & Online Chat Jobs from Home
Data Entry
Data entry may sound boring and tedious, and it can be if you do it as a full-time job doing the same tasks every day.
But, there are newer types of data entry jobs available now that can give you varying types of work each day.
They're known as microtasks or gigs.
Amazon even has its own microtask website known as Amazon Mechanical Turk.
There, you can choose from thousands of different tasks that people outsource to people like you.
They're quick tasks that should usually only take a few seconds to minutes.
Yes, the pay is small for each task – as low as 1 cent – but it adds up quickly, especially as you start learning what tasks you can do the quickest to maximize your profits.
You might be doing things like looking at receipts and pulling information from them or entering contact e-mail addresses for website owners into a database.
The world of data entry is changing, and it can certainly be a good place for beginners to start out with.
Here are some of the best microtask websites:
Of course, you can always set up your own data entry gigs on Fiverr so you have a little more control over the type of work you offer – and how much you get paid for your time!
Read More: Top Legitimate Companies That Offer Work from Home Data Entry Jobs
Graphic Design
You don't need to have a degree or training in graphic design to be an awesome designer.
Earn Everything… nearly!
Join Opinion Outpost, one of the few faithful and honest survey panels and earn cash and gift cards for your opinion. Stack your points and redeem them: Simple! No hidden fees and completely free!


Some people are just born with the ability to create amazing graphics.
If that's you, it may be time to start your own business.
There are virtually endless types of graphics you can make and multiple ways to market yourself.
Blogging, for starters, is always a good way to reach out to your target audience and gain exposure to your craft.
Through your blog, you can also build up an awesome social media following that gets even more eyes on your designs.
Here are just some of the services you might be able to provide:
Logo design
Branding design
Website header design
Full webpage theme or template design
Social media image design
Ebook design
T-shirt design
Printable design
I definitely recommend opening up an Etsy shop if you're serious about getting on board with a graphic design business!
This is a great place to start selling, and it's free to open your shop.
If you're all about logo design, try 99designs, which is like a marketplace for individuals and businesses to connect with logo designers.
Some people create unique designs to sell on t-shirts and make thousands per year doing so! Try out Teespring, CustomInk, and Threadless.
I also suggest signing up for Upwork, Guru, and PeoplePerHour. These freelance marketplaces are helpful in finding you clients in need of your services.
Plus, you'll get a chance to work with companies and individuals to build your portfolio!
Moderation
As a moderator, you will oversee and engage with online communities, like forums and social media followers.
You'll basically make sure everything runs smoothly by deleting offensive or off-topic comments, engaging members to answer questions, taking care of complaints, etc.
It can be a good career to start as entry-level, learn as you go, and work your way up!
If you're already active on any online communities, you may want to mention those in your application.
Also, social media followers help for social media roles, so get those numbers up!
Most moderation jobs are part-time to start, but as you gain more experience, you may end up with a full-time gig and higher income.
Mystery Shopping
Mystery shopping may not be a source of full-time income for everyone, but it can be.
Some mystery shopping jobs only have gigs available inconsistently, but others work out to give you steady work.
You don't even have to leave your house for some mystery shopping jobs, which can be done on the phone!
Companies sign up for mystery shopping services so they can learn how well their employees are performing their jobs.
When you mystery shop, you'll either visit or call a store and ask specific questions provided to you.
You'll act like a real customer so the store will act like it normally would.
Then, you provide your feedback based on your experience through a survey.
And, since you're supposed to act just like a normal customer, it's okay to have background noise when you telephone mystery shop! So, it's a good choice for moms or anyone who doesn't have a separate home office.
Here are a few good companies to start with:
Search Engine Evaluation
Search engine evaluation has been picking up speed in the work from home world over the past couple of years.
It's one of the most in-demand work from home jobs, and it's another that doesn't require any phone work. So, background noise and distraction isn't much of a problem with this career.
As a search engine evaluator, you'll rate the results you see on search engines according to a specific query, or something a person searches for.
For example, take the query, 'how to start a blog'. You'll rate the results found on a search engine according to how relevant they are to the original query.
Your ratings help create a better search for internet users!
The pay for these types of jobs is usually around $13 per hour, and you can usually work up to 20 or 25 hours per week.
Here are some of the most popular places to find these jobs:
Read More: Comparing Top 5 Search Engine Evaluator Jobs That Pay $12 – $15 Per Hour
Social Media Management
If you know all about the different social media platforms and are skilled in engaging your audience and getting more followers, social media management could be for you.
This job is one that individuals and companies tend to outsource to remote workers to save themselves time so they can focus on their websites and businesses.
So, you'll be in charge of engaging their communities on Facebook, Twitter, Instagram, and other social media channels by creating posts, responding to comments, and gaining new followers.
You can either do this job as a freelancer, finding your own clients to work with, or check out your favorite brands or bloggers' websites to see if they have any jobs open for you.
If you're going the freelancer route, post your services on Fiverr or check out jobs on Upwork to start building a client base.
Read More: How to Work From Home in Social Media
Transcription
Transcription is definitely not for everyone.
The best transcriptionists can turn it into a full-time career, but if you're not a fast typist and find it difficult to multi-task, you may find it super difficult.
But, transcription work is where many get their careers started from home, so if it's something you may be interested in, here are a few places to get started:
As a transcriptionist, you'll turn audio files into words by typing what you hear in the audio file.
Those who choose to turn it into a career usually use transcription software and a foot pedal, which helps them control audio speed as they type.
Read more about transcription work: 30 General Transcription Jobs, No Experience Needed
Tutoring
Have experience in teaching or tutoring?
Many online tutoring websites don't even require you to have a degree yet (you just need to be working on one!).
These companies are best for entry-level tutors and teachers:
If you do have a degree and a few years of experience teaching under your belt and want to make the switch to working from home, great!
You could be teaching K-12 students via Skype, creating lesson plans, or even hosting college classes online.
Here are some tutoring companies perfect for those with some experience:
Read More: 26 of the Best Online Tutoring Jobs to Make Money from Home
Virtual Assistance
Becoming a virtual assistant is an awesome way to start your at-home career.
Why? Because it's something new every day!
If you're sick of the humdrum life of doing the same tasks every day in your current career, becoming a virtual assistant is about as far from that as you can get.
Depending on your clients, you may be answering phone calls, performing research, setting appointments, writing articles, or creating infographics for websites.
What you do one day will probably be much different the next day, especially when you have a few clients you're working with.
Plus, the job can offer some excellent flexibility, especially if you create your own business and find your own clients. Then, you have control over the services you provide and your schedule.
If you need some help finding clients, these companies help match virtual assistants with clients in need of services, so they can help you get the ball rolling:
Read More: Looking for Virtual Assistant Jobs? Check Out These 37 Legitimate Companies!
Website Testing
Website testing may not be best for those seeking regular income, but it's definitely a good way to earn some side income from home, especially for supplementing your income if you're looking for clients elsewhere.
As a website tester, you'll be given specific instructions of steps you need to take while visiting a given website.
Then, you'll speak your thoughts through your computer's microphone, and software will record your screen and audio.
Website owners use this information to help improve their user experiences on their website.
You'll point out bugs or anything you think the website could improve upon so the owner can make tweaks.
Most tests will pay anywhere from $10 to $20, and take up to 20 minutes.
So, you could make an average of $50 to $100 per week if you follow directions closely and provide thorough feedback.
Here are some of my favorite website testing companies to get you started:
Read More: These 20 Companies Will Pay You Cash to Test Websites from Home!
Writing and Editing
There's a reason the freelance writer career has dramatically increased over the past decade.
It's profitable for both writers and their clients!
People need content for their websites, including copy for their products, pages, and blog posts.
Business owners often outsource this work to freelancers with impeccable writing and grammar skills who can create top-notch content to save the business owner time doing it herself.
Blogs and brands, therefore, have a huge need for freelance writers or editors who can create and edit their awesome content.
Writers and editors are making full-time incomes from home while finding clients in need of their services.
You can even write for greeting card companies and earn a lot of money doing so!
Of course, there's room for bloggers here, too.
If you own a blog, you can make money from it through advertising, affiliate marketing, and numerous other ways.  But, this can be a slow-moving process if you're not especially knowledgeable in SEO practices.
Freelance writing is a good way to get your name and writing skills out there while building up your business and working on monetizing your blog.
Many bloggers even stick with freelance writing for other clients while they continue to upkeep their own blogs. More revenue stream = more exposure and income!
Here are the best places to get started writing:
Once you gain more experience and start getting published using your byline (a short bio about yourself that's published along with your article), you can move up the ladder.
These job boards are excellent places to find writing and editing jobs for those with some experience under their belts:
Virtual Bookkeeping
Virtual bookkeeping is a popular stay-at-home job option for individuals with a background in accounting or bookkeeping.
As a virtual bookkeeper, you will handle financial tasks for clients remotely, helping them maintain accurate and up-to-date financial records.
Virtual bookkeepers typically use accounting software to track income and expenses, reconcile bank statements, process invoices, manage payroll, and generate financial reports.
This job requires attention to detail, strong organizational skills, and a solid understanding of accounting principles.
Here are some platforms and companies that offer virtual bookkeeping opportunities:
Please note that specific job requirements, application processes, and availability may vary for each platform or company.
Make sure to visit their websites and review their job listings for more detailed information.
And, right here on Work at Home Adventures, you can find plenty of freelance writing jobs on our job board!
Working from home is attainable for anyone who has the drive to do so! Feel free to share your successes, bumps in the road, and thoughts with us in a comment!
Related Posts:
Earn Everything… nearly!
Join Ipsos iSay, one of the few Faithful and Honest survey panels and earn prizes, gift cards and donations. Stack your points and redeem them: Simple! No hidden fees and completely free!