31 Best Ways for New Moms to Get Free Baby Formula Samples
Updated on: by Amy Kennedy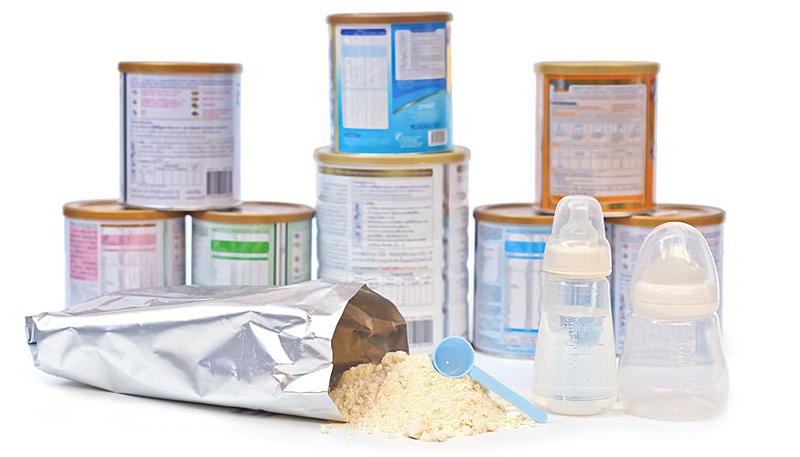 Do you have a newborn in your home?
Need Easy Extra $350+/Month For Free?
Congratulations on expanding your family!
You of all people know how expensive it is to raise a child.
In particular, baby formula can become very pricey on a week-to-week basis.
Your newborn needs to be fed, but you will have to find the money to cover these large costs.
During the first month of your baby's life, you may end up spending as much as $80 to $100 on baby formula.
Because of these high costs, many parents may start looking for alternatives and other ways to find cheaper food products for their infants.
Some people have searched for free baby formula as well.
Guess what?
You could actually get free baby formula through a variety of ways!
Keep reading to learn about some important resources and steps you can take to obtain free baby formula including small samples along with full-sized cans of formula.
Follow along to learn how to get cheap or free baby formula.
Get Free Baby Formula Samples by Registering with Formula Manufacturers
One of the quickest and simplest ways you can get free baby formula is by registering for an online account through the formula manufacturing websites.
When you first sign up for this type of account, there are often a ton of perks and benefits you'll get.
This includes getting access to free baby formula.
Keep reading to learn about the biggest baby formula manufacturers you should register an account with.
Need Easy Extra Cash?
Pinecone Research, a leading name in online survey panel honesty, absolutely guarantees $3 cash for every survey you complete!
Take advantage of their time limited New Membership drive and register NOW. Join today: 100% free!


1. Similac
You can register an account with Similac by clicking here.
By registering with the Similac Strong Moms program, you can be sure to get plenty of benefits like lots of coupons and Similac free baby formula samples.
You will find that this program can bring you as much as $400 in these benefits and additional savings for your bank account.
Here's the best part: it is completely free for you to sign up for the Similac Strong Moms program.
So take a look at the website and think about signing up to get free baby formula for your infant!
2. Enfamil
If you want another place to get a free baby formula sample, consider using the formula manufacturer Enfamil.
You can sign up for an account through their website by clicking here.
You'll be able to get lots of coupons for cheaper and free baby formula.
By signing up for Enfamil's Family Beginnings program, you'll be able to get the benefits of receiving free baby formula samples in the mail.
You could even get a few samples of free baby bottles from Enfamil!
On top of all this, you'll get more coupons that will save you lots of money on buying baby formula.
If you add up all of the benefits, you'll find that the Family Beginnings program offers you up to $325 in free rewards for your family and your infant.
You'll get these coupons and savings sent directly to your email address or possibly through the mail.
3. Gerber
You can get some free baby formula samples from Gerber as well.
Click here to sign up for an account through the Gerber website.
You can start by joining the MyGerber program, which will give you more tools to help take care of your infant during your baby's first months.
You'll get plenty of advice and tips on parenting through the MyGerber program.
But you'll get more rewards too!
You will be able to receive offers and coupons for less pricey baby formula including free samples.
In fact, you will get free samples that include full-sized cans of baby formula.
Along with the Gerber formula, you can get a free bib in the mail too!
The first step is to sign up for the account online.
Then you can contact the company for free or cheap baby formula samples.
4. Nature's One
If you register with Nature's One, you can get some free baby formula samples as well.
Click here to sign up with Nature's One!
The best part of this program is that you can request a free sample of nearly any baby formula product they have available.
First, go to the product page of the formula you want.
Then click on the "Try it for free" button to get a free baby formula sample delivered to your front door.
Once you've chosen to receive the free baby formula, you will need to fill out a survey from the company.
Earn Everything… nearly!
Join Opinion Outpost, one of the few faithful and honest survey panels and earn cash and gift cards for your opinion. Stack your points and redeem them: Simple! No hidden fees and completely free!


However, you don't need to be too concerned about taking the survey since it takes very little time to complete and has easy-to-answer questions.
After you fill out the survey, you will have the free sample automatically put into your shopping cart through the Nature's One website.
Here's another great benefit: you will receive a full-sized baby formula sample.
The only thing you'll have to pay for is shipping, which is much cheaper than buying the whole baby formula product at your local grocery store.
It's a quick and easy way to get free infant formula by mail.
So if you want some free formula from Nature's One, take a look at the website and be sure to register under a new account.
5. Nestle's Baby Formula
Are you interested in getting some free samples of Nestle's baby formula?
If so, click here to join!
Be sure to look through the site and join the Nestle Baby Program.
If you're a member of this program, you can get as much as $130 in free gifts!
You just need to register for an account through the website, which is very easy to do.
All you need to do is answer a few basic questions.
Once you have registered, you are eligible to get free baby formula samples from Nestle.
You can also receive other infant nutrition samples, savings, and other exclusive offers.
You'll get plenty of coupons along with tips and guides on parenting.
So check out the website and register under a new account! You won't regret it!
6. Parent's Choice at Walmart
Another way to get some affordable choices for your baby formula is to look at the Parent's Choice baby formulas available at Walmart.
Here you can get low-cost infant formula samples to see if your child will like this type of food.
You can get several days of formula for your child for only $8.98.
This sample is 12 ounces and is a great way to check if the Parent's Choice formula is right for your child.
Click here to learn more about this formula sample.
And be sure to check out this post to learn about other companies giving away free stuff on your birthday!
7. Member's Mark Baby Formula
Member's Mark is the baby formula brand that Sam's Club carries.
Sam's Club is known for its money-saving shopping, and its Member's Mark baby formula often has some of the best prices because you can buy it in bulk.
The site currently doesn't have a page for you to register an account, but you can become a fan on Facebook to have access to its exclusive deals.
Reportedly, some fans have seen special coupons and free sample offers on the Facebook page and the Member's Mark website, so it's a good idea just to keep them bookmarked and check back on them every once in a while.
Member's Mark also partners with ibotta, a savings app I'll mention further down in this post.
You can save up to $4 when you purchase Member's Mark formula at your local Sam's Club and use ibotta for your rebate!
How to Get Free Baby Formula if You are a Low-income Family
Do you and your spouse make a small income?
Are you near the poverty level?
If you're a low-income family, there are other options out there for you.
You might be able to get free formula samples from a number of organizations.
Check out the two options available for you below.
8. Apply for Food Stamps
Food stamps will cover infant formula, so it's a great way to not only feed your baby on a limited income, but it's also a good way to make sure you and the rest of your family get fed.
Food stamps programs vary by state, but most states will allow you to buy the basics you'd need for meals, like produce, dairy, meat, and pantry items.
Your baby needs food, too, which is why it'll often cover a variety of formulas.
You can check with your local welfare agency to see if you might qualify, or head to your state's benefits website to see if you can apply online.
In most cases, you'll need to provide proof of residence and income as part of the application, so be sure to have pay stubs ready.
9. Look to Women, Infants, and Children (WIC)
If you qualify for food stamps (or even if your income is too high to qualify) you might qualify for WIC, another government program that helps low-income families.
The organization Women, Infants, and Children or WIC is dedicated to helping low-income single mothers.
The WIC is a government agency that looks to help these low-income families in a variety of ways.
WIC has a Special Supplemental Nutrition Program, which means they offer federal grants to states.
The states then cover costs for supplemental foods and more for low-income families through these federal grants.
State agencies also offer free baby formula for low-income mothers who aren't breastfeeding their infants.
So if you are a low-income mother and don't have a lot of money, you may be eligible for the Special Supplemental Nutrition Program and receive free baby formula.
Read more: How to Get a Free or Cheap Car for Single Moms
The program varies slightly in each state, but most WIC programs will help you feed your child through age 5 and will also support special dietary needs with a doctor's permission (like if your child needs to stay on formula longer than most children do).
To find out more about the Women, Infants, and Children organization, click here.
Want to learn whether you are eligible for WIC programs and supplemental food for your baby?
Then check out these requirements.
10. Check Out Food Banks in Your Area
Lots of people don't realize that local food banks in their neighborhood don't have only the typical fruits, vegetables, grains and canned goods.
You can find baby formula at your nearby food bank as well.
While not every food bank will provide free baby formula, you'll find that there are many local organizations that do.
Before showing up at the center, you can call up the food banks in your neighborhood to see which ones provide free baby formula for low-income families.
If you're not sure where to start, click here to find a list of US-based food banks.
11. Enlist the Help of Local Churches
Churches are often ready to help community members in need, even if you're not a member of the church.
If you've fallen on tough times and feel like you need a miracle, then your church, or one in your neighborhood if you don't attend, might be able to help you.
You can always call around to nearby churches to see if members can donate some formula, give you extra formula they don't need, or even help you monetarily to pay for the formula your baby needs.
You might want to check with your friends and family who attend church first.
They could possibly put in a word for you to their church, which can help the church trust that your story is true and you're really in need of help.
Use Reward Apps and Sites
I always tell people never to shop for anything online or in the store without first checking for coupons or using a reward site to get cash back or a rebate.
The same holds true when you're buying baby formula!
Why pay full price or not get anything back when the potential is there?
The following apps and sites are what I use to make every shopping trip cheaper, whether it's in-store or online, and they can absolutely work with baby formula too.
You won't always find formula for free, but you'll definitely get it for less than full price!
12. Find Coupons on Apps
First, utilize the apps of stores at which you frequently buy baby formula.
Rite Aid, CVS, Walgreens, and Dollar General, for example, all have their own apps that are stuffed with helpful coupons.
I almost always see coupons for baby formula in these apps!
The best part is that you can usually link up your rewards card in the app, too, to combine coupons and reward offers for even more savings.
You can also use generic coupon apps with coupons from manufacturers instead of stores.
Sometimes, these coupons can also be combined with store-specific deals for extra savings.
Yes, it takes a little extra time to compare coupons and see how you can save the most, but it's so worth it when it comes to baby formula.
Back when my kids were younger, I was sometimes able to get a $13 can of formula for only $2 or $3!
I can't even explain how much I love the ibotta app.
It's been my go-to shopping app for years now and I think it only gets better as time goes on.
With ibotta, you can browse partnered stores to find deals for rebates.
Ibotta has a Baby section for each store, so you can easily find deals for baby products like formula and diapers.
When you find something you want to buy, click the offer and add it to your account.
You can then go shopping at that store for that item (just make sure you follow the instructions closely because some offers require purchasing more than 1 product).
Once you're done, upload your receipt to ibotta and you'll get the rebate back in your account!
You only need $20 to transfer over to your PayPal account to get your money back, and that amount can come quickly if you remember to use the app for every shopping trip.
Don't forget, too, that you can often combine ibotta offers with digital or paper coupons to save even more on your formula.
For example, right now ibotta has a deal for $3 back on Similac formula.
There's a coupon I recently got in the mail for $2 off a can of Similac.
Use them together and that's $5 off!
If the store you're using also has a special running, you could get the can for next to nothing.
Ebates is an excellent cash back site that delivers money back to you when you make a purchase online.
So, if you're one who typically buys baby formula online, you could save a lot of money by first visiting your Ebates account and making the purchase through its link to the retailer you shop with.
Ebates partners with popular retailers like Amazon and Walmart, where you might shop for baby formula.
You can earn up to 5% cash back on most baby formulas through Ebates, and remember that you can also use whatever promo codes or coupons you have for more discounts.
Ebates also has a Chrome extension to add to your browser and remind you to use it when you make a purchase online!
Swagbucks is more than just a cash back site.
It's a reward site with several ways to make money online.
But one of my most favorite ways to use it is to take advantage of its cash back offers.
Shop online with your favorite retailers that sell baby formula and you'll get cash back for your purchase.
You can also use the Discover tab to find offers for baby formula.
These offers will require you to sign up for an account for free or might require a purchase, but you'll receive cash back when you do so.
So, it's possible that you end up with enough cash back to use toward more baby formula for free!
Swagbucks rewards include gift cards to Amazon, Walmart, and even PayPal cash, so you can use your money for more formula.
Other Steps You can Take to Find Free Formula for Your Infant
Need more tips for some free baby formula?
Keep reading for several other resources where you can get your hands on free formula for your infant.
16. Ask Your Physician
If you talk to your primary care doctor about some of your struggles and difficulty paying for baby formula, you may find that he or she can help.
You may be provided with free baby formula and free baby food samples through your physician's clinic.
For instance, when you give birth to your child, the hospital often offers new parents a free diaper bag.
So be aware that your primary care doctor and the pediatrician of your baby can be a great resource for baby food and formula.
Be sure to check out your local hospital or clinic to see if your doctor's office has any free formula samples for you.
Sometimes doctors get free formula samples from baby food manufacturers or other representatives.
It never hurts to ask!
You'll find lots of doctors have baby formula to hand out to their patients.
Sometimes your doctors are busy and forget to hand out free baby formula.
So feel free to ask them!
The worst that can happen is that they may not have free samples available until a later date.
17. EverydayFamilies.com
The website EverydayFamilies.com is meant to help new moms and dads learn more about parenting.
The site provides lots of advice for new parents.
Additionally, this website has a specific section that offers free baby goods and resources.
You can register for the free baby products by clicking here.
If you go to this page, you will find lots of free offers including free bottles, diapers, and baby formula.
The free things available on this website changes regularly, so when you look, free baby formula may not be there.
You may need to wait a few days or a few weeks to find the free baby formula on the EverydayFamilies.com website again.
Be sure to check back on a regular basis to find the new deals available for your baby!
Read more: 25+ Places To Get Free Baby Stuff for New (And Expecting!) Moms
18. Target Baby Registry
If you're pregnant or you just recently gave birth, consider setting up a baby registry to get some much-needed gifts from your family and friends.
Did you know that you can get as much as $50 in coupons and formula samples if you set up a baby registry at Target?
That's right!
The moment you set up a baby registry at Target, you will get a welcome kit filled with these coupons and samples.
So this could be the perfect place to get your hands on some free baby formula as well as some needed gifts from your loved ones.
You can register for a baby registry on the Target website by clicking here.
Check out this page for other information about getting free samples from Target.
19. Baby Registry through Amazon
If you're pregnant or a new mom, you can still register for baby gifts through Amazon.
By signing up, there are a variety of savings you could get.
Prime members that sign up for the Amazon Baby Registry can get a 15 percent discount as well as other worthwhile savings.
In fact, you'll get a welcome kit that is worth $35!
The type of gifts in the welcome box vary but often include baby bottles and formula samples.
So go ahead and register for the Amazon Baby Registry by clicking here.
To learn about other ways you can get free baby stuff, check out our post on another 25 places for free things like diapers.
20. Check Your Local Newspapers for Coupons and Sales
Another great idea when you have a little one to provide for is to spend an afternoon cutting out some coupons from your newspaper.
Check out what day your grocery store is having a sale as well.
By combining sales and coupons, you'll be able to get some free or low-cost baby formula and keep your grocery costs inexpensive as well.
And if you want more ways to find free baby products, be sure to read this post on getting free product samples online.
21. Sign Up for Motherhood's Perks Program
Motherhood Maternity is a store that's devoted to fashion for pregnant women and nursing mamas.
You can sign up for its Perks program to get exclusive deals, discounts, and samples for various mom or baby products.
I've heard of some people getting free baby formula samples from time to time, and the website even lists Enfamil as a partnered company.
It's completely free to register, and you'll automatically get signed up for whatever special offers the company has in store for its members.
I've also heard of the store giving out some formula samples when you make an in-store or online purchase, so it's just something to keep in mind!
22. Follow Baby Formula Companies on Social Media
Seriously – do not forget to follow baby formula companies on social media!
We've already talked about some of the top companies and how they each have special programs for discounts and free samples.
But they sometimes also reward their loyal social media fans separately by hosting giveaways or handing out free baby formula samples occasionally.
Follow them on Instagram, Facebook, Twitter, and even Snapchat if they have one to always stay up to date with their latest deals.
You might even be lucky enough to grab a coupon for a free sample or full-size product just for being a fan.
23. Check Your Local Buying and Selling Facebook Groups
My local buying and selling Facebook group is super active with new items getting posted daily.
There are also tons of free stuff on it that people just want to get rid of and don't care about getting money for.
Sometimes, I'll see people giving away extra cans of baby formula they no longer need because either their baby switched to a new one or their baby ended up transitioning to milk and food.
Some of these groups will allow you to post In Search Of (ISO) requests where you can ask if anyone has any extra cans of formula or samples they'd be willing to give you.
24. Ask Friends and Family
The people you know could be the absolute best source for getting free baby formula when you need it most.
You might put up a post on Facebook or send an email out to your friends and family to see if anyone has any extras they'd be able to spare.
25. Ask Local Pregnancy Centers
Do you have any pregnancy centers in your area, or maybe a local health clinic?
They can be excellent resources for people to get free baby formula samples.
If you're not sure if any of these exist in your area, you can ask your pediatrician, local hospital, or even your local welfare center for information.
Freecycle is a place that's all about helping people find free stuff in their area.
You can search the site to see if your city or county has a Freecycle group.
If so, become a member and post a request for baby formula.
Sometimes, people request that you trade for free stuff but others are willing to give things away without a trade.
You could always go through your baby stuff to see if there's anything extra you might have from your baby shower that you don't need and offer it as part of the trade.
27. Use Craigslist
Craigslist is a good place to find things for free in your neighborhood and there's a fully free section you can use to find them.
You might also be able to find non-local listings for free baby formula and offer to pay for shipping for the person to ship to you.
Just remember that there's no guarantee on Craigslist that something isn't a scam.
If you pay anything to a Craigslist member, then you're fully responsible for what might happen (in other words, it's not like eBay and other stores that give buyers protection).
So, just be careful using the site.
Amazon Family is a program for Amazon members who have Amazon Prime.
Through this program, you can save up to 20% on stuff for your family, mostly in the baby realm, like diapers and formula.
The program also gives its members access to exclusive coupons, deals, and discounts that other people won't get, which could save you a lot of money on baby formula.
I've also read that Amazon Family sometimes sends out product samples to its members, so there's always a chance you could end up with some formula samples.
As a Prime member, this program doesn't cost anything extra.
29. Participate in Online Surveys and Product Testing
Several websites and market research companies offer opportunities for new moms to participate in online surveys or product testing related to baby formula.
By participating in these activities, you can receive free samples of baby formula as a reward.
Keep an eye out for reputable survey and product testing platforms that focus on baby products.
30. Attend Baby Expos and Trade Shows
Baby expos and trade shows often have booths and exhibitors from baby formula companies.
These events provide a great opportunity to interact with the companies, learn about their products, and receive free samples or coupons.
Search for local baby expos or trade shows in your area and plan to attend them to take advantage of the freebies and information available.
31. Join Online Parenting Communities and Forums
Online parenting communities and forums are excellent resources for connecting with other moms and finding freebies.
By joining these communities, you can participate in discussions, share experiences, and learn about free baby formula samples or promotions.
Look for active forums or communities that focus on parenting and baby-related topics.
Engage with other members and keep an eye out for posts or threads where free baby formula offers are shared.
The Importance of Getting Your Child the Nutrition He or She Needs
To conclude, your baby will need nutritious and quality formula despite the hefty price tag.
While it may be expensive, you'll need to make sure your child is well fed and their food is of top quality.
However, saving money is also a vital goal for any parent, especially in a low-income family.
So it's savvy of you to take advantage of every bit of savings available.
By saving money on your kids now, you may be able to afford enrolling them in sports or other activities later on.
Have you found other ways to save on baby food?
Or have you tried out the possible ways above?
If so, let me know in the comments below!
Related Posts:
Earn Everything… nearly!
Join Ipsos iSay, one of the few Faithful and Honest survey panels and earn prizes, gift cards and donations. Stack your points and redeem them: Simple! No hidden fees and completely free!