20 Best Paid Blogger Opportunities to Make Money Online!
Updated on: by Amy Kennedy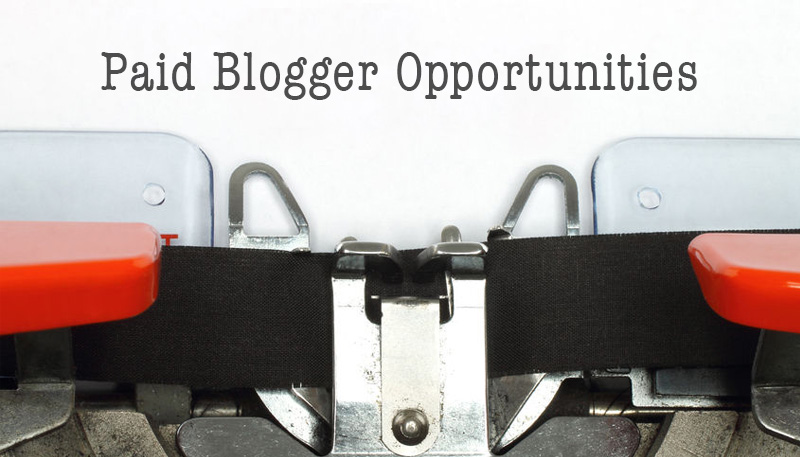 Blogging can be simply a hobby, but it can also be a money maker.
Need Easy Extra $350+/Month For Free?
Yes, you really can get paid to blog!
If you're ready to up your blogging game and start earning money from your blog, you'll need to know where to find companies looking for bloggers to pay.
Paid blogging opportunities aren't the only way to earn money from your blog, of course.
There are ads, affiliate links, and several other money-making opportunities.
But, if you have little to no traffic, you won't earn much from them.
Paid blogging opportunities, on the other hand, will give you some money for doing what you do on your blog anyway – writing blog posts.
And, you'll get to work with some of your favorite brands who want you and other bloggers to share their new products and company news on your blog.
It's a win-win for everyone!
Where to Find Blogger Product Review Opportunities & Paid Opportunities
Formerly Sverve, Activate is a part of Bloglovin, a handy site where you can discover and follow blogs according to your interests.
Activate is the influencer network of Bloglovin. Here, you can work with top brands like Shutterfly and Puma.
Here, you can work with top brands like Shutterfly and Puma.
The network has blog and social media campaigns, so you can earn money for quick social media posts, too.
Browse the current campaigns after signing in and you can view details for those you might be interested in by clicking on them.
Some campaigns have a set price, while others will allow you to suggest your rate for the work.
Activate partners with PayPal to pay you, and you can request your earnings once you have $5 in your account.
Need Easy Extra Cash?
Pinecone Research, a leading name in online survey panel honesty, absolutely guarantees $3 cash for every survey you complete!
Take advantage of their time limited New Membership drive and register NOW. Join today: 100% free!


Blogdash focuses on influencer marketing, helping clients grow their outreach and bloggers grow their audience and following.
Blogdash uses your Klout score to measure your influence, so make sure you have a Klout account set up.
The higher your score, the more relevant opportunities you may qualify for.
You'll only hear pitches from companies that are relevant to your interests and industry so you won't get pitches that make no sense for your blog.
You can also respond to pitches with your target pay rate and, if accepted, you'll begin working on the sponsored post.
Most clients pay with PayPal within 3 to 5 business days of your post going live.
BlogHer Publishing Network is both an advertisement network and a paid blogging opportunity network.
To join the network, your blog must be at least 90 days old, not involved with another ad network, public, and not contain offensive content.
When opportunities become available from advertisers, BlogHer will notify you by email so you can apply to take part.
You first need to apply and get accepted to the Blog Influencers program.
Once you do that, you can apply for the BlogHer Publishing Network.
Clever is a media agency that matches companies and brands with influencers who can help promote their services and products.
Clever has worked with brands like Krispy Kreme, Yahoo!, Hanes, and more.
To be considered for the platform, your blog and social media channels must not contain any more than 50% sponsored content.
And, you must have an engaged audience on your blog and social media channels.
Once you're on board, you can view your dashboard to see new opportunities, which you can then apply for.
Make sure you apply only for campaigns that make sense for your blog and social media channels, as the process is rather selective.
Global Influence Network has sponsored post opportunities, review programs, and other forms of blogger opportunities for influencers.
You may also be able to earn money through Twitter party hosting, advertising, and social media campaigns.
You'll receive information from Global Influence via email when an advertiser has a new campaign that you may match with.
Sign up easily with a Google form on the website, and you'll be added to the database of bloggers that the owner sends information to when new campaigns come up.
Izea is one of the longest-running paid blogger opportunity networks.
You can get paid by top brands and agencies to create personalized content that shares their products and services.
Once you sign up, you can browse open sponsorships for your social media channels and blog.
You'll see the average bid from other users so you can gauge where you'd like your bid to be.
Ultimately, the client decides what bid to choose, depending on how well you're suited for the campaign.
Linqia works differently than some other blog opportunity networks.
With Linqia, you get paid per the amount of clicks you get in your blog and social media posts.
You'll get a unique URL that tracks the number of clicks you have when you place the link.
Earn Everything… nearly!
Join Opinion Outpost, one of the few faithful and honest survey panels and earn cash and gift cards for your opinion. Stack your points and redeem them: Simple! No hidden fees and completely free!


Before the campaign starts, you'll have a cap on the number of clicks you can get paid for with that campaign, which depends upon your previous campaign performances.
The more clicks you get for campaigns, the more you'll be able to earn for future ones.
Linqia also has a referral system that pays you cash for each person you refer using your unique URL.
Be sure to add the Linqia badge to your website, as it's a requirement before you can get invites for campaigns sent to you.
As an influencer with Massive Sway, you can participate in excellent sponsored post campaigns with top brands, like eBay, Motorola, and Sara Lee.
On your dashboard, you can view available campaigns, the number of days left to apply, and more information about each campaign.
You'll get paid, in most cases, within 45 days of the close of the campaign, and can get paid via an ePayment option or a mailed check.
Moms Meet is a blogger review network that offers healthy and organic product samples to moms and kids.
Some campaigns will give you only the free products, whereas others may offer an additional monetary compensation for your time.
You'll be required to provide your honest feedback to Moms Meet and share the appropriate content for the campaign on your blog and/or social media channels.
Moms Meet also uses a Rewards Program that can help you earn prizes for doing things around the site, like sharing the site, commenting, and participating in campaigns.
Pollinate is quite selective in its process for accepting bloggers, but it also offers some great paid campaigns.
For Pollinate, you'll need at least 20,000 pageviews, so this may not be the best place for beginner bloggers.
You also must have at least 6 months of blog posts on your blog, with the majority of them non-sponsored content.
Currently, only U.S. residents (or Canadians close to the border) can be members and you need a high U.S. readership.
You'll get weekly newsletters sent to your email inbox with current and new campaigns.
Social Fabric is an especially helpful network for food bloggers to find campaigns because it works with a lot of food brands.
But, there are other opportunities here, too, like cosmetics, baby, and personal care campaigns.
Many of the campaigns are shopping campaigns that require you to take some in-store photos at specific stores.
Walmart, Target, and CVS are some of the stores that you may frequent.
Once a campaign ends and all of your required steps are verified, you'll get paid via PayPal.
Social Spark is part of Izea, but occasionally offers different campaigns.
However, it works the same way and is even set up the same.
So, once you get familiar with one site, you'll be familiar with the other!
Be sure to complete your profile and connect as many of your social accounts as possible to get accepted for campaigns.
TapInfluence accepts food, lifestyle, fashion, and beauty bloggers.
This network is sometimes invite-only, but if you feel like you deserve to be a member of TapInfluence, you can use the contact form to request an invite.
TapInfluence is different than other platforms in that it allows brands to narrow their search options from the database of influencers by indicating the type of influencer it's looking for.
The system will offer influencers that seem to match the brand's needs.
The brand can then view profiles more in-depth and choose the right ones for their campaigns.
You'll get notified via email and your dashboard if a brand chooses you, and then you can accept or deny participation in the campaign.
Tomoson began several years ago as a place to find products to review on your blog.
It's now transformed into another influencer marketing network that gives you the opportunity to review great products and also earn money for posting about them on your blog or social media networks.
You can view current campaigns by clicking the Campaigns tab.
Tomoson also has a helpful tab called Easy Approvals, which shows campaigns for which you may get approved for more easily than others.
Some campaigns are simply discounts on products or free products.
For better chances of getting approved for campaigns, fill out your Tomoson Media Kit completely by connecting your accounts and setting your rates.
Valued Voice was formerly known as Link Vehicle, which is still around, but has moved its influencer marketing network to Valued Voice.
Valued Voice focuses on sponsored content for blogs and social media channels by connecting brands to bloggers and influencers.
Once you complete your basic profile, you can add your channels, like your blog and social media accounts.
Your connected accounts are what brands will see when choosing who to work with.
After you connect your accounts, Valued Voice will start sending you opportunities that you match with.
You can choose what campaigns you want to work on.
Weave Made Media is a sister company of Pollinate Media Group.
This network allows bloggers with a smaller reach than Pollinate – you only need 7500 monthly pageviews to become a member if you're a female blogger, and males don't have a minimum needed.
You must blog for more than three months on the blog you're joining with and be active on at least three social media channels.
This company focuses on a wide variety of niches for campaigns, but some of the most popular are food, parenting, and lifestyle.
AspireIQ is an influencer marketing platform that connects bloggers with brands for collaborations.
It offers various campaign types, including product reviews, sponsored content, and social media promotions.
Bloggers can create a profile highlighting their expertise and audience demographics, making it easier for brands to discover suitable influencers.
AspireIQ also provides campaign management tools, facilitates communication between bloggers and brands, and ensures fair compensation for collaborations.
Influence.co is a platform that caters to influencers across different niches, including bloggers.
It offers opportunities for bloggers to collaborate with brands through sponsored content, product reviews, and social media campaigns.
Bloggers can create a profile showcasing their skills, engagement metrics, and previous work.
The platform also provides resources and tools to help bloggers grow their influence, connect with brands, and negotiate fair compensation for their collaborations.
Heartbeat focuses on connecting female influencers with brands for authentic product promotions.
It primarily targets women between the ages of 18 and 34.
Bloggers can join Heartbeat and participate in campaigns that align with their interests and target audience.
The platform emphasizes genuine recommendations and encourages bloggers to share their honest opinions about the products they promote.
Heartbeat offers compensation based on the size of the influencer's audience and engagement levels.
Revfluence is an influencer marketing platform that enables bloggers to collaborate with brands on various promotional activities.
It offers opportunities for bloggers to participate in product reviews, sponsored content creation, and social media campaigns.
Revfluence provides a user-friendly interface where bloggers can showcase their work, audience demographics, and engagement metrics.
Brands can then search for bloggers based on their specific criteria and invite them to collaborate on relevant campaigns.
Conclusion: Best Paid Blogger Opportunities
You'll likely get plenty of paid blogger opportunities through these networks when you keep an engaging, informative blog and social media channels.
Your blog is the most important piece of the puzzle.
Keep it updated with helpful posts your readers love and engage with your audience as much as possible to keep it growing and excited to read more.
Brands love working with bloggers who put a lot of time and effort into their blogs and social media posts!
Balance out your sponsored content with some awesome, more personal content, too, so your blog doesn't get overrun with ads.
This is an important step in maintaining the trust of your audience.
Good luck!
What blogger opportunity networks do you use to earn money with your blog? Please let us know in a comment!
Related Posts:
Earn Everything… nearly!
Join Ipsos iSay, one of the few Faithful and Honest survey panels and earn prizes, gift cards and donations. Stack your points and redeem them: Simple! No hidden fees and completely free!