Bloggers Share Income
Updated on: by Amy Kennedy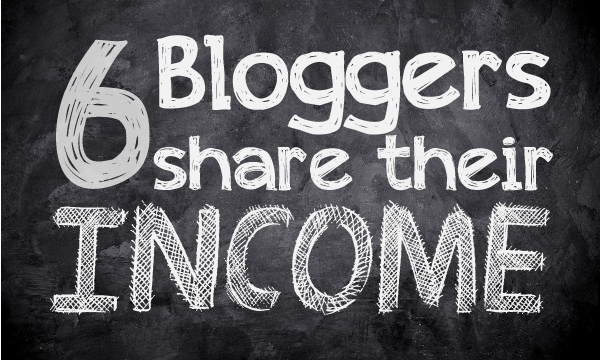 Need Easy Extra $350+/Month For Free?
I began my work at home adventure about 5 years ago! It began answering questions for ChaCha and moved into call center work for LiveOps. After I had my second daughter, I found myself needing to find non-phone work I could do online at my own pace. My search quickly earned me the label as the 'go to' girl for information about work from home jobs which led me to starting a blog.
Here we are now.
Work at Home Adventures turned THREE years old this month!!
Now I am fortunate enough to consider blogging my primary source of income. I love sharing all the ways I find to make money online. However, I also find it difficult to share much about my current gig as a blogger.
Sharing My Blogging Income
Sharing my income as a blogger has been something I have wanted to do for a long time. I think it would be highly motivational for anyone who is considering this method of "passive" income.
This isn't a way to boast or brag– this is a way to give you a reality of how you really can make money as a blogger.
Blog Success Can Not Be Replicated
In a sense, it is completely pointless for me to share my path to blogging success.
The reason?
Most of the keys to why I can call blogging my primary work at home job is because of random acts of luck, or rather the Grace of God.  Every blogger has their own story, their own lucky moments, their own methods and ways of thinking- all of which make each and every successful blogger story completely unique.
I will share the details of how WAHAdventures and my blogging career began and evolved. Then you will see several other bloggers share some stats of their blogs for reference.
My Blogging Adventure
I started blogging on a free platform called blogger in June of 2010. I fumbled my way through it all, having no clue what I was doing- I just did. I shared links to my blog in a forum and on facebook. I was so excited when I started getting 100 visitors in a day!
In December of 2010 I felt ready for the big leagues and began spending $10 a month with hosting services through Hostgator so I could use the WordPress platform.
As I had been doing my online research for work at home jobs I learned more and more about the online hangouts of fellow work at home-ers. Socializing and being a part of the online work at home community became extremely important to me in growing Work at Home Adventures.
In early spring of 2011 I received my first $100 earned from ads appearing on my blog!!
I was so excited to have something to show for all my work. I had many hours in a 'hobby' that was beginning to pay off! I continued blogging here not because I was making money but because I enjoyed it. I loved the satisfaction of knowing I was helping other people.
Need Easy Extra Cash?
Pinecone Research, a leading name in online survey panel honesty, absolutely guarantees $3 cash for every survey you complete!
Take advantage of their time limited New Membership drive and register NOW. Join today: 100% free!


There have been MANY MANY MANY times I almost quit blogging. I have always put around 10-20 hours a week into this site. It took me two whole years to really see a good return on my invested time. I am so glad I didn't give up and am now able to reap the rewards of time well spent.
My Current Blog Earnings
WAHAdventures.com is currently averaging $1800-2000 a month. I also run several other sites and do web design projects on the side. Blogging and web design are my primary source of income.
How I earn money at WAHAdventures:
Ads- there are several around the site in various (strategic) places.
In-Text Links- Similar to ads, companies like Infolinks turn text into advertising.
Affiliate Links- I have learned that many products and services I use myself have affiliate links that can earn me money for sharing them with friends.
Other Bloggers Share Their Earnings
I reached out to other bloggers who make at least $1000 a month to help out with this post.
Moms R Bomb
Blog Subject: Product Reviews, WAH Jobs, Recipes and More
Age of Blog: 1 year 5 months
Avg Monthly Earnings: $1000-1500
Avg Monthly Expenses: Around $20
Avg Daily Page Views: 0-500
How Long it Took to Earn First $1000: 1 year 3 months
Hours Spent per Week on Blog: Around 10
Revenue Methods: In-Text Links, Ad Banners, Sponsored Posts/Reviews, Selling Services
Keys to Success: I really work hard at marketing myself and building relationships.
Little House Living
Blog Subject: Simple Living, Modern Homesteading, From Scratch Recipes, and More!
Age of Blog: 4 years
Avg Monthly Earnings: $2500-5000
Avg Monthly Expenses: Around $300
Avg Daily Page Views: 5,000-10,000
How Long it Took to Earn First $1000: 3 years
Hours Spent per Week on Blog: Around 30
Revenue Methods: Selling Ad Space, Sponsored Posts/Reviews, Selling Services, Affiliate Marketing
Keys to Success: Hard work, being persistent. Taking time to learn everything there is about blogging and continuing that education daily. Being open and honest in my blogging relationships.
Stitch11
Blog Subject: I share free crochet patterns and inspiration for crochet art.
Age of Blog: 16 months
Avg Monthly Earnings: $1000-1500
Earn Everything… nearly!
Join Opinion Outpost, one of the few faithful and honest survey panels and earn cash and gift cards for your opinion. Stack your points and redeem them: Simple! No hidden fees and completely free!


Avg Monthly Expenses: $10
Avg Daily Page Views: 2500-5000
How Long it Took to Earn First $1000: 11 months
Hours Spent per Week on Blog: more than 40
Revenue Methods: In-Text Links, Ad Banners, Selling Ad Space, Affiliate Marketing
Keys to Success: I love crochet, I have an amazing sister who helps me with all the technical stuff, and I have the strive to stay home with my daughter.
Real Ways to Earn Money Online
Blog Subject: Legitimate work from home
Age of Blog:  3 years
Avg Monthly Earnings: $1500-2500
Avg Monthly Expenses: Around $30-35
Avg Daily Page Views: 2,500-5,000
How Long it Took to Earn First $1000: 2 years
Hours Spent per Week on Blog: Around 20
Revenue Methods: Banner ads and affiliates primarily. I have sold ad space but that's rare. Sponsored posts have also happened, but are rare.
Keys to Success: I did not give up, not even when I was earning less than one dollar a month, and I had a genuine interest in my subject matter. I would have researched work from home with or without the blog since I was actively looking for it myself. Blogging was just a fun way for me to share that with people. A hobby that unexpectedly turned into my primary income stream. Also, I never stopped learning all I could about blogging. I did — and still do — try to learn all I can about how to create a great blog. It will always be a work in progress.
Visit Real Ways to Earn Money Online
Simply Real Moms
Blog Subject: Lifestyle: Travel, Parenting, Recipes, Crafts, Automotive
Age of Blog: 1 year
Avg Monthly Earnings: $1500-2500
Avg Monthly Expenses: $30/month for newsletter. We pay annually for the host.
Avg Daily Page Views: 20K+
How Long it Took to Earn First $1000: 4 months
Hours Spent per Week on Blog: I have 3 other permanent writers and we have several contributors. So hours… probably around 15 for me alone.
Revenue Methods: Ad Banners
Keys to Success: NETWORKING!!! Knowing the right companies to reach out to, Social Media, Attending events.
How Can I Increase My Blog's Earnings and Traffic Simultaneously?
Driving both traffic and earnings for your blog is a common goal among bloggers looking to monetize their content effectively.
By implementing the right strategies, you can not only attract more visitors but also increase your blog's earnings.
Here are the details of how you can achieve this dual objective.
1. Optimize Your Content for Search Engines
Search engine optimization (SEO) is crucial for increasing organic traffic to your blog.
Conduct keyword research to identify relevant keywords that have a good search volume and relatively low competition.
Incorporate these keywords naturally throughout your blog posts, meta tags, headings, and URLs.
This will help search engines understand the content of your blog and rank it higher in search results, driving more traffic.
Additionally, focus on creating valuable, informative, and engaging content that addresses the needs and interests of your target audience.
By consistently producing high-quality content, you not only attract more readers but also encourage them to share your posts, which can lead to increased traffic and exposure.
2. Promote Your Blog on Social Media Platforms
Social media platforms provide excellent opportunities to promote your blog and attract a wider audience.
Identify the platforms where your target audience is most active and create compelling posts to drive traffic to your blog.
Share snippets of your blog posts, accompanied by captivating visuals and compelling captions, to pique the interest of social media users.
Engage with your audience by responding to comments, asking questions, and participating in relevant conversations.
Building a strong social media presence can help establish your blog as a go-to resource in your niche and attract more visitors to your blog.
3. Guest Blogging and Collaborations
Guest blogging on reputable websites within your niche is a valuable strategy for increasing both traffic and earnings.
Identify high-authority websites that accept guest posts and offer to contribute valuable content.
In your guest posts, include a bio or author's box that directs readers back to your blog, driving traffic from the guest site to your own.
Collaborating with other bloggers and influencers in your niche can also be beneficial.
Consider interviews, round-up posts, or joint projects that expose your blog to their audience and vice versa.
Collaborations provide mutual benefits by expanding your reach and attracting new readers to your blog.
4. Monetize Strategically with Ads and Affiliate Marketing
Implementing effective monetization strategies is essential for increasing your blog's earnings.
Consider displaying ads strategically within your content or in sidebar areas, using ad networks such as Google AdSense or Media.net.
Ensure the ads are relevant to your audience and placed in a way that doesn't disrupt the user experience.
Affiliate marketing is another lucrative option to monetize your blog.
Select reputable affiliate products or services that align with your blog's niche and audience.
Recommend these products or services through blog posts, product reviews, or dedicated affiliate marketing campaigns.
Earn a commission for each sale or conversion made through your referral links.
5. Offer Valuable Products or Services
Creating and selling your own digital products or services can significantly boost your blog's earnings.
Consider developing e-books, online courses, or premium content that provides additional value to your audience.
These offerings can establish you as an authority in your niche and attract a loyal customer base.
By providing valuable products or services, you not only generate direct income but also strengthen your relationship with your audience.
Satisfied customers are more likely to become repeat visitors, increasing traffic to your blog and driving further earnings.
6. Implement Email Marketing Strategies
Building an email list is an effective way to engage with your audience and drive repeat traffic to your blog.
Offer valuable content upgrades, freebies, or newsletters as incentives for readers to subscribe to your email list.
Use email marketing campaigns to inform subscribers about new blog posts, exclusive offers, or product launches.
Nurture your email list by regularly sending valuable content and personalized recommendations.
Building a loyal subscriber base can drive consistent traffic to your blog and increase the likelihood of conversions and earnings.
7. Continuously Analyze and Optimize
To ensure long-term success, it's crucial to continuously analyze your blog's performance and optimize your strategies.
Monitor your website traffic using analytics tools to identify the sources of traffic and the most popular content.
Analyze conversion rates and engagement metrics to understand what is resonating with your audience and adjust your content and monetization strategies accordingly.
Experiment with different promotional channels, content formats, and monetization methods to find the most effective combination for your blog.
Stay updated with the latest trends and industry best practices to refine your approach and stay ahead of the competition.
 How to Get Started Blogging
If you have been thinking about blogging and want to see if you can turn your passion into a passive income I highly recommend visiting Blogelina.com.
You will find all the tools you need to learn how to start blogging and even how to make money.
Blogelina is currently offering a class "How to REALLY make money blogging". The course is only $5 and it comes with a full year of hosting!! That is a huge savings to get your blogging career started.
Register now to reserve your seat in Blogelina's class: "How to REALLY make money blogging".
Related Posts:
Earn Everything… nearly!
Join Ipsos iSay, one of the few Faithful and Honest survey panels and earn prizes, gift cards and donations. Stack your points and redeem them: Simple! No hidden fees and completely free!