18 Best Business Ideas for Women Who Crave Success
Updated on: by Amy Kennedy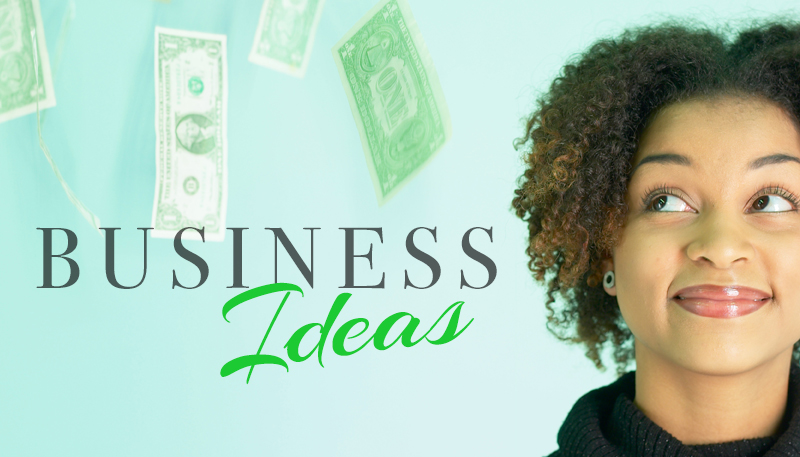 Are you looking to branch out from the 9-5 workforce and hop on board the self-employment train?
Need Easy Extra $350+/Month For Free?
With more than half of people in the United States working as freelancers, and about 27 million entrepreneurs starting their own businesses, you're choosing a good time to join hands with other women who are making their dreams come true.
Starting your own business is one of the most rewarding things you can do for yourself, especially as a woman, who's still often seen as the weaker sex.
However, with the literally hundreds of ideas for both home-based and out-of-the-home businesses that exist today, there's no reason you can't become a hustling entrepreneur, too.
Best Business Ideas for Women Entrepreneurs
Don't resort to landing a work from home job with some random person in India who wants to pay you pennies for your hard work.
It's time to put your skills and interests together to start the business of your dreams!
Here are some of the very best business ideas for hard-working women dreamers just like you:
Coaching
A lot of women are really good at listening to others and helping them work through their problems.
I think that's why you'll mostly see women as coaches in things like health, parenting, relationships, and similar industries.
But people are starting to coach others online in a wide range of topics, from fitness to fishing, so there's no reason you can't do the same with your passions, whatever they might be.
Set yourself up with a website and social media channels.
Then, join Facebook groups that target your audience.
For example, if you wanted to coach new moms on baby-related issues, like sleeping through the night, you might join pregnancy and new mom FB groups.
Be sure to follow the rules about promoting yourself!
Don't get spammy; instead, provide helpful answers and advice to those in the group, and you might find people interested in paying you for more.
Influencer
Hop on Instagram and you'll see exactly what I mean by "influencer", especially in the beauty and fashion world.
Need Easy Extra Cash?
Pinecone Research, a leading name in online survey panel honesty, absolutely guarantees $3 cash for every survey you complete!
Take advantage of their time limited New Membership drive and register NOW. Join today: 100% free!


Women all over the world are making money by sharing about products and services with their audience, either on a social media channel (Instagram is well known for this) or their blogs.
Some people are also video influencers, utilizing places like YouTube to share their stuff.
Influencing is all about growing an audience who looks to you for advice, so it's important to have a sizeable audience who's really engaged with your posts, no matter what channel you use.
You can get paid for sponsored posts, advertisements, and even just by adding affiliate links in your content.
Social Media Manager
For some reason, women seem to really have a knack with social media!
Not only do they know the right stuff to post on every social media channel and when it's best to post, but they're also pretty amazing with making eye-catching graphics that cause people to click on stuff.
Oh, and women are good organizers, which is also a helpful skill in this business.
I've seen lots of women find success taking what they know about social media and using that knowledge to help others grow and manage their own accounts.
It's not uncommon to get paid at least $25 an hour as a social media manager, and you might even be able to charge $50 or more.
Or, set up packages for your clients that detail how much work you'll do each week or month and charge for a retainer.
The good thing about this line of work is that you can typically take on several clients at a time to really roll in the dough.
Content Creator
Content creators can also be influencers, and vice versa, but they don't always have to be depending on how they go about it.
A content creator is someone who uses writing or video creation to form helpful content for an audience.
Some freelance writers prefer to call themselves content creators, for example, because their writing work can actually encompass a lot of different forms of writing for clients.
They might write a white paper one day while drafting social media posts the next day.
But they're always writing content in some form for their clients.
Video content creators will, of course, create videos for clients that add value for their audiences.
Content creation varies widely between business owners and their clients, so it's almost impossible to pinpoint an average salary.
But those who are skilled at what they do could easily earn $50 an hour or more!
Author
Whether you want to write children's books, romance novels, or mysteries, there's a lot of money to be made in book writing.
However, not everyone makes it big as an author, so that's also something to consider.
Books take a long time to get a return because creating them is a lengthy process, and there's no guarantee a publisher will even pick it up.
That's where self-publishing can come in handy, though.
You can get eBooks and physical books into the hands of your audience a bit faster if you choose this method, although it doesn't always yield as much profit.
But using a service like Amazon Kindle Direct Publishing can give you 70% royalties on everything you sell, while also taking care of the actual selling process for you.
Customer Service Representative
Being a customer service representative isn't up everyone's alley.
You have to enjoy talking on the phone and doing your best to help others.
But if those are some of your qualities, then you should excel at the career.
A lot of people picture customer service representatives as slaves at a desk working for a company.
Earn Everything… nearly!
Join Opinion Outpost, one of the few faithful and honest survey panels and earn cash and gift cards for your opinion. Stack your points and redeem them: Simple! No hidden fees and completely free!


You can also do this job as your own boss, though, working with a variety of clients every week.
You can always find your own clients by pitching your services or marketing yourself through ads, or you can use a service designed to help reps find clients, like Alorica.
Virtual Assistant
I know so many women who are starting virtual assistant businesses and making their dreams happen right at their fingertips.
I think one of the reasons this type of business is so popular is because you can offer so many services and still call it virtual assisting.
VAs usually offer services like setting appointments, creating graphics, making calls, writing content, or handling social media for clients.
So, you can incorporate a bunch of your skills into packages for clients, allowing you to work with all kinds of businesses and entrepreneurs and make lots of money doing it.
VAs typically are good multi-taskers, organizers, and communicators, so if you fit the bill, you might have just found yourself a new career.
Read More: Looking for Virtual Assistant Jobs? Check Out These 38 Legitimate Companies!
Web Designer
There's a good mix of male and female web designer, but I know a lot of women who are typically drawn to the designs of other women because they're really good at putting together color palettes and beautiful design elements.
If artistry is your thing (and you also know how to work with webpages) then this is the business for you.
Not only can you sell your designs on your website, but you can also pop them up on Etsy for people to download or order custom designs from you.
I've seen plenty of sellers on Etsy offering web design packages for $1000 and up!
Bookkeeper
Get those math skills ready and start a bookkeeping business.
Bookkeepers sometimes take things one step further and provide tax services for clients, too, so this is always another service you can consider adding to your repertoire.
You can typically manage a few clients' books at one time to help you bring in extra money.
Read More: Top 13 Legitimate Work From Home Accounting and Bookkeeping Jobs
Fashion Designer
Turn your love for fashion into a designing career!
This business could be tough to get off the ground because the fashion industry isn't easy to break into.
But you could start by pitching some of your designs to your favorite brands to see if any of them take off.
You might even start by building a website around your designs and sharing some of them in a blog – you never know what industry leaders might end up seeing them!
Knitting or Crocheting
Look on Etsy and it won't take long for you to find handmade knitted or crocheted items that people can sell for a profit.
From baby clothes to blankets, knitting and crocheting are still coveted arts that people are willing to pay for.
Set up an Etsy shop and start selling your designs!
You need to be fast, though, if you want to make sure you're earning a decent income for the time you're putting into making products to sell.
Food Blogger
If you love cooking – or at least love experimenting with food and flavor – then food blogging could be your go-to career.
Bloggers can make a lot of money doing what they do, and food blogs are some of the most popular blogs on the web.
They share recipes, cooking tips, and beautiful food photography that helps their posts get shared all over social media.
A lot of food companies look for bloggers to connect with for sponsored posts and other paid opportunities, too, so it won't be tough to find paying gigs.
Baker
Is blogging not really your thing, but you love the food creation process?
Maybe baking is more up your alley!
Watch any baking competition show on TV and you'll probably see at least one person with their own baking business who works, or has at least started their business, in their home.
Bakers often start small by making cupcakes, cookies, and other goodies right in their own kitchen, later expanding with a storefront as they grow in popularity.
If you don't mind sharing your kitchen with your business, then try selling your yummy creations to neighbors and other locals.
Don't forget to kindly ask for referrals from happy customers!
Photographer
Grab a camera and shoot the world around you!
As online content gets more popular, there's always a need for beautiful photos to go with it.
That's why there are so many stock photography sites out there, charging $25 or more per photo (which can be sold numerous times!).
Photography is such an awesome industry to get into now, and you don't even need a professional setup to sell your stuff.
You can get away with using your phone's camera if it's a good one.
Several stock photo sites pay contributors for their photos in royalties, like iStockPhoto and Dreamstime, but you can always opt for setting up a shop on your own site and selling directly from there.
In-Home Daycare Provider
Having kids at home while you work can be one of the biggest struggles for work at home moms.
But, you can kill two birds with one stone by setting up a daycare in your home.
Most states have guidelines for starting your own daycare, so you'll need to check out the requirements and steps first.
But once you go through the process, you can have your kids home with you while earning money watching others.
Drop-Shipper
Surely you've heard of drop-shipping?
If not, here's the low-down:
You set up a shop on your site.
A customer orders a product from you.
You order that product from another supplier.
You have that product shipped directly to your customer from the supplier.
The extra money made from the sale goes into your pocket.
As a drop-shipper, you can sell whatever you want and you'll never have to hold any inventory.
You'll just simply be the liaison between your customers and the products they buy, marking up each product so that you can make a profit.
It's one of the most popular ways to sell online now and you don't even have to make your own products.
You can get started by setting up a Shopify account and finding drop-shipping companies through the platform.
Editor
Women with excellent attention to detail who love the written word but don't necessarily love writing might be good at editing.
Editors need an excellent command of their language and proper grammar usage and a keen eye for details.
Organization skills also come in handy, and it's super important to be a good communicator so that you can clearly explain to writers how they might improve their work.
You'll also need research skills for fact-checking.
The average freelance editor makes about $25 an hour, according to Payscale, but if you have special industry experience in something like the medical or legal fields, you might be able to get a higher rate for your expertise.
Crafter
DIYers, rejoice!
You can earn money from your love of crafts, especially if you're a Pinterest fanatic.
DIY stuff does really well on that platform, so it shouldn't be hard to market your biz there.
Set up a website, post DIY tutorials, sell patterns, host video tutorials and monetize your channel – there are tons of ways you can start a business in crafting.
You can even sell your finished products on Etsy!
Read More: The Ultimate 2019 Guide for Home Based Business Ideas
The Best Small Entrepreneurial Ideas for Females
The above ideas are only a small portion of the many small business ideas that exist today.
Really, whatever you have a passion for can be turned into a business in some way if you get creative enough.
If the ideas above aren't quite your cup of tea, then think more about what you love to do and what you're good at.
You might spark a new idea that blends the two into your dream business!
Do you currently own a business or have a business idea in mind?
We'd love to hear your creative ideas! Drop them in the comments.
Related Posts:
Earn Everything… nearly!
Join Ipsos iSay, one of the few Faithful and Honest survey panels and earn prizes, gift cards and donations. Stack your points and redeem them: Simple! No hidden fees and completely free!