Where Can I Find Cheap or Free Notary Services Near Me? 21 Legit Places
Updated on: by Amy Kennedy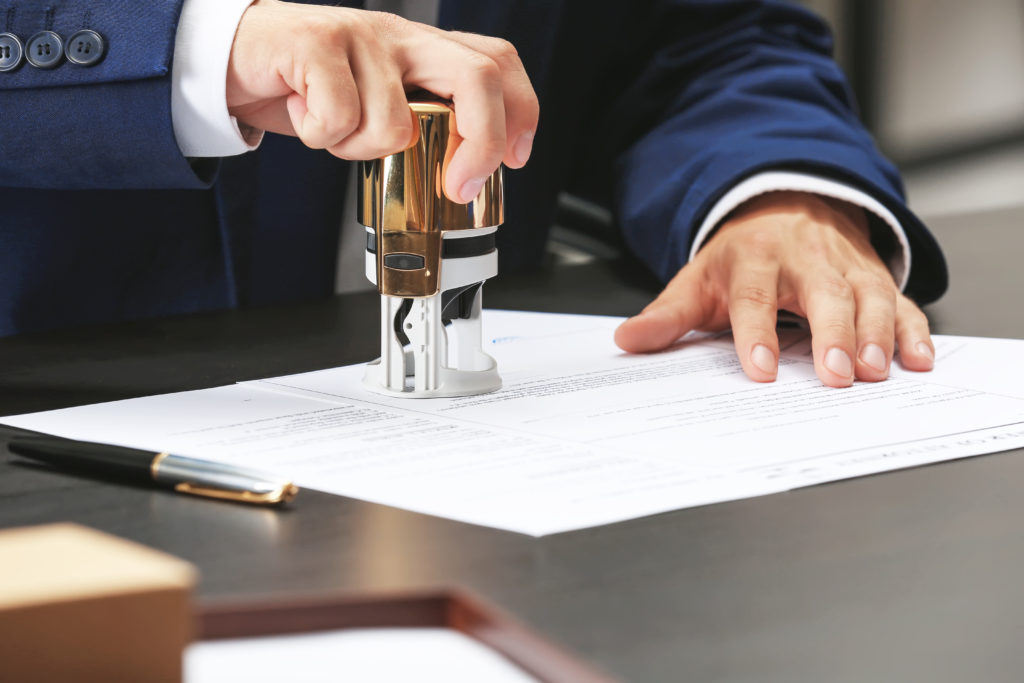 A notary public is necessary to witness the signatures of many types of legal documents, like heirship affidavits, motor vehicle bills of sale, promissory notes, home purchase documents, and handgun permits.
Need Easy Extra $350+/Month For Free?
At some point in your life, you'll probably need to use one.
Although notarizing documents usually doesn't cost much for most people, some people might have several documents than require multiple signatures and notary seals.
Those documents can get expensive because some notaries can charge fees per signature or per seal that they add to your forms.
If you need to make a trip to the notary, but you're afraid it could be an expensive one for you, then check out these tips that could help you find an affordable or free notary service.
How to Get Something Notarized for Free or Cheap
The best way to go about finding a free or cheap notary is to utilize services and people you already have a relationship with.
Notaries are usually all over communities, so it might be easier to find one than you thought!
The following people and places will probably include a notary that offers cheap, and sometimes free, notary services.
Have a Friend or Relative Do It
You might not know someone off the top of your head, but it's possible that a friend or relative is a notary public.
If you're not sure, you can ask around your circle of friends or family members or make a post on Facebook for recommendations.
You might end up finding someone you know who can help you out by giving you their notary services for free or at least giving you a discount on their services.
Use Your Bank
Banks and credit unions often have at least one or two people at the office who can notarize documents, and many of them let members get the service for free.
Even if it's not free, it's probably discounted.
The only issue with using a bank is that it could be difficult for you to find a time to get your documents notarized that works with your work schedule if you're on a similar schedule as the bank.
But you can always see if your bank has some evening or weekend hours when a notary will be available.
Try Your Place of Employment
Your work office could have a notary public who works there.
Need Easy Extra Cash?
Pinecone Research, a leading name in online survey panel honesty, absolutely guarantees $3 cash for every survey you complete!
Take advantage of their time limited New Membership drive and register NOW. Join today: 100% free!


You can always ask your boss or coworkers if one is available.
If so, you might be able to get your notary services done for free.
Visit the Library
Libraries usually have tons of free or cheap services available for people who live in the community.
A notary service is likely one of them.
You may need to be a member with a library card to get free notary services at your local library branch, but if you're not, you might still be able to get discounted services over what others charge in your area.
And it's free to sign up for library cards, so you might even be able to do that while you're there.
Ask Your Police Department
The local police department could have someone at the office who is a notary.
If not, they'll likely be able to connect you to services in your community that do have notaries on site.
Let them know you're looking for someone affordable.
Check with Courthouses and Government Offices
The courthouse and other government offices in your community are excellent places to find notaries, as there is usually at least one on site.
Look for places like municipal courts, a Social Security Office, the local welfare or health department, and other community service buildings.
AAA
Are you a member of AAA or another auto club service that's similar to AAA?
You could get notary services for free.
AAA offers free services for notaries at its local branches for anyone who is a current member of the club along with its many other benefits.
Ask Your Insurance Agent
Your insurance agent for homeowners insurance, car insurance, life insurance, or other policies might be a notary public or know of another person in the office who is.
And, since you're already a paying customer, it's possible that you get your services for free.
Find a Notary at Your College Campus
Are you currently attending a college or university?
Ask if there's a notary on campus.
There usually is in the administrative office or library.
UPS Store
Your local UPS store could have a notary on site (many of them do), and they usually offer affordable prices to get it done.
Utilize Your Military Base
If you're a service member or a civilian who lives on a military base, you should be able to get documents notarized for free by visiting a notary on base.
Just have your military ID card ready when you visit.
Use Mail Boxes Etc.
Mail Boxes Etc. is a shipping company that has physical locations in several countries, including 500 in the United States.
Some of these locations have notary publics present that you can use when you need to.
Ask Your Real Estate Agent
If you need documents notarized relating to your home's sale or purchase, your real estate agent is the person to turn to.
They might even be able to help you with other documents, too.
Try Local Car Dealerships
Car dealerships often have a notary or two on hand because they're usually necessary for the car buying or transferring ownership processes.
You might even be able to get a better deal from a car dealership notary if you've already purchased a car from it before.
Senior Citizens Centers
Some senior citizen centers may also have a notary available to help senior citizens get documents notarized conveniently.
Earn Everything… nearly!
Join Opinion Outpost, one of the few faithful and honest survey panels and earn cash and gift cards for your opinion. Stack your points and redeem them: Simple! No hidden fees and completely free!


If you frequently visit someone in a senior citizen center, you might be able to take advantage of the notary's special pricing.
Ask Your Tax Preparer or Accountant
Many tax preparers and accountants also offer notary services.
As an already paying customer, you could potentially get your services for free or discounted.
Your Attorney's Office
If you have an attorney for a business or your personal needs, you should check with their office to see if they have someone that has notary services.
If you're currently involved in a case with your attorney, they may not even charge you extra to get your forms notarized.
Barter for Notary Service
Do you know of someone who's a notary public, and you provide some type of service that could help them?
If so, why not try bartering?
You can always offer up your service in exchange for free notarization, especially if you have a multi-page or multi-signature document that could be costly when notarized.
This is probably best left for someone you know, though, instead of a random notary who probably won't think very highly of you trying to trade for free services.
Search Online
Still not turning up any notaries near you that might be able to lower your costs for notarization?
Try searching online.
Some sites are dedicated to locating notary publics near you, like Notary.net and 123 Notary.
Just fill out your location, and the sites should pull up a few options for people who can help you.
Get Notarized Online
One of the easiest and most convenient ways to get documents notarized is by getting it done online.
But wait – don't you need to be present?
Yes, you do need to be physically present to have someone notarize documents.
But Notarize.com allows you to be present digitally to get your service done, which still allows legitimate notaries to verify your identity.
To use this service, you'll upload your ID for the site to verify.
You'll also upload your documents and then hop on a video call with a verified notary to get the process completed.
The problem with this service is that you are paying for convenience, so it's only a good idea to use it if you really can't find a cheap local option or your local options aren't available when you are (this service is available 24/7).
The price for one document and notary seal is $25, and you'll need to pay $10 for each additional seal your documents need.
The site does provide bulk pricing for bigger orders, so you can contact the company for a custom quote if necessary.
Executive Notary Pro
Executive Notary Pro is an efficient, reliable, and professional full-service notary company located in Williamsburg Virginia.
They have over a decade of experience assisting clients with document signings and at the loan signing table.
Whether you need a general mobile notary or loan signing, they are available in person and 24/7 through remote online notarization.
Read More: 23 Top Class Action Rebates You May Qualify for in 2021
How to Avoid Paying Too Much for Notary Services
Have you found a notary that seems promising, but you want to make sure you're not paying too much?
These tips can help:
Know What the Maximum Fees Are in Your Area
Did you know that each state and territory has a maximum fee that notaries are allowed to charge for their services?
Knowing this information for your state can help you make sure that you're not overpaying to get a notary for your documents.
In most cases, notary fees won't go over $5, but some states allow notaries to charge more.
Florida notaries, for example, can charge $10, while notaries in California can charge $15.
Check this chart to learn what the fees are for notary services in your state.
If your notary is charging more than what's allowed, then they're doing so against the law, and that's probably not someone you should be doing business with.
Get the Real Deal
Some notaries may say that they can notarize your documents without you being physically present or do something else that goes against what a notary is allowed to do.
If that happens, you're paying for a service that isn't legitimate.
If you're going to pay for a notary, you should ensure that the notary is legit and willingly follows all of your state's laws regarding notarizing documents.
In most cases, that means that you need to be present, the notary needs to actually look over the documents, and the notary needs to ensure that you are who you say you are through verifying your identity.
If they don't do those things, then you're paying for fraudulent work.
Get All Pricing Beforehand
You could call ahead before visiting a notary public to make sure you understand all the pricing involved in getting your documents notarized.
For only one or two documents, you shouldn't be looking at high fees.
However, notarizing multiple documents could run fees up quickly, depending on where you live.
Some states, for example, allow notaries to charge a fee for every signature they notify.
At $5 or $10 each, that can add up fast!
Instead of asking how much the notary fee is, ask about the fees per signature or per certificate (the latter refers to how many seals the notary actually has to affix) and any other fees associated with notarizing your documents.
Utilize People and Organizations You Already Know
Usually, you can find better prices – or even free notary services – when you find a notary that you already work with in some capacity.
For example, banks and credit unions often don't charge their members fees, or they at least keep fees minimal for members.
A car dealership you've used, your real estate agent, or your accountant might also notarize your documents for free because you have a working relationship.
Organizations you're a part of may also list free notary services as a benefit of your involvement.
Always check these places and people first before going elsewhere.
Find Cheap or Free Notary Services Near Me
Now you're armed with several places to contact for an affordable or free notary!
It always helps to know of ways you can save money, and this could be one of those simple ways to save on something you may need some day.
If you know of other tips that have worked for you to get free or cheap notary services, please let our other visitors know in the comments below.
Related Posts:
Earn Everything… nearly!
Join Ipsos iSay, one of the few Faithful and Honest survey panels and earn prizes, gift cards and donations. Stack your points and redeem them: Simple! No hidden fees and completely free!