55 Best Companies That Hire Remote Workers
Updated on: by Amy Kennedy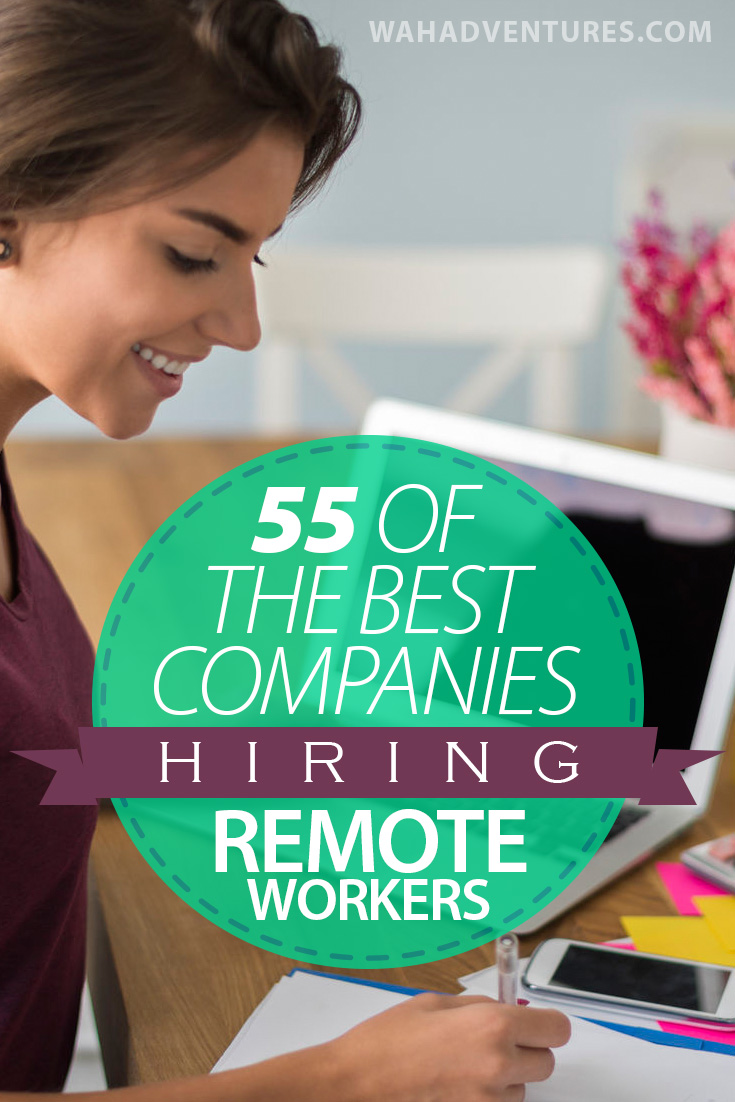 The number of companies that let you work from home seems to be growing every year.
Need Easy Extra $350+/Month For Free?
It makes sense since our world is becoming more digitized and businesses save a lot of money by outsourcing their work to remote workers.
It's time to cash in on the work-from-home job growth by applying to jobs with telecommuting companies and making your dreams come true.
Whether you're looking for remote sales jobs or customer service positions, this list will have something for you.
These are some of the best places to work remotely, thanks to factors like flexible schedules, excellent management, great benefits, or high pay rates.
Best Companies That Hire Remote Workers
Nielsen (Review) – Aside from its Digital Voice program that pays you to participate in market research from home, Nielsen also provides full-time and part-time remote jobs.
Accenture – Accenture offers digital business solutions. The company has flexible working opportunities, including "extended home location," which allows you to work from home for extended periods of time.
Adobe – Adobe is listed as one of the "100 Best Companies to Work For" by Forbes, and some of its professional positions are filled by remote workers. You can search remote positions using the Location filters on the job search page.
ADP – ADP highly supports telecommuting and provides remote positions in sales, IT, Management, Human Resources, and more. Most jobs require plenty of experience and a college degree.
Aetna – Aetna's network of healthcare and pharmaceutical services and professionals employs remote workers all over the United States. Most positions will require specific degrees relevant to the position.
Allergan – The pharmaceutical company was formerly known as Forest Laboratories and seeks customer service representatives to work from home. Allergan usually lists remote jobs on Indeed, FlexJobs, or Smart Recruiter, rather than its website.
American Express (Review) – American Express offers customer service, sales, Human Resources, and other positions to remote workers and is named one of the top 20 remote job companies.
American Heart Association – The American Heart Association occasionally has remote positions for Advocacy Managers, Medicine Advisors, and more. Search "remote" as a keyword in the job search.
Appen (Review) – Appen has one of the preferred search engine evaluator jobs that you can do from home. Must be able to work at least 20 hours per week.
Apple – Apple remote jobs are in high demand because it's such a prestigious company and they offer several benefits, like a free Mac and paid time off. Apply to an open At Home Advisor position closest to your city.
Apptical (Review) – Apptical provides several technology solutions to companies. It hires remote workers for telesales, administrative support, and telephone interviewing with insurance agents.
Need Easy Extra Cash?
Pinecone Research, a leading name in online survey panel honesty, absolutely guarantees $3 cash for every survey you complete!
Take advantage of their time limited New Membership drive and register NOW. Join today: 100% free!


Automattic – Automattic is known for its virtual office, hiring remote workers from all over the world for plenty of positions for tech and customer service professionals.
Bausch & Lomb – Bausch & Lomb's flexible remote positions include territory managers, sales managers, and medical equipment specialists.
Baxter Healthcare – Baxter Healthcare provides a variety of flexible workplace options for its employees, including part-time work, part-home work, or full remote work.
Brainfuse – Brainfuse allows its tutors to teach 100% remotely. If your resume seems like you're a good fit to tutor, Brainfuse will send you a special link to continue with the application process.
Cisco Systems – The majority of Cisco's employees now work remotely for its various professional positions.
CitiBank – CitiBank allows some Customer Service Representatives to work from home. You must be available for nights and weekends on a part-time schedule.
CyberCoders – CyberCoders is a company that provides hiring technology to businesses. It offers several remote positions, like Remote Services Technician and Remote Coder.
Dell – The technology company has plenty of remote jobs from which to choose, from business development positions to customer service and tech support.
Dotdash (Formerly About.com) (Review) – When it was About.com, writers could sign up to be a "guide" in an area of expertise, writing expert articles from home. The re-branded Dotdash focuses on many of the same topics as About.com did, but in a more organized way by using separate websites.
To write for one of its sub-sites, visit and apply on the site you're interested in.
Enterprise (Review) – Enterprise hires work from home sales representatives to assist customers with questions and reservations. The position pays $12.50 per hour plus commissions. You must apply to the job that's closest to your location.
Gannett – Gannett hires commission-based sales representatives to work from home with local travel. Must have at least two years of sales experience.
General Electric – General Electric offers flexible home-based position with some travel required. Most of its remote jobs can be found on FlexJobs or Indeed.
Google – Google remote jobs are tough to find, but they do exist. Most of its remote jobs, however, prefer bilingual candidates.
HP – The tech product company offers several remote positions for professionals, including tech and customer support positions.
Humana – You can narrow down Humana jobs using the "Virtual/Work from Home" filter. Most of its work positions require specific certifications or licenses, such as Registered Nurse.
IBM – Although IBM recently announced that it's downsizing its remote positions to get more people back to the office, it still will allow some to work remotely with flexible schedules.
Intuit – Intuit has several remote positions throughout the United States for sales and tax specialists. Bilingual specialists are preferred.
JetBlue – JetBlue seeks remote reservation agents to help answer questions and book reservations for JetBlue customers.
Kaplan – Kaplan has flexible remote positions for Exam Prep Instructors, test scorers, and more.
Kenexa – Kenexa is a sub-company of IBM that helps businesses locate the perfect people to hire for their teams. It allows Staffing Consultants to work remotely, helping to gauge a business's needs and match them with the appropriate applicants.
Lockheed Martin – Lockheed Martin posts most of its remote jobs on job search websites, like Simply Hired and FlexJobs. Its remote positions require technical and professional experience.
Microsoft – A leader in the tech world, Microsoft enlists remote employees to take care of technology crises, recruit business partners, and provide business consultations. You can find these positions on FlexJobs.
Mozilla – Mozilla has remote workers all over the world, including part-time and full-time freelance positions.
NetApp – NetApp is ranked one of the top 50 in Fortune Magazine's "Best Companies to Work For". The computer storage and data company sometimes has openings for trainers and other remote positions.
New York Life Insurance – This company has both remote full-time and part-time positions, including insurance sales agents and customer service representatives. The positions require you to do some traveling, but they also provide a company car, full benefits package, and a computer for work purposes.
Novartis – Novartis is a global healthcare company that offer remote jobs all over the world. Most will require a background in healthcare and special expertise in specific medical areas.
Patch – Patch is an online news and information company that allows editors, advertising managers, and other employees to telecommute.
Qualcomm – Qualcomm is a leader of wireless telecommunications. The company offers freelance, temporary, and full-time positions for remote workers.
Earn Everything… nearly!
Join Opinion Outpost, one of the few faithful and honest survey panels and earn cash and gift cards for your opinion. Stack your points and redeem them: Simple! No hidden fees and completely free!


Rackspace – Rackspace is a cloud technology company offering a variety of services to businesses. It aligns its career positions with its vision by creating several remote jobs for technical professionals and customer service agents.
Red Hat – Red Hat provides technology strategy solutions to businesses. The company offers some remote positions to employees all over the world.
Salesforce – Salesforce helps businesses with customer relations and is one of Fortune Magazine's "100 Best Places to Work For". It has several worldwide remote positions available for those with years of experience in relevant fields.
SAP – SAP provides enterprise application software to businesses. The company offers remote jobs mostly for interns or recent grads.
Sears – The retail giant offers part-time remote appointment setter positions helping people set up installation appointments. These jobs pay $10.50 per hour plus commissions.
Teradata – Teradata offers technology-driven solutions to a variety of businesses. The company has several remote positions for workers worldwide.
TestBest – Hires remote evaluators to evaluate student performance on standardized tests. Pay is per-evaluation, but most can make in the realm of $25 per hour.
Thomson Reuters – Thomson Reuters is an innovative technology company that hires remote workers for sales positions across the United States.
Tutor.com (Review) – Tutor hires people with expertise of specific subject areas to work from home as tutors. No degree is required, but you must be able to pass tests that confirm your expertise in chosen subject areas.
U-Haul (Review) – U-Haul hires at-home reservation agents. You'll complete four weeks of online training and then work a flexible schedule. The position includes a full benefits package with discounts and a medical plan.
Ultimate Software – This company is another of Fortune Magazine's "100 Best Places to Work For" and offers a variety of full-time remote positions.
United Airlines – The airline company offers part-time customer service representative and system tracing center positions. Occasionally, United Airlines also seeks reservation agents, but bilingual agents are preferred.
U.S. Department of Transportation – U.S. DOT works to keep Americans working, so its remote jobs help foster a good work-life balance. It often posts its remote positions on job search sites like Indeed and FlexJobs.
Wendy's – Wendy's outsources some of its Human Resources and Payroll management positions to remote workers across the United States.
Weyerhaeuser – Weyerhaeuser grows trees to create sustainable products. It sometimes offers remote jobs if it makes sense for the position.
Xerox – Xerox has a virtual office program led by remote workers who provide various support and administrative tasks. On the job search page, choose "Yes" under the Virtual/Work from Home filter to find remote positions.
Read More: 5 Companies that Hire Remote Workers Internationally
Remote Job Opportunities
If you're looking for even more remote job opportunities, you're in luck. At Work at Home Adventures, we have plenty of helpful lists to find the perfect remote job!
Want to gush about your work at home job? Be sure to leave us a comment and let us know what's worked for you!
Related Posts:
Earn Everything… nearly!
Join Ipsos iSay, one of the few Faithful and Honest survey panels and earn prizes, gift cards and donations. Stack your points and redeem them: Simple! No hidden fees and completely free!