32 Consignment Shops Near Me to Buy and Sell Stuff Quickly and Easily
Updated on: by Amy Kennedy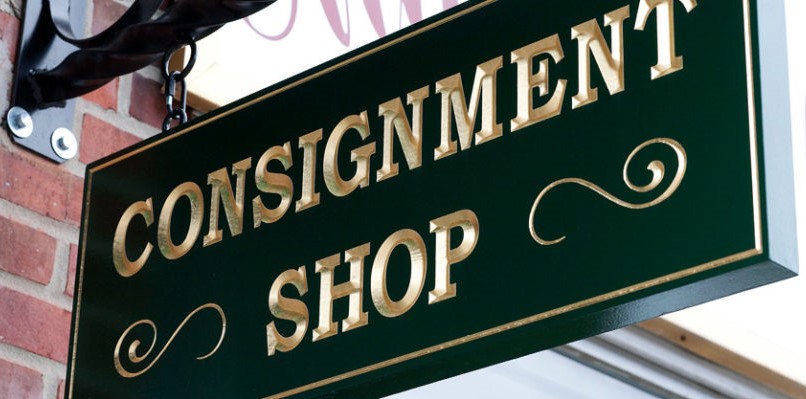 Selling things you don't need anymore is one of the best ways to declutter your home while also making some money.
Need Easy Extra $350+/Month For Free?
From clothing to kids toys to furniture, you can sell your gently used items quickly and easily when you consign them.
What does it mean to consign?
Consignment is the process of selling used items to get a portion of what you paid for them back.
Usually, consignment shops offer you either a set price for your item or a percentage of the relisting price or selling price.
For example, you might want to resell a shirt that you bought for $50 that's in excellent condition with no tears, stains, etc.
The consignment shop might offer you $15 to resell the shirt for $30, which still gives you some money for it instead of throwing it away or donating it for nothing.
Or, you might get an offer of %40 of the selling price. If it sells for $30, you'd get $12.
Consignment shops are different than thrift shops, which usually run on donations rather than purchasing items to resell.
That's why you might find cheaper items in thrift shops, but they also may not be the same quality you can get from a consignment shop.
And you, as a seller, won't make any money by donating to a thrift shop.
So, while they're both great spots for finding stuff to buy, if you want to go the selling route, you'll want to stick with consignment.
This guide will help you find both local and online consignment shops to sell everything from womens clothing to living room furniture!
Best Consignment Shops Near Me: National Brands of Clothing Resale Shops, Furniture Shops, and More
These consignment shops have locations in more than one area – many are located all over the United States! – to help you find one near you to consign with.
Buffalo Exchange has locations in several states, including Washington, Georgia, Nevada, and Texas.
You can contact the store near you to set up an appointment to drop off your items.
Need Easy Extra Cash?
Pinecone Research, a leading name in online survey panel honesty, absolutely guarantees $3 cash for every survey you complete!
Take advantage of their time limited New Membership drive and register NOW. Join today: 100% free!


The store pays 30% of the sales price when you choose to use PayPal or 50% when you use a Digital Trade Card.
Alternatively, you can even send in your items via UPS with the Sell By Mail program – perfect if you don't have a location near you.
This consignment store has more than 130 stores located in 30 states, so there's a good chance that there's one near you.
Clothes Mentor is all about the clothes and accessories, so you can sell stuff like jeans, jackets, shoes, scarves, and sweaters here.
Call to set up an appointment to drop off the belongings you want to sell to Crossroads, which has locations in California, Colorado, Texas, New York, and more.
You can drop off up to 50 items at a time, and all clothing items must be cleaned before bringing.
You get 30% of the sales price in cash or 50% if you choose to get store credit instead.
If you have instruments or guitar gear to unload, then try Guitar Center.
This place has more than 200 stores located across the United States.
Many locations will give you up to $1,000 for your used stuff, depending on its value.
You can fill out this form to get more information.
Use the LetGo app to find buyers near you who want to buy your stuff.
You can use it to upload photos of your items, set a description, and then talk to potential buyers to set up shipping or a meeting location.
It's like setting up a yard sale online!
OfferUp is very similar to LetGo, but it additionally offers shipping policies that help you stay protected when you decide to ship your items instead of meeting with buyers for pickup.
You can set your prices for everything you sell, making sure you get the right price for them.
Once Upon a Child buys baby clothing, gear, shoes, toys, games, books, furniture, and more.
Once your little one outgrows their stuff, you can send it here to get cash on the spot for your goodies.
Use the store locator tool to plug in your zip code and find your nearest location.
Plato's Closet looks for clothing from popular and trendy brands like American Eagle, Under Armour, and H&M.
You can bring in your stuff, let the associates value it, and walk away with cash on the spot for everything.
Play It Again Sports is a consignment shop for all things sports, including clothing and gear.
It's owned by the same company that owns Plato's Closet and Guitar Center.
Not all locations offer consignment, but the ones that do will pay you a set rate after your items sell.
Style Encore is another clothing consignment shop with several locations across the United States.
This shop is focused on all women's clothing, with mostly higher-end brands, like Gucci, Kate Spade New York, and Michael Kors.
You can get a pricing review for all your items after dropping them off and leave with cash if you accept your offer.
Wasteland is a California-based company with four locations in the state.
All locations accept drop-offs between 12 and 6 every day of the week.
Earn Everything… nearly!
Join Opinion Outpost, one of the few faithful and honest survey panels and earn cash and gift cards for your opinion. Stack your points and redeem them: Simple! No hidden fees and completely free!


You can get 35% of the total resale value of your items when you choose to consign with Wasteland.
Read More: Top 36 Ways to Sell Used Furniture Fast Locally and Online
Online Consignment Shops for Clothing, Furniture, and Other Items
You can also opt for online sales with one of these excellent consignment and selling sites below.
Amazon isn't technically a consignment shop, but it is a great place to sell items online – yes, even used ones.
Plenty of sellers take to Amazon to sell used items that are in good condition and meet the website's standards.
If you have a seller account on Amazon and sell items that are allowed to be sold as used on the platform, just be sure, to be honest in your items' descriptions to let others know the condition of them.
Betty is a physical store that allows you to sell online.
It accepts handbags, shoes, and accessories from designer brands.
You can fill out the form to begin the selling process and wait for your offer before getting paid with Cash App, Google Wallet, or PayPal.
Carousell is an app that allows you to sell either locally or online, although you can find more potential buyers when you offer to ship your items.
You can sell just about anything here, including vehicles.
Chairish is a consignment shop for furniture, lighting fixtures, and home décor.
Sign up to consign with the online store and benefit from free listings, verified buyers, and at least 70% of your sales prices with a PayPal payment.
Dealo is an app that allows you to sell just about whatever you want to anyone online who wants to buy it.
The app is currently only available for iOS devices.
eBay is an excellent place to go to sell almost anything you want to online, including your used stuff that you don't want to open a yard sale for.
On eBay, you can choose to sell items in bulk or separately and as an auction or fixed-price sale.
Use the description area to note the condition of your stuff.
Kidizen lets you consign children's clothes.
Before you start listing, you can have a consultation with an expert to figure out what you want to sell and how to do it.
Then, Kidizen will take care of listing the details and taking photos.
You can either ship your stuff in or have someone come pick up your items.
LePrix is an online consignment shop for men and women's clothing and accessories.
You can fill out the online form to get in touch with someone who can explain the consignment process for you.
LePrix offers a white-glove service that includes a mailed kit for you to send your stuff back and receive a quote.
Material World is a subscription box that sends pieces of used clothing to subscribers.
It relies on your consigned pieces to make those boxes happen.
Material World sends you a kit to send in your items and will email you an offer for them once everything gets reviewed.
You'll get paid via PayPal or can get credit toward a Material World box of your own.
Sell everything from video games to handmade stuff on Mercari, a website, and an app fit for sellers like you.
Take a few minutes to list stuff and set your prices, and you can get paid minus a 10% selling fee.
Poshmark is a major hit with clothing consigners.
This app is all about fashion, and people just like you are making a lot of money consigning their used clothing.
You pick your prices!
Sell designer bags and accessories on Rebag.
This online consignment store gives your items a grade based on brand, condition, and value, and will give you an offer accordingly.
ReSee is a site where people can buy once-loved designer clothing.
You can either start the selling process online or book an appointment to have someone come and look at your stuff to give you an offer.
Swap is an online consignment store primarily for clothing.
When you sell gently used clothes here, you can get store credit for everything.
This site is for luxury consignment of fashion, accessories, home goods, and kids stuff.
You can ship your items for free with UPS after speaking to a consultant.
Get paid by direct deposit, store credit, or a check each month when you have an item sell.
Get a free Clean Out Kit from ThredUp and send in whatever clothing you want to get rid of.
However, you'll need to make sure it's in excellent shape to be accepted.
ThredUp will pay you a percentage of whatever sells.
Vinted is a site and app to sell clothing.
You can take care of managing your listings and setting prices.
Vinted pays by direct deposit into your bank account and has no listing fees.
Sell jewelry and watches on Worthy.
Just send in your jewelry with a prepaid and insured shipping label.
Then, wait for the company to inspect and value your stuff.
You can choose to set a reserve price for your jewelry to ensure that you get a minimum amount for it.
Then, set up your auction with the help of Worthy and get paid when it sells.
Read More:
22 of the Best Places to Sell Clothes Online (Plus Extra Ideas to Try!)
19 Best Places to Sell Used Items Online (Plus Offline Places to Sell!)
Other Places to Sell Locally
Here are a few other places that aren't technically consignment shops where you can still get rid of stuff you don't want while naming your price.
Craigslist
Craigslist is free to use in most cases, giving you a simple and cheap way to get rid of stuff and get paid for it.
You can list for free and wait for people to contact you via the private messaging system.
Facebook Marketplace and Groups
Facebook is definitely one of the best places to sell items.
You can list everything in a few minutes and wait for people to contact you through the Marketplace.
Or, join local groups that focus on buying and selling (you can usually find them by asking your local Facebook friends) and sell items there.
Use Messenger to talk to people interested in your items and set up a public meeting spot to exchange.
Instagram
Interestingly, Instagram has become an awesome place for people to sell their goodies.
Simply snap a picture of what you're selling, use the caption area to leave a description and price, and wait for people to contact you.
You can add to your caption the areas in which you're comfortable meeting up, so people know where to find you.
Be sure to only talk to potential buyers in direct messages and never give out your address.
Where Else Can I Find Clothing and Furniture Consignment Stores Near Me?
In addition to using the places above, you might want to find some other options.
Not all of the local places will have a location that's close enough for you to get to quickly, so maybe you're looking for something that's within an easier driving distance to you.
Don't worry – you have other options!
I like to start by asking friends and family on social media when I'm looking for something.
I almost always can find someone who can help, so it can sometimes be a better option than searching Google, which doesn't give you every result for places near you.
So, start there.
Then, head to Google.
With a quick search of "consignment shops near me," you should be able to locate at least a few that are close to you.
You can also use sites that help you find consignment and thrift shops near you by searching their curated database, like Showroom Finder and The Thrift Shopper.
You can enter your zip code or click on states to find shops in your area to sell with.
Conclusion: Local and Online Consignment Shops
Selling with consignment shops is usually a quick and painless process that can help you avoid time-consuming yard sales.
You can still get money from your used items without just tossing them in the trash, and you'll ensure that they're going to a new home where someone else can love them – it's a win-win.
Be sure to look up reviews of any consignment shop before you use it to get an idea of the experiences other people have had with it.
It's always a good idea to check out their pricing structures, too, as some will lead to more money for you if they give a higher percentage for consignment.
Once you've found the right place, gather up your goodies, and get them sold!
Do you know of other local or online consignment shops that you want to tell us about? Please leave a comment below.
Related Posts:
Earn Everything… nearly!
Join Ipsos iSay, one of the few Faithful and Honest survey panels and earn prizes, gift cards and donations. Stack your points and redeem them: Simple! No hidden fees and completely free!