55 Legitimate Sites Where You Can Download Free eBooks
Updated on: by Amy Kennedy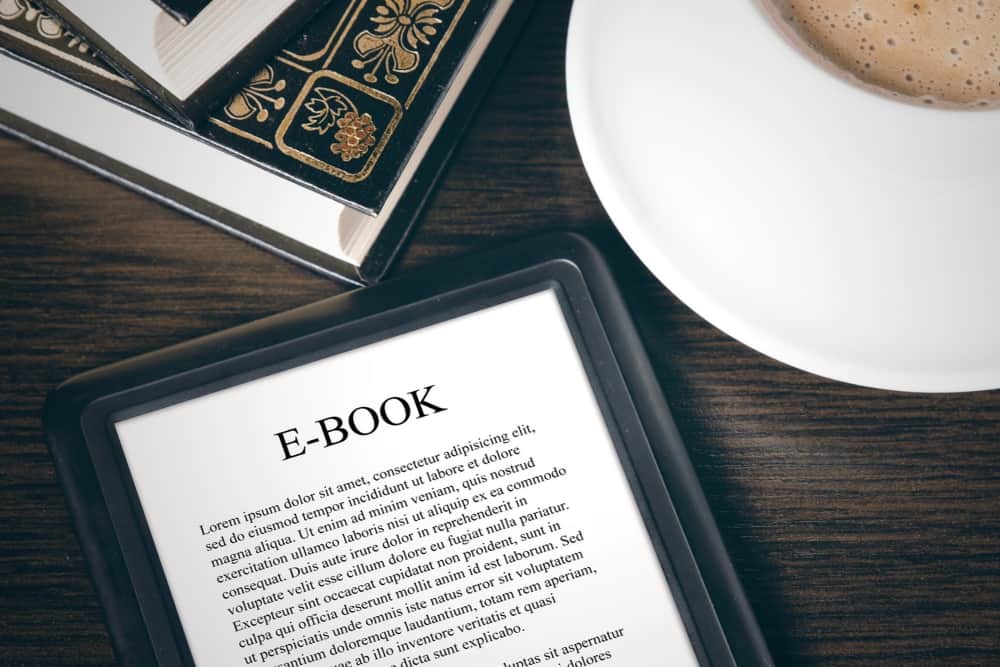 Are you an avid eBook reader?
Need Easy Extra $350+/Month For Free?
Digital books are super convenient, especially when you're traveling.
Just load one onto your phone or tablet, and you have an instant book waiting for you to read it.
But how much have you spent on your digital book library?
Although eBooks are sometimes less expensive than print books, they aren't always, so you could end up spending a lot of money on your collection.
Unless you get them for free!
The following list includes websites like iBookPile and Oxford Owl, which offer free eBook downloads for kids and adults to get new stuff to read whenever they want to read it.
The best part is that most of the sites don't even require you to register an account.
Just head to the site, browse the selections, and download what you want to start reading.
Where to Download Free eBooks Legally without Registration
If you're not a fan of registering for every site you want to download eBooks from, then this category is for you.
The following websites are all free to use, and they don't require you to register an account to download anything.
Just visit the site, find what you want, and save it to your computer or device.
OpenLibrary.org
OpenLibrary.org has thousands upon thousands of books in multiple categories to browse through, including biographies, science fiction, fantasy, and mystery.
Although you aren't required to sign up for anything, you can choose to register an account to save books to find easily later.
eBook Hunter
This site has mostly romance, thriller, and paranormal books for you to download, but there are also others here to enjoy.
Need Easy Extra Cash?
Pinecone Research, a leading name in online survey panel honesty, absolutely guarantees $3 cash for every survey you complete!
Take advantage of their time limited New Membership drive and register NOW. Join today: 100% free!


You can also request an eBook you want to read by filling out the online form.
Bookyards.com
Bookyards has over 24,000 eBook titles in its collection, and it's all for free for you to download.
The site does welcome donations to keep it available for free, but you're not obligated to give anything if you can't or don't want to.
Project Gutenberg
This online library has more than 60,000 free eBooks available to everyone.
You can choose to read them online through the website or download them to your tablet, e-reader, or other device to read even when you're offline.
Oxford Owl
Oxford Owl is a free online library of eBooks for children.
The books are designed for ages 3-11, and you can browse through the selections by age, subject, and reading level.
eBook Lobby
As the name suggests, eBook Lobby is a digital lobby full of electronic books.
Browse the categories to find books within your areas of interest to read on your devices.
Categories include cooking, health, sports, and travel.
Open Culture
Open Culture is a site that showcases all kinds of free media for resources and entertainment, and eBooks are one of the things it gives away for free.
You can find eBooks for your Apple devices, Kindle, and other reading devices.
Planet eBook
Planet eBook features free classic literature, like Moby Dick and The Three Musketeers.
Search the featured books on the main website or browse the selections by author or title.
Internet Archive
Internet Archive is a site dedicated to helping you find things that exist or existed on the web, including eBooks.
Search for a specific title to locate it or browse the collections to find books from the California Digital Library, Biodiversity Heritage Library, and more.
Booksee.org
This online library has more than two million electronic books to share with the world for free.
If you're using the website, you can switch to the mobile version for proper viewing on a mobile device.
Get Free eBooks
The name of this one says it all!
Visit the site and have access to tons of free digital books in a variety of categories.
Earn Everything… nearly!
Join Opinion Outpost, one of the few faithful and honest survey panels and earn cash and gift cards for your opinion. Stack your points and redeem them: Simple! No hidden fees and completely free!


You can also find articles with book list suggestions depending on what kind of books you're looking for.
UPenn Digital Library
This online book resource comes from the University of Pennsylvania, and it lists more than three million books that you can find on the web for free.
It's updated almost every day, so check back often to see what's new.
Library Genesis
This site is quite outdated looking, but it still works to find free books online.
You can search for a book by title or topic or browse the most recently added titles using the Last link at the top of the page.
Wikibooks
Wikibooks is like the Wikipedia of the book world, allowing you to view online versions of books or download books that are free to the public.
There's even a section filled with children's books.
The eBook Directory
This website has lots of ways for you to find new books to read online, whether you want to know what other websites to find them on or just browse the site to see what's new.
PDF Grab
This site features thousands of free textbooks and eBooks in their PDF versions.
As long as you have a PDF reader, you can view and read these texts (some browsers have built-in capabilities for reading them right on your browser, too).
Z-Library
Find tons of books completely for free, including classic books and modern novels.
You can email yourself the book or send it to your Kindle with a registration, but you don't need to register to just download the books you want.
Feedbooks
Feedbooks puts public domain books on display for you to read online or download for free.
Find everything from classic mysteries to brand new releases.
FreeTechBooks
If you're looking for books on science, technology, and similar subjects, then this is your place.
The free resources here could definitely help someone in a relevant career or course of study in college.
You can also find lecture notes for science-related topics.
Storyline Online
Storyline Online has lots of free children's books for kids to enjoy without visiting the library or buying new books for their bookshelf.
The site runs off donations, but it's not necessary to give anything or sign up to get access to the books.
Ocean of PDF
This book site gets updated pretty frequently with PDF files that you can download to your computer or another device to read when you want.
You can also request books you want to read, although there are no guarantees that they'll get added.
The Library of Congress
The Library of Congress is a government site that has collections of free books available to the public, including children's books, American history books, and government-related books.
You can also find print clips, paintings, audio recordings, and other helpful information.
Visit The Library of Congress.
LibriVox
LibriVox has audiobooks for free that you can download and listen to in your spare time.
Want to help out?
You can also offer to volunteer your time reading audiobooks for people to listen to.
Centsless Books
Centsless Books doesn't actually provide free books itself, but it links to other websites where you can find the books it lists for free.
You can also choose to sign up for the free newsletter to get emails when new books are available for free.
Bibliomania
Find everything from free books to poetry to study guides here.
There is a lot of reference-type material available for free, so it could be helpful to people who are studying or writing papers.
iBookPile
Choose any book you want to read that's listed on iBookPile and start reading!
The site has helpful answers to FAQs that explain how to download your books and convert them to the file you need for your specific device or e-reader.
Online Programming Books
Get free books about programming and computing from this site, which has tons of reference books to help you learn topics like C++, SQL, and Linux.
All the books come from authors and publishers that have listed their books for free.
Visit Online Programming Books.
International Children's Digital Library
This is one of the best online digital libraries for kids.
Browse the Featured Books on the homepage or click on the Read Books link to head to the search page to look for books by category, age range, length, and more.
You can even search by book color!
Visit International Children's Digital Library.
Authorama
Authorama is a simple site that features free-to-read books that the site owner collected and put together on one page to make them easy to find.
FreeBookSpot
Browse tons of book categories on this website to find a new book to enjoy or use the search function to look for a book by title, author, or even ISBN.
Free Computer Books
This is another site devoted to computer books in all kinds of relevant topics, like software engineering, computer languages, math, and networking.
The site updates weekly, so there's always something new to find and learn.
Bartleby
Bartleby is a good resource for finding some of the best classic books in PDF form, like The Scarlet Letter & Rappaccini's Daughter by Nathaniel Hawthorne and Anna Karenina by Leo Tolstoy.
TradePub.com
TradePub is an excellent place to find trade publications, including magazines, white papers, case studies, and books.
Categories include marketing, finance, career, and healthcare.
Alive and Free
This free book website focuses on books that come from authors who are still alive, so don't expect to find old classics here.
It's small, but all the selections are still ones you can read for free!
There are also several links at the bottom of the page to other websites that feature free books.
Bookrix
Bookrix is an online platform that offers a wide selection of free ebooks across various genres. 
It provides a user-friendly interface that allows readers to discover and download ebooks easily. 
The site also encourages aspiring authors to publish their own works and connect with a community of readers and writers. 
Bookrix offers both free and paid ebooks, with the free section offering an extensive collection of titles to choose from.
Visit Bookrix to explore their collection of free ebooks and engage with fellow book enthusiasts.
eBook Takeaway
eBook Takeaway is a website that offers a vast library of free ebooks in multiple genres. 
From romance and mystery to science fiction and non-fiction, eBook Takeaway provides a diverse range of titles for readers to enjoy. 
The site allows users to browse through categories or search for specific titles, making it easy to find desired books. 
With its extensive collection of free ebooks, eBook Takeaway is a valuable resource for book lovers looking for new reading material.
Visit eBook Takeaway to discover their extensive collection of free ebooks available for download.
Free-eBooks.net
Free-eBooks.net is a popular platform that provides a large selection of free ebooks in various formats.
The site offers a wide range of genres, including fiction, non-fiction, romance, self-help, and more.
Users can browse through the collection, search for specific titles or authors, and download ebooks in formats compatible with different devices.
Free-eBooks.net also offers a premium membership for additional features and access to a larger ebook library.
Visit Free-eBooks.net to explore their extensive collection of free ebooks and start downloading your favorite titles.
Libby
Libby is a user-friendly mobile app and website that allows users to borrow ebooks and audiobooks from their local library. 
Developed by OverDrive, Libby connects to a vast network of participating libraries, giving users access to a wide range of digital reading materials. 
With Libby, users can browse their library's catalog, borrow ebooks, and enjoy them on their preferred devices. 
The app also offers features like customizable reading settings and syncing across multiple devices, making it a convenient platform for digital book borrowing.
Visit Libby to learn more about the app and how to access free ebooks and audiobooks through your local library's digital collection.
Where to Download Free Epub Books Online with Registration
Here are some other sites that do require you to register for them.
Still, registration is free, and you can always unsubscribe from emails if you don't want to continue receiving them.
Your Local Library
First, let's start with your local library!
Your library branch might have its own app or service for getting eBooks for free as long as you have a library card through that branch.
Many libraries are going digital, even in rural areas, so there's a good chance your library is set up with something.
A lot of them partner with other apps, like Overdrive or Libby, to give you access to eBooks at your fingertips, and you can use your library account information to sign up and log in.
Ask the librarian the next time you visit or give your local branch a call to see what's available.
Usually, you can "borrow" a limited number of books at one time, just like you would at the library, and have a few weeks to finish them up before returning them to the digital catalog.
ManyBooks.net
This site has over 50,000 free eBooks listed for you to explore and enjoy.
Search for a specific book or browse by category, author, and other search filters.
BookBub
Register for this site for free to get access to free books all over the web, including ones you can find on Amazon, Barnes & Noble, and other popular book suppliers.
AvaxHome
AvaxHome lists new free books just about every day, including magazines, cookbooks, and other types of books to devour in your spare time.
AudioBookbay
This site is an excellent resource for free audiobooks in just about any genre.
There are books available for children, teens, and adults.
Overdrive
Overdrive is an app and website that many libraries connect with to bring you free eBooks to read right through your library account.
You'll usually need a valid library card to enjoy everything Overdrive has to offer.
Free eBooks
Although you don't have to register for a Free-eBooks account to browse the site, you can do so to get five free eBooks every month to read, and they'll get sent directly to your email inbox.
BookBoon
BookBoon offers a free eBook subscription to give you access to more than 1000 free textbooks from professors who are experts in a range of subjects.
You can also sign up for a free trial to its business eBook subscription for 30 days.
Books-Share
Find free eBooks about cooking, computers, hobbies, health, drama, education, and more.
There are also free Bibles and children's books.
Google Play
Many books available on Google Play are 100% free to download, including The Raven by Edgar Allen Poe and The Invisible Man by H.G. Wells.
DailyLit
DailyLit sends you installments of free eBooks to read at your leisure after you sign up for an account.
Choose how long you have to read and it'll send you a chunk of the book that fits within that time slot.
DP Group
DP Group is a forum for book enthusiasts.
There are many conversations here about free eBooks and where to find them.
You just need to sign up for a free account to be able to see and create posts.
Read Print
Get thousands of online books here that you can search by title, author, subject, and more.
You can also join the site's online book clubs and groups to find other like-minded book lovers.
BAEN
Sign up for an account to be able to add free books to your "cart" to read.
Free Kindle eBooks
As the name suggests, this is where you can find free Kindle eBooks to read for kids, teens, and adults.
You can sign up for the newsletter if you choose to get suggestions and notifications for new books.
Mobilism
This forum can help you find free magazines, comics, and books to read.
It also has a premium subscription service which you can get a free trial of.
Kobo
Get free audiobooks and eBooks on this site, which is also the home of the popular Kobo e-reader.
Build Your Digital eBook Library for Free
Conclusion  mention trial sites like scribd and amazon kindle unlimited
Before I wrap this up, I also want to mention that you can sometimes get eBooks for free by subscribing to an eBook service with a free trial.
The free trials usually give you access to all paid features for a limited time, so you can try them out and decide if they're worth spending your money on.
Here are a few that you can try with a trial:
Who knows – after you try one of these you might decide that they offer all the books you want to read and that a subscription might be worth the cost.
Still, you can try them out for free until you're sure.
And you always have the huge list of 100% free services above to fall back on if you want to save money.
What are your favorite free eBook sites to use?
Related Posts:
Earn Everything… nearly!
Join Ipsos iSay, one of the few Faithful and Honest survey panels and earn prizes, gift cards and donations. Stack your points and redeem them: Simple! No hidden fees and completely free!