Working for Postmates: A Complete Guide to Delivering (Earn up to $25 an Hour)
Updated on: by Amy Kennedy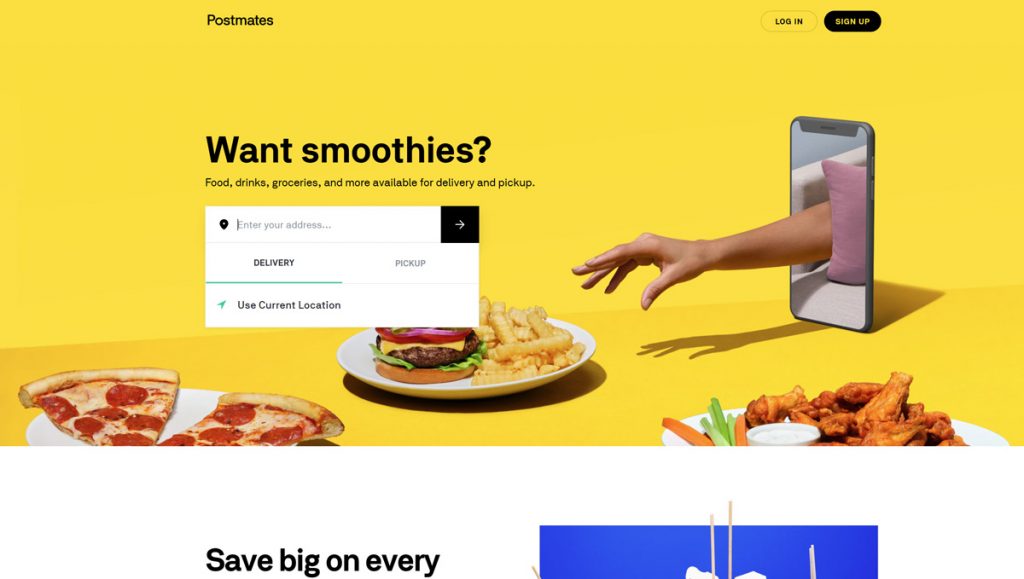 Need Easy Extra $350+/Month For Free?
More and more people are catching onto the fact they don't need a 9-5 job to make decent money.
In fact, they might even be able to make more without a traditional job.
That's where services like Postmates come into play.
These "gig" services help people have jobs with flexible hours – even allowing them to choose their own schedule right down to the minutes they work.
That means that you can choose to work one hour a day, 40 hours a week, or as much as you want to make the money you need and work around your daily schedule.
And while many of these services are awesome, this review is all about Postmates.
Postmates seems to be one that many gig workers are eyeing as a way to make money in their spare time or find something more flexible for a full-time job, so it's one I want to focus on with an in-depth review.
As a Postmates driver, you'll get all the benefits of working for yourself.
If that's something that sounds interesting to you, keep on reading to learn how it works and what real Postmates drivers have to say about it.
What Is Postmates?
Postmates is a delivery service that matches customers with drivers who can deliver the things they need to their home, business, hotel, or wherever else they happen to be.
Customers can use the Postmates app to search for places near them that partner with Postmates for delivery services.
Many of the hundreds of thousands of stores and restaurants that Postmates partners with only partner with Postmates, making the company one of the most popular and largest of its kind.
In addition to providing customers with quick, easy delivery services, Postmates also offers delivery driving positions to independent contractors who want flexible work.
As a delivery driver, you'll meet the needs of customers who order something through the Postmates app, earning money on your own time.
Postmates Availability
Postmates is currently available in more than 3500 cities across the United States, with some of the largest cities being the most popular areas for Postmates delivery services.
Need Easy Extra Cash?
Pinecone Research, a leading name in online survey panel honesty, absolutely guarantees $3 cash for every survey you complete!
Take advantage of their time limited New Membership drive and register NOW. Join today: 100% free!


A few of the big cities in which you can expect to find Postmates-partnered places include:
Charlotte
Chicago
Denver
Long Beach
Los Angeles
Miami
New York City
Phoenix
Portland
San Diego
Seattle
You can always search for locations near you that use Postmates by using the app.
Simply make sure your location settings are turned on for your device, and the app will locate restaurants and stores near you that deliver with Postmates.
Using Postmates for Delivery
As a delivery service, Postmates is mostly for food. It partners with various restaurants to provide their delivery services without them needing to hire extra people on the books for delivery.
Postmates will hook you up with a delivery person in your area who can go to the restaurant, grab your order, and bring it to you.
Some stores also partner with Postmates, too, like grocery stores or delis, so you may be able to get your groceries and fresh meats delivered to you as well.
Depending on your area, you might even be able to get books, tech devices, household items, and other goodies delivered through Postmates.
You can open the Postmates app to find places near you that use Postmates to deliver.
Click where you want to order from, place your order, and Postmates will have it delivered to you within its estimated delivery window.
It won't cost any extra for you to use Postmates, but don't forget to give a tip to your driver, just like you would if you were using an in-house delivery service.
Working for Postmates: A Detailed Review
I know many of you probably came here to learn what it's like to be a Postmates driver rather than finding out how to use the app for delivery.
This section is going to explain everything you need to know so that you can decide if Postmates delivering is something you might want to try.
How to Become a Postmates Driver
There are, of course, some requirements that you must meet in order to become a Postmates driver, including:
Be able to pass a background check
Be at least 18 years or older
Have a reliable and insured vehicle or a bike
Agree to the Fleet Agreement
Fill out an application completely
Complete your driver profile with a photo
Once you've passed all those requirements, you'll receive a welcome kit in the mail that includes a Postmates Card,
You'll need to activate that card (some markets don't require one, though) to begin working as a driver.
How Does Postmates Delivery Work?
The Postmates delivery process is quite simple on your end.
First, a customer places an order in the app for the stuff they want.
You'll get a notification in the app that someone in your area needs delivery. The app will let you know all the specifics, including the addresses of the pickup and dropoff location and any specific delivery instructions.
Once you arrive at the pickup spot, you'll pay for the items using a prepaid Postmates card that you received in your welcome kit.
Bring the order to the customer and complete the transaction in the Postmates app.
You'll receive your delivery fee plus whatever tip the customer decided to pay you (you keep 100% of your tips).
Read More: 26 Best Ways to Make Money Delivering in Your Spare Time
What's the Postmates Scheduling Process Like?
There really isn't one!
With Postmates, you can log into the app and mark that you're ready for deliveries whenever you have spare time and want to work.
Once you set your status as available, the Postmates app will know to send you delivery orders during your available timeframe when people order in your area.
How Much Can I Make with Postmates?
The million-dollar question!
The answer isn't simple, though, because how much you earn depends on a lot of different factors, like your delivery location, how often you're available, and how many deliveries you can complete in a short amount of time.
Some areas are simply much busier than others for deliveries.
Huge cities like Los Angeles and New York City, for example, probably get a lot more orders than smaller cities and towns.
Earn Everything… nearly!
Join Opinion Outpost, one of the few faithful and honest survey panels and earn cash and gift cards for your opinion. Stack your points and redeem them: Simple! No hidden fees and completely free!


However, it might take you longer to get through traffic in those cities, too, making you less likely to complete a bunch of deliveries in an hour or two.
You'll also need to compete with other Postmates drivers in busy areas.
Your customers' tips also play a role in your earnings.
Postmates does have a helpful list of payments by market, though, to help you figure out about what you can expect to make with the company. You can find that here.
In Minneapolis, for example, you'll get $1.55 per pickup, $0.70 per dropoff, $0.68 per mile, and $0.07 per minute.
Let's say you did two deliveries in one hour, each delivery took 15 minutes, and you drove about 10 miles. You'd make about $13.40 for that hour of deliveries.
That's not bad, especially for only two deliveries.
Postmates advertises that drivers can earn up to $25 per hour, which isn't unlikely if you're in a busy place with lots of deliveries happening at a time.
Read More: How Much Can You Make Driving for Uber? Find Out from Real Drivers!
How Does Postmates Pay?
Postmates pays weekly via direct deposit.
With each payment, you'll get the pay for anything you earned between Monday through Sunday of the prior week.
Depending on your bank, your pay may take two to three business days to show after Postmates sends it.
How to Maximize Your Earnings with Postmates
Want to know if it's possible to get paid more with Postmates?
It definitely is, especially if you follow these tips for higher earnings:
Schedule Wisely
Each market will be a little different in its best times for deliveries, so it might take you a few weeks to get into the groove.
Experiment with working different times and days in the Postmates app.
You might notice that Friday nights are best between 6-10 because lots of people are ordering pizzas and wings.
Or, Monday lunchtimes might bring you a lot of delivery opportunities to offices.
Your area could be busier on weekends with deliveries than through the week.
After a few weeks of paying attention to when your earnings peak, you should settle into a schedule that maximizes your earnings.
Pay Attention to Incentives
Postmates offers bonuses and other incentives to drivers.
You might receive occasional emails about these special periods that give you extra cash for working with Postmates.
There's also something called Blitz Pricing, which increases the pay for specific deliveries when there are more deliveries than drivers available.
These deliveries can really help you cash in because they're often double or triple the amount of a regular delivery.
Make sure you set your app to give you notifications when there's Blitz Pricing in your area.
Head to Hot Spots
Areas on the Postmates app that are marked in red are considered to be hot spots, which means they're a busier area with lots of delivery opportunities available.
You can always head to a hot spot and set yourself open to deliveries there to be available when orders come in.
Work for Thumbs Up
Customers can choose how much they want to tip you – and it could be nothing at all.
You're much likelier to get a great tip, though, if you follow all instructions and provide excellent customer service.
So, always work for those "Thumb Up" ratings that customers can give you after you complete their order.
If they know you always do a stellar job because of your rating, and you show them that with their delivery, then you stand a good chance of getting awesome tips.
Turn on Auto-Accept Orders
The Postmates app lets you automatically accept orders near you and update your delivery route as you drive.
This helps you get continuous orders during the time you're available instead of having to manually accept orders between deliveries.
Get Your Referral Bonus
If you were referred to Postmates by someone else, you can get a bonus when you sign up and complete your account.
Make sure you're clicking the referral link and/or entering the necessary code to get that bonus.
Check Out the Postmates Reddit
The Postmates subreddit is an excellent place to learn from other newbie and seasoned delivery drivers.
Or, you can just use it to vent about your day or provide a little humor to the rest of the community.
But there are sometimes great tips, especially for specific areas, to earn more money.
Factors Affecting Earnings with Postmates
When working as a delivery driver for Postmates, several factors can influence your earnings. 
Understanding these factors is essential for maximizing your income. 
Here are some key elements that can impact your earnings with Postmates:
Location
The city or area where you work plays a significant role in your earning potential. 
Larger cities with higher population densities often have more delivery opportunities, resulting in increased earnings. 
Additionally, certain areas may have a higher concentration of restaurants and stores that partner with Postmates, leading to more frequent orders and higher earning potential.
Demand and Order Volume
The level of demand for delivery services directly affects your earnings. 
Busy periods with high order volumes, such as weekends, evenings, or lunch hours, can provide more delivery opportunities, leading to higher earnings. 
Pay attention to the peak hours in your area and align your availability accordingly to take advantage of increased demand.
Delivery Distance
The distance between pickup and drop-off locations impacts your overall earnings. 
Longer distances require more time for each delivery, potentially reducing the number of deliveries you can complete within a given timeframe. 
On the other hand, shorter distances allow for more efficient deliveries and the potential to complete more orders, resulting in higher earning potential.
Order Complexity
The complexity of orders can affect your efficiency and earnings. 
Some orders may involve multiple items, special instructions, or additional tasks, such as picking up groceries or verifying IDs for alcohol deliveries. 
While these orders may provide higher earnings due to their complexity, they can also require more time and effort. 
Balancing efficient handling of complex orders while maintaining excellent service is crucial for maximizing earnings.
Customer Tips
Customer tips are a significant part of your income as a Postmates driver. 
Providing exceptional customer service, being prompt and professional, and going the extra mile can encourage customers to tip generously. 
Positive interactions, friendly demeanor, and attention to detail can greatly impact the likelihood and amount of tips you receive, resulting in higher overall earnings.
Incentives and Bonuses
Postmates occasionally offers incentives and bonuses to drivers to encourage specific behaviors or meet delivery targets. 
These incentives may include guaranteed earnings for completing a certain number of deliveries within a specified time frame or additional bonuses for delivering during busy periods. 
Keeping an eye on available incentives and bonuses can help you boost your earnings.
Competition
The number of drivers operating in your area can impact the frequency of order assignments. 
Higher competition among drivers may lead to fewer available orders, affecting your earning potential. 
Monitoring the level of competition in your area and adjusting your availability accordingly can help increase your chances of receiving more order assignments and maximizing your earnings.
Efficiency and Speed
Efficiency and speed in completing deliveries can significantly impact your earnings. 
By optimizing your delivery routes, being organized, and minimizing wait times at pickup locations, you can increase the number of completed deliveries within a given timeframe. 
This, in turn, can result in higher earnings as you are able to handle more orders effectively.
Is Postmates Job Legit?
Yes, it's 100% legit.
However, people can certainly have different experiences as a Postmates Fleet member.
After reading several reviews online from Postmates drivers, I've found that the most common complaint is about the pay.
Some drivers complete a few orders for just a few bucks, which they don't see as worth their time (and I can't blame them).
But that could be for a number of reasons, such as low order availability or lots of drivers competing for orders in that area during their work window.
Plenty of positive reviews negate the bad ones, though.
Many drivers compliment the flexibility that Postmates has, literally allowing you to work whenever you want.
Others like it simply because it's easy. There is no boss monitoring you all day, and you get to make money while driving.
There's a lot of good information that can help you come to the best decision for yourself about delivering with Postmates on Indeed.
Postmates Alternatives
Postmates may not be what you'd consider the right place for you – and that's completely okay.
Especially because there are plenty of other similar delivery services on the market and one of them might be a better fit for you.
In an effort to be transparent, I want to list a few of those here, along with some information about how they compare to Postmates.
Grubhub
Grubhub is a bit different than Postmates in that it only offers food delivery.
Still, the service seems to keep delivery drivers busy, especially in busier areas with plenty of places that participate.
You can also set up your own schedule and accept tips, from which you keep 100%.
DoorDash
DoorDash is another delivery service to bridge the gap between customers and restaurants.
You can use the DoorDash app for live order tracking, scheduling, payments, and more.
You'll also see exactly what you can get paid before you accept any order, which makes planning your deliveries and payments easy.
Instacart
Instacart is another food delivery service, but this one is focused on grocery shopping rather than delivering food from restaurants like DoorDash and Grubhub.
You can choose to just deliver items that a customer ordered or to become their full shopper and delivery driver to earn a little more.
You're allowed to choose your own schedule you work with the Instacart app.
Roadie
Roadie is probably the most like Postmates, but it's not quite as big as its competitor yet, which means you may not have as many deliveries for Roadie customers available in your area.
You can earn about $22 an hour when you set your schedule and accept delivery requests near you.
Shipt
Shipt is a grocery shopping and delivery service that contracts with people like you to get groceries for customers and deliver them.
Shoppers can earn about $22 an hour for Shipt and work any hours and days they want to.
Conclusion: Becoming a Part of the Postmates Fleet
If you've read all the details above and want to become a part of the Postmates Fleet, you can click on this link to sign up.
Follow all the steps to complete your application, authorize your background check, and receive your welcome kit in the mail.
Postmates can be an excellent choice for someone who wants a little extra money without picking up another job.
It's also great for college students, working parents, and anyone else who wants flexibility in how they make money.
I'd love to hear your thoughts if you've driven for Postmates in the past or currently. How did it work out for you? Did the pay meet your expectations?
Be sure to leave a comment below to let me and other readers learn more about your experience.
Related Posts:
Earn Everything… nearly!
Join Ipsos iSay, one of the few Faithful and Honest survey panels and earn prizes, gift cards and donations. Stack your points and redeem them: Simple! No hidden fees and completely free!