Best Way to Earn $5 for a Simple Phone Call Using Your Cell Phone!
Updated on: by Amy Kennedy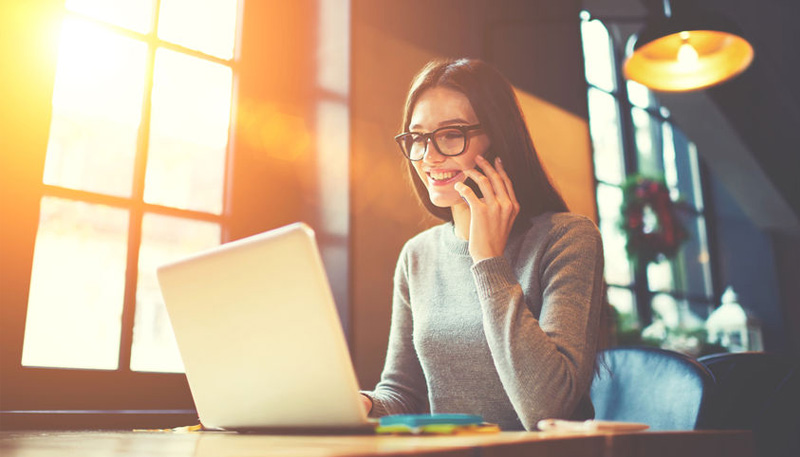 You probably already use your phone daily to make calls.
Need Easy Extra $350+/Month For Free?
If you don't mind making phone calls, you might as well get paid to do it.
What if I told you that you can get paid to talk on the phone?
And, as a bonus, you'll be able to work on your own time, with a flexible schedule, day or night.
Oh, and you can get paid $5 just for talking on the phone for a few minutes.
It's true, and it's all thanks to a company that provides these work at home phone jobs for people like you who need something flexible.
So, if you're a stay-at-home mommy or a college student who needs a flexible, part-time job to work around your schedule, this could be the perfect opportunity for you.
Did I mention that you can even use your cell phone to make calls and get paid?
Let's find out more about this company!
Get Paid to Talk on Your Phone with Call Center QA
Call Center QA is the name of the company we're going to talk about today.
You might have already heard of it mentioned on our site or other work from home websites and forums.
It's quite popular among the work from home crowd, mostly because of its flexibility and work that doesn't typically require any special skills other than knowing how to use a phone.
This company offers call center services to businesses, mostly in the realm of analyzing performance.
In other words, Call Center QA utilizes mystery shoppers to evaluate how companies are doing in the customer service department.
Call Center QA helps companies find out about their own performance and also analyzes the performance of other companies to help businesses learn what they can do better than their competitors.
The headquarters are located in Boston, Massachusetts.
Need Easy Extra Cash?
Pinecone Research, a leading name in online survey panel honesty, absolutely guarantees $3 cash for every survey you complete!
Take advantage of their time limited New Membership drive and register NOW. Join today: 100% free!


But, the beauty of this job is that you can live anywhere in the United States to come on board.
What Does This Job Entail?
When you sign on to work with Call Center QA, you'll be known as a QA Evaluator.
It's kind of a fancy name for a mystery shopper, which is mainly what you'll be doing.
You'll call businesses and pretend that you're an actual customer.
They could potentially be businesses that you do already visit and might know some things about.
You'll need to ask questions that you'd typically ask if you were a customer.
If there are specific questions to ask and other details you'll need to consider when you call, it will all be outlined before you make the call.
After your call is over, you'll rate your experience based on how you felt about the call overall, how helpful the person was, etc.
Once the Call Center QA team reviews the information you submit, you'll get paid upon approval.
Your information will be relayed back to the company to help improve its customer service department.
Essentially, you'll take telephone surveys for cash while helping companies improve!
Will I Be an Employee?
No. As a QA Evaluator, you'll be an independent contractor.
As an independent contractor, you'll still need to follow company rules for completing the job.
But, you'll have more independence as far as scheduling and your workload.
However, you'll also have to do your own taxes, which can be tricky if you're not used to doing them yourself.
If completing self-employment taxes seems confusing to you, you may want to enlist the help of an accountant to guide you through the process or even complete them for you.
For more help in this area, you can check out the IRS's Self Employed Individuals Tax Center.
What Equipment Will I Need?
One of the good things about this job is that there aren't many requirements.
Some at-home phone work requires that you have a relatively new computer, high-speed internet access, a business landline, headset, and more just to get started.
However, Call Center QA only requires a working cell phone or landline.
That's it! You just need a phone to start.
It's reported by some workers that you can even use other forms of phone calling, such as Skype, to make your phone calls, which is helpful if you don't want to tie up your personal line.
But, I do suggest also having a computer available so that you can easily track your earnings with an accounting software or spreadsheet.
What's the Scheduling Like?
This is some of the most flexible work you'll find online, so it's perfect for anyone who wants a part-time schedule that they can adapt to their personal needs.
Call Center QA doesn't have many requirements as far as scheduling.
You can work when it best suits your schedule, including weekends, evenings, or even holidays.
The only catch is that you'll need to make calls during the regular business hours of the businesses you call.
Therefore, it's best if you have some availability during normal business hours during the week.
Call Center QA will notify you when it has work available.
Earn Everything… nearly!
Join Opinion Outpost, one of the few faithful and honest survey panels and earn cash and gift cards for your opinion. Stack your points and redeem them: Simple! No hidden fees and completely free!


With that being said, you shouldn't rely on consistent work from the company.
You could have opportunities for several calls in one day, but then go a couple of days without any calls.
Those with very few hours that they're able to work each week may find that they don't get much work handed to them because of their restrictions, so it's good to be as open as possible with your schedule.
You should expect only part-time work with the company, rather than full-time.
But, there are no set schedules, which is a huge benefit to people who need flexibility.
Are There Any Benefits?
Since you're an independent contractor, you won't be eligible for any benefits that employees tend to get, like healthcare or bonuses.
But, you can benefit from a flexible schedule!
This job is about as flexible as they come, and it's rare to find one that's so incredible customized to the needs of you and your family's schedules.
Another benefit is that you get paid quickly and on time.
Workers for this company praise it for its timeliness of payments and how simple the process is to earn money.
How Much Can I Make and How Often Will I Get Paid?
Each call you make for Call Center QA is a flat $5.
One of the best things about this company is its transparency with how much you'll get paid and when.
This is rare to find, as a lot of companies won't let you know how much you'll make until after you get hired!
$5 may not sound like a lot, but when you consider that each phone call will only take you about 5 minutes to complete, plus a 5-10 minute survey, it's a good payment.
In fact, it works out to $20 per hour if you were to make four phone calls within an hour.
You'll get paid within 7 business days after your call, and follow-up survey has been approved by the team.
Call Center QA pays with PayPal, so be sure to have an account set up if you plan to sign up.
Additionally, there are absolutely no fees for you to sign up to be a part of the team and you won't have to purchase any equipment to get started.
How Can I Apply to Call Center QA?
If you're interested in becoming a QA Evaluator, you can click here to sign up.
Fill out the registration form to apply.
You must be a citizen and resident of the United States to be eligible for a spot.
Just because you apply doesn't mean you'll make the cut, though.
Call Center QA may not currently have any open positions, but it does keep the information of qualified individuals on file for when openings are available.
Most people who qualify have prior experience as a call evaluator, mystery shopper, or call center associate, although this isn't a requirement to come on board the team.
You should hear back from the company within a couple of weeks if there's a spot for you.
Be sure to check your email spam folders to make sure you didn't miss an email.
Tips to Help You Thrive Working for Call Center QA
Excellent Communication Skills
You need to communicate clearly and effectively, both in writing and verbally.
Your job will likely involve providing feedback to clients, so you need to be able to articulate your thoughts in a way that's easy for others to understand.
Attention to Detail
You will need to pay close attention to each interaction you have and note down important details.
This includes how the call center agent responds to your queries, how long it takes for them to solve your problem, etc.
Understanding of Performance Metrics
Understanding what makes good customer service is crucial.
This includes knowledge of performance metrics such as first-call resolution, average handling time, and customer satisfaction.
Empathy and Objectivity
You need to balance empathizing with the people you're evaluating with being able to objectively analyze their performance.
It's essential to be fair and unbiased in your evaluations.
Adaptability
You may need to play different roles in different calls.
For example, in one call you may need to act as a frustrated customer, while in another call you may need to act as a happy and satisfied customer.
Being adaptable and able to switch roles quickly is a valuable skill.
Knowledge of the Industry
If you're evaluating call centers for specific industries, it can be helpful to have some background knowledge about that industry.
Good Reporting Skills
After the call, you will need to provide a detailed report about the interaction.
This could involve writing narratives or filling out forms.
Your reports need to be thorough, accurate, and timely.
Confidentiality and Professionalism
In many cases, the people you're evaluating won't know that you're a mystery shopper.
Maintaining confidentiality is crucial, as is conducting yourself professionally at all times.
Reliability
Completing assignments on time and consistently providing high-quality work is vital in this type of role.
Continuous Learning and Improvement
The standards for what constitutes good customer service are constantly changing, so it's important to stay up to date with the latest trends and techniques.
Conclusion: Make Money from Phone Calls
There you have it – possibly the simplest way to make money just from using your phone!
Call Center QA is one of the hottest work from home companies, and it's easy to see why.
It provides just about everything you can want when working from home, including flexibility and reliable payments.
Just be sure to have another source of income in addition to your Call Center QA work, since it won't like provide you with steady income.
Have you worked with Call Center QA?
We'd love to hear your experience!
Please let us know all about it in a comment.
Related Posts:
Earn Everything… nearly!
Join Ipsos iSay, one of the few Faithful and Honest survey panels and earn prizes, gift cards and donations. Stack your points and redeem them: Simple! No hidden fees and completely free!