Best 15 Websites That Pay You Cash to Test Mobile Apps
Updated on: by Amy Kennedy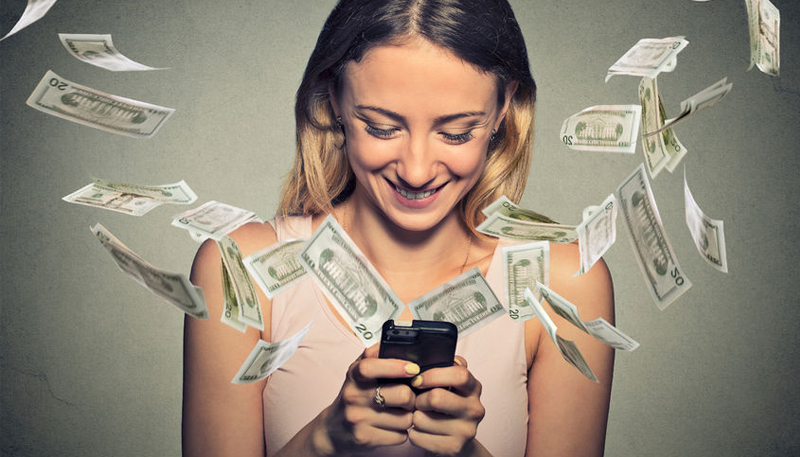 I've talked about companies that pay you to test websites from home.
Need Easy Extra $350+/Month For Free?
These offer a good way to earn some extra cash as a side hustle just by visiting websites in your spare time.
Well, today I'm going to show you how you can rate apps for cash, too.
That's right – the companies in this article will pay you to test out mobile apps on your Android or iOS device!
How Can I Review Android Apps for Money (or iOS Apps)?
You can help app developers find flaws in their apps so that they can improve them for a better user experience.
These app developers pay the testing company, which then pays you, the tester, to share your thoughts after you use it.
You'll essentially be helping the developers tweak the app by sharing your opinions about what you loved and what could be better.
Sometimes, an app developer simply wants to see how much interest there is in the app, which you can help with, too.
There's no point placing a large amount of money in an app that will go nowhere, after all.
Each website will have its own set of rules and a slightly different process to make money testing apps.
But, they're generally similar in how they work, so I'll go over the basics here.
What Do I Do to Make Money Testing Apps?
You'll be a "Tester" for the apps.
As a tester, you'll have the responsibility to follow the instructions you're given to a T.
Most app developers will want you to do certain things with the app to make sure that each part of it is working properly on your device.
You'll get a full set of instructions for your tests before you start them.
Read over them and make sure you ask any questions before you start.
Need Easy Extra Cash?
Pinecone Research, a leading name in online survey panel honesty, absolutely guarantees $3 cash for every survey you complete!
Take advantage of their time limited New Membership drive and register NOW. Join today: 100% free!


You might not get picked to test every app available.
The app developers tend to note the criteria they're looking for in a tester, like a certain age group or location that makes sense for the app.
Unfortunately, this means that you might go a while between getting chosen for a test.
Once you're picked, though, the company will notify you and give you a link to go to start the test.
Do Reviews Always Have to Be Positive?
Absolutely not.
In fact, lying about your thoughts and having consistently high praise for every app you test could get you flagged.
The point of these app tests is to provide constructive feedback, so the app developers know what to improve.
Of course, if you loved everything about it, say that!
But, usually, you'll find at least one or two things that could be improved in some way.
Don't be afraid to share that information, because that's exactly what app developers pay testing companies for.
Don't forget – your reviews are always private between yourself and the app developers (and the testing company, of course, will review what you say to make sure you followed instructions).
How Much Can I Make Testing Apps?
This varies with each company, but most pay about $10 per test, which usually take about 20 minutes to complete.
This amount won't equate to a full-time job.
It's important to remember that you might go months without another test, so income from app testing shouldn't be viewed as a steady income.
Instead, sign up for a few places and think of app testing as a side gig you can do in your spare time.
How Do I Get Paid?
Most companies will pay quickly once your test has been approved, both by the testing company and the app developer.
You'll get paid by the testing company, who has already gotten paid by the app developer.
Most companies pay with PayPal within a couple of business days after approval.
I'll detail all the individual payment information with each company below.
How to Get Paid to Test Apps
Now, on to the companies that pay you to test apps!
99tests offers a variety of testing opportunities that can make you money, including software and apps.
You'll be specifically looking for bugs as you use the app and keeping a log of everything you find.
Your pay depends on the complexity of the task and the estimated length of it.
Some developers want a more in-depth log file, which will take you longer and pay more.
You'll get your payment via PayPal once your task is completed and approved by 99tests and the developer.
Be sure to fill out your profile completely, as developers will find you in the system by matching your demographics to their need for testers.
The site also features app testing contests that you can win some extra money for participating in!
AppCoiner is open to worldwide members as a place where you can test apps in the database and provide an honest review of them.
You'll need first to download the AppCoiner app to your device.
Earn Everything… nearly!
Join Opinion Outpost, one of the few faithful and honest survey panels and earn cash and gift cards for your opinion. Stack your points and redeem them: Simple! No hidden fees and completely free!


Then, you'll be able to access the database of apps that are awaiting reviews.
After you give it an adequate test, you can review the app and get paid.
There are no caps as to how much you can earn, so you're free to test and review an app as soon as you get done reviewing another one.
This one does pay a little differently though.
You'll only make money if someone downloads the app after reading your review.
So, be sure to make your reviews very detailed and enticing to others so they'll want to download the app!
Elusive Stars is an app testing company for Android apps only.
App developers will request you for a test if you meet the demographics they're searching for.
Once you're chosen, you have 24 hours to test and review the app.
Be sure to provide your honest feedback and a thorough review.
Each test will make you a different amount of money.
Your earnings depend on the developer and complexity of the test.
You'll start earning 40% of the test price, but you can increase your percentage as you refer more members to Elusive Stars.
Once you have $10 in your account, you can cash out with PayPal.
Ferpection is another place you can go to test some apps.
Much like some of the other app testing companies, this one has you test apps on your mobile device and then write your honest opinions of them via a review.
As you move through the test, you can take screenshots of anything you liked or bugs that you experienced.
Then, you can add a comment to your screenshot to let the app developer know what you experienced or what you think could improve about that feature.
This site is geared mostly toward those in the U.K. and France, and it pays in euros.
Each test pays 10 euros, which is almost $12.
The top earners get about 10 tasks per month, totaling almost $120.
You can get paid with PayPal.
Test Birds app tests will give you a different payment, depending on their complexity level.
You can earn 20 euros, or about $23.48, per basic test. More complex tests will go up from there.
The FAQ section states that, on average, you can earn about 10 euros, or almost $12, per hour when you complete tests.
The site states that those who find major technical bugs while they test apps can earn even more money, since this is what helps developers the most.
You can choose from the list of tests available which ones you want to do, so the work is flexible.
Test Birds pays directly to your bank account or to PayPal.
Tester Work is another place where you can find flexible app testing opportunities for both iOS and Android.
The company works with huge app developers, like Facebook and Evernote.
You'll need to complete an assessment as part of your application with Tester Work.
This will ensure that you follow instructions properly and know the basics of app testing.
You'll need to wait between 12 to 14 days to get your payment once your test has been approved and the test cycle is complete.
Then, you'll get paid either through PayPal or through an Upwork contract.
Payment varies with each test, but you'll be notified of the amount you'll receive before you start.
TestFairy is an app for iOS and Android devices that lets you get paid to test out the apps from the company's clients.
You get email invites whenever a test matches your interests and demographics.
You'll download apps, complete tests, and then log into your tester dashboard to report any bugs you found.
The pay varies with tasks, but you'll be notified how much each one is worth in your invitation email.
Try My UI is one of the popular website testing companies, but this one also has app testing opportunities available.
Each test takes about 20 minutes, and you'll get paid a flat $10, so there's no guesswork involved here.
You know exactly what you'll make for every test!
Try My UI pays every Friday with PayPal for any tests that have already been completed and approved.
You might need to wait about 3 business days for the payment to clear.
The work here is hit or miss, so it may not offer as much income as other testing places, but it's still a viable option for people looking for a side gig.
You'll need to install a screen recorder that will track what you do as you test.
This helps developers see exactly what you're doing when a bug occurred.
Ubertesters lets you get paid to test apps on your phone or tablet.
You'll need to complete an application and wait for a manager to contact you to complete certification.
This involves a quick assessment and some other questions to ensure that you understand the testing process and can do it properly.
As a tester, you'll actually get paid for the time you spend on each test, rather than a flat fee per test.
This ensures that you get a fair price for longer tests.
The platform includes testing opportunities for both Android and iOS devices.
We've talked about UserTesting paying you to test websites.
But, like Try My UI, it also pays you to test apps!
You'll get invites to new testing opportunities.
But, be sure to act quickly, as they tend to get snatched up fast.
You'll get paid $10 per 20-minute test.
You'll need a screen recorder installed so the developer can see what you're doing as you speak your thoughts into the microphone.
You can use either an Android or iOS device.
UserTesting pays with PayPal within seven days after your test is complete and approved.
Userzoom is part of the IntelliZoom panel.
Most tests take between 10-20 minutes and pay, on average, $10 each.
Your tests typically get approved within 3 to 5 days and then you can expect to receive your earnings via PayPal.
You'll get a quality rating after each test, decided by the client and company.
This rating will determine how often you receive invites, so it's important to be very accurate and honest with your feedback.
Userfeel is a platform that allows you to earn money by testing and providing feedback on websites and mobile apps.
As a tester, you'll be given specific tasks to perform on the app while recording your screen and sharing your thoughts via a microphone.
Each test typically takes around 10 to 20 minutes to complete. Userfeel pays $10 per test, and payments are made via PayPal.
To join as a tester, you can visit their website and fill out the registration form.
TestIO (formerly known as uTest) is a global testing community where you can earn money by testing various digital products, including mobile apps. T
esters receive access to a wide range of testing projects based on their skills and interests. By finding bugs, reporting issues, and providing valuable feedback, you can earn rewards and increase your reputation within the community.
TestIO offers flexible work hours and pays testers based on the complexity of each test cycle.
To become a tester, you can sign up on their website.
Enroll is a user testing platform that offers opportunities to test both websites and mobile apps.
Testers are presented with quick and straightforward tasks that involve interacting with the app and providing feedback on the user experience.
Tests on Enroll are usually shorter in duration compared to other platforms, often taking just a few minutes to complete. Payment rates vary depending on the complexity of the test, and you can cash out your earnings via PayPal.
If you're interested in joining Enroll as a tester, you can visit their website to sign up.
Validately is a user research platform that includes app testing as one of its services.
Testers on Validately are invited to participate in remote testing sessions, where they interact with mobile apps and provide feedback in real-time.
These sessions can involve tasks such as navigating through specific features, completing scenarios, or sharing your thoughts on the app's usability. Compensation rates vary based on the length and complexity of each session.
To get started as a tester, you can create an account on their website.
Conclusion: Making Money with App Testing
App testing is a solid way to make some extra money online that doesn't involve a job or set schedule.
It's totally flexible, letting you make money in your spare time.
With most companies conveniently paying with PayPal, you can get your money fast, too!
Remember to make your feedback honest, as this is what helps app developers take their apps to another level.
Good luck!
Do you know of other app testing companies we didn't mention?
What are your favorite ones to use?
What have been your experiences with those we mentioned?
Let us know in a comment!
Related Posts:
Earn Everything… nearly!
Join Ipsos iSay, one of the few Faithful and Honest survey panels and earn prizes, gift cards and donations. Stack your points and redeem them: Simple! No hidden fees and completely free!