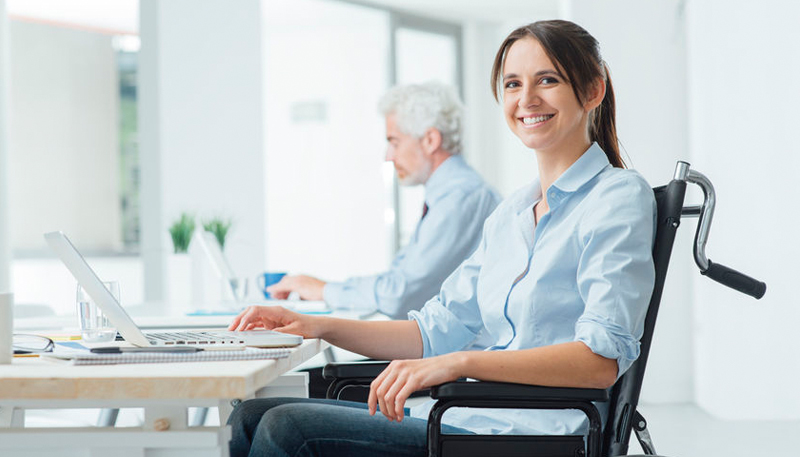 After you apply for Social Security disability benefits, you can expect to wait at least three to five months for a decision.
Need Easy Extra $350+/Month For Free?
And, that's only if the doctors are quick to send in the necessary information for the office to make a decision.
After that, a person still may need to wait some time to start receiving benefits.
As if having a disability wasn't stressful enough, the length of time it takes to wait for a decision can cause further stress.
Disabled individuals are limited by how much money they can earn.
If they go over the income limit, they'll lose their disability benefits, which often help them afford everything from food to rent.
Although disabled persons are allowed to earn some money while collecting benefits, they're usually limited as to what they can do for work because of their disability.
That's why I thought it was important to lay out some information for the disabled community who needs some money while they wait for disability benefits to start coming in.
I'm going to talk about several ways that you can earn real cash before your checks start!
Should I Do Under the Table Jobs for Disabled People?
You might get some sketchy advice from people who mean well but don't know the full impact of what they're telling you to do.
People may suggest that you work some "under the table" jobs.
Under the table means that these jobs are paid in cash, so they can't be traced back to you.
It's basically free money that doesn't get picked up by the government.
People think that this is the way to go because it's income that Social Security won't count against you, making it easier for you to keep your benefits once they start.
However, this type of work is 100% illegal and isn't something you should consider doing.
If and when the government does find out that you've avoided paying taxes on – and failed to report – any of that income, it can land you in some very hot water.
Need Easy Extra Cash?

Pinecone Research, a leading name in online survey panel honesty, absolutely guarantees $3 cash for every survey you complete!
Take advantage of their time limited New Membership drive and register NOW. Join today: 100% free!


Not only would you be responsible for all those taxes you owed, but you may have to also pay back Social Security for any benefits you got that you weren't entitled to.
Getting paid under the table to avoid taxes or loss of your benefits can also subject you to jail time.
As you can see, there is no benefit to doing this. It's risky at best, and completely illegal.
Legitimate Ways to Make Money While You Wait for Disability
I know you don't want to do anything illegal, so let's jump into 100% legal ways to earn money while you wait for disability benefits to roll in!
Donate Blood or Plasma
If you don't have a disability that would disqualify you from donating your blood or plasma, then you can make money weekly by doing so.
Usually, donating blood alone is done through volunteering and you won't receive a payment.
However, you may find some private companies looking for blood donations in your area that will pay.
The best thing to look for, though, is blood plasma donation centers.
Most of these centers will pay you per donation because it's a longer, more detailed process to donate plasma than it is blood.
You can expect to make anywhere from $20 to $50 per donation, and some centers will let you donate up to twice per week.
That means that, as long as your health qualifies, you can earn up to $400 per month by donating plasma.
Freelance
Freelancing can offer you a number of ways to make money using skills you have and working from home.
As a freelance writer, I can tell you that freelancing is one of the best ways to have a flexible job and make money how you want to make money.
The best part is that you don't need any special skills other than what you already have.
Do you know some things about building websites?
Maybe you know all about social media and Facebook marketing?
Perhaps you're awesome at designing logos?
Or, maybe you know your way around creating spreadsheets in Excel?
Whatever your skill, you can probably make it work through freelancing.
Sign up for a freelancing marketplace, like Upwork or Fiverr.
Upwork lets you search posted jobs for ones that meet your skills, while you can create your own gigs and name your prices on Fiverr.
Read More: 
8 Ways to Get Started as a Freelance Writer
These 28 Freelance Online Writing Jobs are Perfect for Beginners
Get a Home-Based Job
As a person with a disability, you may be able to find some help getting a home-based job that you can handle.
There are fortunately a lot of resources available for people with disabilities to help them lead a sustainable life at home.
Check out Disability.gov, which has resources for people like you who want to find a job.
NTI also focuses on staffing people with disabilities for at-home work.
NTI partners with companies and organizations like the IRS to provide individuals with disabilities home-based work.
Earn Everything… nearly!

Join Opinion Outpost, one of the few faithful and honest survey panels and earn cash and gift cards for your opinion. Stack your points and redeem them: Simple! No hidden fees and completely free!


You can also use NTI's Land a Job network to find active job openings all over the United States.
If you have special certifications or degrees, you might even be able to get a remote opportunity through large companies that post jobs on Indeed or LinkedIn.
Read Also: 
Top 22 Work at Home Jobs That Pay 20 Dollars an Hour or More!
22 Legitimate Work from Home Jobs BBB Approved!
Top 51 Work From Home Jobs That Pay You 16 Dollars an Hour!
Rent Your Space
Do you have extra space in your home that you aren't using?
Rent it out!
There's no point having an extra bedroom, garage, or even parking space that's not being used and not making you any money.
This is one of the best ways to make some extra money and you don't even have to lift a finger other than sign up for the services to connect you with the right people.
A home office that's in a separate room can be the perfect spot to list on ShareDesk.
You'll rent your space to professionals who need a spot to conduct meetings and other business matters with their team.
You can rent out a bedroom using Airbnb and make a couple hundred extra dollars every month.
If you have an extra parking space in front of your house or in your parking garage, rent that for extra money with SpotHero.
Or, use Spacer to rent out your unused garage space to someone who needs some room for storage or a car!
Seek Donations
If working is out of the question for you and your disability, then you should look into other forms of free money for disabled people in addition to Social Security.
One way you can do this is by setting up a crowdfunding page on a site like GoFundMe.
If you have a lot of medical expenses or expect to be without income for a few months, you may be able to get donations from family and friends – and even anonymous donors – through your funding page.
You can also check with your local welfare office to find assistance you might qualify for.
Depending on your area, you may qualify for things like:
Housing assistance
Money for food
Cash assistance
Clothing donations
Healthcare assistance
Grants or waivers to pay for medical and living expenses
Depending on your work history, you could also qualify for unemployment benefits.
You can check out the details on USA.gov.
Read Also: Best Way to Make Money with PayPal Donations: An Easy Guide for 2018
Sell Stuff
Hop onto Craigslist or eBay and start selling your stuff you don't want.
Maybe you have collections that you don't see a need for anymore.
Or you can sell your old box of DVDs if you currently use streaming channels for movies.
You can even make your own crafty items and start selling them in an Etsy shop.
There's no right or wrong answer here. Whatever you can think of to sell, do it!
The internet makes it so easy to get started.
Here are several articles we've written that can help spark some ideas and get you started:
Start a Small Side Business
Becoming your own boss is good for so many rreasons
You determine your schedule
You can do things you enjoy doing
You'll work with people you actually want to work with
You can do it all from home if you start the right business!
You're, of course, going to need to think of a business that you can start where you won't be limited by your disability.
If physical activity is difficult for you, you'll need to take that into consideration.
Plenty of people make a living working on their computers (like me!), so that could be an option for you if so.
Many businesses take little to no money to start and these are the ones you should focus on.
Here are a few ideas to inspire you:
House sit/pet sit/baby sit
Clean houses or offices
Editing or writing services
Repair computers
Create online courses
Tutor/teach music
Write books
Planning or organization services
Use Rewards Sites
Finally, rewards sites – another simple way to make some money just for doing some online tasks.
I personally love InboxDollars (review) and Swagbucks (review).
These are two sites I've used for several years and continue to make money with by taking surveys, reading emails, watching videos, completing offers, and more.
Reward sites like these offer plenty of other ways to earn some extra cash by doing fun things, like playing games, watching TV, and referring your friends.
Although you shouldn't expect to earn hundreds of dollars every month through these sites, you can earn a little extra in addition to gigs, freelancing, or whatever avenue of income-earning you choose.
Take Online Surveys
Taking online surveys may not equate to a full-time job, but they are a legitimate way to earn some extra money while you wait.
I personally use my favorite survey sites a few times a week for some extra income.
If you were to spend some time taking surveys every day, you could easily earn $100 or more per month just from surveys.
The key is to use only the best survey sites that have been proven to pay members and don't require a million points to redeem for cash!
Here are a few of the best on the web:
Try Some Gig Work
Small gigs that you can find locally can also be a great way to earn money.
But, remember that while gigs aren't technically jobs, you'll still need to treat your earnings as income and report them to Social Security and on taxes.
Local gigs can give you flexible work using the skills you have to make some money.
Best of all, there are a few apps that help you find people in need of your help so that you don't have to spend a ton of time seeking them out!
Here are a few of those apps:
Conclusion: Ways to Make Money While Waiting for Disability to Start
Are you still waiting for those disability checks?
Don't worry – you have options available.
No disabled person should have to worry about how to afford food, shelter, clothing, and other necessities.
That's why I researched to find some legitimate ways for you to earn money despite your disability while you wait for your disability checks to kick in.
Good luck!
Do you have some other suggestions for ways that people with disabilities can earn money?
If so, let us know in a comment below!
Related Posts:
Earn Everything… nearly!

Join Ipsos iSay, one of the few Faithful and Honest survey panels and earn prizes, gift cards and donations. Stack your points and redeem them: Simple! No hidden fees and completely free!