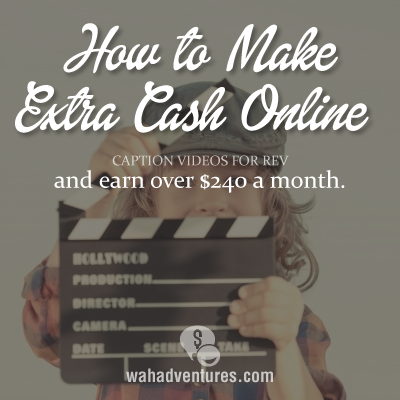 Rev is a freelance closed captioning business that pays remote workers to write captions for videos.  No experience is necessary, and those that work for them say the videos are usually interesting, sometimes educational, and can even be fun.
Need Easy Extra $350+/Month For Free?
How Much Does Rev Pay?
The pay is not huge, but it isn't bad either considering there is no previous experience required.  Generally projects pay between $.50 to $.75 per video minute.  If you know anything about transcription you know that an audio minute is different than and actual minute, and the same is true of a video minute.  My understanding is that if a video is 20 minutes long, you are paid per minute for 20 minutes, not how long it actually takes you to write the captions.  It could take you a good deal longer than the actual video time if you need to rewind to hear something again, and it takes additional time to make certain that the video and captioning sync up. According to their website the average earnings per month is $240, with the top earning being $1,570.
Is it Flexible?
You can work as much or as little as you want.  You choose the projects you want to work on using a job board type set up.
Do I need Special Equipment?
You need a computer, headset, broadband internet, and strong English skills.
What is the Application Process Like?
The first part is quick and painless.  You start with a grammar test that asks multiple choice questions about word choice and other common grammar mistakes.  It took me less than 5 minutes.  The next part is to write @ least 50 words, and the topic I was given was my home town.  I do not know if that is the topic everyone is given.  Lastly you are given a closed captioning test with a 12 minute video.  I did not take this part, but it really beneficial to both parties, as you are given the opportunity to see what the work is all about, and they can see if you are going to be able to pick it up fairly easily.
What Is the Chatter?
The chatter about Rev in the work-at-home world is basically that there is plenty of work, they pay on time, but the pay is low.
Conclusion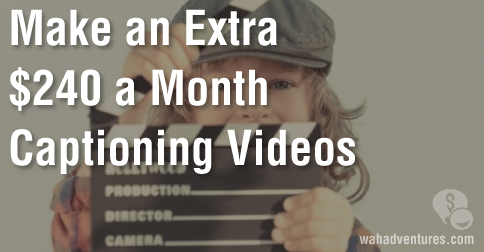 It seems that Rev is a legitimate work from home company.  They offer the opportunity to work from home, on your own schedule, and they pay on time.  It does seem that the pay may be on the lower end of what some companies pay for the same type of work, but you do not have to have previous experience if you can pass the tests with Rev.  That being the case,  this may not be the best company to consider as a sole source of income, but rather as an egg to add to others in your basket.  It could also be a great way to earn some extra cash while watching fun, interesting, and educational videos.  It addition, the work could be an open door to learning a skill and gaining experience that will help you in the future if you decide to apply to a company that pays more for the same work.
How To Get Started Earning Money with Rev
Learn more and apply for the closed captioning work at Rev by visiting their site and starting the application process.
Rev also offers transcription work for beginner typists interested in making extra money.
Related Posts:
Want more money?

Easy Extra Cash! Join the famed Nielsen Computer and Mobile Panel site, install the app and earn rewards just for using the Internet as you do today! Nielsen gives away $10,000 each month.
Guaranteed 100% free membership.


Earn Everything… nearly!

Join e-Poll, one of the few faithful and honest survey panels and earn cash - paid via PayPal - gift cards for Amazon, Best Buy, iTunes, Starbucks, and Walmart, plus Retail e-vouchers.
The surveys are aimed at entertainment-related research, covering such things as personal TV watching habits, give feedback on new TV commercials or to review DVDs that are sent to your home.
For USA residents aged 13+. No hidden fees and completely free!