Top 15 Ways to Earn Money Fast in New York City
Updated on: by Amy Kennedy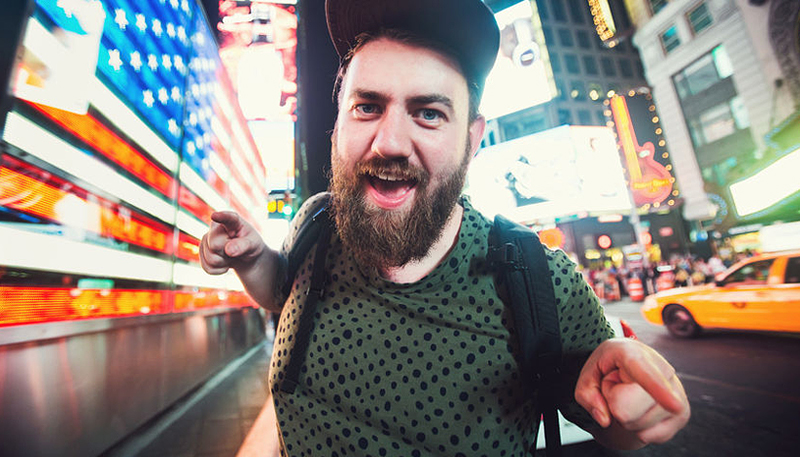 Need Easy Extra $350+/Month For Free?
Whether you're paying a long visit to the incredible city of New York or you plan to make a permanent big move to the Big Apple, you'll need to know how to make money there.
New York City is ripe with money-making opportunities being that it's one of the most densely populated cities in the whole world.
Entrepreneurs and businesses start there and grow into massive companies that reach global proportions just by using NYC as a springboard to make it big.
You won't have trouble finding ways to make money in NYC with everything it has to offer.
The following ideas will inspire you to earn some extra income in addition to a regular job, or maybe to pick up several gigs to have the most flexible way of earning money.
How to Make Quick Cash in New York
The list below outlines some of the easiest jobs to get in NYC, whether you want something full-time, part-time, or more of a side gig for extra cash.
Be an Art Model
If you're looking for a truly unique way to experience the New York City lifestyle and make some money while you're at it, then art modeling could be it.
As an art model, you'll be a nude model for art students.
NYC is one of the best places to try out this interesting money-maker because there are so many colleges and universities and schools dedicated to the arts that you'll probably never have trouble finding a place that needs you.
Of course, this type of work isn't for everyone.
Nude modeling requires you to be 100% comfortable with your body and unafraid to pose in front of strangers.
But, you'll be doing it to help out students learning to draw and paint the body.
Nude models, on average, can make $20 to $30 per hour, but you may even stand to make more if you're working for classes in prestigious NYC universities.
To find these jobs, call up colleges and universities that have a dedicated arts program and ask them if they need that service.
You can also typically find these jobs on Craigslist, the newspaper, and on local Facebook groups.
Need Easy Extra Cash?
Pinecone Research, a leading name in online survey panel honesty, absolutely guarantees $3 cash for every survey you complete!
Take advantage of their time limited New Membership drive and register NOW. Join today: 100% free!


Read More: All About Nude Art Modeling (Plus 6 Best Places to Find Legit Work!)
Cash in on NYC Real Estate
New York City real estate is what real estate agents all over the world dream of investing in.
It doesn't look like the market will be slowing down in NYC any time soon, so it's pretty much always safe to invest in.
Now, you can do it without having any real estate background – or even leaving your home.
Fundrise helps you do it all from the comfort of your home office by letting you invest your cash in NYC properties over the computer.
The minimum investment for a starter portfolio is only $500, and you'll have it managed by a team of professionals, so there's no need to be an expert.
Deliver Clothing
Delivery services are popping up all the time, it seems like, allowing people to make extra cash on their own time just for delivering things to others.
However, most of these services aren't great for people who live in smaller towns because not as many people would want deliveries as they would in large cities.
New York City is one of the best places to become a delivery person without becoming someone's employee because most of these companies work with people in NYC.
Cleanly is one of those companies.
Here, you can sign up to become a vendor and work with the company in an entrepreneurial way.
You'll be starting your own business as a laundry concierge, picking up people's laundry and having it washed or dry cleaned and then redelivered.
You can also sign up just to be a delivery person for a morning or night shift.
You must have an iPhone to use the required app, and you need your own working, reliable vehicle, and a valid driver's license.
Deliver Food
There are also several food delivery services that you can sign up for to deliver meals to the hungry residents of NYC at their homes or offices.
Just about every delivery service that allows independent contractors to deliver for them around the United States includes NYC drivers in their lists.
UberEats is one of the most popular, allowing you to use a car or bike to deliver goodies to people who order from their favorite restaurants.
One of the best things about this service is that you can pay yourself up to five times each day with instant PayPal payments!
Similar services like GrubHub, Eat24, and DoorDash are also flexible options that will pay you to bring food to people's doors.
Freelance
Freelancing is awesome and usually can be done from anywhere.
Seriously – people freelance from the beach.
Freelancing is basically working on your own schedule from wherever you want to.
So, while New York City is far from being the only place you can make money freelancing, it's definitely one of the best places to do it.
Why?
Because some of freelancing requires you to market yourself to clients, network with other professionals, and get your business in front of others if you want to be successful.
Doing your freelance work is actually a small part of growing your business as a freelancer.
The rest is marketing!
NYC is THE place to market and find new opportunities because people of all types and from all industries work in the city.
There are tons of networking opportunities and remote working opportunities in NYC.
Earn Everything… nearly!
Join Opinion Outpost, one of the few faithful and honest survey panels and earn cash and gift cards for your opinion. Stack your points and redeem them: Simple! No hidden fees and completely free!


Some freelance roles require you to be based in or near a certain metropolitan area (usually the home base of the company), so being in New York already can make you more eligible for some roles than those who don't live in the city.
Read More: These 28 Freelance Online Writing Jobs are Perfect for Beginners
Manage Social Media Accounts
If you've already dabbled in managing social media accounts for people or businesses, or you do an awesome job at growing your own, then you'll probably find endless opportunities for this kind of work in NYC.
New York City is where serious companies go to grow.
It's also where tons of business-minded people launch startups and gain partners to grow their businesses.
You're right in the heart of it all as an NYC resident or visitor, so there's no better time to go searching for social media management opportunities than right now.
Call up some of your favorite NYC-based companies or search through their online job searches to see if any are in need of your services!
Perform
Have acting chops?
Are you an expert guitar player?
Maybe you know how to out-sing Christina Aguilera?
Whatever your talent it, you can potentially strike it big in New York City.
I've walked down the streets of Manhattan before and have seen everything from incredible jugglers to kids' choirs to sidewalk painters earning money from the tips of people walking by.
NYC is such a great place to celebrate talent and artistry.
Just be sure to obey the law – there is an actual permit you'll need if you want to perform on the streets of New York City.
It's called the Musician or Performer Permit, and you'll need it if you want to do any type of performing that requires amplified sound, like a microphone or stereo.
Check with local ordinances to find out what other laws might be associated with the type of performances you want to do.
Provide Remote Customer Service
Although there are many remote jobs available from top companies all over the world, many of them require you to live at least within driving distance of one of their main offices.
That way, you can go there for an interview or attend meetings when necessary.
Customer service roles often have this requirement for applicants because you may need to attend training for a few weeks before you start on your own.
Being in New York City can give you plenty of opportunities for snagging a customer service or tech support role for some of the biggest companies in the world.
Most of these roles will even hire beginners with little to no experience as long as they attend training and pass with flying colors.
Then, you can be off on your own, providing service to customers from your home office.
You'll typically need your own computer and internet service, and most companies will require a dedicated phone line for work purposes only.
Rent a Room
New York City is one of the most-booked cities on Airbnb, a company that matches hosts and travelers with each other.
If you have a piece of the NYC pie, you likely won't have trouble finding people who want to rent some of that space when they're visiting the city.
As you know, NYC living is expensive, so this can help offset some of the costs you have renting or owning your home or apartment.
The key is to try to get people to rent your space as often as possible – whether it's a full downstairs or an extra guest room – so that you don't have continuous gaps with no extra income.
Having a stand-out listing on Airbnb is crucial to your success.
You'll need several clear photos, a description of the place, any rules you have in mind, and a listing of the amenities near where you live.
Be as detailed as possible, and you'll probably find yourself a renter relatively quickly.
Read More: Best Way to Pay Off Your Mortgage by Renting Extra Rooms in Your Home
Rent Parking Space
You already know how difficult it is to find open parking spots in NYC.
Difficult isn't quite the word I'm looking for – it's more like impossible.
So, if you happen to have an extra parking spot in a parking garage, your college, or your driveway that you don't really need, you should consider getting some extra cash from it by renting it out.
Yes, you really can do that!
Not only can you list your space on Craigslist in the New York City section, but there are actual websites that let you create listings for this kind of thing, like SpotHero, Pavemint, JustPark, and Spacer.
In less-populated places, you might be able to get $50 to $100 each month.
But, in the Big Apple, you're looking at more like $200 to $300 a month just for giving up your parking spot!
Start a Ridesharing Business
I'm sure you've heard of Uber and Lyft, two of the top contenders in the ridesharing business.
If you were never quite sure of spending time driving others around, you may want to reconsider once you're in NYC.
New York City is one of the most popular places for ridesharing because most people skip having vehicles and either walk or carpool or take a taxi to their destinations.
Some people just hate driving through the city traffic!
As a New Yorker, you could make some serious cash driving others around the city.
There are some special rules for those who want to rideshare in NYC though, such as getting a Taxi & Limousine Commission (TLC) license before you start.
Make sure you know all the rules, and you could be well on your way to making some money in your spare time just by driving your vehicle.
Start an Online Business
Last but not least – you can take advantage of everything the amazing city of New York has to offer by starting your own online business.
You'll be in the heart of it all.
There's a virtually endless supply of coffee shops with free Wi-Fi for you to work from.
You can easily find networking opportunities with other professionals.
You'll have access to some of the most incredible companies in the world to gain inspiration from.
It's all there right in your backyard.
Becoming your own boss is what most people dream of doing.
You create your schedule and control what you earn.
New York City has a lot of the tools you need to succeed, so there's no better time than now to try to launch a business of your very own.
Teach a Skill or Tutor
If you have expertise in a specific field, you can capitalize on it by providing lessons or tutoring services.
This could range from academic subjects like mathematics or foreign languages, to skills such as playing a musical instrument or even coding.
By leveraging platforms like Wyzant, or advertising your services on local community boards or online, you can connect with potential students and earn a decent income.
Become a Tour Guide
New York City, being a top tourist destination, offers plenty of opportunities for local tour guides.
If you have a good knowledge of the city, its history, attractions, and hidden gems, you can create personalized tours and list them on platforms like ToursByLocals.
This allows you to set your prices and connect directly with tourists looking for unique experiences.
Pet Sitting or Dog Walking
For animal lovers, pet sitting or dog walking can be a lucrative side gig.
With many pet owners in NYC often busy with work or travel, there's a constant demand for reliable pet care services.
Platforms like Rover provide a convenient way to connect with pet owners in need of these services, allowing you to earn money while enjoying the company of pets.
Read More: The Ultimate 2018 Guide for Home Based Business Ideas
Conclusion: How to Make Extra Money in NYC Fast
NYC has a ridiculous number of opportunities for you to make money, right at your fingertips.
From street performing to launching your own business, the options are innumerable.
Good luck!
Do you live in NYC?
We'd love to hear your thoughts – what other tips do you have for making money in this inspiring city?
Related Posts:
Earn Everything… nearly!
Join Ipsos iSay, one of the few Faithful and Honest survey panels and earn prizes, gift cards and donations. Stack your points and redeem them: Simple! No hidden fees and completely free!