3 Best Ways to Earn Money by Placing Ads on Your Website
Updated on: by Amy Kennedy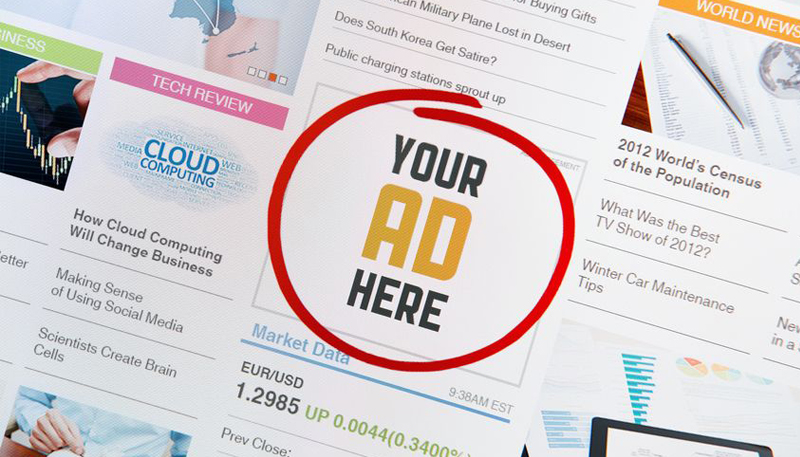 Advertising on a website is absolutely one of the biggest ways people make money using their web space.
Need Easy Extra $350+/Month For Free?
But, I'd be lying if I said you could start earning money today. It's not that easy.
Figuring out the tricks of using good advertising techniques to make extra income from your website can be challenging, especially for beginners.
But, even some more advanced advertisers have a website or two that has failed in this area.
Quite simply, if you don't have decent traffic, your advertising efforts won't go very far.
Advertising works by paying you more for more views.
Think about it: if you were advertising your own product, would you want to pay more to place an ad on a website with 100 views per day or one with 2500 views per day?
It's a no-brainer.
Higher traffic means more eyes on your advertisement and, in turn, more money for the website owner who placed the ad on his site.
Before you can think about traffic though, you'll need to understand how advertising and affiliate marketing – a popular form of advertising for websites – work to make you money.
So, if you're ready to start making money online with your blog or website, I suggest reading on to learn more about how advertising can work on your website.
Want to Know How to Advertise on Your Website and Get Paid?
If you're interested in selling ad space on your website, this article is for you.
This is a good place for beginners to start to learn the ropes of advertising through networks, affiliate marketing, and selling ads directly.
Making money from your blog usually requires a few streams of income, as using only one monetization method can be risky.
Advertising is among the most popular options, and it's one that you should really focus on if you're serious about making money from your blog.
Here at Work at Home Adventures, we've talked about quite a few ways to monetize your blog, aside from advertising.
Need Easy Extra Cash?
Pinecone Research, a leading name in online survey panel honesty, absolutely guarantees $3 cash for every survey you complete!
Take advantage of their time limited New Membership drive and register NOW. Join today: 100% free!


I encourage you to check these articles out, too, when you have some time so that you have a few options available:
If you're considering placing ads on your site, you'll want to consider the three main ways to do so: using an advertising network, selling ads directly, and using affiliate networks.
Ready to start learning all about advertising on your blog?
Let's go!
1. Advertising Networks
Advertising networks act as a middleman between you and an advertiser.
You won't communicate directly with the advertiser, but instead, you'll use the ad network to get your ad codes, get help with installation, etc.
The best thing about using an ad network is that you don't have to hunt down advertisers.
They work with the advertising network to figure out an advertising budget and plan.
All you need to do is place the codes for ads and watch them appear on your site.
How Do They Work?
An advertising network takes care of all the tough work for you.
Most work generally the same.
You sign up for an account and wait for the network to review your site.
This will help ensure that your site meets all the requirements of the network.
Reviewers typically look for the length of time your site's been on the web, how active it is, and what type of content you produce.
Most ad networks won't work with sites that product illegal or adult content, have been on the web less than three months, and only post once every month or two.
Once you're approved, you should have access to ad codes to place on your site.
Some ad networks will even set you up with an account manager who is your point of contact during the process.
Your account manager can recommend effective placement for ads on your blog so that you get the maximum views and earnings.
Usually, this involves placing at least one highly visible ad above the fold (anywhere before you need to scroll to see the rest of your site) and more within your content.
He or she can also help you out if you have any issues getting codes to work on your site.
Then, the network's algorithm will display ads that are relevant to your site and audience from the network's advertising partners.
How Can I Test and Monitor My Ads?
Once you get your ad codes placed, you'll usually need to wait an hour or so for your ads to start populating.
If you don't see them right away, that's totally normal.
Check back in a little bit and make sure all codes are working properly and displaying images or text ads instead of blank spaces or broken code boxes.
After a week or so, you'll want to start tracking the performance of your advertisements.
Most networks have tracking systems that let you see how your site is doing as far as how many views and clicks your ads are getting.
You've likely heard of Google AdSense, which is, by far, one of the most popular advertising networks.
Google AdSense has super helpful tools that track your ads so you can see what ones do well and what other ones you might be able to do away with if they aren't performing.
Most website owners play around with different ad layouts to see what ones perform the best and then stick with the one that seems to have the most earnings potential.
Earn Everything… nearly!
Join Opinion Outpost, one of the few faithful and honest survey panels and earn cash and gift cards for your opinion. Stack your points and redeem them: Simple! No hidden fees and completely free!


How Much Can I Make?
With most ad networks, the sky is the limit.
They don't typically have caps on how much you can earn.
With that being said, it's not an easy process to make $1,000, or even $100, per month with ads.
Success with ad networks depends on a lot of factors, like:
The relevance of the ads you display to your readers
How many impressions you get vs. clicks (impressions are simply the number of times visitors see your ads; clicks make more money)
The quality of your content and how long people stay on your site
Your website traffic
How much your ad network pays per impression or click
I suggest doing your homework on any ad network you want to sign up with because they all offer different rates that could greatly affect your earnings.
What are the Best Ad Networks?
I'm going to list some of my favorite ad networks here that I've used, or that I've heard excellent things about.
But, before I do, I need to point out something important: don't go crazy signing up with several of them!
Not only will your site end up overloaded with ads, but you'll also be spreading your earnings out when you could be focused on making more with one network.
And, most networks won't allow you to use their ads if you already work with another advertising network.
With that being said, here are some great networks to check out:
2. Sell Ad Space
If you don't want to go through an ad network, an alternative is to sell advertising space on your site directly to advertisers.
This is usually easier to do if you have a large site with a lot of traffic already, as this usually sparks advertisers to want to come to you.
Large news sites, for example, don't have to go looking for advertisers; instead, they have to sift through advertising requests.
But, that's not to say that this isn't a viable option for people who want to do it. It will just take more work!
How Does This Work?
If you're a smaller blog or business, you'll have to find advertisers relevant to your site, which isn't a very easy process.
You'll be in charge of contacting the advertisers, working out a contract agreement, and setting up the payment aspect.
You'll also need to know some coding so that you can place the ad on your site where you want it to appear.
Unlike an ad network that gives you all the code, this tricky part is on you, which can be one of the major drawbacks for beginners.
How Can I Find Advertisers?
Most people who go this route actually place a page on their site dedicated to advertising offers.
This way, advertisers can find you and see that you have open ad space.
It's a good idea to list your prices right on that page so people will know what you charge and won't waste their time or yours trying to negotiate other prices.
Give several options that can fit within a range of budgets, like a small ad on the sidebar and a large header ad.
I also suggest offering a discount for people who purchase ad space for several months at a time, rather than month by month.
You'll benefit from knowing that space will be filled for a certain period of time, and the advertiser will benefit from saving a little money, which could entice him to want to make a bigger purchase.
What Should I Charge and How Much Can I Make?
Your advertising rates will depend on many of the factors I outlined above for ad networks, like your monthly traffic, visitor engagement, etc.
But, this helpful formula can be a good place to at least give you a baseline of what to charge:
Find out your average daily visitors using your favorite traffic tracking plugin or program, like Google Analytics.
Take that number and divide it by 10.
That number is what you should be able to charge per month for an ad.
Use that number as your base, increasing a bit for larger ads above the fold, and lowering it a bit for smaller ads.
So, if you have 140 visitors per day, you can make $14 per month for an ad, on average.
Of course, this number can vary depending on the advertiser and how well your ads are doing for them.
It's always okay (and in your best interest) to ask your advertising partners how well your ads are doing.
If your $14/month ad is bringing in over $1,000 of income for the advertiser, you might want to consider upping your rates with that advertiser.
3. Affiliate Networks
Affiliate networks aren't quite the same as traditional advertising, but they're still a popular form of advertising that can make your website money.
Affiliate networks work with affiliate marketers and advertisers.
They also act as the middleman between publishers and advertisers, much like an advertising network.
How Do They Work?
Affiliate networks work to get advertisers to sign up to their platforms.
Most affiliate networks have several affiliate programs from different brands and businesses.
As a publisher, you'll get to choose what programs you want to join, which should be the ones that make sense for your business.
For example, a blogger who writes craft tutorials might want to sign up for Craftsy's affiliate program.
Once you get approved for your chosen programs, you can start placing the program's advertisements.
Most advertisers give you the option for either image or text ads.
The text ads will be links that you place within your content that link to the brand's website, product, or service.
You can earn money in various ways from the ads, and the program terms will let you know how.
Some companies give you a commission percentage from sales made using your link, while others will pay you a flat fee for a sign-up, sale, etc.
How Can I Test and Monitor My Links?
It's extremely important to test your ad code and links with affiliate marketing.
If you don't, you won't get the commission or fees you deserve from people clicking your links.
You can use Redirect Detective to check the full path of your link and make sure it's going to the right place.
Be careful not to click your own links, as many affiliate programs will ban you for this fraudulent behavior.
Through your affiliate network dashboard, you should be able to see your earnings and where they're coming from, so you'll know what programs are doing well.
How Much Can I Make?
Affiliate marketing can be tricky to get the hang of until you figure out what works best with your site.
You might not see much income at first until you find programs with products and services that appeal to your readers.
And, you'll need to find ways to work affiliate links and advertisements into your content, such as through helpful tutorials, videos, and more.
Some website owners struggle to earn a few dollars a month with affiliate marketing, whereas others earn hundreds to thousands of dollars every day.
It's all in how you approach it.
This helpful Amazon Associates guide can teach you how to make money with one of the most popular affiliate programs.
What are the Best Affiliate Networks?
There are so many great affiliate networks.
The ones you like the most will depend on what types of programs you're looking for.
Check out some of your favorite brands you want to promote and see where they have their affiliate program set up.
You can usually find this out by going to the brand's website and finding a link for an affiliate program.
They're often at the bottom of the site or in the About page.
Here are a few of my favorite affiliate programs for you to browse and see what ones might be right for you:
Now, Increase Your Traffic to Earn More!
Now that you know how to place ads on your site and where to find good affiliate and ad networks, you need to work on increasing your traffic.
Your site's traffic is the key to you making money from advertising.
Good search engine optimization (SEO) practices are the first thing to target.
This includes creating helpful, long-form content that's engaging for your visitors and keeps them on your site for a while.
And, focusing on keywords that bring people to your site is also an important part of SEO.
This Kissmetrics SEO guide is a good one for beginners to start with.
You'll also want to get in the habit of sharing your posts on your social media accounts and simultaneously building your social media following.
That way, you'll gain traffic from your social media followers, too.
Keep building your traffic and watch your earnings from advertisements increase!
Conclusion: Earn Money by Placing Ads on Your Website
Are you ready to start placing ads on your website?
Great!
I hope you found this post helpful and that you've found some great resources for placing ads on your site or getting started with affiliate marketing.
We'd love to hear about your favorite ad or affiliate networks!
Please give us your thoughts in a comment.
Related Posts:
Earn Everything… nearly!
Join Ipsos iSay, one of the few Faithful and Honest survey panels and earn prizes, gift cards and donations. Stack your points and redeem them: Simple! No hidden fees and completely free!