8 Alternatives to Online Auction Sites Like eBay (PLUS How to Use Them!)
Updated on: by Amy Kennedy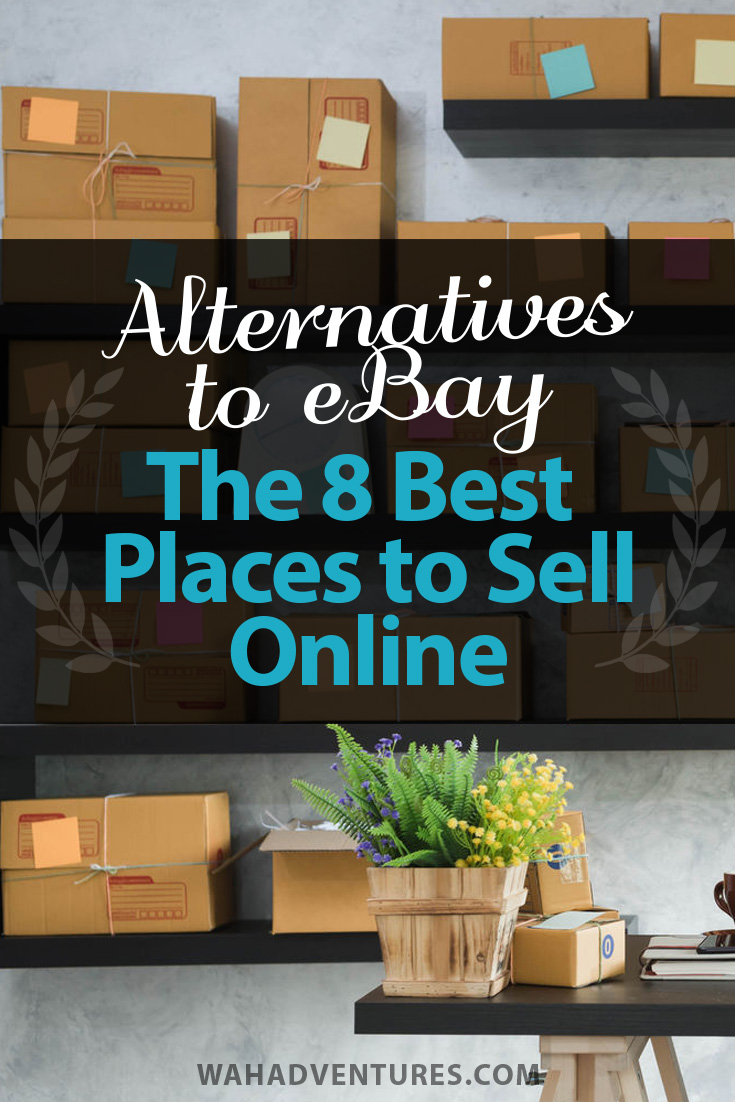 Do you enjoy selling unwanted items online, but have gotten into a rut?
Need Easy Extra $350+/Month For Free?
Do you need to unload a few items to make room in your home office?
Do you have at least one closet so full that a helmet is required just to open the door?
Well, if you have ever found yourself in this or a similar situation, there more sites springing up online where you can turn your "junk into jingles"–pocket jingles that is!
While most of you are probably familiar with the "big guys", sites such as eBay and Amazon, there are other sites available with more popping up all the time.
This article will attempt to introduce those other sites and also briefly mention or reintroduce eBay and Amazon.
This Selling Site Was Originally Called AuctionWeb
Founded on September 3, 1995 by a 28-year-old software developer, Pierre Omidyar, his code became THE code for what would eventually evolve into what we now know as eBay.
Originally called AuctionWeb it became a place to sell overstocked items, antiques or collectibles.
These types of items are still sold today as well as just about anything else you can legally sell, such as timeshares.
Some items such as furniture are listed in The Classified Section and sold to local buyers in your area instead of all over the US and the rest of the world.
The three ways that sellers sell their wares on eBay are:
set prices or Buy it Now
Best Offer, which is negotiable
auctions, which start at .99 with or without free shipping
No doubt, eBay is a great place to sell online. But, it's simply not the perfect choice for everyone.
Some products sell a lot better than others on eBay, like rare collector's items and electronics.
Some people have luck with the auction site, and others don't.
And even if you currently make a living selling on eBay, there's no harm in seeking eBay alternatives to maximize your profits.
After all, if eBay continues to turn out successful sellers year after year since arriving on the internet scene over two decades ago, there's no reason that eBay competitors can't do the same.
Need Easy Extra Cash?
Pinecone Research, a leading name in online survey panel honesty, absolutely guarantees $3 cash for every survey you complete!
Take advantage of their time limited New Membership drive and register NOW. Join today: 100% free!


So, whether you want to switch from eBay to a new platform or simply see what else is available, this list of alternative sites to eBay will help you get selling more than ever before.
eBay Alternatives
Amazon entered the internet in 1995, the same year as eBay, as an online bookstore.
It's since grown to host everything from lawn mowers to furniture to antiques and collectibles.
You can find just about anything you ever wanted to purchase on Amazon.
And, Amazon has created a huge platform that allows sellers from all over the world to sell products through the company.
The good thing for sellers is that they get a lot of traffic to their products because of all the traffic already flowing to Amazon. When someone looks for a specific product, they can choose to either purchase it from Amazon or from an Amazon seller.
Amazon Compared to eBay:
eBay is a mostly an auction site, although sellers can choose to sell products for a fixed price.
Amazon doesn't use an auction feature. Instead, products are all set to a fixed price. Sellers can, however, somewhat compete with each other's pricing.
When you sell on Amazon, you can see what the lowest price is for that product based on other sellers. To remain competitive, you can set your price plus shipping costs lower than the lowest price.
With eBay, it's not quite as simple. You'll need to do some research by browsing similar products on eBay to see what they're selling for.
Both sites have fees for selling, but they're structured a bit differently.
On eBay, you pay listing fees for most listings regardless of whether your product sells. On Amazon, however, you can get a free seller's account and only pay fees when your product sells.
Amazon also offers plenty of perks for customers, especially if they have Prime membership.
Prime gives Amazon customers special offers and discounts and free 2-day shipping for most products. All Amazon customers can also benefit from some of the best customer service of any online retailer.
On eBay, it's up to the seller to provide customer service and offer perks to customers. eBay is fairly hands-off in this area.
Who Should Use It?
Amazon is great for most sellers, but especially for people who want to dropship.
The Fulfillment By Amazon program makes it so easy to sell products without needing to store any inventory.
You can ship your products to Amazon for the company to store in its warehouses.
The best part is that Amazon handles the packing and shipping for you. You never have to touch your inventory once it's in Amazon's hands.
Once your products sell, Amazon handles the transaction process and customer service. It's almost like a hands-free way to sell products online.
Using Amazon to Sell
Amazon can take a little bit to get used to when you first start listing products.
But, once you get a few sales completed, you should catch on quickly.
As mentioned, the easiest way to get started is using Fulfillment By Amazon.
It's as simple as sending your products to Amazon, letting their workers do the work, and reaping the profits.
But, if you want more control over your products and Amazon store, you can choose an Individual or Professional plan.
Individual sellers pay $0.99 per item sold plus selling fees, but no monthly fees.
Professional sellers pay a monthly fee of $39.99 plus selling fees, but no additional cost for each item.
Amazon notifies you when you sell a product so you can quickly get it shipped out.
Your funds get deposited in your account in regular intervals through the month.
Earn Everything… nearly!
Join Opinion Outpost, one of the few faithful and honest survey panels and earn cash and gift cards for your opinion. Stack your points and redeem them: Simple! No hidden fees and completely free!


Bonanza is an online marketplace that's making some serious ground on the internet.
In 2016, Entrepreneur voted it a "Best Entrepreneurial Company in America" and it's been voted by customers as a better marketplace than eBay, Amazon, and others.
Sellers from around the world can create shops on Bonanza.
There are tons of categories on the site, making it easy for customers to find what they want to buy, and for sellers to find a place for their items.
Bonanza Compared to eBay:
Bonanza has a huge range of products, much like eBay, and both platforms are great for selling very unique products.
But, unlike eBay, you won't pay a lot for listing items.
Bonanza only makes a 3.5% commission once your item sells. There are no listing fees.
So, your potential profit can be higher on Bonanza.
However, Bonanza doesn't get the high amount of traffic eBay does.
You may have to do a little bit more marketing for your Bonanza shop than you would your eBay store.
Who Should Use It?
Bonanza offers a wide range of products and categories, so sellers with just about anything to sell can use the platform.
But, there are a few categories that seem to do better than others, including Collectibles & Art, Women's Fashion, and Home & Garden.
Using Bonanza to Sell
Bonanza sellers tend to be the most successful when they take time to promote their shops.
Make sure you utilize social media and your website to help bring some traffic to your items.
With a Bonanza Pro account for $10 per month, you can track your traffic via Google Analytics.
It might be a wise move to make as you gain some more customers.
One of the great things about Bonanza is its helpful seller's tools, so don't forget to take advantage of them.
For example, Bonanza offers Google Shopping integration to get more eyeballs on your products. It also has handy image tools, like a background removal tool, to make them stand out in your listings.
Craigslist is an online marketplace catered to local sales. It's basically an online newspaper's classifieds section.
You can find everything from jobs to cars to clothing here.
The look and usability of Craigslist is super basic, but that also means it's very easy to use.
Beginners to online selling will likely appreciate how simple it is.
Craigslist Compared to eBay:
Craigslist is almost as different from eBay as you can get.
There's no auctions and no bidding. There aren't very many rules to abide by.
And, you don't technically sell things online.
You can sell things to people in other areas, but even Craigslist recommends not to do that since it won't protect sellers or buyers if they get scammed.
When you sell on Craigslist, you're on your own in terms of providing customer service for anything that might go wrong with your item.
But, it's also completely free to list and sell items on Craigslist and you can remain completely anonymous until you need to meet up with a buyer.
The downside is that there aren't a lot of rules and regulations in place.
Buyers and sellers don't have ratings, so it's difficult to separate legit listings and buyers from scams and scam artists.
Who Should Use It?
Craigslist is best for people who want to sell locally.
Do you have a lot of clothing or furniture to sell that may not translate well to an online marketplace?
Craigslist is a good place to sell those types of items.
It's a good way to sell items you would normally sell at a yard sale, but it gives you the potential to reach a lot more buyers.
Using Craigslist to Sell
Although Craigslist is probably the most straightforward to use, you'll want to use extra caution here when you sell.
The more important thing you can do to ensure successful sales is be clear in your terms for selling your item.
Come to an agreement with a buyer about a meeting place, payment terms, and if the item is being sold as-is.
The clearer you are beforehand, the less problems you'll run into later.
Always meet in a public place with buyers from Craigslist. Somewhere well-lit with plenty of people around is ideal.
Some police stations are even starting to make selling-and-buying locations in their parking lots so people making transactions can feel safe.
Also, be aware of what sells well on Craigslist, because not everything does.
You may lose a lot of money if you're buying things to sell that won't sell for what you think they're worth.
Typically, household items, tools, and electronics are big sellers.
Large lots of clothing, toys, and baby gear usually do well too, but make sure you have plenty of clear photos.
eBid is probably the most similar one on this list to eBay, albeit much smaller.
It offers both auctions and fixed-price listings in a variety of categories.
But, it does offer some things that eBay doesn't, like a fixed pricing structure and a rewards system known as "Buddy Points".
eBid Compared to eBay:
eBid isn't small by any means, but compared to eBay, it is.
It's a site with less sellers, buyers, listings, and traffic, so your listings may not get as much interest as they would on eBay.
However, eBid offers a flat 3% commission on any item sold and free listing fees, making it a good place to try out.
You won't risk a lot by setting up a few listings to see how your items do.
And, with eBid, you earn Buddy Points for doing things around the site.
Buying, selling, earning good feedback, and referring friends are some of the ways you can earn Buddy Points.
You can then use your points to bid on special auctions that eBid sets up.
The rewards system gives users a little extra over other selling sites.
Who Should Use It?
You won't find anything too different here than on eBay.
So, eBid is mostly just another option to try out if you want something new.
Also, if you're not into eBay's listing and selling fees, eBid can provide a lower-cost alternative if your items are of interest to buyers on the platform.
Using eBid to Sell
Being successful on eBid can depend a lot on the time and effort you put into marketing your listings.
Since the site has lower traffic than eBay, you'll have to do some more of the legwork to get visitors to your items.
It seems that books and collector's items, especially sports memorabilia, sell really well here, so that's something to keep in mind.
Etsy has become one of the top online selling sites in the past few years.
This site started in 2005, so it's 10 years behind other top-performers like eBay and Amazon, but it sets itself apart from the big dogs.
Etsy is mostly for artistic, vintage, and handmade items.
You can find personalized t-shirts, handmade clothing, and antique furniture here.
Some sellers even sell craft supplies and patterns, rather than completed crafts.
Graphic and web designers can sell blog themes, logos, and more.
Etsy Compared to eBay:
Etsy is actually quite different from eBay.
There are no auctions; everything is fixed price.
It's also much different in the things that can be sold. Rather than being a marketplace for just about anything, Etsy is stricter with what sellers can sell.
Sellers must have something handmade or considered "vintage" to sell on Etsy.
Etsy gets less traffic than eBay, but don't be fooled by that. People who visit Etsy do so because they specifically want something handmade or vintage.
So, although there's less traffic, the visitors know what they want.
Etsy has lower fees than eBay, charging $0.20 per listing and then 3.5% commission for items sold.
If your items don't sell, you aren't charged the commission.
Both marketplaces have excellent support systems in place, but Etsy's seems to edge out its competition a bit.
eBay tends to be more focused on buyer satisfaction, whereas the tight-knit Etsy community of sellers is highly supportive of each other.
Who Should Use It?
Anyone who loves to craft or has artistic skill will love selling on Etsy.
Remember, even if you have some type of online graphics or designing skill, you can sell on Etsy as well.
Designers, especially logo and web designers, are very popular on this marketplace.
Using Etsy to Sell
Etsy shops are super easy to set up.
Just make sure you are attempting to sell products that are within Etsy's guidelines before you set up shop.
Etsy has a rating system so buyers can rate their transactions with you.
It's in your best interest to make your customer happy by providing a clear refund/return policy and taking care of any problems right away.
If you suffer from a lot of negative feedback, Etsy will take the time to bring your shop to compliance so you can succeed, thanks to its Seller Service Level Standards.
Swappa is like the eBay of tech products.
You can sell cell phones, tablets, notebooks, and other various electronic items here.
The site is simple to navigate. With its limited categories and types of items to sell, sellers are guaranteed to have visitors to their listings who are interested in their products.
Swappa oversees every single listing to make sure no below-standard items are sold. It doesn't allow anything broken, damaged, cracked, or locked.
Swappa Compared to eBay:
Swappa charges sellers no fees at all! In fact, buyers are the only ones who pay fees, but they're added seamlessly to the final buying price.
So, you could have a bigger profit selling your electronics on Swappa than on eBay.
Swappa is also very involved in the listing process, manually approving each listing before it goes up for sale.
This helps give buyers more confidence in their purchases.
Swappa is much smaller than eBay in terms of audience and item count. But, it's also targeted toward specific types of items, so it can help draw in your target audience.
Who Should Use It?
If you have electronics to sell, Swappa is one of the best places to do it.
Not only will you find buyers who specifically want to purchase electronics, but you'll also pay no selling fees.
That's a major bonus when you're selling high-price items that would normally be subject to a commission fee when they sell.
Using Swappa to Sell
Swappa puts sellers' needs first.
Your listing won't be marked as closed until the buyer pays for the item and you'll have no selling fees.
You have to be careful not to show any identifying information for your products you sell on Swappa, especially like serial numbers and SIM cards, as doing so can promote fraudulent sales.
Check out Swappa's seller FAQ section for more details.
Other Options for Online Selling Sites
Niche Sites
Niche marketplaces are those that cater to one type of product (like Swappa with electronics).
They won't usually have as much traffic as larger places like Amazon and eBay, but their targeted focus attracts targeted buyers.
Lower traffic also means less competition.
If you have a specific type of product you have several of and would like to try a niche-specific site, you can always Google the best places to sell.
Search something like, "places to sell [item type]".
Once you find a few contenders, do some research.
Look at seller reviews, check out the FAQ section to learn about the selling process, and compare fees to see what site might give you the most profit.
Here are a few popular niche-specific sites:
Create Your Own Online Store
Are none of these places sounding like the perfect place for your items?
You could, of course, create your own online store!
Sure, it will take more time and you'll need a good understanding of how websites and online transactions work.
But, it will also give you more control over your prices, descriptions, and sales.
And, you're basically starting your own business and making a name for yourself!
That's exciting!
Remember, though, that you'll also be responsible for your own marketing.
You won't have a big-name site with a lot of traffic to benefit from.
Fortunately, there are some online store building programs that will take care of a lot of the tough work for you.
Shopify, for example, is a popular e-commerce software that helps you build your website, set up your store, and start making sales.
You'll have complete control over the design or your website and store.
Similar e-commerce builders include:
Of course, you can always use your own website and do it yourself, but these sites can get you set up fast if you're willing to pay some money to do it.
Conclusion: Alternatives to Online Auction Sites Like eBay
As you can see, you aren't just limited to eBay.
There are plenty of other selling sites on the web that offer their own benefits for sellers.
Some sites simply are better for selling certain items than others.
It's important to know what categories do the best on each site before you start selling.
Do a bit of research and familiarize yourself with a site.
Some websites have a list of recent items that sold so you can see what is selling well.
If you don't mind using a few websites, you can sell different types of items between them to maximize your profits.
Good luck!
What selling websites do you use?
Do you have any favorites that we didn't mention?
Let us know in a comment below!
Related Posts:
Earn Everything… nearly!
Join Ipsos iSay, one of the few Faithful and Honest survey panels and earn prizes, gift cards and donations. Stack your points and redeem them: Simple! No hidden fees and completely free!