Eight Things You Should Never Put on a Resume
Updated on: by Amy Kennedy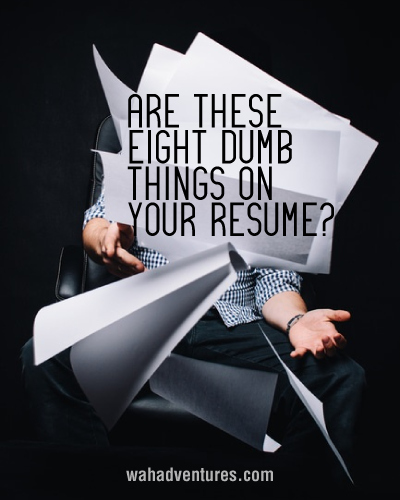 If you're like most people, when it comes to finding a job you probably start by updating your resume. You find a copy of the document somewhere on your computer, add your last job, and begin the uncomfortable process of networking with co-workers you haven't spoken with since the last time you were in the job market. While most experts would advise you to create a targeted resume for each job, making sure your resume doesn't contain information that would lead a potential employer to throw it in the trash is a good place to start.
Need Easy Extra $350+/Month For Free?
Before you submit your resume to the job of your dreams, make sure you haven't put one of the following eight pieces of information on your resume.
1) Weird email address.
While [email protected] is certainly a memorable email address, it's doubtful it will help you land your next job. Before you send an unintended message, consider creating a job-specific website address that will send the right message and help you keep track of your career search information.
2) Photograph.
Unless you're applying for an acting or modeling job, don't include a picture on your resume. Whether you like it or not, a picture sends the message that you are not a professional and may give an employer the opportunity to make an assessment of your skills based on how you look rather than what you can do.
3) Physical attributes.
Like photographs, physical attributes don't belong on a resume. While you may be proud of the fact that you are in good shape and perfectly proportioned, that information will not help an employer assess your job skills.
4) Objective.
While many resume books advise candidates to include an objective, tailoring your resume for each job will do a far better job of making your objective clear. If you want to discuss your long-term goals, wait until you meet with the hiring manager. The purpose of a resume is to get you an interview, not plan out your entire career.
5) Irrelevant job experience.
Hiring managers typically look for a trend of increasing responsibility in the same field or area of focus. Make it easier for them to find by downplaying irrelevant jobs or projects. While it is important to account for all of your time, focusing on accomplishment outside of your target area may give the impression that you are desperate and willing to take any job.
6) Religious or political affiliations.
Including information about your religious or political beliefs will only serve to reduce your potential appeal for a hiring manager. While it may be an important part of your life, it will give a hiring manager an opportunity to rule you out because he or she doesn't agree with your point of view. Sharing your beliefs on your resume could also give the impression that you will be focusing more time on your political or religious activity than work.
7) Hobbies.
Often intended to give employers the idea that you are a well-rounded individual, hobbies can convey the impression that you have a lack of accomplishments and are trying to fill space on a resume. Consider replacing hobbies with activities that point to expertise in your profession or that highlight your leadership experience.
8) References Available on Request.
All employers will expect you to provide references on request. Including this information on your resume is an unnecessary waste of space and points to a lack of professionalism.
While many people think of their resume as a complete work history, a resume is actually a targeted sales document intended to get you in front of a hiring manager. If you are applying to a job posting, your resume should be customized to match the job description as closely as possible, given your experience. If you are not applying for a specific position, consider using a shorter networking document that focuses on accomplishments relevant to the type of position you are seeking. In the end, hiring managers don't hire resumes, they hire people. While your resume can open a window of opportunity, it's you that will have to come through the door.
If you can't have the above in your resume, what critical things should you include? Here are some:
1. Contact Information
Include your contact information at the top of your resume, making it easy for employers to reach you. This section should include:
Full Name
Include your first and last name in a prominent and legible format.
Phone Number
Provide a reliable phone number where potential employers can reach you.
Email Address
Include a professional email address that you check regularly.
Need Easy Extra Cash?
Pinecone Research, a leading name in online survey panel honesty, absolutely guarantees $3 cash for every survey you complete!
Take advantage of their time limited New Membership drive and register NOW. Join today: 100% free!


Professional Social Media Profiles (optional)
If applicable, provide links to your relevant professional social media profiles, such as LinkedIn.
2. Professional Summary or Objective
This section offers a brief overview of your qualifications, skills, and career goals. Tailor it to the specific job you are applying for. There are two options to consider:
Professional Summary
Provide a concise summary of your professional experience, skills, and achievements, emphasizing your most relevant qualifications.
Career Objective
If you are a recent graduate or transitioning to a new field, state your career objectives and explain how your skills and background align with the position you are applying for.
3. Work Experience
In this section, highlight your relevant work history to showcase your experience and accomplishments. Organize this section in reverse chronological order (starting with your most recent job). Include the following details:
Job Title and Company
List the job titles you held and the names of the companies or organizations you worked for.
Dates of Employment
Provide the start and end dates for each position you held.
Job Description and Accomplishments
Describe your responsibilities, tasks, and achievements in each role, emphasizing any quantifiable results or significant contributions.
4. Education
This section highlights your educational background and any relevant certifications or degrees you have obtained. Include the following information:
Degree or Certification
Specify the degrees or certifications you have earned, along with the institution's name.
Dates of Attendance
Include the dates when you attended the educational institution.
Honors or Achievements (if applicable)
If you received any honors, awards, or notable achievements during your education, mention them here.
5. Skills
This section allows you to showcase your relevant skills and competencies. Include both hard skills (technical abilities) and soft skills (personal qualities).
Organize them based on their relevance to the job you are applying for.
Hard Skills
Highlight specific technical skills, such as programming languages, software proficiency, or industry-specific knowledge.
Soft Skills
Include personal attributes and abilities, such as communication, problem-solving, teamwork, leadership, or time management skills.
Do any of These Surprise You?
Let's get a conversation started in the comments- share your opinions, experience and stories with us!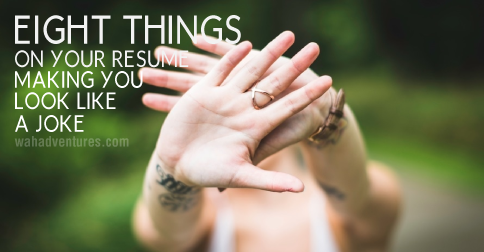 Related Posts:
Earn Everything… nearly!
Join Ipsos iSay, one of the few Faithful and Honest survey panels and earn prizes, gift cards and donations. Stack your points and redeem them: Simple! No hidden fees and completely free!